iCrowdNewswire - Aug 10, 2016
VylyV: The Smart Shorts that Boost Your Manhood
Exercise pelvic muscle with VylyV, for stronger sexual performance and better sexual health.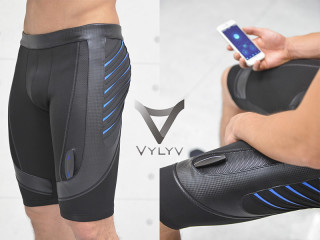 Founder Michael, an avid gym-goer and men's health enthusiast, always believed that 'bigger is better'. After trying over 20 penis enlargement devices, he realized in 2014 that pelvic floor exercises are the best approach to boost manhood. However, the exercises can be boring and sometimes confusing for beginners, so as to encourage more people to experience the benefits of the exercises, he invented VylyV – the first smart shorts for better sexual health.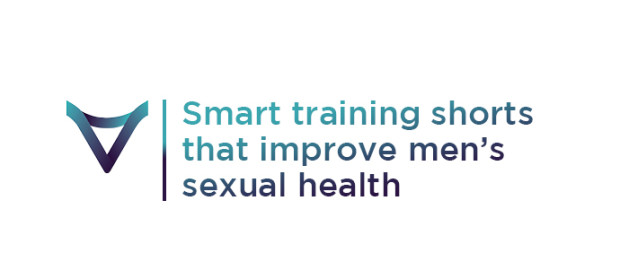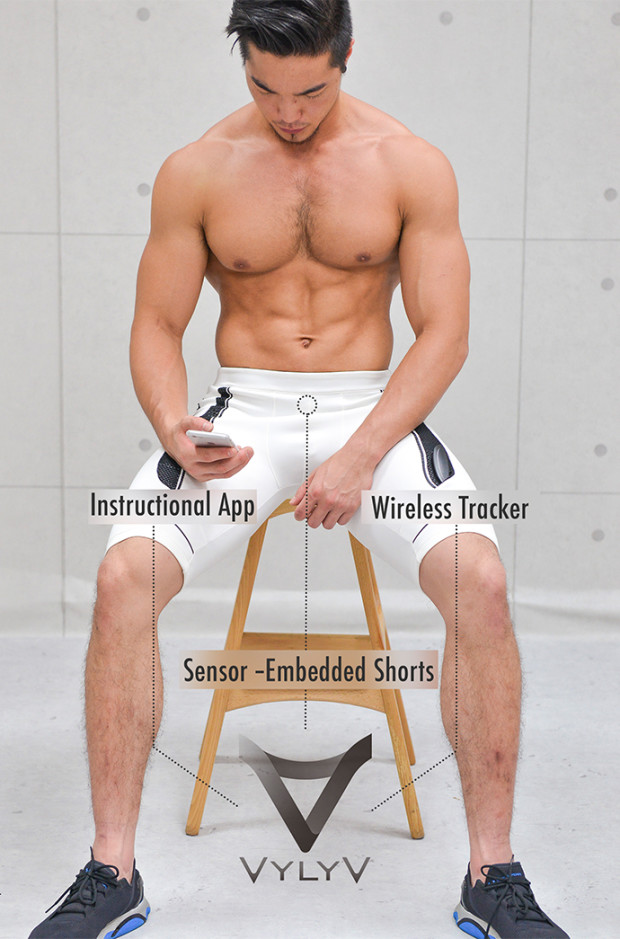 Meet VylyV: the world's first kegel exercise shorts for men. Protect the most important parts of your manhood with the first natural, high-tech way to enhance male performance. VylyV's lifestyle-changing smart shorts and customizable app strengthens essential pelvic floor muscles to improve prostate health and increase sexual stamina.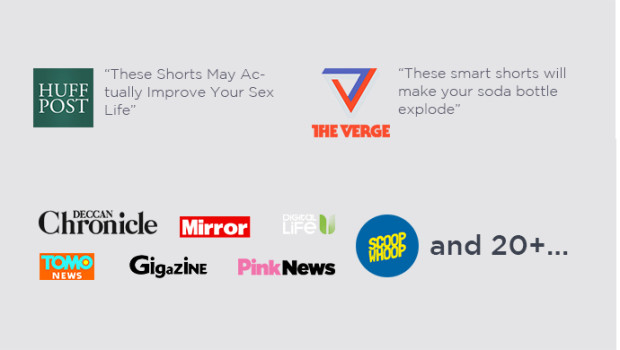 Performance can be affected by sedentary lifestyles, sports such as biking, and accelerated aging: VylyV's wearable technology combats these challenges with a customizable app and visual training programs that strengthen the pelvic floor.

Wear them at home, the gym or even at the office. Created with a high-quality washable eFiber fabric that fits every body type, the sensor-embedded shorts utilize wearable Bluetooth technology to link with an exclusive app to provide professional guidance and customized workout plans. It's never been so easy to understand pelvic floor health, track your progression and get motivated to carry on with training.

Kegel exercises (contracting the pelvic floor muscles) strengthens the hammock of muscle tissue that stretches from the pubic bone back to the tailbone and supports essential organs such as the bladder and bowel. Strengthening the pelvic floor also strengthens the bulbocavernosus muscle, which is responsible for controlling urination, erections and ejaculation in men.

A weak pelvic floor means that the health of the prostate and sexual organs is not at a peak and men who fail to hold their pelvic floor muscles have a 90% chance of experiencing ED (erectile dysfunction).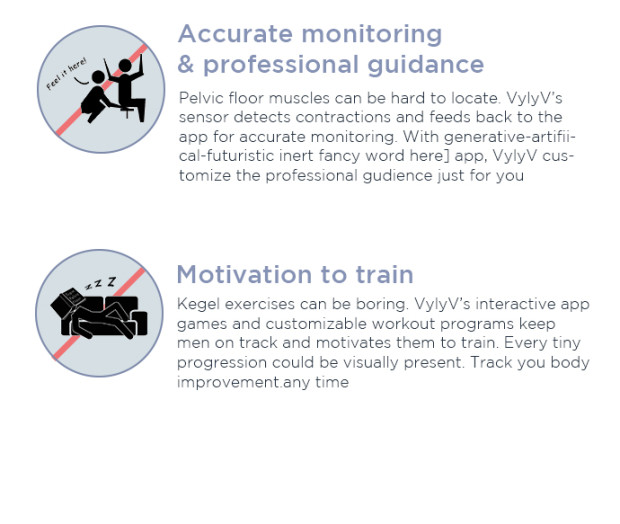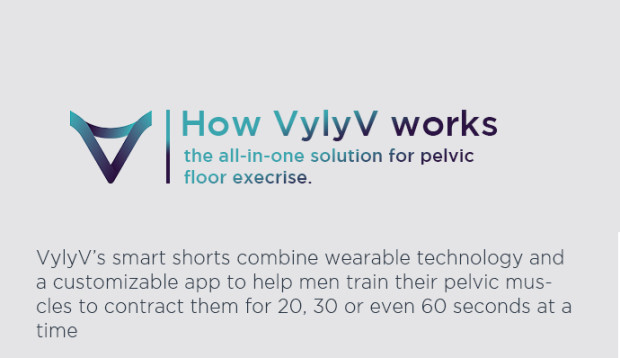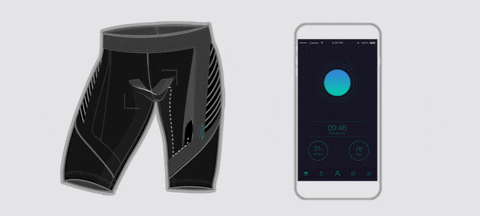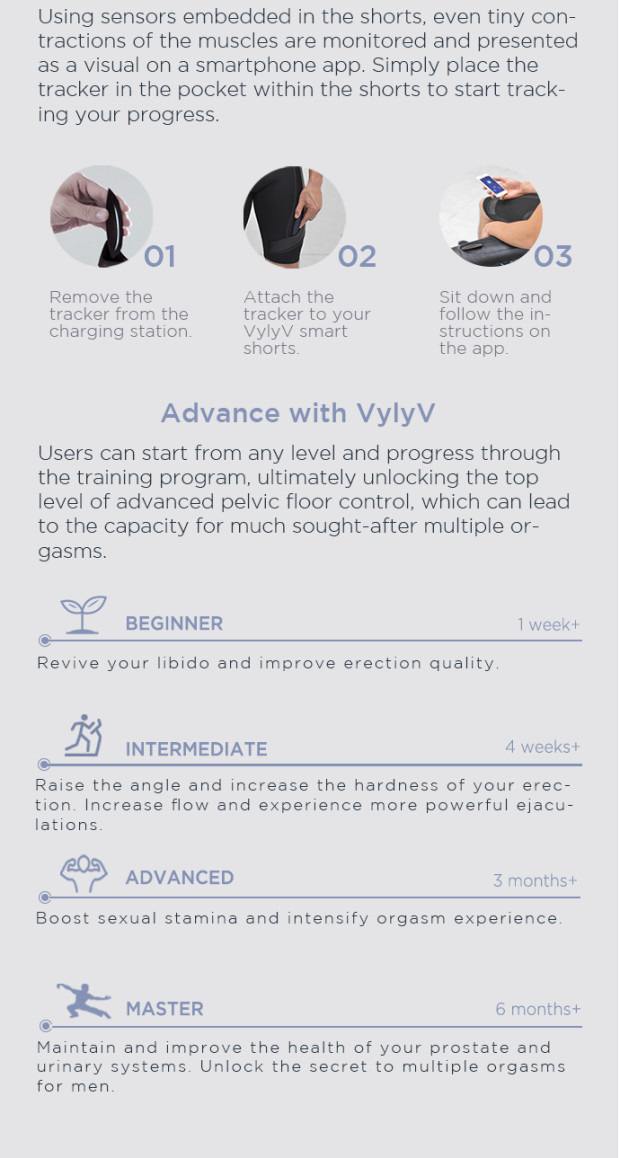 VylyV began as an idea by Michael Whales. Back in 2014 he wanted to create a new kind of sensor that would be able to detect the motion of the pelvic floor. Initial prototypes took the form of training shorts that included a small gadget that fixed into the underwear. After two years of research and in its fourth generation incarnation we finally found the futuristic form of VylyV's smart shorts. Check out this video about how we created VylyV!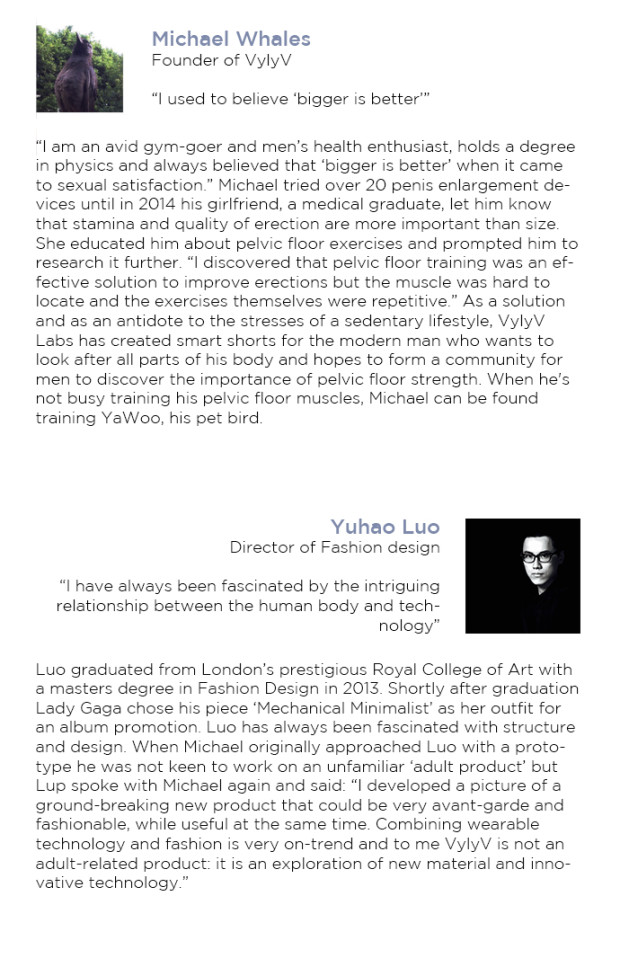 contact@vylyv.com
WWW.VylyV.COM