iCrowdNewswire - Aug 10, 2016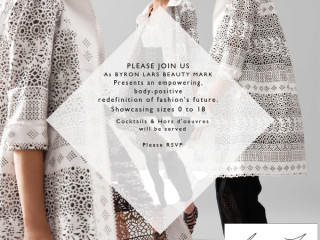 NYFW Fashion Show Patron of Designer Byron Lars
Be a part of Byron Lars' groundbreaking inclusive fashion show.
World renowned fashion designer Byron Lars is loved and worn by Michelle Obama, Kim Kardashian and countless other celebrities. His fit and artistry has gained loyal fans of his customers. On August 30th, he will present his inclusive collection for fall 2016 and spring 2017 in an innovative multi-media presentation with models of all sizes. He is opening up sponsorship/patronage to the public with this campaign.
Byron Lars Beauty Mark is a designer collection of specialty-driven women's clothing, with a focus on fit and meticulous garment construction. Our clothes have been rendered a fashion must-have among celebrities Taylor Swift, Angela Bassett, Kim Kardashian and First Lady Michelle Obama to name a few. The truly exciting development is what we expect to be a seismic shift in the perception of plus size, as we launch an offering of our hallmark styles from size 0 all the way up to size 22, each with a single unifying message of "exclusive" inclusion.
Statistics estimate that 65 to 68% of women in the US are considered plus size, and she's spending 17.5 billion dollars a year on apparel alone but, as these articles from CNBC's, Bloomberg's and Business Insider's online news platforms suggest, this total would be significantly higher if she were being given the variety and caliber of product to warrant it.
Our approach to reaching her is about NOT singling her out but instead, writing her into the body positive Byron Lars Beauty Mark story of "exclusive" inclusion. This is not a plus conversation…it's a WOMAN'S conversation, so our label is the same, our styling is the same, and our superior quality is the same from size 0 to 22, because it's the same woman we're dressing!
On August 30th, 2016, Byron Lars will present this inclusive collection on a range of diverse models in all shapes and sizes. The event will be attended by celebrities of film, television and stage along with some of the most popular fashion influencers of today.
NOVA, a DreamWorks spinoff company, is creating digital content for the event, which will encapsulate our entire message. Their 3D design team is digitizing an array of different types and sizes of women who will all be looking fabulous dressed in a single Byron Lars Beauty Mark dress style.
Partner with us!
Byron Lars is opening up sponsorship and patron opportunities to the public for this groundbreaking presentation for the first time. Guarantee your invitation, gift bag and face time with one of fashion's most talented designers. Sip cocktails and nibbles with leading celebrities.
We have some great brands and corporate sponsors already, but we wanted a portion of this event to be sponsored with real fans and customers like you! We would love the last $3000 of the event production to be supported by the fashion lovers who want to be a part of the event.
Come celebrate with us in person, take home gift bags, be photographed with Byron and other celebrities on the red carpet by professional photographers. If you are an independent business, you can have your business logo on marketing for the show.
The Impact
You will be supporting a great designer and the mission of offering impeccably made fashion that fits women of all shapes and sizes. You will be supporting the hard work of his dedicated team. You will be sending the message that women of all sizes and designers of color deserve to be recognized and celebrated.
Challenges
When some fans took the brand to task for not offering the collection to fuller figures, the designer took it to heart. He has spent the last few months reviewing his designs and fitting them on a range of full figured models to make his the sexiest collection available to everyone.
Other Ways You Can Help
If you can't join us at the event, help us get the word out! Check out our Instagram, Twitter and Facebook feeds to see what our new collections look like. If you love them as much as we do, tell us and tell everyone you know!