iCrowdNewswire - Aug 9, 2016
Education for Nature in a Maya Village Phase 2
Education for Nature at San Miguel Belize
So we turn to you again for a favor. As the CCSN scholarship program grows, we are now seeking funds to help purchase books for five students now going to year 3 of high school. They have been exemplary in academic, behavior, and community service activities over the years. We are willing to continue to help them get a secondary education.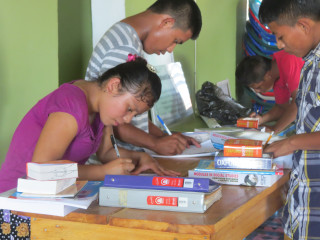 Who We Are
CACALENEL CAR SA NIMA (CCSN) is a community based organization at San Miguel Village Belize that conserves the upper Rio Grande River. The river literally flows in the middle of the village, a community of about 800 Q'eqchi' Maya people.
Over the years we have been engaging residents to value the river by maintaining living environmentally friendly habits along the river. We have been particularly engaging young people in tree planting, river cleanups, summer camps, and lately a textbook scholarship program.
Yes a textbook scholarship program. After all, if we engage young people, it's only right that we find a way to help them with their education. That is the reason the CCSN textbook Scholarship program started: A blend between education and nature. These high school students commit to community service by helping CCSN with its conservation activities, so that one day they can value the importance of our environment and development.
CCSN has been coordinating river-friendly activities in the community for eleven years now and we can say for sure that we have brought immense awareness about the importance of watersheds in our daily lives.
Our Campaign
CCSN Textbook Scholarship program is a textbook program only that assists 5 students per year. We started with our very first recipients in 2014, who are now going to third form at two high schools in the Toledo District: Julian Cho Technical High School and Toledo Community College. Now that we are three years into the program, we now have a total of 15 students, it's definitely growing!
This campaign though will enable CCSN to purchase all textbooks for 5 students at third form, the pioneers of the program. The textbooks they had left behind will be used by the new students enrolled in the program. However, this campaign will also purchase books that are added on the book list for 1st and 2nd year students as well.
By next year, we expect to have 20 students in the program and perhaps make it an official scholarship foundation!
What We Need
Textbooks $250/student x 5 third year students = $1250
Indiegogo Fees = $200
Fulfillment of perks = $250
Additional new textbooks for forms 1 and 2 = $300
TOTAL= $2000
Our Thanks
Because you care about education like we do, we will offer Maya souvenirs to show our appreciation. These include Maya baskets, T-shirts, embroidery and other special gifts. However, the most important gift is when the students you help make it eventually with a high school diploma in their hand with smiling faces.
Other ways you can help
If you cannot help financially, there are other ways even more valuable that you can help. You can share the link with a friend, post it on your facebook page, email someone, or just follow us on our facebook page.