iCrowdNewswire - Aug 9, 2016
Be Booty-Full! #lookbackatit
An downloadable 8-week booty training program by the best in the booty business!
"Who wants to be booty-full?" Every hand shoots up. I'm your man. Here's an 8-week booty-building program from the best in the business.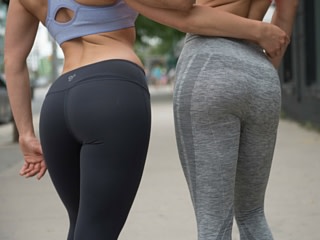 In Summary
Hi friend. If you don't already know me my name is Edith and I go by @traineredith and .com across social media and the internet. I'm a personal trainer, fitness model and writer, workout video host and crazy cat lady. I love all things fitness but I have one particular obsession and speciality and it's glutes. Yes, if I can say so myself, I've got a great pair and so do my clients.
I've been hard at work for months designing a downloadable booty-training program and it's almost ready to go! This is my passion project and I'm so excited to get it out. I know it's going to do well — if I can get a little help.
All the material and content is there. The copy is written and proofed, the photos taken, the videos are getting edited and my graphic designer is on it. I just need a little boost to fund the marketing and advertising efforts to truly give this project the exposure it deserves.
I would love you forever if you would help.
Pray, tell us more Edith….
Tenatively titled "Booty-Full" my 8-week booty building program comes in two versions, gym and home. It's essentially a ebook and program but with lots of video and social media support. There's video demonstrations of each and every exercise and a Facebook group for support, where I will be very accessible.
This is going to be more than just a product I sell. It's going to be a movement and it's going to be fun. There's a strong social media aspect to this, engagement will be heavily encouraged by a special #lookbackatit pose that I wanna make viral!
Why Should I Trust You/ Give You Money?
I'm not a con-atrist
I'm legit, serious and driven to make this amazing. This is not a pie in the sky idea that will never see the light of day. Hundreds of hours of work have already gone into this and it's almost ready to go.
I've been involved and launched several successful digital products already, from online workout video programs, an ebook and a detox guide.
I'm a tireless social media and internet personality and a wide reach and potential to do so much more.
I'm broke AF
I have a great ass. And you could too.
How Much Do You Want?
I need $5000. Relax! I don't expect you alone to provide that.
But still, why so much, Edith?! Especially since you said it's almost complete.
Lettme break it down for you
$1000 for my production manager who has put in hundreds of hours into this for free coffee. He deserves more.
$500 for my awesome book designer who is juggling this project while dealing with some serious health issues.
$700 for website design. I intend to design a brand new site exclusively for this product.
$2800, the remainder, will go toward marketing and advertising on Instagram, Facebook and Google Adsense.
What Do I get If I help You?
Every little bit helps
Under $20. You get my gratitude, a blown kiss in your direction and I will remember.
$20. For this pre-investment amount you will get the completed program first, and for less than half of what I intend to sell it for.
$50. You get the program first, plus a 30 minute Skype call where you can ask me any thing you want — ideally, fitness-related things. (Now fellas, it's not a sex hotline, ok.)
$200 you get the program first, a Skype call and a custom made full body program to accompany the booty program.
$500. I'll twerk for you. Just kidding!! I honestly can't think of what I could do for you for this price but ask and I'll see if I can deliver. (Now fellas, I'm not a sex worker in any capacity.)
$5000. I'll delete this account!
But I'm Broke, too…..
I know. I get it. But even $5 would be so appreciated. But if you just don't give a damn about any of this please forward to a friend who might be. They and I will be very grateful.
The (rear) End.