iCrowdNewswire - Aug 8, 2016
T-BLADE: World's 1st Back-typing Keyboard for iPad
T-BLADE Increases the Mobility and Operability of iPad. Be the Launch User of T-BLADE!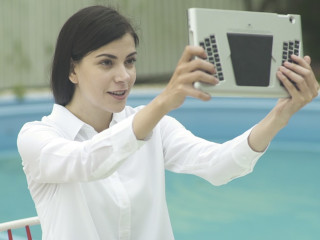 The world's first back-typing Bluetooth keyboard for iPad. Compatible with iPad Air2 and 9.7 inch iPad Pro. T-BLADE is the true gadget of the future. T-BLADE will bring another evolution to iPad.
T-BLADE
The World's First Back-typing Bluetooth Keyboard for iPad.
T-BLADE brings another evolution to the iPad.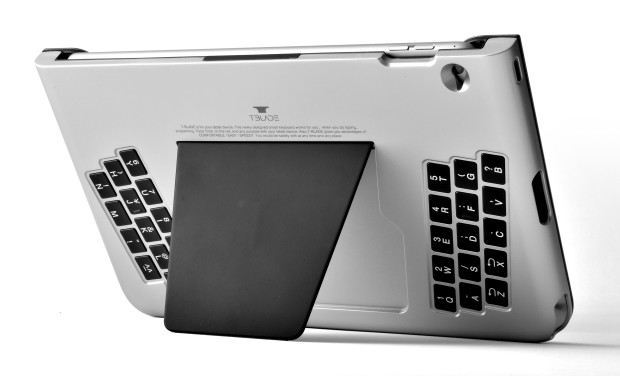 Before using T-BLADE, you may feel some difficulties to input long texts like over one page on your iPad in the mobile situations. iPad itself is an extremely useful, and it's actually easy to use. However, in case of inputting longer texts, you may feel it's not perfect.
T-BLADE is a final solution for typing on iPad easily at anywhere and anytime. When you are in the car, in the train or in the airplane, you will be able to type on your iPad easily and comfortably by mounting T-BLADE. You can enjoy typing even in the narrow spaces.

T-BLADE EDITOR (under development) is the editing software of the dedicated T-BLADE.During the input, it looks like the back-typing keyboard is transparent.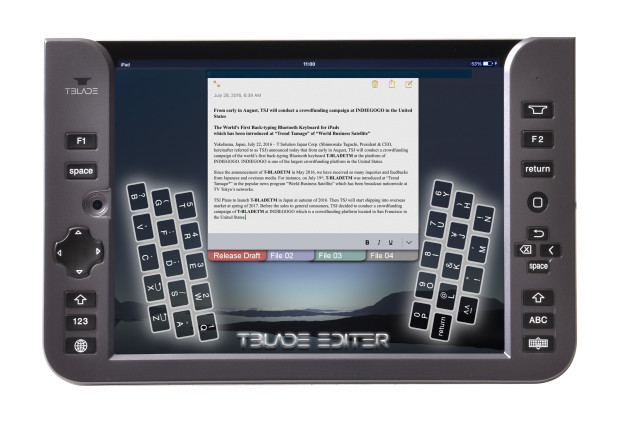 The text you type can be shared with other applications. In easily and timely manner, you will be able to send emails and also upload SNS like Facebook and Instagram.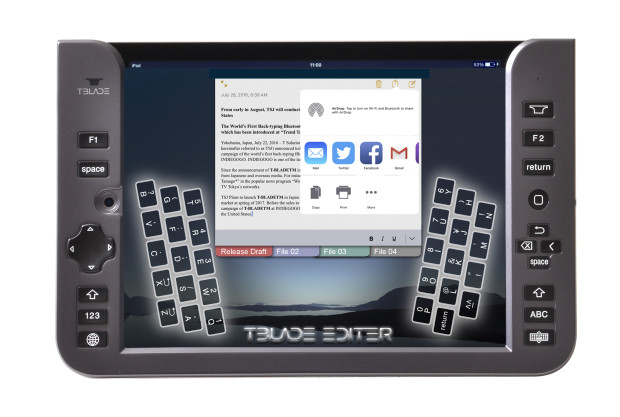 You can use various applications on your iPad with greater ease anywhere and anytime. If you have higher skills of input, the keyboard image on your screen can be smaller. You can switch off the function of the keyboard image on your screen if you want.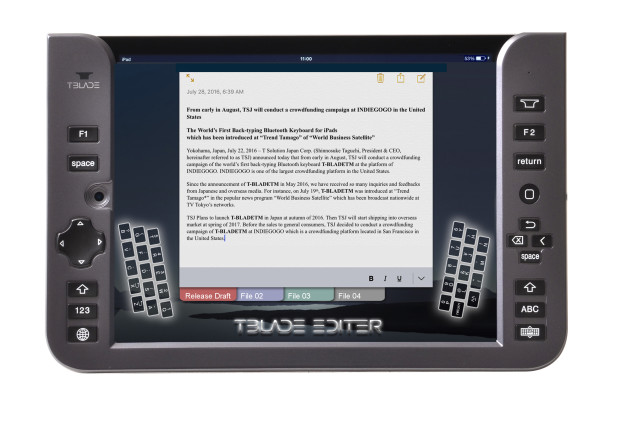 Just using the software for a few days, and you will find yourself typing on T-BLADE with ease.


Why We Try to Develop T-BLADE?
Atsushi Miyajima, founder of T-BLADE project and T Solution Japan, usually spends one third of the year for overseas business trip. Through the business trip, he always felt that typing on iPad at the mobile situation is not easy and needs more efficient device for typing. He actually investigated compact and functional keyboard through the Internet. However, he could not find anything satisfactory. He bought a lot of keyboards but could not find best one.
He reached the idea of back-typing keyboard through his business trip, and he found there is nothing like that. Finally, he decided to develop the back-typing keyboard by himself. He established T Solution Japan Corporation and T-BLADE project in 2015.
Under the strong leadership of Atsushi Miyajima, more than ten people joined the T-BLADE project. Members of the project include hardware engineer, software engineer, industrial designer and other creators.
Notably, Shige Aoki, chief industrial designer of the project, significantly contributed the overall product concept of T-BLADE. He created the stylish designs and superior operability of T-BLADE based on the thorough research of human engineering. As a result, T-BLADE is easy to use and functional enough with super stylish design.
We have been developing T-BLADE since 2015 and now we have first proto-type products.
Next Step
Then in the next step, we need to prepare our mass-production line including molds of each components of T-BLADE since it is purely our original product. That is why we conduct our campaign this time here at INDIEGOGO.
Your warm support makes our project successful. At the same time, you are able to become the launch users of the world's first back-typing Bluetooth keyboard for iPad.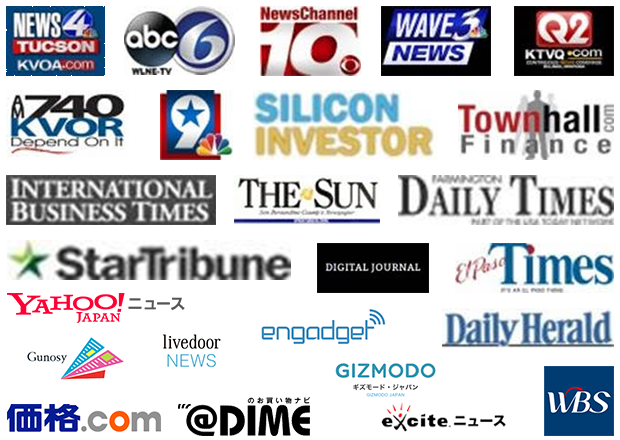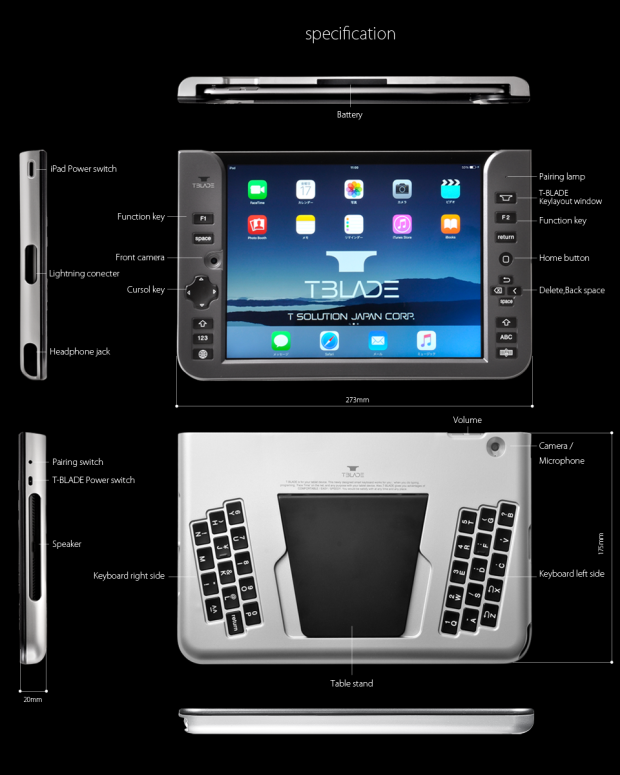 Back-typing keyboard
The biggest feature of "T-BLADE™" is the QWERTY keyboard installed on the back. By adopting the same key arrangement with the existing QWERTY keyboard, users feel nearly the same with typing a normal keyboard. In addition, by arranging the keys on the back, it enables an effective way of utilizing dead space in the rear of iPads. For tablet users, external keyboard is a must item, but it requires some space for typing and lacks mobility as a proper mobile device.
By adopting back keys, "T-BLADE™" balances both mobility and operability, improving the typing environment of tablets in a dramatic fashion.
Keys (thumb typing keys) located in the front
Without impairing the recognition performance of iPad display, "T-BLADE™" offers the keys that can operate using a thumb on both sides (left and right) of a screen. Return key, space key, back space, shift key, cursor key and specific keys are located in the front. Since there is no need to operate a tablet's screen using fingers, all keys are operable with both hands holding a tablet. It provides overwhelmingly fast and stable tablet operation than using an on-screen keyboard. Moreover, with no on-screen keyboard displayed, the display area will be overwhelmingly wider. Furthermore, operation of dedicated software is possible with the specific key arrangement.
Advanced design and lightweight
A chic form that gently wraps iPad and a QWERTY keyboard on the back is an innovative style of Bluetooth keyboard ever. The design of "T-BLADE™" is highly compatible with unique iPad designs and gives a stylish impression by mounting.
"T-BLADE™" is lighter than iPad itself and its portability is assured. By mounting "T-BLADE™," users can hold iPad firmly with both hands providing substantial enhancement of safety compared to holding iPad with one hand and type in with the other.
"T-BLADE™" is capable of evolving iPad into a device that allows users to type in "anytime" and "anywhere." In business situations such as editing emails, Excel or Word as well as SNS or games in personal life, "T-BLADE™" enhances and extends the capabilities of iPads.
Future development of "T-BLADE™"
TSJ is scheduled to have "T-BLADE™" available to general consumers at the beginning of the launch in autumn 2016. However, TSJ is confident that the mobility performance of "T-BLADE™" will further enhance the utility value to tablet devices used in various business situations such as in construction, medical services and education fields.
Therefore, TSJ is willing to reinforce alliances with various companies in the area of B-to-B in the future as well.
Specifications
Product name: T-BLADE™
Compatible iPad models: iPad Air 2/ 9.7 inch iPad Pro
Release date: Autumn 2016 (subject to change)
Dimensions: 175 mm x 273 mm x 20 mm wide (subject to change)
Weight: Approximately 370g (subject to change)
Key switch: Pantograph method
Connection method: Bluetooth

Be the First User of the World's First Back-Typing Bluetooth Keyboard for iPad!





Atsushi Miyajima, Founder of T-BLADE project and T Solution Japan Corp.

Shinnosuke Taguchi, CEO of T-BLADE project and T Solution Japan Corp.

Shige Aoki, Chief Industrial Designer of T-BLADE project, CEO of Aoki Design Corp.

Nobuyuki Tsuboi, Chief Marketing Officer of T-BLADE project, Independent Consultant

Kiyoshi Tsuzuki, Chief Creative Director of T-BLADE project , Photographer

Q1. The keyboard is located on the back. I am afraid whether I could type well because I can't see the keys from the front.
A1. You don't have to worry about that. We will provide the free software to help you practice using the T-BLADE keyboard. After practicing for a few days, you will be able to type on T-BLADETM with ease.
Q2. It looks somewhat heavy. Is it possible to use at the mobile situation?
A2. T-BLADE will be only 370grams in our current plan. You can bring T-BLADE anywhere. You may feel it's much lighter than expected to be.
Q3. Do you have any plan to develop the compatible product for other tablets?
A3. It is possible that we may try to develop such products in the future. However, currently we do not have any concrete plan for expanding our product line.
Q4. Do you have a plan to add more color variations to T-BLADE in the future?
A4. If we receive more requests from our supporters, we will consider to add new colors. At the moment, we believe our color variations is good enough.
Q5. Do you have any plan about providing the carry case dedicated to T-BLADE?
A5. If the fund raising from supporters to exceed our target, we would like to produce the original case for T-BLADE.
Proceeds of the campaign in the range of initial target will be spent for the development of several variation of T-BLADE.
Q6. Is there any possibility to develop mobile applications and game software in the future?
A6. T-BLADE is the innovative user interface of iPad. We believe the performance of the interface will significantly improve the usability, if we create such applications and software dedicated for T-BLADE.
However, our management resource is limited, and thus we are seeking the possible partners that can develop such new applications and game software together with us.
Q7. At which countries and region do you plan to sell the T-BLADE?
A7. We have already decided to sell the T-BLADE in the United States and in Europe. But we will finalize our plan after seeing the results of this campaign. Basically, we will sell the T-BLADE at the place where the demand is strong.