iCrowdNewswire - Aug 7, 2016
NADTA Power of 10 Campaign 2016
Money raised will support unique programming at the 37th Annual NADTA Conference in October 2016!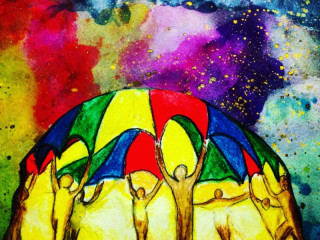 This campaign will help with offsetting the costs of bringing two international speakers to the 2016 NADTA Conference: Salvo Pitruzella from Italy, and David Diamond from Canada. These speakers are international experts in drama therapy and applied theatre. In addition to our speakers, this campaign will also help to fund a playful space for all participants to utilize throughout the conference for self-care, processing, community building, creative exploration, and general playful fun!
You can discover more about a person in an hour of play than in a year of conversation.
~ Plato
The field of drama therapy thrives on dramatic play and creativity: ritual, improvisation, theater games, role, masks, puppets, embodied and projective play are all core elements of our work. Dramatic play enhances therapeutic alliances and creates empathy; it inspires cooperation, flexibility and growth. Creativity allows us to express our repertoire of emotions and inspires our imagination. Our community is coming together to actively explore how the benefits of dramatic play and creativity facilitate change and improve overall health and wellbeing. You can help make this possible!
With your donation we can create enriching conversation, critical investigation, inspiring collaboration, synergetic sharing, nurturing connection, and playfulness we will learn from each other, expand the umbrella, and generate global enthusiasm for drama therapy. THANK YOU!
We Need You!
We have invited 50 people to commit to finding 10 people to donate $10.00/each. Our goal is to raise $5,000 dollars. $5,000 may seem like a large goal to reach in 10 days but with 50 committed team leaders and lots of enthusiasm we will be there in no time. Thank you for helping make this possible!