iCrowdNewswire - Aug 4, 2016
Homo Sapiens Interruptus
A show about rebellion, fame, human origins and being religiously addicted to heavy metal
Janine Cunningham
New York City, United States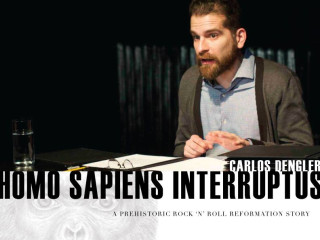 Homo Sapiens Interruptus, a solo show by Carlos Dengler and directed by Scott Wesley Slavin, is being produced at the New York International Fringe Festival. From August 15th through August 27th, New York audiences will get to experience this funny, smart and soul searching piece about rebellion, fame, human origins and being fanatically, religiously addicted to heavy metal.
A Rock-n-Roll Reformation Story
Homo Sapiens Interruptus is an hour-long monologue that interweaves the science of human origins and the history of heavy metal with my own story. It grapples with how change and evolution test our basic desires for security and stasis, and how, in the unceasing pursuit of new, safer identities, we often travel far afield from where we most need to be.
HSI will be produced as part of the New York International Fringe Festival and presented at 64 E. 4th (Fringe Venue 12), in New York City between August 12th and August 25th. Please click here for specific dates, show times and to purchase tickets!
More info: www.carlosdengler.com
Like us on Facebook: https://www.facebook.com/hsapiensi/
About the Show
It took me three years to decide to leave the band Interpol early in 2010. It was one of the most difficult decisions I've ever made. It was an especially difficult decision, as well, to leave the glamorous life I led in the music industry. I chose to go back to school and, having discovered a passion for the theatre, I worked hard enough to be accepted into NYU's Grad Acting Program. I received my MFA in 2015. And during all this time my one-person show, Homo Sapiens Interruptus, was gestating within.
When I was a teenager, heavy metal music gave me a sense of identity and purpose and fueled my desire to lead a life of power and integrity. But then, I stopped music altogether in the mid-90s because of a strong desire for education and academic life. At university I stumbled on paleoanthropology, the science of human origins, and fossil discoveries became favorite news items for me from there on in. While I was at NYU (the first time in the late 90s) I met my future bandmates from Interpol, and, as Interpol became successful, my sleeping heavy metal spirit was reawakened.
This play is all about how metal was an early creative engine for me, how it lay in a dormant stage while I was pursuing dreams of academia, and how it came back with a vengeance when I decided to play music again with the band Interpol. In the writing of it, I found a way to include my passion for paleoanthropology; it serves to give the story a kind of poetic, mythological backdrop, similar to 2001: A Space Odyssey. It's been an adventure in and of itself to shape this piece over the course of two years and I am very excited to bring it to Fringe – NYC this August!
We Need Your Help
Fringe – NYC is an amazing, international theater festival that creates a lot of potential for the show, however it is also a huge financial undertaking.
We are asking you to help us raise $8000 that will go directly to reducing production costs.
The $8000 we raise on Indiegogo will go directly to:
•Paying our amazing and experienced designers and artistic staff (85%)
•Paying for essential marketing materials (15%)
When contributing to our campaign, you will not only be supporting our show, but you will also be supporting independent, downtown theater in New York City.
Homo Sapiens Interruptus is a sponsored project of Fractured Atlas, a non-profit arts service organization. Contributions for the charitable purposes of Homo Sapiens Interruptus must be made payable to Fractured Atlas only and are tax-deductible to the extent permitted by law.