iCrowdNewswire - Aug 3, 2016
The Tulle Box
The Tulle Box's First Co-op
Kansas City
http://www.shopthetullebox.com/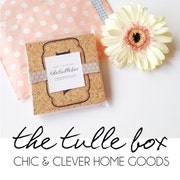 Hello Kickfurther! The Tulle Box offers hand manufactured home and organizational decor that is equal parts beauty and function. We offer a wide variety of products to help you spice up your day to day! We decided to start small with this first campaign in order to get a feel for the website and community.
This raise will be used to produce our 2017 desk and wall calendars, but we are excited to introduce all of our products to you!
About The Tulle Box
We are a home & organizational décor line who's mission is to make everyday life a little more enjoyable. We do that by designing all of our products in our Kansas City studio with both beauty and function in mind. The Clean Dirty Dishwasher Sign, our best selling product, is the exclusive design that helped us really find an identity as a brand. We have now shipped thousands of dishwasher magnets all over the world. We've also recently begun selling our wares on a wholesale basis, thanks to the Etsy Wholesale platform.
About the owner
Cleverly Designed Home & Organizational Decor Marrying Beauty and Function
I am Chrystal and I am the Founder and Creative Director of The Tulle Box. I began my creative journey in 2006 by selling on Etsy. Since that time, I've worked with many mediums ranging from gemstone jewelry and baby mobiles to vintage furniture and crafting supplies. After experimenting with a handful of different products, I found the creative groove in 2012 with home décor and have been working The Tulle Box ever since.
Our gorgeous Modern Gold Foil Wall and Desk Calendar is a must for chic organizers this coming year. The wall calendar features luxe gold foil goodness on 4×6 premium paper and is now also available in quarters just right for starting late or transitioning from an academic calendar. Each of the gold foiled sheets measure 8×10 and clip easily to your clipboard (included in 12 month calendar) for a super quick month change. Quarter Calendar includes 3 sheets of gold foiled calendar months protective sleeve for safe keeping throughout the year. Listing includes: 12 sheets of gold foiled calendar months chic and minimalistic clipboard protective sleeve for safe keeping throughout the year. Sheets are REAL gold foiled with a heat press technique done at our studio in Kansas City. Also available in simple and classic black ink.