iCrowdNewswire - Aug 2, 2016
Connecting Citizens to Legislators
Make your voice heard in Washington D.C. It's time for "by the people 2.0".
Help Represent-Me to help Congress legislate "for the people"
"We the people" is the starting statement in our constitution, but somehow we got disconnected. Legislators hear lobbyists, but they can't hear us. Represent-MeTM needs your help to provide a simple and meaningful connection between the people and their representatives on upcoming major legislation. The people's voice, expressed through Represent-Me, will be taken seriously in Washington DC because it is designed to help voters hold their representatives accountable. With your help and our cloud service, we can restore government "by the people" making it by the people 2.0.

What our Service provides you…
Represent-Me enables constituents to anonymously express their views on important upcoming legislation by casting a private e-ballot. The results will be aggregated through a digital dashboard and provided free to all federal legislators. Users will then get reports on how their legislator' votes corresponded to the opinions they and their fellow constituents have provided. With that information, users can hold Congress accountable and it will help you make an informed decision come election time!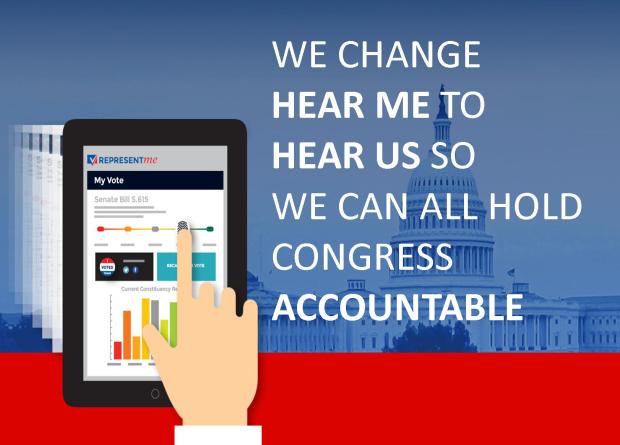 Represent-Me is impartial and non-partisan. We provide a private RepMe-ballot to our users on upcoming major US legislation so they can cast their opinions with a single click. It is easy and FREE to use and share. The results are tallied and presented to users and to their legislators. You could call this "crowd polling" or "crowd lobbying" because it is a little of both. It is like a poll, but on a far more massive scale. We're planning to get to 150,000 voters on each piece of legislation, but we need your help to get there! It is like lobbying since we're communicating the results to legislators, and thus inviting voters to hold their legislators accountable just like those powerful organizations do.

Why Congress wants and needs the data we provide
In 1789, when our Constitution established a government "by the people," each Representative served only 30,000 constituents. Now each typically serves over 700,000 constituents! And yet the means for connecting both Senators and Representatives to their constituents have not improved much over the last 227 years. Simply put, lobbyists and big donors are very adept at connecting to Congress; citizens are not. Congress knows what lobbyists want, but lack solid information on what their constituents want. That leads to a Congress that is neither accountable to, nor representative of, the people.
Most of the legislators we talked to want relevant and timely constituency based information, and if provided from a trusted source are willing to be held accountable. They just don't have the means nor the resources to collect the data. Represent-Me is the trusted 3rd party that provides the critical data in a simple easy to use dashboard.
How Represent-Me Works
Our video, available on this Indiegogo Campaign landing page, walks you through how our service works. The diagram below shows the quick and easy steps by which Represent-Me gives constituents a way to impact voting on our country's most important pending Hot Bills.

That's it! You click, cast and share, we send results to legislators before a floor vote and then we provide you final floor vote outcomes and a personal Report Card on your legislator's performance.
Why We Need Your Help
There are several key next steps for Represent-Me:
1. Build a beta test base of 500 friendly users prior to public launch. Please become one!
2. Complete some finishing touches on our service to make it commercially available.
3. Develop a mobile app to broadcast your voice to legislators from anywhere.
4. Finalize relationships with the media, think tanks, and universities to expand our user base to 150,000 ballots cast per Bill.
All funding from this INDIEGOGO campaign will be used to accomplish above.
How We Got Here
Represent-Me was born when a couple of experienced tech business guys decided to see if some simple crowd-data technology could improve Congress' responsiveness to the people. We aren't political types. We have paid for all of our software and development work to date out of our own pockets. We really believe that, with a little help, we can make government more effective and responsive. Represent-Me is impartial and non-partisan. Our only goal to provide valuable data to both constituents and their elected legislators.
We have had several leading political experts, many Congressional staff members, leading political science academics, and over a dozen tech experts review the Represent-Me concept, service and structure. They like it! More importantly, they say we and our legislators need it!
Exclusive Perks When You Back Us
Please help us get Represent-Me off the ground! We're offering five perk levels. Each level includes the perks from the preceding levels.
$25 – Private Beta Subscriber. We need you to "kick the tires" and while using our Represent-Me service over the next few months generate an actual report card on any incumbent running for re-election this November. We will push you several Hot Bills that come up in the Senate or House and the more you participate the more relevant that report card will be for you when you vote. Of course, the ultimate service will be free for users, but if you believe in what we're doing, please select this perk.
$50 – All Congress Reports. In addition to beta testing, we'll send you periodic Represent-Me reports on and rankings of all 535 members of Congress.
$100 – Founding Signatory. In addition to the above, you'll be a Represent-Me Founder and signatory to the by the people 2.0 Manifesto wall to be constructed on our web site. Please read below initial draft of our Manifesto.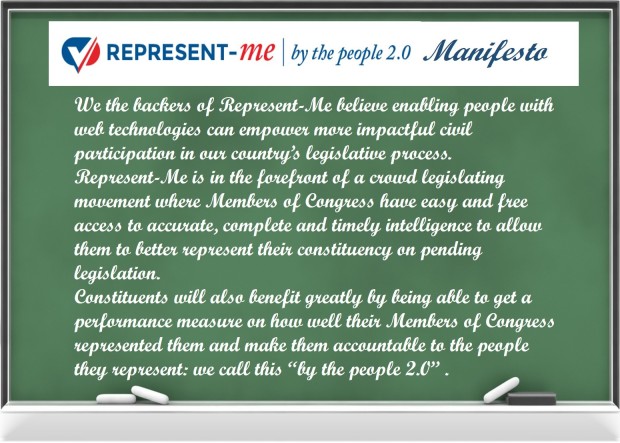 $250 – Love and War. In addition to the above, you will receive a copy of Love and War, an awesome political memoir by Mary Matalin and James Carville, with a handwritten bookplate from the authors thanking you for supporting Represent-Me.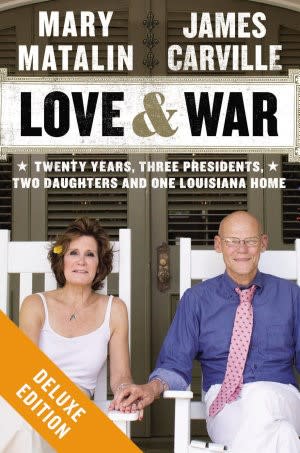 Join the beginning of a Crowd Legislating Movement!
If you've read this far, it's because you're like us – citizens looking to get more engaged and wishing there was some simple, effective step you could take to make it easy yet impactful. There is: support Represent-me. It is the easiest, most direct, most likely to succeed way of diminishing the power of special interests and increasing our representatives' responsiveness to us, their constituents. This is not pie in the sky, it is a real, worthy goal – a goal that, with your support, will be achieved. Please, make a difference!
Please become a private beta user (friendly user) and share our campaign with your friends and family via email or with Indiegogo's easy to use share tools.