iCrowdNewswire - Aug 2, 2016
A Bellevue Love Story
A cinematic romance about madness, medicine and the healing power of love.

A Bellevue Love Story is a very personal project for us. Writer, director and lead actor Michael Wolfe was a patient in a psychiatric hospital the first time he fell in love. It was an experience that inspired what will become a powerfully original cinematic love story.
This feature film, that is equal parts romance, drama and dark comedy, will capture the extraordinary universe of a psychiatric hospital while also telling a universal love story that will resonate with anyone who has ever fallen helplessly and, yes, MADLY in love!
The film chronicles a manic and a depressive who, aided by an unconventional psychiatrist, aim to prove that in some cases, LOVE is the only medicine we need.

We have a great script, a phenomenal location and have already secured private funding that will match what we raise in this campaign. So that means all we need now is YOU!
Once we have reached our goal, we will be able to begin pre-production in earnest and then…hopefully…be on location and filming in October! Shooting will transpire over four weeks which will be immediately followed by the various elements of post-production; editing, scoring, color-correcting, etc.
Upon completion of the film, we will submit to top tier film festivals like Sundance, Tribeca and Toronto. From there we hope to acquire distribution so the film can be seen in theaters, on TV screens, computers, tablets, phones and retinal implants that will probably be available to the public by next year!

Your contribution will allow us to begin production. We will put it towards:
Renting the perfect location – Bailey Seaton Hospital in Staten Island, where we will shoot 95% of the film, has already granted us permission!
Constructing the set for the "Padded Room"
Renting equipment
Hiring a top-notch casting director

This is not our first rodeo! We have done this before and done it well. To help bring A Bellevue Love Story to life, we have assembled a great team of filmmaking professionals, many of whom were the creative force behind the critically acclaimed film Maybe Tomorrow. Follow that link to watch the trailer.

Michael Wolfe – Writer/Director/Actor
An award-winning writer, director and actor, Michael is a New York based artist, a proud member of SAG-AFTRA, WGA and Actors Equity. He wore multiple hats on his feature debut Maybe Tomorrow and is dying to wear them all again!
Robert Nicotra – Producer
An accomplished producer of film and theater, Robert has most recently produced the Off Broadway play Let's Kill Grandma this Christmas and the short film Party Politics. He was also a producer on Maybe Tomorrow.
Amber Geneva – Producer
An award-winning actress/producer, Amber produced the short film A Life Unwritten earlier this year and she is in development for her next project Resiliency. She is currently packing her bags and moving to New York to help make this film!
Brandon Kaiser – Cinematographer
An accomplished photographer and cinematographer, Brandon has shot music videos, spec commercials, pitch videos and films. He recently shot the filmNeverland and two shorts with Michael Wolfe; Sally and Fault.
Gina Ruiz – Costume Designer
Gina is a talented and versatile costumer with a long resume including work on arthouse pics like Get on Up and There is a New World Somewhere as well as blockbusters like Terminator Genisys.

With the money this campaign raises, we will hire a reputable casting director to help us attach high-profile talent in key roles that will help us sell the film and reach a broader audience. We will also be employing a cadre of kick-ass New York actors to help fill out the diverse and dynamic ensemble cast that will play the patients and the staff of Bellevue Psychiatric Hospital!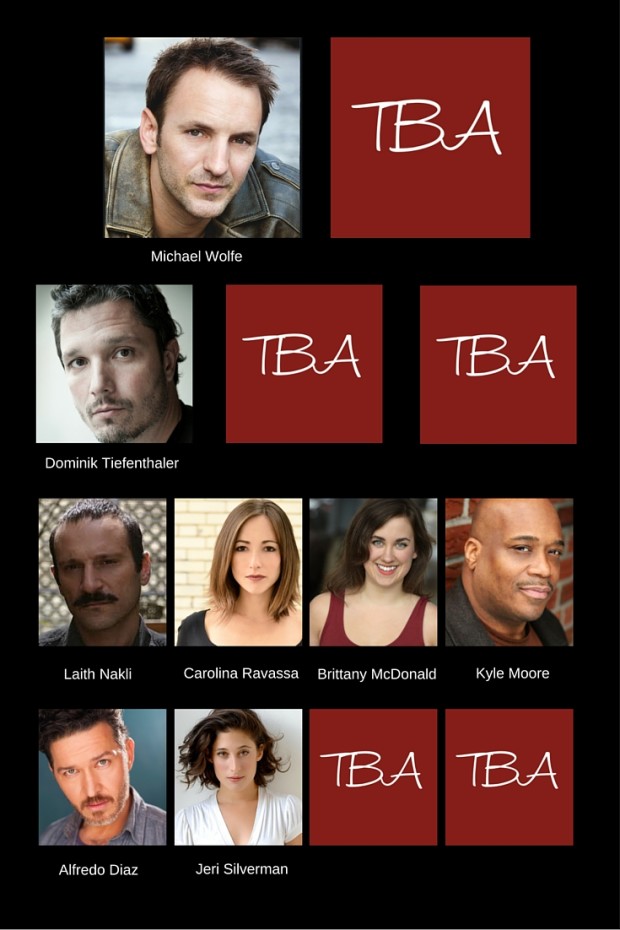 Yes, we are going to entertain the sh@! out of you. But there is more to our film than that.
We are championing the profound themes in this film because they are potentially life changing. Although medication does play a crucial role in treating many psychiatric disorders, we believe that medicine is not always the only answer in treating the mentally ill. We believe that with therapy, people can overcome their pasts and yes, we believe that love can conquer all!
We hope this film will shed light on what it's like to live with a bi-polar diagnosis and also address the importance of suicide prevention and how society honestly approaches these issues today.
Furthermore, we hope to remind people that every once in a while you just have to open your heart and take a chance! In both love and life.
Lastly, we want this film and this campaign to send a strong message to our filmmaking peers – that there truly is a demand for personal, character-driven stories with small budgets and big hearts.

Keep the following in mind, when contributing:
-Your donations are tax deductible! Michael Wolfe Media is a sponsored project with Fractured Atlas, a non-profit artist service organization. All contributions to this campaign are tax-deductible to the extent permitted by law and, yes, Fractured Atlas will send you a tax receipt!
–We keep all funds raised! We know that our story will resonate and captivate and that with your help, we will achieve our goal! We will keep all funds raised regardless though because we are running a Flexible Funding Campaign and will continue moving forward until we make this picture!
-We can surpass our goal! Why stop when we reach our goal?! The more money we raise, the higher caliber of talent we can attach, the better equipment we can rent, the better film we can make!