iCrowdNewswire - Aug 1, 2016
FREEBELTS – LET'S GO BUCKLE-FREE.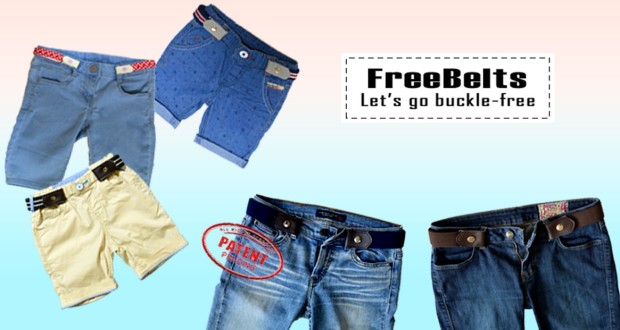 Need a belt but don't want that awkward buckle bulge? Find it annoying having to buckle and unbuckle your belt? Don't like that uncomfortable pressure when wearing belts?
No more hassle with buckles, try FreeBelts. Snap on once and forget about your belt all day —that's one less thing to deal with in life. Also, look sleek and feel comfortable.
Goodbye, all the troubles with regular belts. Hello, buckle-free life. 🙂

Easy snap closure
High quality elastic weave for great support
Wide-range adjustability for the proper length and fit you want
▷ Boom! That's FreeBelts, for your buckle-free perfect fit.
If you're a size larger than 48". If you want to rock that half-tuck style without showing the belt. Try snapping FreeBelt on the second belt loops. The model is wearing pants 1 inch larger than his size—still holds them up. 🙂
You can also easily cut and shorten FreeBelts like you do with belts with a slide-buckle.

We created FreeBelts to assure that no matter who you are, and what beautiful style you choose to wear, it will always be easy, fit properly and feel comfortable.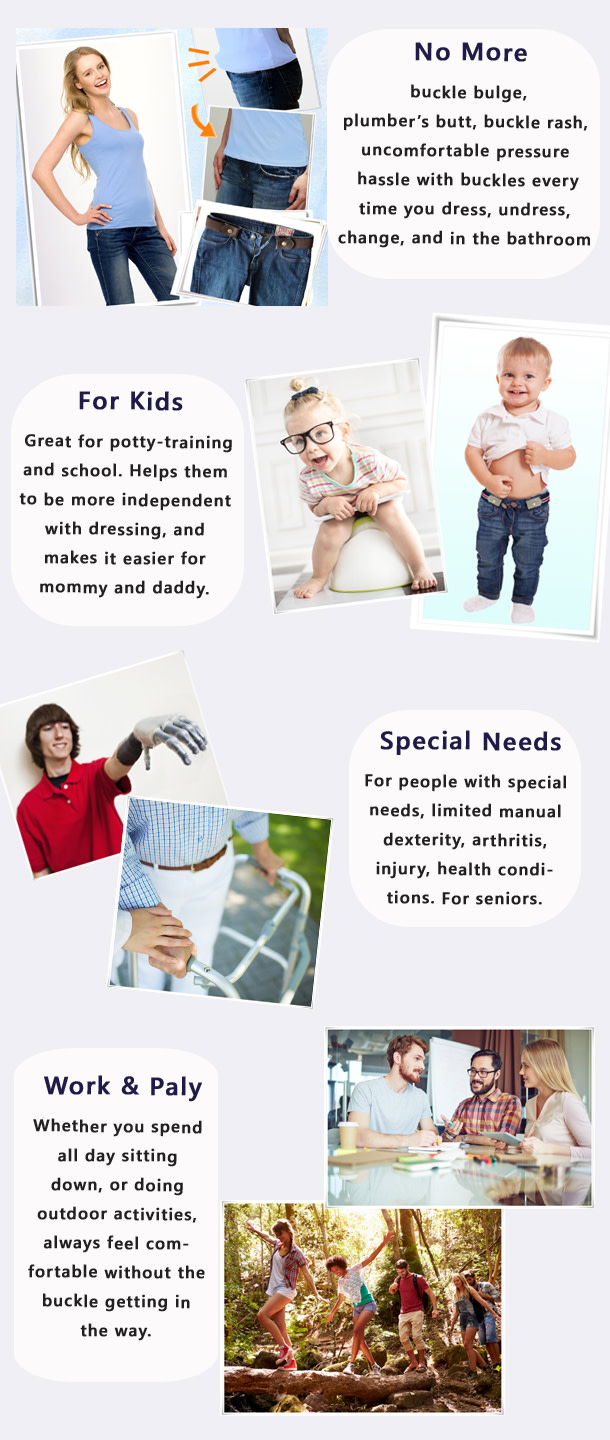 Just choose how many FreeBelts you want now. When you receive an email to pick your belts, select any from the entire collection—kids/adult, color & size.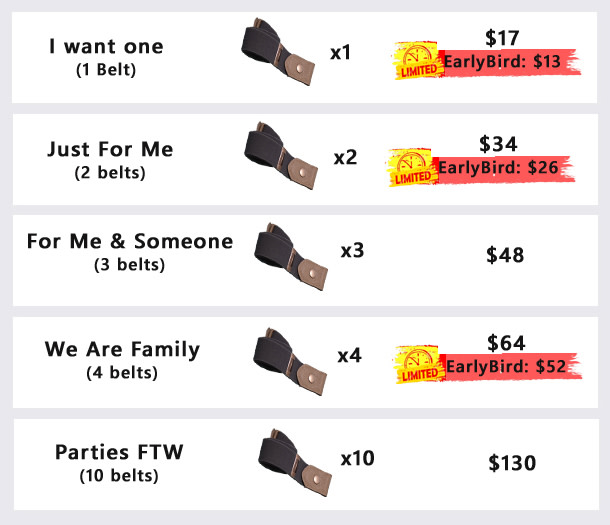 Color Options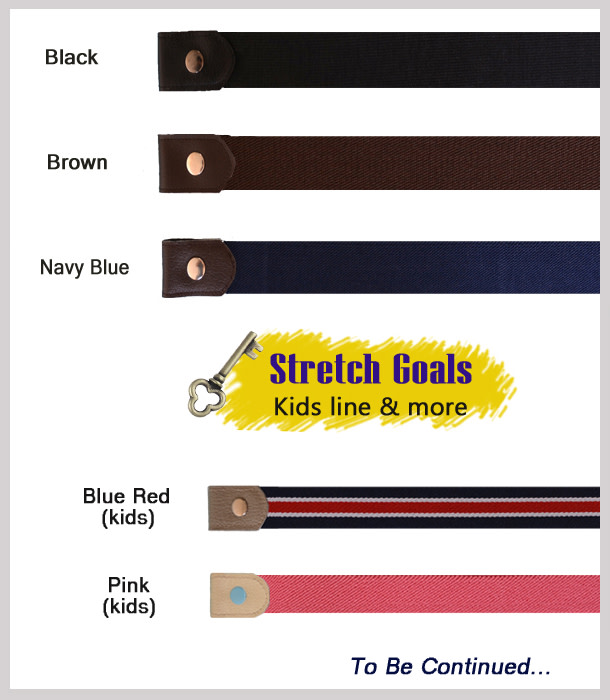 *Please note these are just samples. The actual professionally-manufactured products you'll receive will have a much nicer finish!

We'll add Kids line as a stretch goal! More surprises on the way!
1. $3,000 funded: Freebelts Kids launches!
2. $7,000 funded: Light Blue (Adult)
3. $10,000 funded: More cute cloros for FreeBelts Kids
4. $100,000 funded: To be disclosed-exciting news awaits 🙂

Yes
We'll have kids line if we reach the stretch goal. See above. Please share the word so we can raise enough fund to add many cute designs for both kids and adult lines.
Yes
FreeBelts fit all sizes—it's one-size-fits-all in principle. Can't believe it? Trust us, our magic is real 🙂
But for the greatest fit we have 2 sizes of adult belts, and (if we hit the stretch goal) kids line for toddlers through teens. The sizes will be specified in the email you'll receive to chose your belts.
Yes
FreeBelts are ethically and sustainably manufactured, with high-quality, durable materials and legitimate labor.
Yes
We have applied for US and international patents, and currently have 'patent pending' status.
No
FreeBelts are not sold anywhere else yet. To bring this cool idea to life, so far we've tested multiple prototypes with different designs, parts, and materials. We finally landed on what works great and are aiming to bring this to the mass market with your help.
How do I choose my belts?
Once the campaign is completed, we will send you an email where you'll pick your belts. Choose any belt/combo from our entire collection—kids/adult, color and size.
Still have a question?
Feel free to reach us at hi@freebelt.co.