iCrowdNewswire - Aug 1, 2016
The Balance Factor
Putting the FUN & BALANCE back into Healthy Living, one page at a time.
Life is too short to continually be counting calories, doing diets, living in the gym and going without rather than living a balanced, happy and fulfilled life. And it's for this reason we decided to create this. THE BALANCE FACTOR is for people who are fed up with the complexity and confusion of living a healthy, balanced life and just want to be balanced, healthy, happy and free.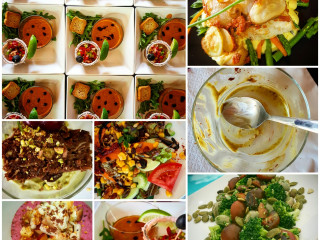 A (hopefully) Brief Introduction
When we opened our Health Retreat in 2014, we never expected it to grow the way that it has. All we wanted to do was help people understand what healthy living was all about.
We never started it out to become good cooks because that wasn't what we were passionate about. In fact, we even had a chef lined up to join our team and he never arrived. A few days before we were due to open our doors to paying clients, we stopped receiving any contact from the person we had signed up to join our team and naturally, the panic kicked in.
We had people arriving in a few days and something had to be done.
So what do you do when a challenge comes up ?
YOU MAKE A PLAN and you JUST DO IT !!
Neither of us (G&J – the Owners of the Retreat) have ever had any formal training in cooking but through our friendship, we had grown to share a mutual love of eating. After all, it is one of THE most important things that we can do – we all know we need food to stay alive – but it goes far deeper than that.
I (Gareth) am the one who does most of the cooking because, well just because it worked out that way. I have never had the greatest relationship with food and have always found it rather boring and mundane. Eating wasn't something I enjoyed because it just wasn't. I won't go into too much detail here but there were times when I just "forgot" to eat and that lead to a number of health challenges later on in life.
When I met Jeroen in 2008, my Business Partner and Best Friend, I asked him to help me understand food, and healthy living, better. He shared with me his views and how he chose to live his life, and in doing so, a new relationship with food began for me.
I started to appreciate it. I started to value it. I started to see how food was SO MUCH MORE than just fuel and something you had to do to stay alive. So naturally, when we started our Retreat, we knew that food had to play an important role in what we had to share with the world.
I took this opportunity to find a way of "falling in love" with eating again.
It was difficult at first. I know how upset I can get if I go somewhere and the food is not that great. So every meal we prepare is a nerve wracking experience.
And now, 2 and a half years later, and requests every week for a Recipe Book, I finally accept that maybe, just maybe, my cooking is good enough for people to want to continue with at home.
The Balance Factor isn't just about food.
It's about SO much more.
It's an experience and a journey into a healthier, happier more balanced life style – one that leaves you with more time and more freedom to enjoy the things you really love doing and more importantly than that, it's one that leaves you feeling truly satisfied.
It's an experience that takes you through the seasons, providing you with detailed plans of what to eat throughout the year – Warming Winter stews and soups to Sizzling Summer salads and stir fries, Amazing Autumnal roasts and relishes to Scintillating Spring smoothies and sauces.
But healthy living isn't just about food – it's about much, much more and we know from our experience of working with quite a few people, that planning is the key area of challenge when it comes to living a healthy balanced life and The Balance Factor takes all of that into account.
Meal plans, shopping lists, food diaries and exercise plans for the seasons – we have done our best to combine it and put it all in one place for you to enjoy.
You never know, The Balance Factor may just be the last series of Recipe Books you ever need to buy to live the healthy life you've always wanted.
What We Need & What You Get
In order to get this book, or should we say, series of books out into the world, we need your help.
It's taken almost 18 months of consistent, solid hard work to get the format of our books clear and we're pleased to say that we're finally there. We have a structure, we have a list and we're ready to rock and roll.
But publishing a book is expensive. Creating and publishing 4 is even more challenging – but if you know us, you'll know that we do like the odd challenge every now and then.
So, over the course of the next year, we'll be releasing our 4 books – that is, if we achieve the targets we need to get this done.
January 2017 – The Winter Edition
April 2017 – The Spring Collection
July 2017 – The Summer Assortment
October 2017 – The Autumn Arrangement
Each edition (or season) will provide you with plans, recipes, information, exercises and so much more that will, at the end of the year, give you a COMPLETE COLLECTION of everything you need to be healthy and happy.
Recipes will be as seasonal (and simple) as possible, providing your body with what it truly needs during the different times of the year.
Exercises will be tailored and created for you to do in the comfort of your own home, again in line with the times of the year.
We'll include all of the favourite meals from our Retreat, following our Program and structure that we use each week including Easy Meals, Juices & Smoothies, Soups and Salads, Naya Fiesta Meals, Family Favourites and of course, everyone's favourite, Snacks and Treats.
Plans will be structured so that they are as simple to follow as possible, giving you a true balance without having to sit down and think too much.
AND !!
We'll even be running Special Weeks at our Retreat in Spain, dedicated to showing you EXACTLY how we create the meals we do every week. These Gourmet Fitness Weeks will be tied in with the launch of each of the books as they come out so stay posted for more information about those.
We have been in contact with a PR Agency, who we are hoping to sign up and we've had discussions with a Publisher who will help us get everything out into the world, so all contributions will go towards the PR & Publishing Packages we are working on.
Here's the exact breakdown of what is need to get ALL FOUR BOOKS completed and published over the course of the year: –
Publishing and Production Costs – 10,000.00
PR & Marketing – 6,000.00
Indiegogo Fees – 2,600.00
Paypal Fees – 480.00
Order Fulfillment – 2,625.00
Photography – 2,000.00
The Impact
When we started our business, we had but one simple aim: –
To make the world a healthier and happier place, on person at a time by showing them how simple and fun health can be.
We were fed up with the complexity and confusion of living a healthy, balanced life and just want to be balanced, healthy, happy and free. At the end of the day, our aim is to help people feel good, no matter what is going on around us.
Life is too short to continually be counting calories, doing diets, living in the gym and going without rather than living a balanced, happy and fulfilled life. And it's for this reason we'd really like to finally get this going.
At D-Toxd Living, we live our lives by a Manifesto.
We're bound by a common desire to be healthy and free, but most of all, to have fun and be happy.
We're not bound by extremes but live our lives to our own extreme limits.
We're not driven by facts and fear, rather we live by fun and faith.
We're not ruled by research and are driven by personal results.
And most of all, we're not focused on the outcome because we embrace the simple pleasure and joy of the journey.
And this is our next step towards fulfilling our vision.
We're taking the complex and complicated and doing our best to make it simple and fun again.
We're making it real life, healthy living for one and all.
Risks & Challenges
Right now, the world is awash with some amazing people doing amazing things to help people live healthier lives and we know we have a HUGE task ahead of us.
We're not juice junkies or yogi's who meditate all day, we're not workout warriors and muscle maniacs who live in the gym, we're not fanatics or freaks who live extreme lives and we're not raw foodies or vegans (or even vegetarians) for that matter.
We're not even trained chefs – and this is probably the reason why it has taken it us so long to finally make this decision towards doing this and creating what so many people have asked for.
We're just 2 regular, every day guys, who get stressed every now and then, who feel like throwing the towel in once in a while, who like having a glass of wine or beer with our families, who want to eat junk at times and who like having fun and helping people. We don't think we're anything special or different at all and may that is our downfall – even writing this is a challenge for us because we just do what we do because it helps people and that is that !
We're making it simple so there will be NO calories and content, macro's and micro's, this's and that's – just plain and simple, healthy, balanced living which is something that might put some people off.
We have NO idea how our voice will be heard, or received, but we're willing to give it a go.
Our biggest risk is doing all of the work, raising all of the funds and then being stuck with a box of books under the table and, if the truth be told, it's another thing that has been putting us off.
Other Ways You Can Help
If you've sat down in our Naya and enjoyed our meals with us, all we ask is that you share and share and share – and then share again.
Tell as many people as you can about this.
Use this hash tag whenever you post anywhere – #thebalancefactor
Come find us on Facebook in our Special Group – "D-Toxd Living – Life Made Good"
Make some noise with us because we would appreciate every single piece of help and support that we can get right now.