iCrowdNewswire - Jul 26, 2016
44 Years in Darkness
A True Story of Madness, Tragedy, and Shattered Love.
Rhoda Derry spent decades locked away in an almshouse, battling severe mental illness. Her crime? Falling in love. She had been "cursed" by the mother of the boy she was engaged to marry. She was eventually rescued by Dr. Zeller of the Peoria State Hospital, spending her final years surrounded by caring nurses.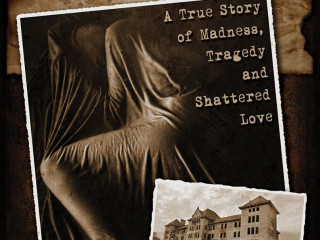 44 Years in Darkness: A True Story of Madness, Tragedy, and Shattered Love
The story of Rhoda Derry is one of the tragedies of mental health care in Illinois, and one of the great success stories of the Peoria State Hospital. Rhoda was born in 1834, the beautiful youngest daughter of a farming family. When she was 16, she fell in love with the son of a neighboring farm family. Charles' mother was against the marriage, and threatened to curse Rhoda if she didn't break it off with Charles. Rhoda took her seriously, and it drove her insane.
I've written extensively about the Peoria State Hospital. My book Fractured Spirits has been well received, and it is my great privilege to share the history of this very haunted asylum with people. Rhoda Derry was one of the patients at the asylum, just one of the many people who was helped by Dr. George Zeller and his staff of compassionate nurses. But she is not a faceless statistic. She lived, and loved. I am grateful to be able to tell her story.
And I believe her story is vitally important. We are just now getting to the point, in this country, where we can begin to have a conversation about mental illness and the hope for effective treatment. That conversation began over a century ago with Rhoda Derry.
This book has important things to say about our treatment of the mentally ill. I write about the spirits at the haunted Peoria State Hospital, but I believe this story has the potential to go mainstream. It's not only about ghosts — it's about a young girl whose life was changed forever by falling in love.
Your contributions will help me bring this story to the attention of important people in the mental health community. I will use your contributions to print ARCs (advance review copies) of the book, to send to people in the field like Glenn Close, Patrick Kennedy, Kitty Dukakis, John Green, and Carrie Fisher, people who have been touched by mental illness and who have come out stronger for it. I will also send review copies to the mainstream media, to bring their attention to Rhoda's story as well. I intend to get the attention of places like NPR, The Diane Rehm Show, Smithsonian Magazine, and the Wall Street Journal.
I plan to print review copies through Createspace. I have used this company before; I find that they provide a good product in a timely fashion. Books produced through Createspace look professionally prepared. Your contributions will fund printing of review copies, as well as the postage needed to send those copies to influencers all over the media.
And in return for your financial support, I have put together lots of great perks, from magnets, to advance copies of the book that you'll receive two months before it hits bookstore shelves, to the opportunity to explore the haunted Pollak Hospital with me as your personal guide. This is my way of saying "thank you" for helping me bring Rhoda Derry's story to the world.
Mental illness touches many people. This was as true in the nineteenth century as it is today. This book will bring history alive. It also has an intensely personal angle to it; in the book, I describe the struggle of someone close to me. Her story and Rhoda's have parallels, although the ending to each story is very different.
And even if you can't contribute financially, there are other ways you can help. Please feel free to share this campaign. I'm active on Facebook, so that's where we can both share the heck out of this endeavor. Or visit me at
www.sylviashults.wordpress.com
. I welcome your feedback, and I look forward to your visit,