iCrowdNewswire - Jul 25, 2016
Wet Plate Project – Year 5 – Burning Man 2016
Creating and giving away tintypes on playa since 2011.
NEVER SAY NEVER! Last year on playa (2015) we thought it was our last run. Truth is, the ultimate fate of this project is unknown. BUT! for now, we're back in the saddle for another successful run and giving out love.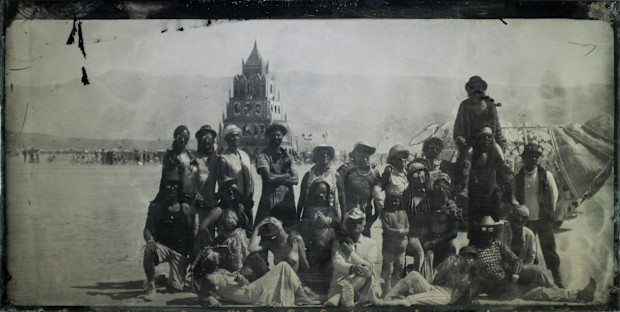 Short Summary
The Wet Plate Project at Burning Man needs your help to keep making and giving away wet plate tintypes on playa. IN SHORT: The camera needs rebuilding and we need funds for materials to make the plates.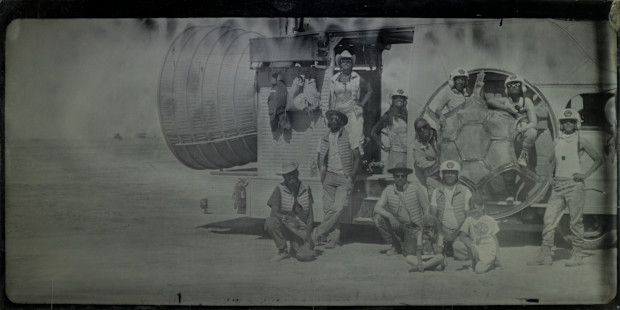 The History
In 2010 Brian Sullivan returned to Black Rock City after more than half a decade absence. Whilst there a small kernel of an idea came to life, an idea that was hard, and expensive, and ridiculous in so many ways; to shoot, develop, and give away wet plate tintypes on playa. As alternative photographic processes go wet plate is one of the more difficult requiring not only an on-site darkroom but decent weather and chemicals that are persnickety to say the least.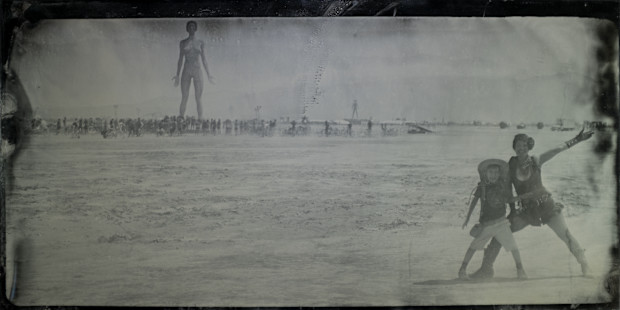 But the idea of giving burners a gift, something precious, and hard to make, impossible to reproduce, well, that was enough to get the ball rolling. He decided on a 4×8" tintype, two to be shot simultaneously, one for the burner and one to be kept for the ongoing project.
In the early to middle months of 2011 Brian and a group of friends in San Francisco (many of whom still are on speaking terms with him to this day) set about to build a camera darkroom designed to withstand the rigors of the playa. A trailer to act as both the camera and the darkroom so the sensitized wet plate need not go outside and be subject to the heat and dust of the playa but would go straight from the silver bath to the camera back in seconds and to all the exposure of the plate in the comfort of a swamp cooled environment then immediately developed. The darkroom was completed, custom camera wall included as well as a diorama frame for burners to stand within to create a memorable frame for the wet plate, and to the playa it went in 2011.
What We Need & What You Get
This IndieGoGo is to help us fund these things:
• The camera rebuild and repair approx $500
• Chemistry (Collodion, developer, and fixer, etc) approx $2600 (plus $200 shipping)
• Plate materials for the tintype production approx $650
•Gas, propane, water, misc darkroom supplies approx $3350
Grand Total: $7500 :)
Supporters will get a variety of perks for helping us out, check the perks page for more details!

The Impact
There is a lot of art at burning man for people to look at and some for them to interact with but there is not much that they get to take home with them. This project creates a personal piece of art, archival long lasting silver on metal, that people get to keep and treasure. I do this project solely for that look on someone's face when they look at the plate and realize it is theirs and they get to take it home. It is a priceless memory, for them and for us.

Risks & Challenges
2011 was a disaster. Just about everything that could go wrong did. The litany of woes is too long to list here but let's just say it was a learning year. With Brian absorbing most of the cost of the project with only a modest amount of donations it was a pretty brutal lesson in creating art on the playa.
Roll on to 2012 and with so many lessons learned it helped the project produce and give out over 50 plates to burners on playa. In 2013 it went even better with about 110 plates being made and given out to pretty ecstatic burners. There were lines every day.
In 2014 Brian Sullivan decided to take an off year, to not bring the camera darkroom. But instead he brought plates from years past to display in Media Mecca and the response was fantastic, people loved the format, the subjects, the process, all of it. Our on playa display was a hit.
It is now 2016 and the originally planned 4 year tour will be stretched to it's 5th and final year with Brian at the helm, it may live on but with another lead. There are other art projects that he wants to work on and there is the possibility of handing off the project to someone else but chances are this is the last year that tintypes will be given out on playa.
In Closing
The first 4 years of this project's financial burden was borne on the shoulders of Brian mostly with some small help the first year by some friends.
This year in order to bring the Wet Plate Project back to the playa we need your help. Without it we can't take this final voyage and give joy to random bizarre people in the middle of nowhere.
Whatever you can afford is greatly appreciated and will go to the great cause of giving away a small piece of history with an alternative process photograph and a memory in a way that will last for centuries.
Thank you!
Other Ways You Can Help
If you can't afford to donate we are always looking for volunteers to help produce the plates and wrangle the people on playa. From actually shooting the plates to washing and lacquering the more people we have working the camera/darkroom the more sessions we can shoot and give away silver goodness! Drop us an email and help out, contact [email protected]
SHARE THE LOVE ON FACEBOOK!!