iCrowdNewswire - Jul 25, 2016
Impulse – Keeps You and Your Motorcycle Secure
Recover your bike if stolen, get help fast in a crash, receive maintenance alerts, and more.
Revio products have been featured in:

Impulse is an advanced security module that you can add to any motorcycle. The device and service are designed to keep you and your bike safe and secure.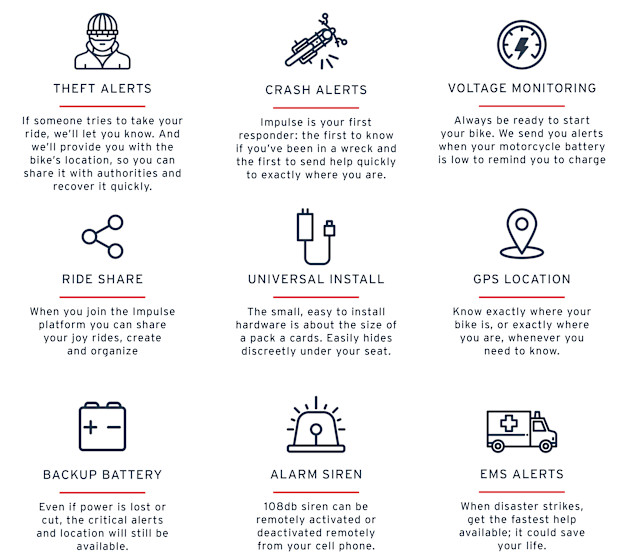 Impulse keeps you in control.
Safety and security has never been easier. And for a low monthly fee, you're always protected. Each Impulse module comes with 3 months of subscription monitoring via the extensive AT&T cellular network. After the first three months, our monitoring service cost $12 per month.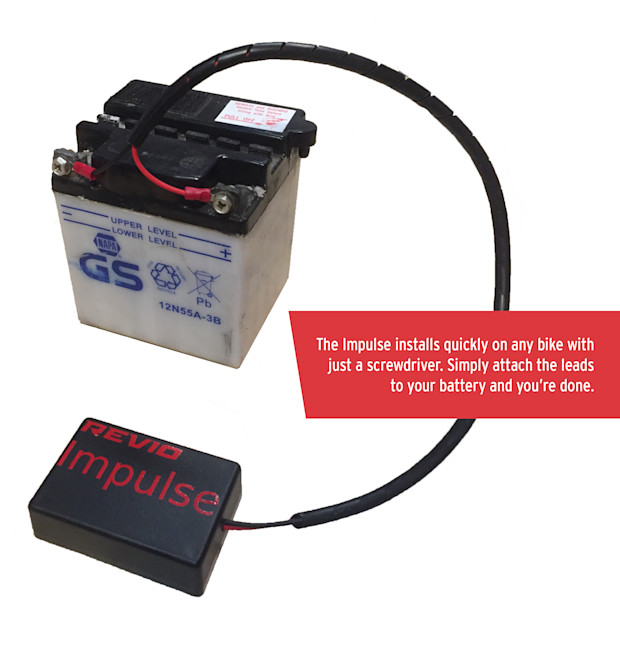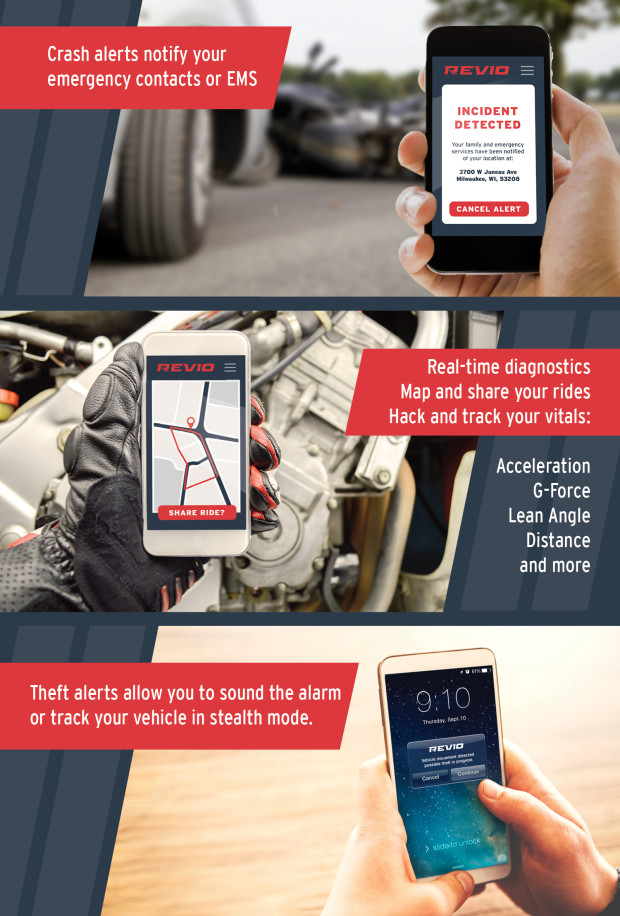 NATIONWIDE 3G COVERAGE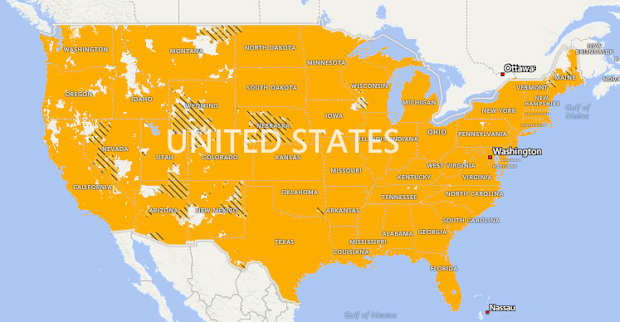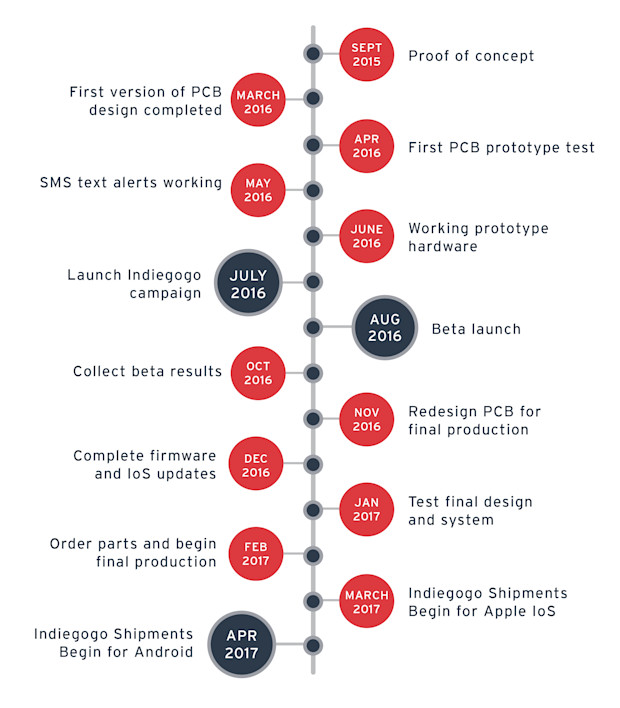 A team with the experience and contacts to build a groundbreaking product.
The Revio Team has been building and selling high-tech motorcycle safety devices since 2013. Our GearBrake brake light modules have been shipped to thousands of happy customers all over the world.
Together, we've got over 30 years of engineering experience making complex products a reality.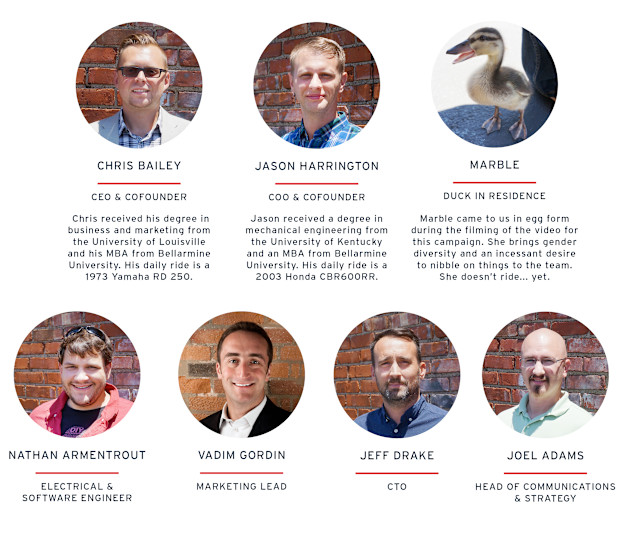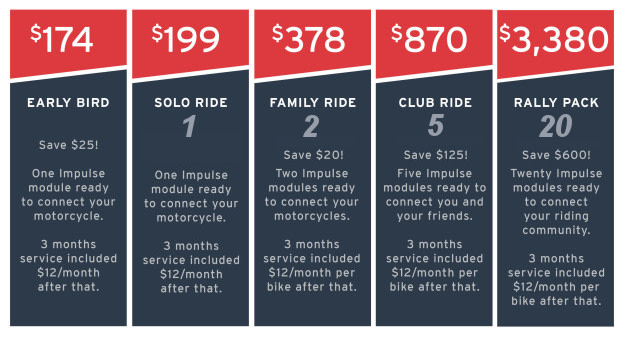 *expected MSRP: $299
FREQUENTLY ASKED QUESTIONS
| | |
| --- | --- |
| Will it work with my bike? | We designed the Impulse to be completely universal. It will work on any motorcycle with a 12V battery. |
| How easy is it to install? | Impulse comes with a two-wire harness that bolts directly onto your battery. Each wire has a ring terminal that will fit under the screws of your battery terminal. All you need is a screwdriver to wire it in. Installation should take less than 10 minutes. YOU CAN DO IT! |
| What happens if power is cut to the device? | If power is lost to the device, our back-up battery will continue to keep the Impulse running strong for 48 hours. This means you can still track your vehicle or receive alerts. |
| Will it run down my battery? | The Impulse requires a small amount of power to monitor for movement. At a steady state, the Impulse should take about 2 months to drain the battery. Not to worry, we will send notifications when the battery is getting low so you can throw the trickle charger on and always be ready to go. |
| Will this void my warranty? | No. The Impulse does not require any modifications or wire splicing to install. It is easily removable without damage to the vehicle. |
| Why do I need a subscription? | The real emergency services of the Impulse require access to cellular towers in as many places as possible, so you're protected wherever you go. Sadly, accessing those towers costs money, but we'll always be working hard to keep it as inexpensive as possible. |
| How big is the enclosure? | The device is roughly 3″x2″x1″. The wire harness is about 12″ long. The small size of the device allows you to be able to mount the enclosure easily in a discrete location that is tough for thieves to see and reach. |
| Will the Impulse work outside the US? | Not yet. International cellular connectivity is not something we have tackled yet. Don't worry, we will be releasing a module with international service in the future. Stay tuned. |
| If I buy multiple units with a Family, Group, or Rally pack, do they have to share billing info? | The monitoring fee for each unit will be billed separately so that you can split up however you or your friends prefer. |
Have other questions? Send us an email: [email protected]

Voltage: 12V nominal, 16V max
Dimensions: 3″L x 2″W x 1″T
48 hour internal battery
3G data connection
Bluetooth BLE connection
IOS and Android (future) compatible

As with any new hardware company, we are not without our risks. Hardware devices by nature are buggy, especially when connecting to cloud based systems. We have worked hard to overcome those risks by adding highly talented engineers to our team that have solved these problems in the past. We bring together talented engineers who have worked on projects for Siemens, GE, DoD and NASA. Our team spent the last year carefully designing and prototyping our system.
This also isn't our first product. In 2014, our team designed, patented and launched the GearBrake Smart Brake Light Module™. GearBrake used an accelerometer to detect any form of slowing in a vehicle and automatically light the brake lights. This technology gave riders the extra 1 second of warning time that can reduce up to 90% of rear-end collisions.

Even if you don't have a motorcycle, you can help us by sharing this campaign with friends and family that do ride. Use the Indiegogo share tools to the right to share on social media!