iCrowdNewswire - Jul 25, 2016
AQUALONE, save your water bill for garden & crops
A perfect watering control system !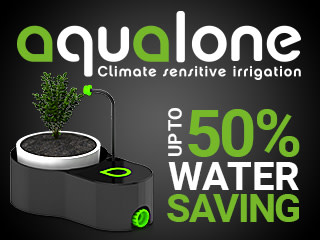 Aqualone is a totally autonomous watering control system for gardens and crops, it works without any energy. Join us to save water of the planet !

www.aqualone.net




1er prize-Innovation-Los Angeles Irrigation Show 2015

1er prize-Geneva Innovation Show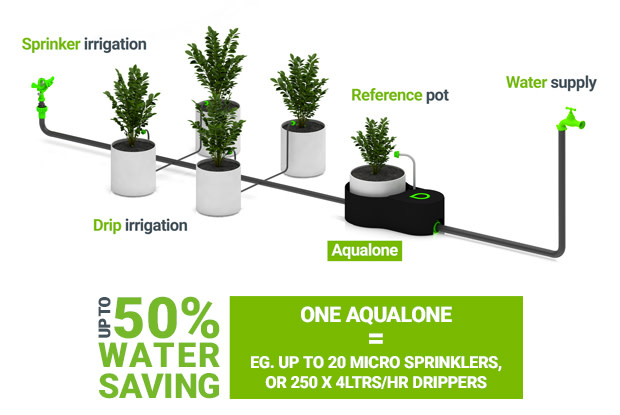 What is Aqualone ?
Aqualone is a totally autonomous watering control system, it works without any energy.
One ''home version'' Aqualone controller is able to manage for example up to 250 X4 ltrs/hr drippers, or 20 X 50 ltrs/hr micro sprinklers, and Aqualone ''pro'' is able to control any size of hydraulic valve!
Knowing that about 80% of fresh water available on earth is used for to crops, the widespread use of this system could contribute to solving the shortages facing our planet.
The price of Aqualone is incredibly competitive for a system that performs very complex functions naturally.
In a nutshell !
With Aqualone everything is done automatically and naturally
taking into account the water level in the reservoir.
Watering starts when the level is low and stops when the level is high.
On hot days, the irrigation system will water, on cooler days Aqualone will reduce the watering without you needing to take any action.
Everything happens on its own!
There are multiple advantages :

UP TO 50% WATER SAVING**
*See details on the website: www.aqualone.net
A PERFECT IRRIGATION CONTROL SYSTEM
Starts the irrigation depending on the plants' needs.
PLUG AND PLAY SYSTEM
Installation is simple and quick.
LOW COST
The price of Aqualone is incredibly competitive
for a system that performs very complex functions naturally.
Lasting SAVINGS on PURCHASE, INSTALLATION,
MAINTENANCE and WATER CONSUMPTION.
NO ENERGY, NO BATTERY
Absence of batteries and electronic components
make Aqualone a sustainable product.
AUTONOMOUS ZONING SYSTEM
Aqualone can definitely be installed in any remote place, it just needs pressurized water.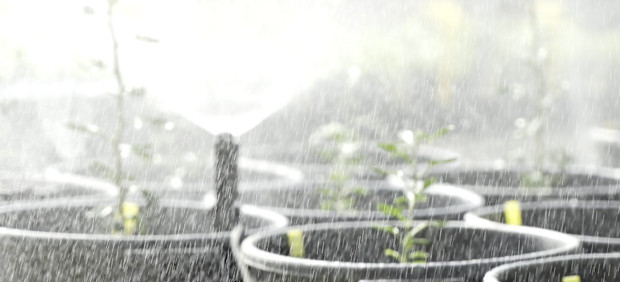 How does it work ?
Aqualone fills all these functions without any tuning or tedious programming.
Aqualone does not require any energy! No battery, no wiring, no electronics, no migraine inducing users manuals.
Aqualone includes a magnetic bistable pilot valve able to activate any sort and size of hydraulic valves, using simple tubing/ a simple hose.
The excess water drained from the reference pot is collected at the bottom of the holding chamber, forcing the magnetic float to rise and stop the watering cycle.
As the system's water evaporation rate is the same as that of the concerned soil, a new irrigation cycle will only begin when the soil is in drying-out phase.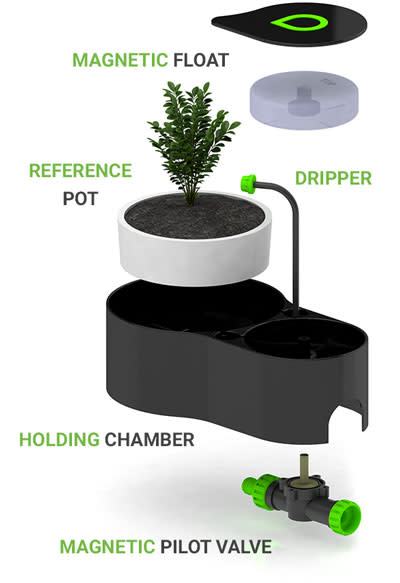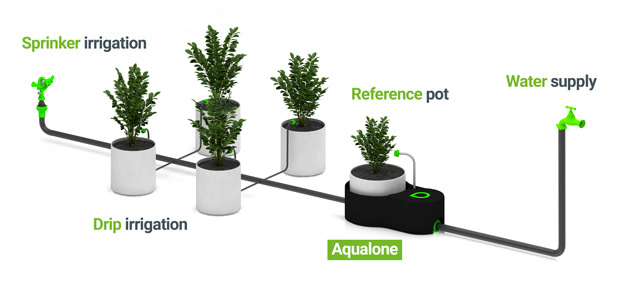 GARDEN & CROPS

———————————- STEP 1 – IRRIGATION ———————————-
Aqualone consists of a reference pot and a dripper.
The system stores the water of the irrigation (or the rain!)
in its holding chamber.
Once the water source is connected to Aqualone, the dripper starts to work.
The water seeps into the soil, reproducing our soil's demand for water.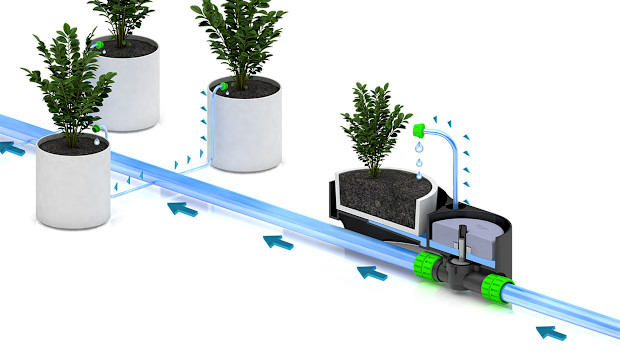 —————— STEP 2 – SATURATION / IRRIGATION STOP ——————
As soon as the water needs are satisfied, a magnetic valve
automatically stops the irrigation.
The water will then evaporate, more or less quickly depending on the weather conditions.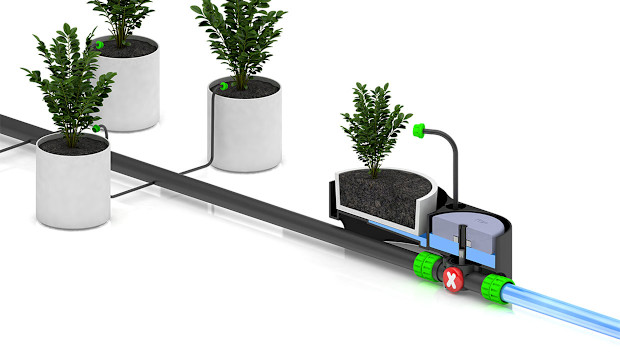 ————————- STEP 3 – A NEW CYCLE BEGINS ————————-
As soon as the water level is low, the irrigation starts again.
It is a made to measure system.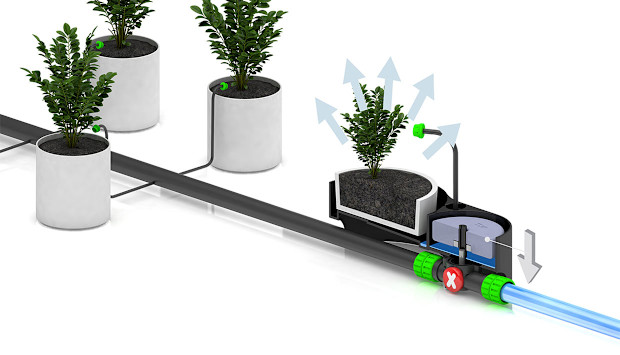 WATCH VIDEO "HOW IT WORKS"
EASY TO INSTALL
For your garden & crops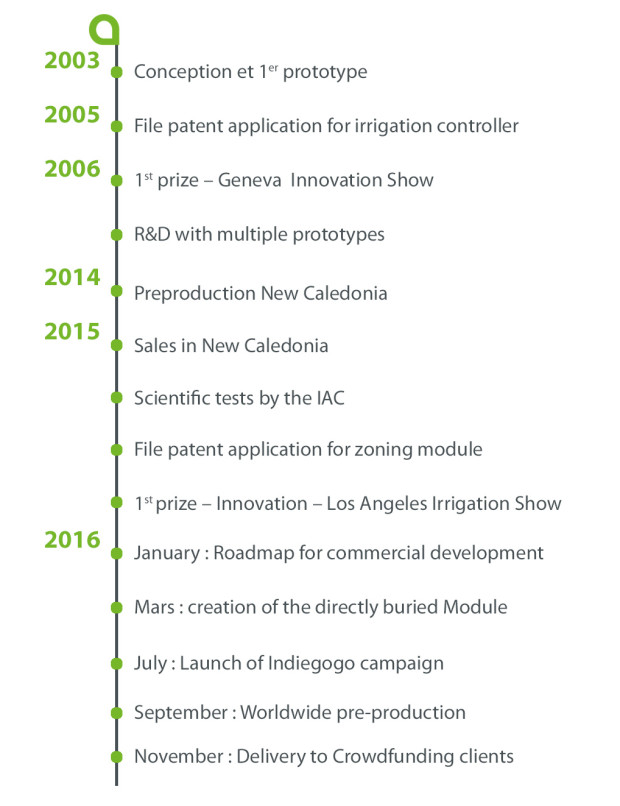 REWARDS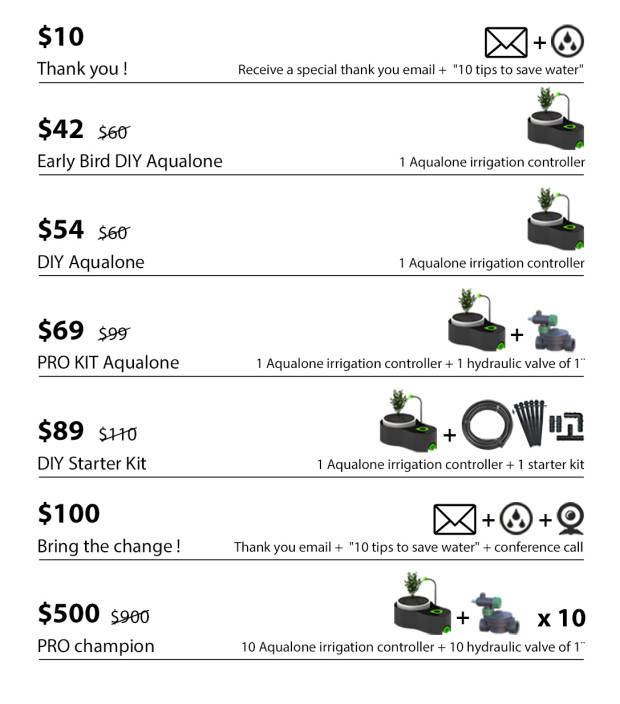 Delivery cost is all inclusive to your door step !
Aqualone needs to become more than a prototype reserved
for the lucky few, so that everyone can use it and find it in their cities
and garden centres everywhere in the world.
With you, thanks to you we can help protect the most
precious of all our ressources all over the world, water.
Join us, we're counting on you !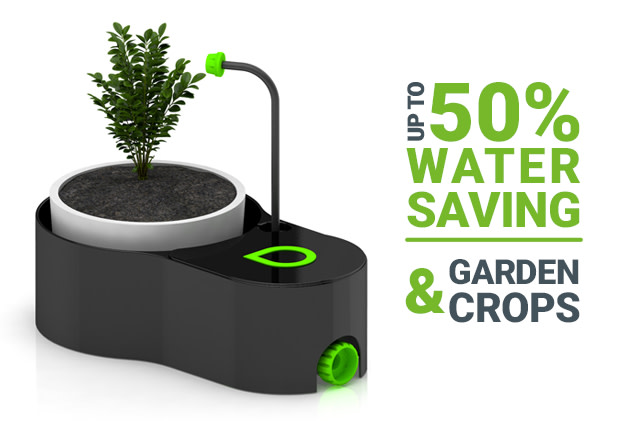 FAQ

How will the Indiegogo kitty be used?
– The amount collected will allow us to finance the industrial manufacturing of Aqualone, and to distribute this simple and effective way to save water around theworld!
When will I receive my order?
– The large scale production is scheduled for September, so you'll be the first to enjoy Aqualone in November.
Who are we?
– The Aqualone team consists of four enthusiasts:
Bernard is a fluid engineer and the inventor of Aqualone.
Bertrand and Franck work on business development and strategy.
Frédéric is in charge of legal matters and patents.
Questions / Answers about Aqualone "home"
What is Aqualone?
– Aqualone is an irrigation controller. It is installed exactly like an electronic programmer and autonomously handles the watering cycles.
How to install with its starter kit?
– Once Aqualone is in place, connect the garden hose into the controller output, and install irrigation equipment (drippers, sprinklers, etc.) near your plants.
How many plants can Aqualone water?
– Aqualone integrated valve allows a flow of 1000 liters/hour. So for instance you may install four 250 liters/hour drippers, or twenty 50 liters/hour micro sprinklers, or 2 garden sprinklers for your lawn.
What is the use of the reference pot placed on Aqualone?
– The terracotta pot gives useful information to Aqualone for a perfect watering: temperature, wind, sun, rain …
How to choose the planter?
– The pot is a very common item: it is in clay, with a top diameter between 14 and 18 cm to fit into its location on the Aqualone controller.
Does Aqualone work without a pot?
– The ceramic pot is the heart of the system. Without it Aqualone will not be connected to the current climate.
How long does a watering cycle last?
– The integrated dripper supplied with Aqualone has a flow rate of 2 liters/hour. The run time is approximately 10 minutes.
Is it possible to change the watering duration?
– It is possible to replace the integrated dripper with an adjustable flow dripper! So you can change the cycle duration according to your own needs. For example, if the dripper is closed, the cycle will be permanent (until the rain stops it!). If the dripper is widely open, the duration of watering may be reduced to under a minute.
What about maintenance?
– Approximately twice a year, it is necessary to remove the cover and the float and rinse the system with pressurized water. The filter in the water inlet connection of the system must also be removed and cleaned.
How to install Aqualone in a vegetable garden, an orchard?
– Aqualone is installed horizontally, close to the crops and in the same climatic conditions (rain, sun)
Questions / Answers about aqualone "pro"
How to install Aqualone on an existing network using a timer and a solenoid valve?
– Replace the solenoid valve by our hydraulic control valve (remove all electrical wiring!) and connect the Aqualone hydraulic valve using the 6mm pilot tubing supplied.
How can Aqualone handle zoning?
– Hydraulic valves are equipped with an autonomous zoning module which prohibits all other sectors when a sector is being watered.
How many Aqualone controllers should I buy for 5 sectors?
– It is necessary to install as many controllers and valves as zones. So every Aqualone controller will be able to adjust watering depending on the specific need of each plantation.
What is the maximum distance allowed between two zones?
– The valves installed on a shared water network may be distant from each other by several kilometers! Zoning modules are linked and communicate. They identify the pressure drop caused by a running zone.
In a public place, can we prevent watering during the day?
– It is necessary in this case to install a Master Valve upstream. This valve is controlled by a clock managing watering time slots.
In a sports field or a public lawn, how can we hide Aqualone?
– In its professional version, Aqualone can be supplied with a stainless steel case to store the controller into a garden box, covered with a layer of grass. A detailed explanation is available on our website.