iCrowdNewswire - Jul 25, 2016
AMPSound Personal Bluetooth Amplifiers & Earbuds
Easy-to-use, personal hearing stereo amplifiers that double as rechargeable Bluetooth headphones

AMPSound Bluetooth Hearing Amplifiers are unique in the way that they combine the benefits of not one, but three different products into a pair of beautifully designed stereo headphones. Use AMPSound as personal hearing amplifiers, Bluetooth stereo headphones or a Bluetooth earpiece for phone calls. With the ability to enhance sounds, you'll be able to hear the world around you better than you ever have before. Designed as regular in-ear earbuds, AMPSound headphones are easy to use, easy to wear and require no adjustments to give you the most comfortable fit.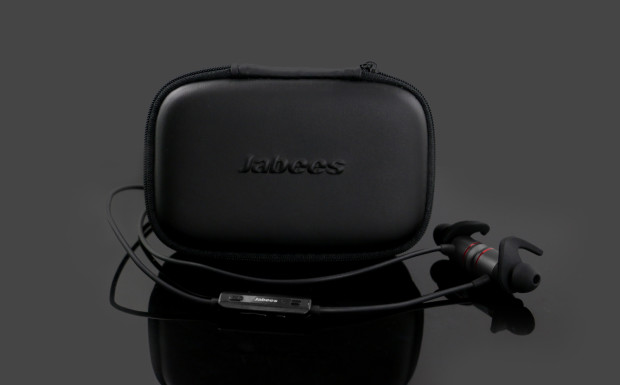 AMPSound offers 16 levels of personalized sound. Whether you're sitting in the back row at the movies straining to hear or in the middle of a busy coffee shop, you are in control of the noise around you.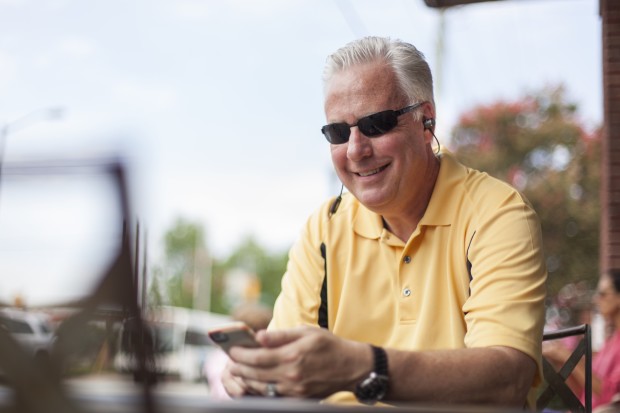 Forget about fidgeting with bulky hearing aids and painful earbuds. AMPSound Bluetooth Hearing Amplifiers are easy to use and easy to wear. Insert one of the three different earbud sizes for a custom fit that feels and looks natural.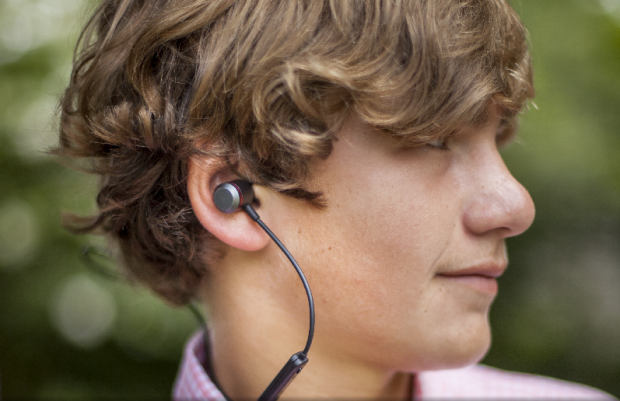 Enjoy high sound quality with or without the boost. To experience the gift of hassle-free, high-quality sound, simply hold down the "Mode" button for approximately two seconds to turn on the amplifier. If you decide you don't need the amplifying feature, double click the Mode button again to turn it off.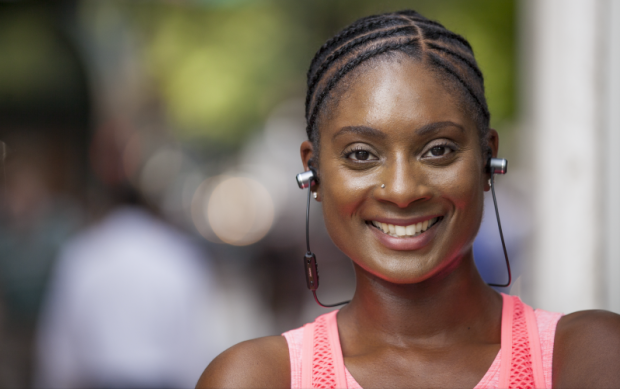 Enjoy music 24/7 with AMPSound's compact "Portable Power Pack." This Portable Power Pack allows for on-the-go charging and uses a built-in 3000 mAh capacity, which provides at least 21 cycles of charging. While you're at it, feel free to charge your smartphone and other electronic devices with the Power Pack's USB charging port!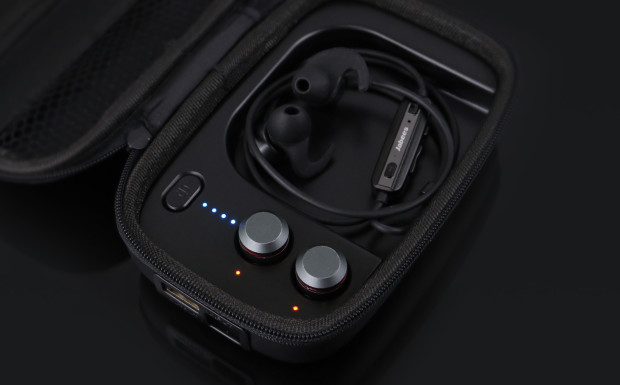 AMPSound is designed for everyone. Unlike other hearing aids, AMPSound Bluetooth Hearing Amplifiers can be purchased without a medical referral, making them accessible to anyone who wants a little help with their hearing!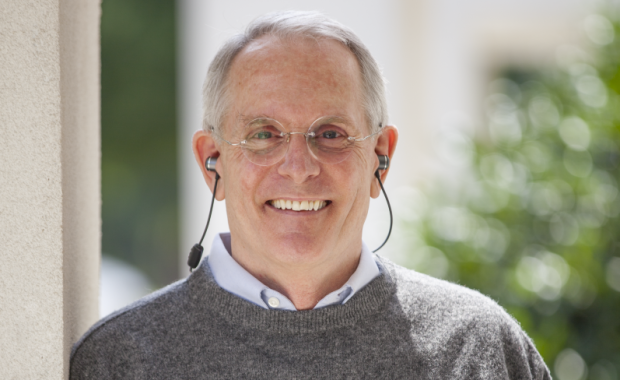 Take your daily phone calls and music streaming to the next level by easily connecting AMPSound to your mobile phone through Bluetooth. Want to jam out to your favorite tunes? Utilize the aptX technology and listen to your favorite songs in high quality.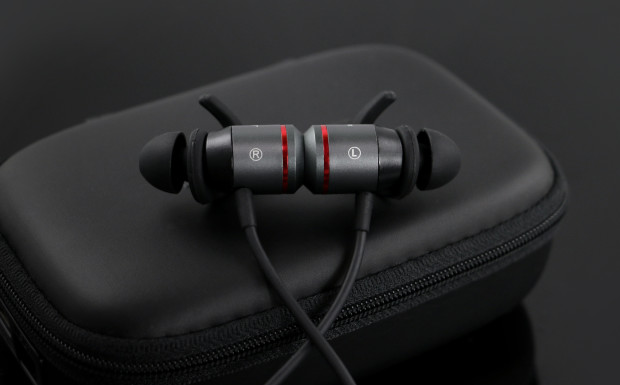 16 levels for personalized sound enhancement
Removable battery capsules (2 x 50mAh, total 100mAh)
3000mAh Power Pack that can charge mobile phones and other electronic devices
High-fidelity sound quality with built-in Automatic Gain Control (AGC)
One set of headphones, three different uses: Boost your hearing, answer calls or listen to music
Magnetic lock earbuds to answer and hang up phone calls – pull apart the earbuds to answer an incoming call and when the call ends, simply magnet the earbuds to automatically hang up
When AMPSound is in amplifier mode, they will automatically switch to Bluetooth mode when there is an incoming call. When the call ends, AMPSound will automatically switch back to amplifier mode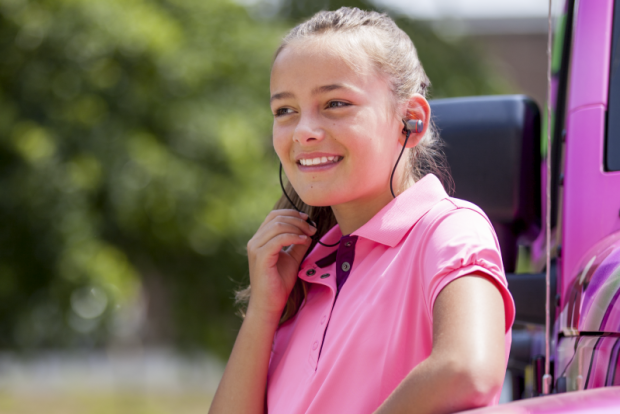 Bluetooth Version: V4.1
Support aptX for CD-like quality sound
Dual microphone for noise reduction
Can support 2 phones connections at the same time
Voice prompt
Coin battery
Maximum saturated sound pressure level (SSPL): ≤125dB +-3dB
High frequency average gain: 118dB +-3dB
Average full-on gain: 58dB +-5dB
Standard frequency response curve: 300Hz-5KHz
Equivalent Input Noise (EIN) level: ≤18dB
Harmonic distortion: ≤4%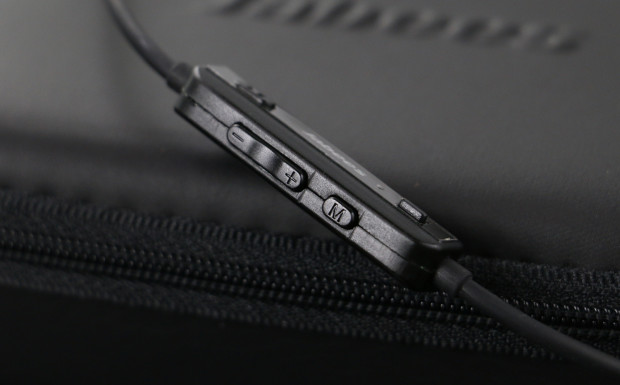 AMPSound offers affordable costs for quality hearing amplifiers
Comfortable ear pieces that you can put in and take out as easily and quickly as you like
Two removable battery capsules so you can charge one or two at the same time and always have power
Combined music streaming, handsfree phone calls and sound amplification features into one device
No medical evaluations needed, so you can pre-order AMPSound without a medical referral
Modern in-ear headphone design so you can ditch your old, embarrassing hearing amplifiers
AMPSound will automatically answer when there is an incoming call and will switch back to the mode you were previously in when the call ends
AMPSound's coin batteries are imported from Germany. The remaining battery capacity can reach 90%, even after 800 cycles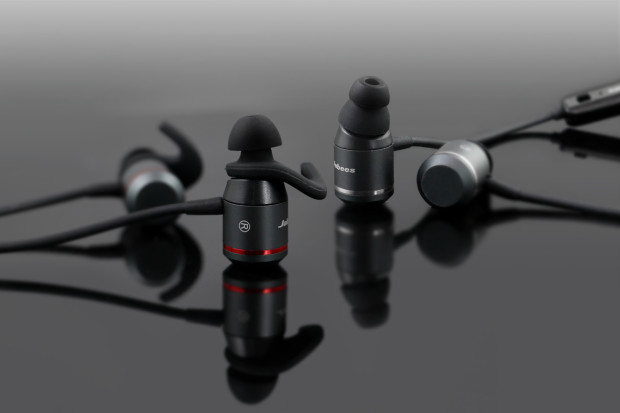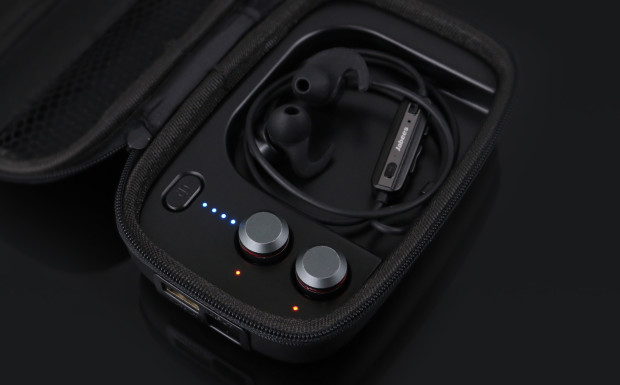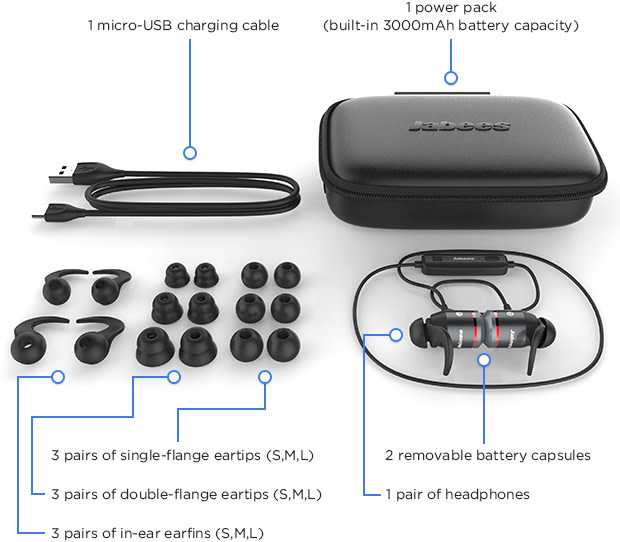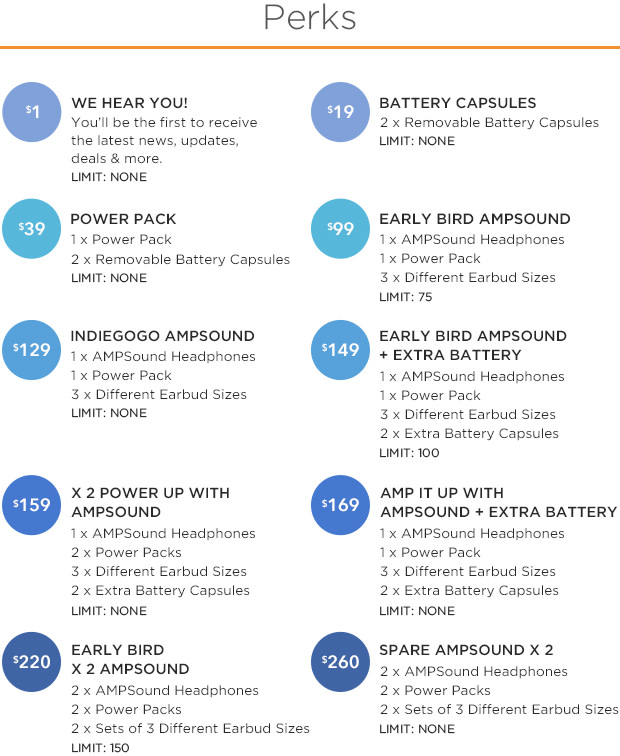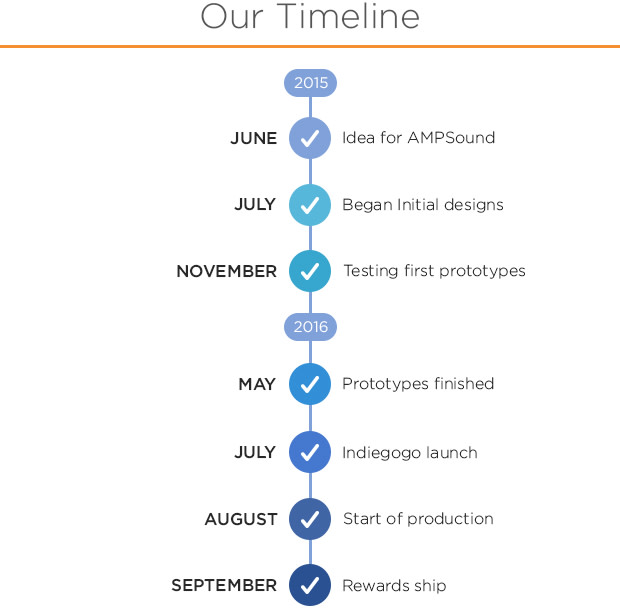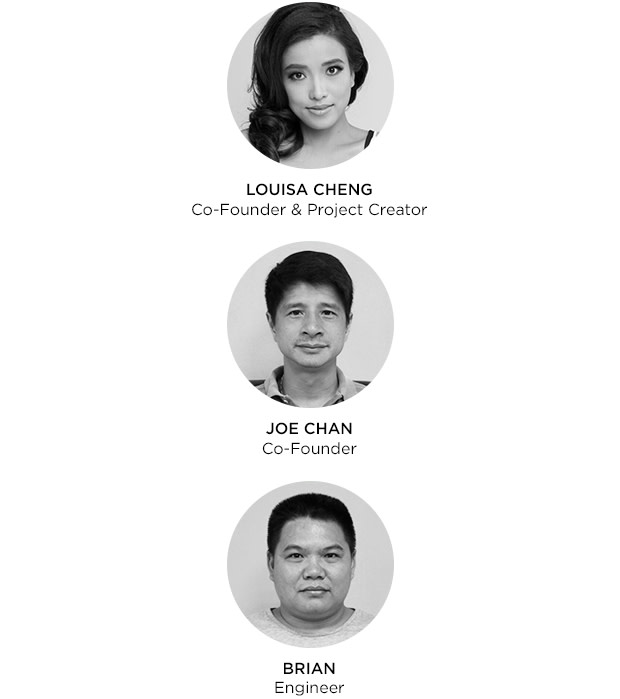 We have created fully-functional prototypes of AMPSound and our research and development team is now working on fine-tuning the audio and tooling fabrication.
At Jabees, we've been working on developing the best personal hearing amplifiers for quite some time. With our in-house production/quality control facilities, you'll receive the best quality product when you receive your AMPSound in September.
Now, we need your help to make it all come together. Please, support our campaign and help us reach our goal by joining the AMPSound movement. We can't do it without you!

How can we get in touch with your team?
We welcome you to visit our website, www.jabees.com, or our Facebook pagehttps://www.facebook.com/JabeesAudio/, for instant contact if you have any questions regarding AMPSound or our Indiegogo campaign.

When will the first AMPSound headphones be delivered? When will I get my own headphones? Where do you ship?
Our pre-production will start in August 2016. The target for the first product deliveries is September 2016, but we will make sure to keep you posted along the way.

How do I choose my color?
You will receive a survey to choose the color of your AMPSound.


Is there a microphone included?
There are two microphones on AMPSound, one is for hands-free use, the other is for reducing any background noise.


Is there a warranty?
We pride ourselves in giving our supporters the best user experience possible, but we do offer a 1-year limited warranty.

I have smaller ears, will the earbuds still fit?
Designed as regular in-ear earbuds, AMPSound headphones are easy to use, easy to wear and require no adjustments to give you the most comfortable fit.


Are the earbuds sweatproof?
Yes. AMPSound has a nano-coating to protect the earbuds and in-line remote from being damaged due to sweat. So even if you start to sweat, you won't have to worry about a thing.



What happens if I change my address before you ship?
We'll make an announcement 1 month before we ship and you'll be able to update your shipping address through your Indiegogo profile.

What comes in the box?
You will get a pair of AMPSound Headphones a portable power pack, three different in-ear earfin sizes, three different single-flange eartip sizes, three different double-flange eartip sizes, and a USB charging cable.
Can I answer or make phone calls while I'm in 'amplifier mode'?
Yes, AMPSound can automatically switch to handsfree mode when you want to make or answer a phone call. The mode will switch back over to 'amplifier mode' when the call ends.

Can I listen to music under 'amplifier mode'?
No, you will need to switch to 'Bluetooth mode' if you want to listen to music.


How long can the battery last if I just use AMPSound as a hearing amplifier?
You can use AMPSound for up to 7 hours on a single full charge.
How do I charge the battery capsules?
AMPSound comes with a portable power pack with built-in 3000mAh which can provide at least 21 cycles of charging 2 battery capsules.
How long is the battery life for music and handsfree?
The music playback is up to 5 hours and the talk time is up to 6 hours.