iCrowdNewswire - Jul 22, 2016
Unbound Apparel – The ultimate travel hack
Clothing that will let you travel the world with nothing more than a backpack.

Unbound is a line of clothing that will allow you to see more of the world, without the burden of hauling around bulky luggage. Stylish, simple merino wool apparel that can be worn for weeks or even months – without ever needing to be washed. Which means you can ditch the big suitcase, because all you'll need is your backpack. We've created the travel essentials that will bring out the true minimalist in you.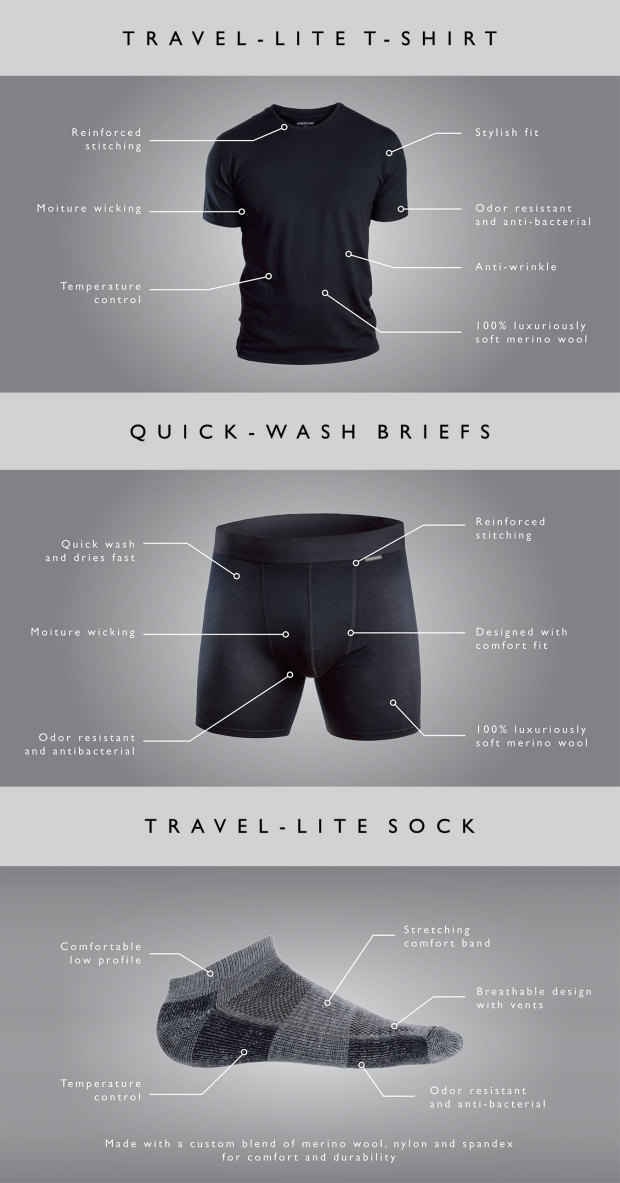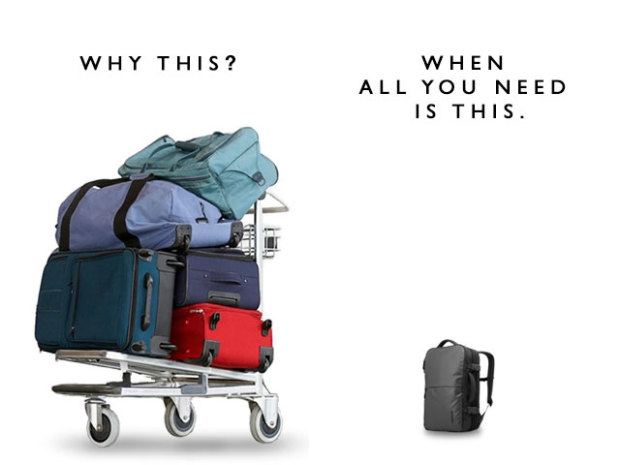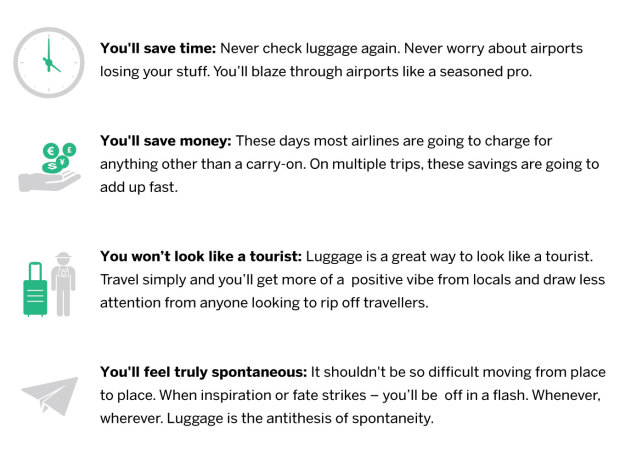 Because Unbound Merino is anti-bacterial, moisture wicking and odour-resistant, a 2-week trip no longer requires 2 weeks worth of shirts, socks and underwear. 2 of each is more than enough to last you a few weeks, or even months without your clothes ever smelling and with no visit to the laundromat.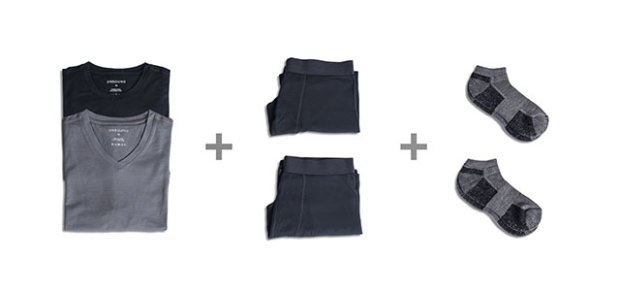 From the airplane, to the gym, to a night out on the town, Unbound travel apparel stays clean and fresh no matter where you find yourself or what you put it through.
That means when packing for a trip, you can drastically cut down the amount of clothing you pack and travel light, fast and free.

When creating Unbound we worked collaboratively with some of the best manufacturers of cottons, wools and technical fibres in the world. Here's why we chose Merino as the perfect fibre for travel: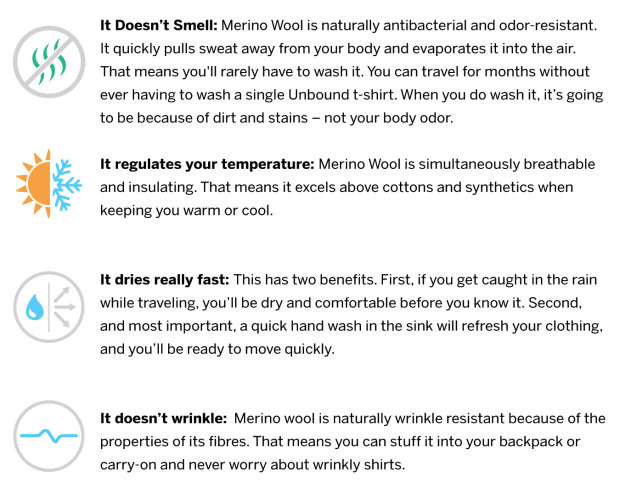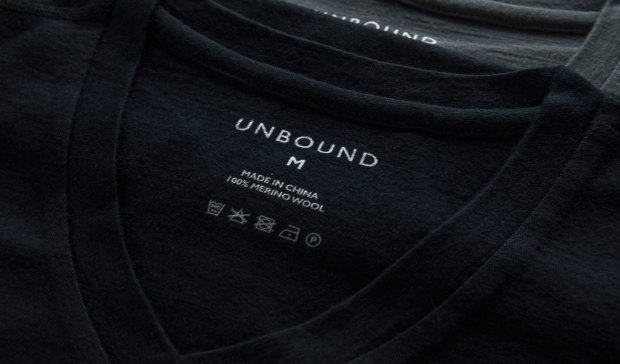 The textured light grey keeps you cool and comfortable in the sun.
The Black V-neck or Crew can be dressed up and perfect once the sun sets and you find yourself at a nice restaurant or club.
And of course, the basics; the highest performance socks and underwear you'll ever put on.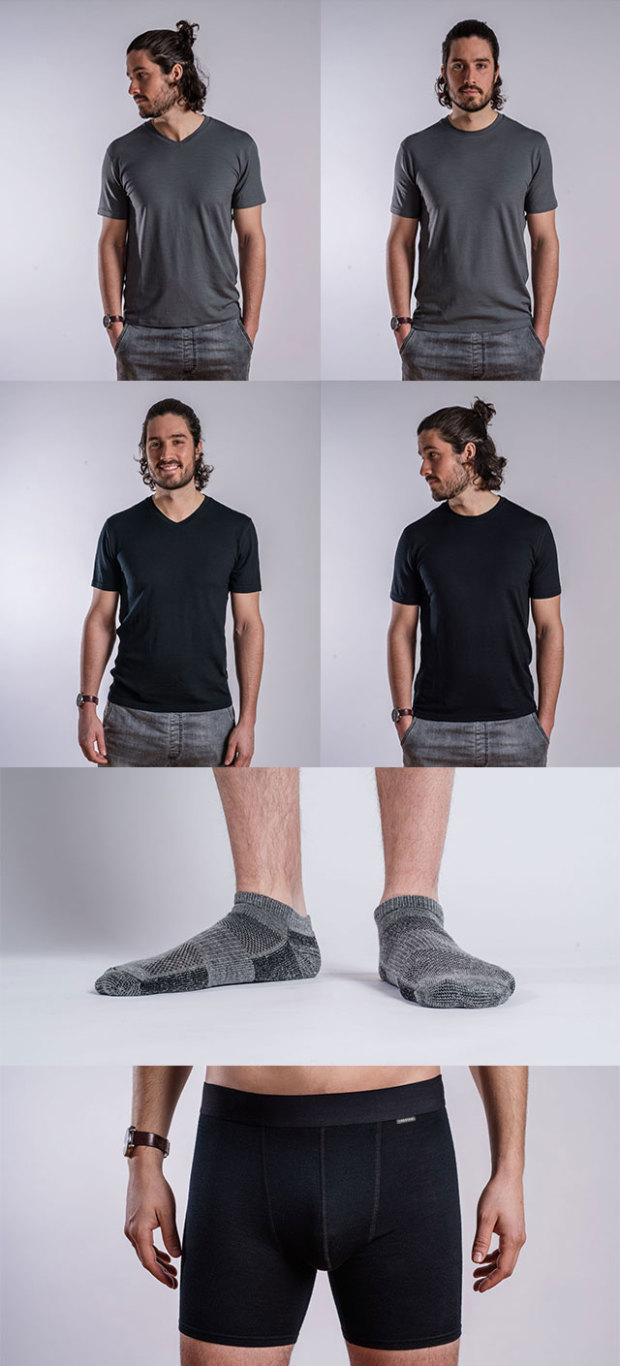 Until now, Merino has been traditionally used for high-performance active wear. That means flashy colours, intricate patterns and very athletic fits and functionality. It also means it's expensive and hard to find.
Since we cut out the middle man, Unbound Merino costs a fraction of the price of merino activewear.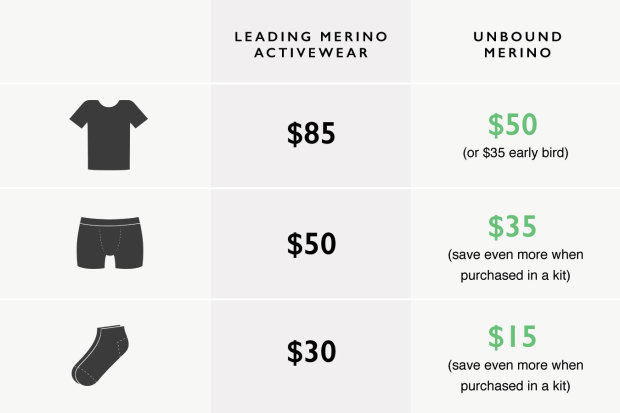 The benefits of Unbound go beyond travel. Having less (but better) stuff will not only simplify your life abroad, it will also add simplicity to your life at home.
Here are just some of the things that will happen when you Live Unbound:
You'll have less laundry to do.

Your laundry machine will be lonelier than ever. With a wardrobe full of clothing that rarely needs to be washed, you'll save time, money and energy.
It's one less thing to think about.
There's an endless amount of decisions to be made from the second you wake up. Spend less time deciding what to wear in the morning, so you can keep focused on the things that really matter.
You'll always look great.
In a perfect world, you would be wearing your favourite clothing every day. Unbound lets you live in that world. Clothing that doesn't go through the wash cycle with every wear keeps it's form and fit. It's like the first time you put it on, every time.
You'll own clothing with real value.
A lot of clothing purchased today is more or less disposable. It's designed to deteriorate after a few wears. While it may seem to be a cheaper option with the initial purchase – it ends up costing more over time. Not to mention the human and environmental cost. Having a few items that last long create more value in the long run and is a better way to live.
And One More Thing…
Some people would say that wearing the same thing every day is weird and unfashionable. We say Steve Jobs was onto something. His clothing became his uniform, and his uniform asserted his status as a true icon.
Alice Gregory, a writer living in New York, had this to say about what happens when you wear the same thing every day:
"This is the reason why characters in picture books never change their outfit: Children—like adults, if they'd only admit it—crave continuity. Adopting the habit of wearing a uniform is not unstylish—this is a classification that no longer applies."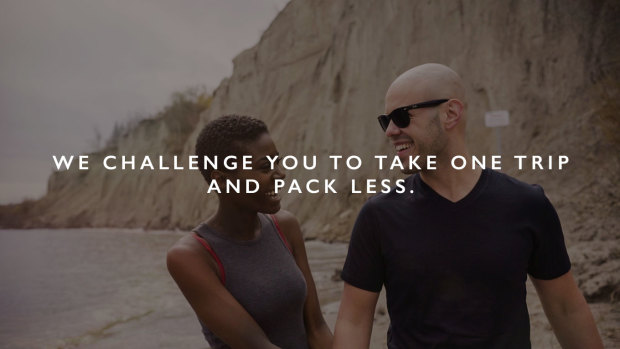 One trip without the physical and mental burden of luggage and we promise you will be more aware and focused, in harmony with the moment and able to enjoy the culture that surrounds you. As you begin to truly feel free, you will finally be unbound from the material world you left at home.
Picasso said that art is about the elimination of the unnecessary. Unbound is about the art of travel. It's about inspiring people to travel lighter, simpler, and smarter.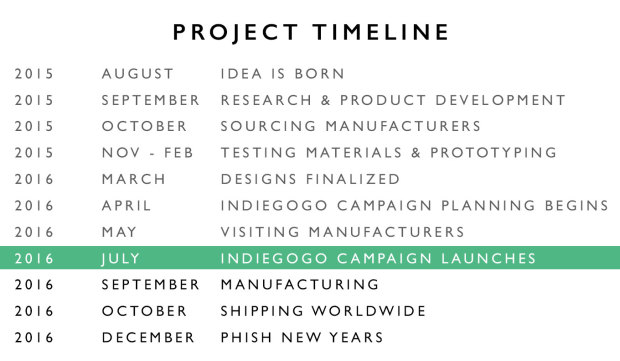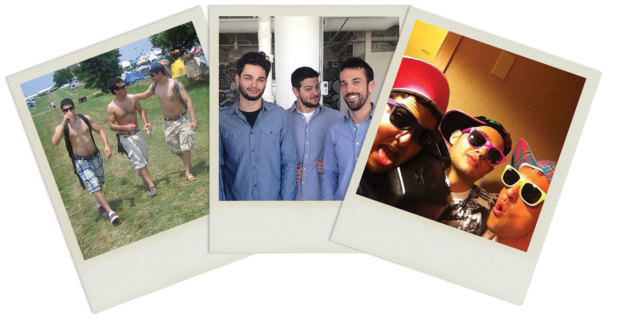 Unbound was founded by three lifelong best buds. We first met back in the third grade and have done a lot together over the years. In high school we got our first real taste of travel. We used to make art prints depicting our favourite bands and sold them on the road to make enough money to get from one live show to another. We were hooked.
We also started a few businesses together. A video production agency and a funky socks brand called Hitsu (socks designed by our favourite street artists). Hitsu opened the door to a lot of creativity, collaboration and inspiration but also gave us a wealth of experience in the manufacturing of apparel.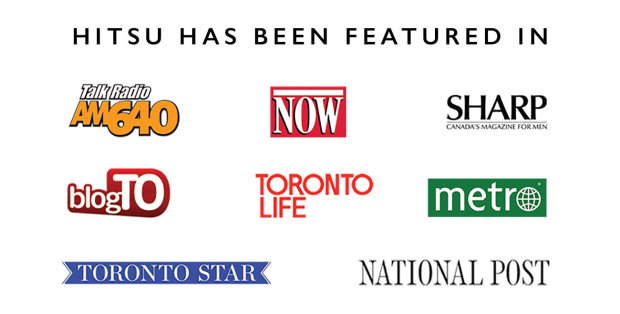 Since launching Hitsu 2 years ago, we've nurtured strong relationships with our manufacturers and learned a ton about the ins and outs of effective, high quality garment making.
We now work with ethical manufacturers in 3 countries, source eco-friendly materials and have established an independent fulfillment operation that ships to countries all over the world.
Unbound is a new venture that solves a problem we've had with our own travels. We've been working late nights and weekends on refining what we feel is the perfect travel clothing. We've been testing our prototypes for months (and all over the world) and it's changed our lives. We are so excited to share this with the world.
Dan, Andrew and Dima

1. Why doesn't an Unbound T-shirt smell bad, even if I wear it for days or months at a time?
To understand why Unbound Merino doesn't retain odour, it's first important to understand why most shirts end up smelling after a wear or two. The sweat from your body doesn't actually have any odour. But when it absorbs into materials like cotton, it becomes a breeding ground for bacteria – which is where those bad smells come from. Merino wool doesn't give sweat the opportunity to develop bacteria because of how effectively it wicks the moisture away from your body. Merino constantly pulls sweat away from the body allowing it to evaporate. This keeps you dry and keeps your shirt from smelling bad.
We have put our product to the test like you wouldn't believe. We have tried to find the limits of how many wears our clothing could handle before absolutely needing a wash and we haven't found that limit yet.
Here is an example of what one of our prototype shirts has gone through without a single wash:
Worn 46 days in a row without exception

In that 46 days worn in the gym around 6 or 7 times through heavy cardio (testing the product was the motivation for the gym more so than sheer discipline)

Worn twice in the sauna (we meant it when we said we took this to the limits)

Worn to bed some nights and stayed on the body right through the day

Taken to Shanghai, Bangkok and Koh Tao, Thailand and worn daily in sweltering 40 degree weather. (see our Indiegogo video)
All of the above was done without a wash. It never smelled. Not even slightly.
It's important to note that whenever it was worn and heavily perspired into, it was hung up to air out and dry off before being put back on. Nobody wants to wear a wet shirt, and it does need to air out so that the moisture wicks away and bacteria isn't formed. When alternating between 2 or 3 shirts over a trip, you can go months without a wash with ease.
2. Can I wear Unbound underwear everyday without a wash?
This is one of the more awkward questions to answer… The short answer is yes. Absolutely. But that's assuming you keep yourself clean. Catch our drift? Unlike cotton underwear, these will wick away moisture and prevent any odour causing bacteria so they can be worn for many days without a wash. That said, life happens so use your judgement and refresh these with a quick hand wash and air dry as frequently as you require.
3. Where is your clothing made?
Our shirts and underwear are made in facilities in Hangzhou and Jiaxing, China and our socks are made in our hometown of Toronto, Canada.
4. When I do wash my Unbound Apparel, what are the care instructions?
Your shirts, socks and underwear can be washed in a regular washing machine at a normal or cool temperature setting. Use regular detergent and avoid fabric softener. We prefer to hand wash because it's easier and quicker (when travelling) but the choice is yours.
IMPORTANT: DO NOT TUMBLE DRY. After a wash, ring out the water and lay your clothing flat on a towel to air dry, flipping periodically. Don't leave directly in the sun to dry.
5. Where will your clothing ship from?
All orders will ship from Toronto, Canada.
6. When can I expect my order to arrive?
All orders will ship within 6-8 weeks from the last day of the campaign. Shipping within Canada should take 3-5 days from the date of shipment, In the US should take 5-7 days and international orders should take around 3-4 weeks.
7. What if my order just doesn't fit right?
We are happy to offer exchanges if your clothing doesn't fit right. Just send your order back to us within 15 days and we'll send the right size.
8. Wool sounds itchy, is Merino wool itchy?
Not at all. It feels completely different to the touch than the traditional wool you're thinking of. It's light and soft on the skin and with it's moisture wicking properties it maintains that smooth feel all day, even when you perspire while wearing it.
9. Why do you need to run an Indiegogo campaign to launch?
We love the product we developed, and made it to fill our own need. Indiegogo is our way of sharing the idea with the world and raising the funds to meet our minimum order quantities with the manufacturers. We hope it resonates with you because we know you will love the product as much as we do.

Putting this campaign together has been an amazing and fun learning experience, to say the very least. We couldn't have done it without the help and support of the following companies and people. THANK YOU
Everyone at Herscu & Goldsilver

Justin Smith

Jon Simo

Steph Bigue

Cristian Otegui

Adam

Alex Ikonn

Jayson Gaignard

Justine, Marni & Angela

Gareth

Wilson

Kristopher

Henry Wong

Aaron Gaistman and Toronto Sound

Kelley Doris

Alisa Cordesius

Everyone who supports!