iCrowdNewswire - Jul 18, 2016
HeartIn Personal, Portable Electrocardiograph
PC/Smartphone compatible Electrocardiograph When your life depends on it (or just for peace of mind)
What is HeartIn?
REVOLUTIONARY MINIATURE GO-ANYWHERE ELECTROCARDIOGRAPH.
JUST PLUG IT INTO YOUR SMART PHONE OR PC AND GET AN INSTANT CONSULTATION VIRTUALLY ANYWHERE.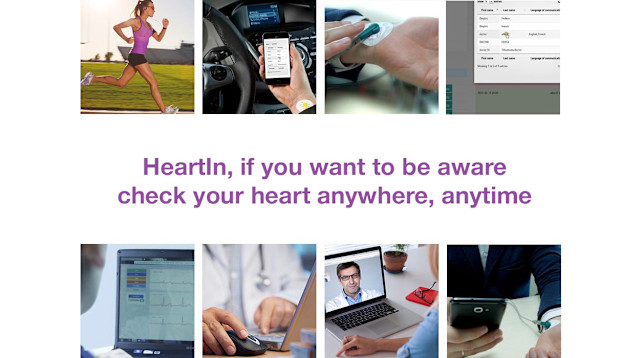 Check your heart from anywhere in the world using our new and revolutionary, miniature, portable Electrocardiograph (ECG) through our network of certified cardiology experts, all from your Smart Phone or PC.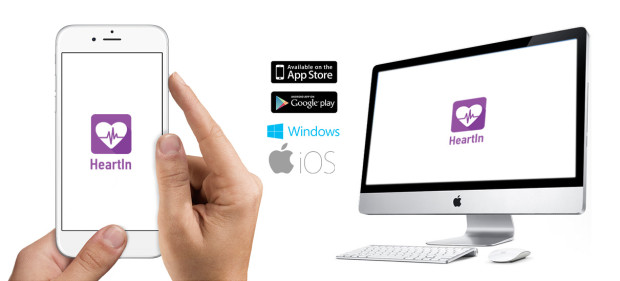 Use for regular monitoring without extensive hassle and time loss from making and keeping appointments, use the HeartIn Portable Electrocardiograph for peace of mind, or for times of distress, all for the ultimate in prompt safety, security, and speedy diagnosis.

We use a network of cardiology consultants we certify to instantly interpret and read results from all the necessary cardio ECG data right after you send it.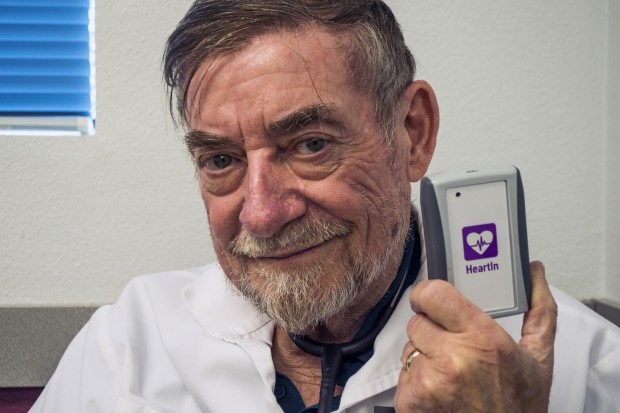 From the time you or a loved one start the process of applying the HeartIn ECG's leads to your body to the time you send data to our examining and consulting cardiologist takes usually no more than 15 minutes for a first time user. We supply an easy-to-read application chart to attach leads, the leads are coded to eliminate confusion, and electrodes attached to your body are adhesive at their ends for ease of personal application. The examining cardiologist can verify correct placement or answer any uncertainties during the consultation.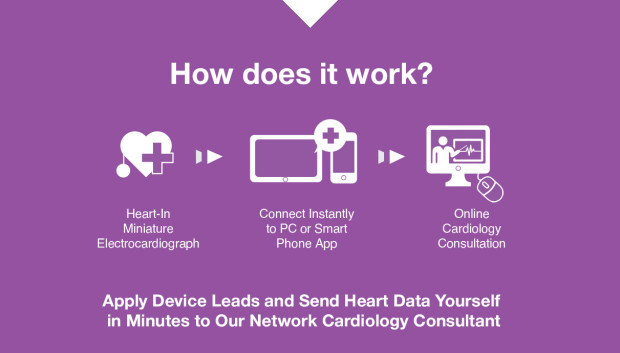 ULTIMATE PEACE OF MIND
Interpretation and Cardiologist's Advice Follows Almost Immediately!!!!
You will get peace of mind in minutes, and even an instant start on necessary treatment if indicated!
All that from the comfort of your home, office, car, the road, hotel, or wherever in the world you and your smartphone or PC can connect to the Internet. We supply the app on free download.
NO WONDER WE CALL IT A REVOLUTION!
The HeartIn ECG is no larger than a cigarette pack (exclusive of leads) and produces the same data produced by a full-size electrocardiograph that may require a shelf or cart in a doctor's office, clinic or hospital.
It's a full 12-lead device with all the data any cardiologist needs to conduct a full evaluation – not a condensed or truncated device — yet its cost is highly affordable. At a price of just $240, the average person can buy a HeartIn ECG for less money than the typical smartphone, with no subscription costs! Use it only when you want or need to, and pay for only those consultations you request.

This amazingly small but full-function ECG will fit in a man's shirt pocket, and the entire setup with leads will fit in small woman's bag or package (supplied free).
Whether you need it if you're in distress, to evaluate worrisome signs or just periodic monitoring for compliance results with your treating doctor's orders, this is the device for you.
Use it on the road, from home, or anywhere.
WE PROVIDE ALSO HIGH-LEVEL ANALYSIS OF ECG DATA
Benefits of Additional Cardio Data Analysis Technology:
Universal ECG Score System
– CardioanalysisUniversal ECG Score System is designed to analyse more than 200 ECG parameters and to visualize present result in colour logic with a quantitative assessment.
– The system is able to provide qualified interpretation of ECG signals remaining non–informative for routine methods of ECG interpretation.
Individualized analysis
– The concept of individual norms for everyone based on Universal ECG Score System allows enhancing the accuracy of results and to individualize recommendations.
Comprehensive statistic engine and Fuzzy logic
– We use advanced statistical treatment of ECG signals including fuzzy measure theory and fuzzy integral calculus which allows making the precise conclusion.
– 4-th generation ECG analysis technologies. Thorough and deep analysis being obtained under this technology are impossible to receive through ECG visual analysis;
– Usage of specific ECG parameters that never been used before (our know-how inT-wave analysis)
– Cardiovascular system condition trends assessment makes possible for a doctorto manage the treatment process.
Cloud computing
– We enable users, their caretakers, and doctors to receive results promptly anywhere and at any time.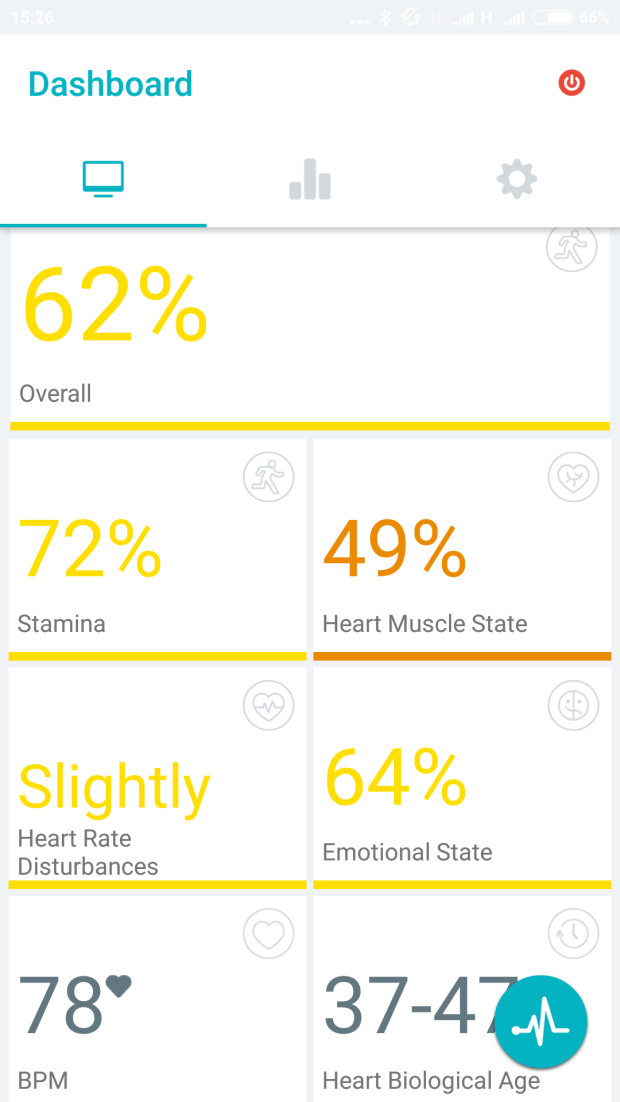 The Universal Score System analysis provides 2 classes of the conclusions:
1. Pre-nosological (i.e. not formulated in specific terms) generalized conclusions class covers the general functional state, stamina, heart muscle state, psychoemotional state, heart biological age,
2. Nosological (i.e. formulated in specific terms) generalized conclusions class covers ischemia, arrhythmias, hypertrophy of the heart chambers, conduction defects, etc.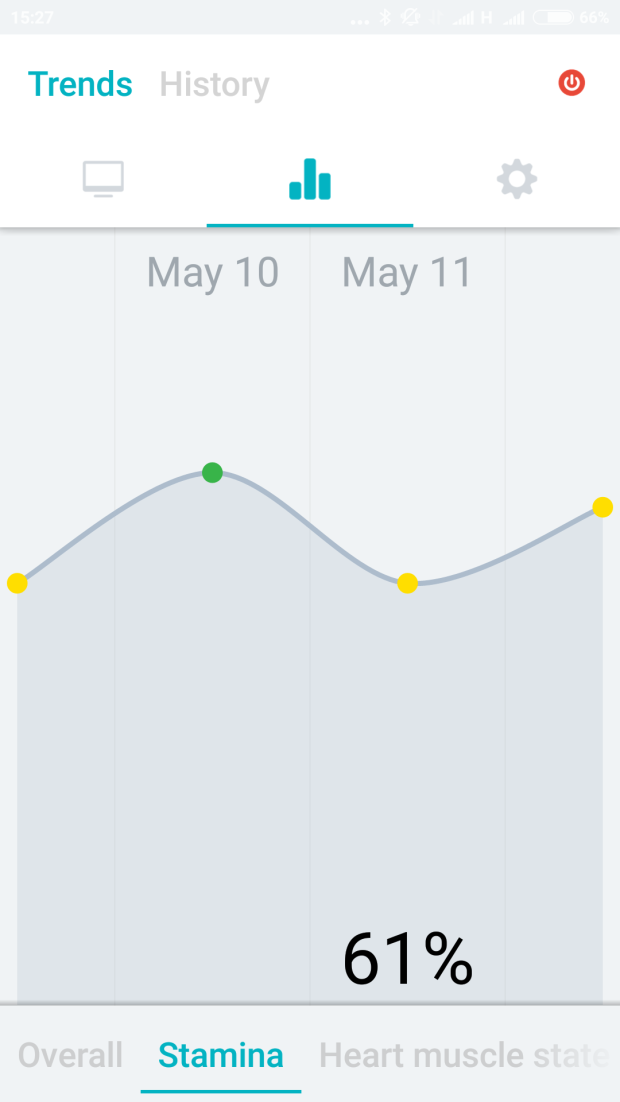 There's no excuse not to have your own personal HEART-IN ECG.