iCrowdNewswire - Jul 17, 2016
Nomuka, Tonga Family Portrait Project
100+ page photo book and family portraits to be sent to Nomuka Island, Tonga.
A beautiful documentary photography book to fund family portraits and books to be sent back to the residents of Nomuka Island, Tonga.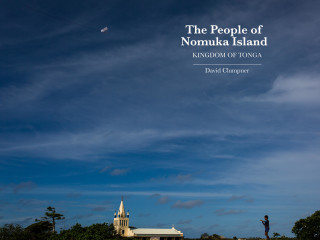 Nomuka Island, Kingdom of Tonga
In the spring of 2016 I spent six weeks documenting daily life and taking family portraits of the inhabitants of the small island of Nomuka. I'm raising money to send printed portraits back to each family and a 100+ page printed book that contains a mixture of documentary images and all the family portraits.
About Me
My name is David Clumpner and I am a photographer from Montana in the US. I served in the Peace Corps in Palau, a small island in the western Pacific in the early 2000s. During my years there I became interested in creating a printed record of the families who inhabit small islands, as they often have little to no means to create this for themselves. This is the third iteration of this project (previously Palau and Okinawa) but the first to include documentary imagery of daily life and a printed book.
About Nomuka
Nomuka is a very small island at the southern end of the Ha'apai Island Group in central Tonga. About 400 residents live on the island, which is a six-hour ferry ride from the capital, Nuku'alofa. Religion is a very important element of the culture, with seven churches on the island and up to six services/week depending on your denomination. There is only electricity for six hours a day and very few residents have computers or cameras. Women weave very time-intensive mats made from dried pandanus to sell to Tongans living in the capital or abroad while men spend much of their time growing and collecting food. The kids attend one of two primary schools or the Methodist high school, then after class they fly homemade kites around the village.
Why This Project is Important
Nomukans have smartphones but no way of backing up their photos. The environmental conditions in the tropics can be fierce on electronics, so it's common for a phone to die and take its memory with it. For this reason and the speed with which our society moves to new forms of digital media, I believe strongly in printed photos as the best form of passing memories down to future generations. During my six weeks on Nomuka I photographed nearly every family on the island (70+ portraits). Each family will receive two 8×10 laminated (to protect against humidity) enlargements and about ten 4×6 prints to share with family and friends.
I did an Indiegogo campaign for my previous family portrait project on Angaur, Palau a few years ago. About six months after mailing the family portraits I got word of an accident where three men overturned their fishing boat and were swept out to sea. A few months later I received this message from the widow, whose only visual memory of her husband was in the family portrait I sent her: "Am so glad for your great efforts for your project. Seriously if not, I don't have the best family portrait, something I will treasure for me & esp our kids. Once again, thank you & hope you"ll visit Palau in the future."
This message solidified the importance of family portraits and inspired me to continue this project to at least one more island (but hopefully more!).
What We Need and What You Get
My goal is to send 100 books and 80 family portrait packages to Nomuka. Some of the extra books will go to the school libraries and the few families who opted not to have their portraits taken. The book is softcover and is comprised of about 85 pages of documentary photos showing life on Nomuka and 15 pages of the family and school portraits. 150 books will cost $2975 and the prints I hope to send will cost approximately $650. My best guess on the shipping expenses is about $900 to get everything to Tonga. The remaining amount will be spent on miscellaneous expenses like a graphic designer (to make maps for the book) and laminating sheets. If we beat the goal I would like to send more laminated photos back as I have about 1000 of them in my collection that didn't make the book but would still be wonderful to deliver. If we REALLY beat the goal, I have some English-language teaching material requests from the schools that would be great to fulfill!
If you contribute at a higher level perk, both you and a family will get a book and the family will also receive a print package. I should be able to include a copy of a photo of the family you have supported, too! If you would like to gift a contribution on someone else's behalf, just let me know and I will include a note thanking that person for their contribution.
There will only be ten limited edition books so if you think I'm going to be famous or you just really want to support this project, this is a great contribution level! And you also get a bottle of vanilla extract made (by me!) from vanilla beans I bought in Tonga.
Thank you so much to those who have sponsored the project so far with in-kind donations: MagMod Lighting Modifiers, Fundy Software (which I used to design the book!), and Brown Publishing from Portland, Oregon.
Here are a few more photos from the project: