iCrowdNewswire - Jul 17, 2016
Bible Time for Kids
Do you think it is time to have a Christian message in children's weekly television?
Bible Time for Kids will be a one-half hour TV program that will aim to be a Sunday School styled vehicle to present Bible-based lessons, chronologically progressed, which will teach God's story from the Holy Bible. The approach will not favor any particular denomination and the over-all goal is to build God's Kingdom through promoting Bible study. The target audience will be ages 4 to 8 year old children, in terms of language, but hopefully educative to anybody who is young spiritually.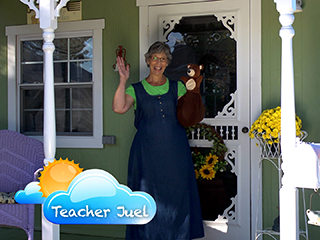 Will you, your church or company consider funding "Bible Time for Kids, LLC."?
The total cost of production for 26 episodes of Bible Time for Kids is $130,000 and this Foundational Support will go directly to the production costs that will incur. Air time has already been secured on Fox 8 TV, broadcasting out of Johnstown, Pennsylvania for at least one year beginning in September 2016. Our goal is to continue producing additional seasons as funding continues and other networks across the country pickup the show in syndication. We want to communicate that we view this venture as a way to build God's Kingdom and we hope that it may become self-supporting in the future. We believe that children are lacking a basic knowledge of the Bible and believe that learning about God's Word is essential to raising good and productive citizens to build a stable and strong society!
About the Producers
The Host and creator of the show is Juel Ormsby. She is a Christian woman who is passionate about the Bible. She taught Sunday School and was an AWANA leader for many years, and found the best part of teaching is doing her best to communicate the story both accurately with an age-appropriate appeal. In her professional life as social worker, she met some children who did not have an opportunity to learn about the Bible. She was inspired to develop a TV show to offer an introduction to the Holy Bible, for elementary children and kids of all ages!
Co-Producer, Chris Cameron produces the weekly regional "Good News" magazine, Kaleidoscope The Series, covering west-central Pennsylvania and beyond. Each week the show focuses on a unique person, place and thing in the region. It's an informative and entertaining family show unlike anything else produced locally. Chris Cameron is a Pennsylvania native from Indiana County who has specialized in video and film production for over 15 years. He's the owner of his own production company, Cam-Ron® Video Productions, LLC. Chris has provided his film services from local live events and television commercials to Hollywood pilots shot in west-central PA.