iCrowdNewswire - Jul 14, 2016
Rebellia – Custom Clothing for Fit Chicks
Tired of clothes not fitting your body? We're working to change that.
What is Rebellia and Who is Behind it?
Ever wish when shopping online, you could just plunk in your measurements and get the dress/pants/shirt/skirt that fits YOU and YOUR unique body?
Well now you can!
Hi everyone! My name is Chrystal Rose. I'm a fitness lover, writer and entrepreneur who started my first business 3.5 years ago with a marketing company. Later, I became a co-owner of a women's empowerment website and print magazine. This year, I decided to try something new: I combined my love of business with helping other women– and created Rebellia.
Last summer, after having been on my fitness journey for a little over a year, I left a department store dressing room in tears. I had finally found self-love, was both happy and confident in my skin, BUT my body had changed so much– nothing fit!Shirts squeezed my biceps, pants strangled my butt and thighs but were big in the waist. I felt frustrated that I work so hard in the gym and was unable to find clothing that fit my body.
After talking with some friends who felt the same way, I decided to dive in and see if I could create a solution to the problem so many of us have.
My vision is to launch our website this fall and eventually have various style options for women, who can shop with the confidence of knowing that whatever they buy, is made specifically to their measurements.
I want women with athletic bodies to have options when it comes to dressing up. We may not do it all the time, but when we do– we shouldn't have to embark on a quest to find clothing that fits.
What We Need & What You Get
The money from this campaign will go towards the cost of labor and materials for the clothing– regardless of whether we hit our goal or not. Anything beyond our goal or in excess of costs, will go towards creating new samples for our fall/winter line. Anything beyond that will go towards software and equipment that will make the custom element both more efficient and cost effective. In fact, it will reduce the current labor costs by almost 40%! Which of course will be passed on to our customers.
Every dime collected from the Rebel with a Cause perk will go towards the creation and promotion of the piece and ultimately the cause itself. That level will not go towards company costs.
Perk Partners!
We've teamed up with these awesome, female owned, fitness brands to give you some cute and functional perk options!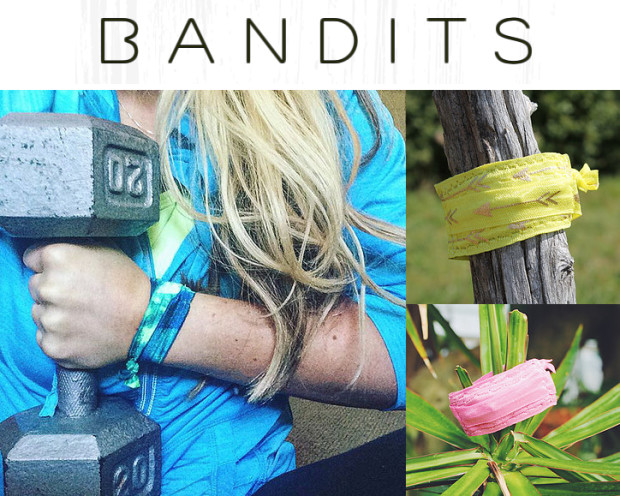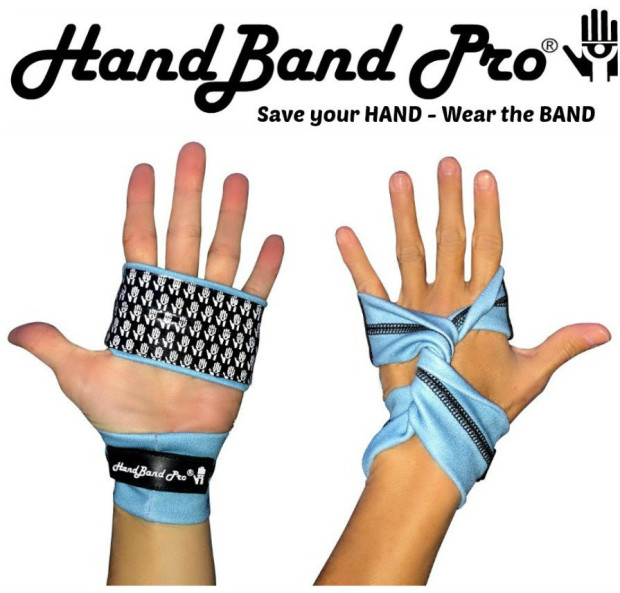 Viva La Rebellia Tank
This fun tank reminds you to kick ass in the gym and live your rebellious life– because you and your body were not made in a cookie cutter.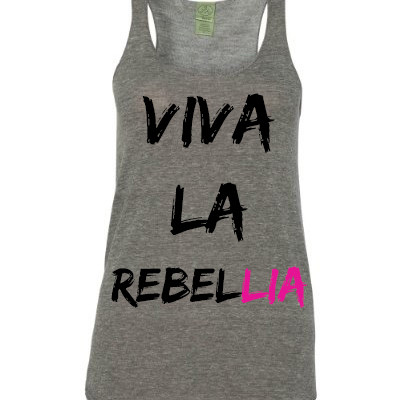 Our Dresses
These dresses will ONLY be available during this campaign, so if you don't get one now– you won't get the chance to again.
The Victorya Dress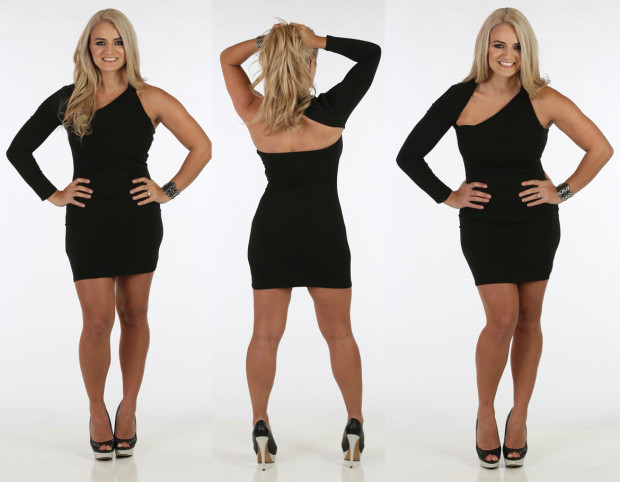 A little sassy, a little sexy. The Victorya dress comes in multiple customizable options. Available in mini length (shown) or midi (not shown). Long sleeve (shown) or sleeveless (not shown). We can even make it in 2-piece to show off those abs!Color: Black
The Emmie Dress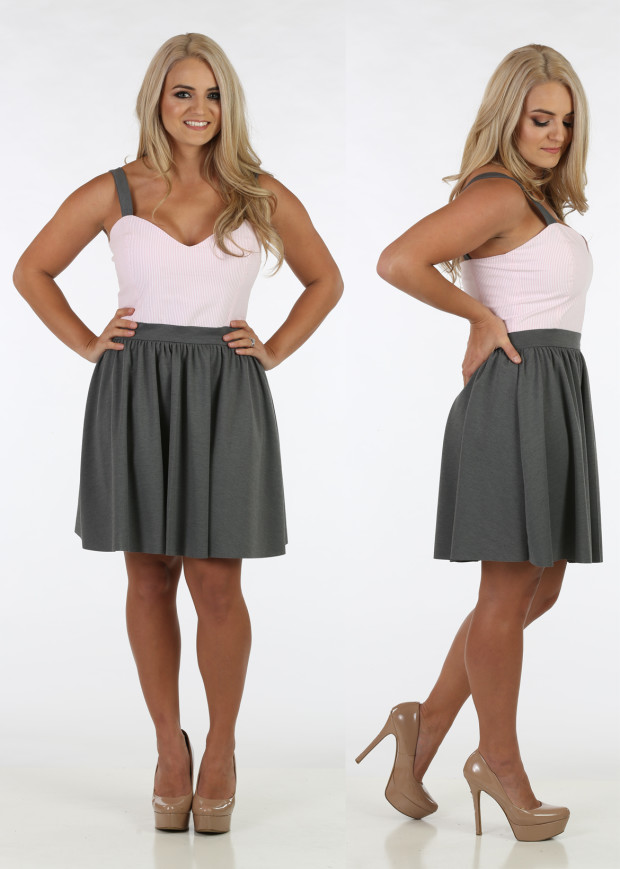 The Emmie Dress comes with the option of an open bodice (See the Emmie Maxi below) or closed bodice. As well as varying color combos. Shown: Grey & Pink Seersucker.
The Emmie Maxi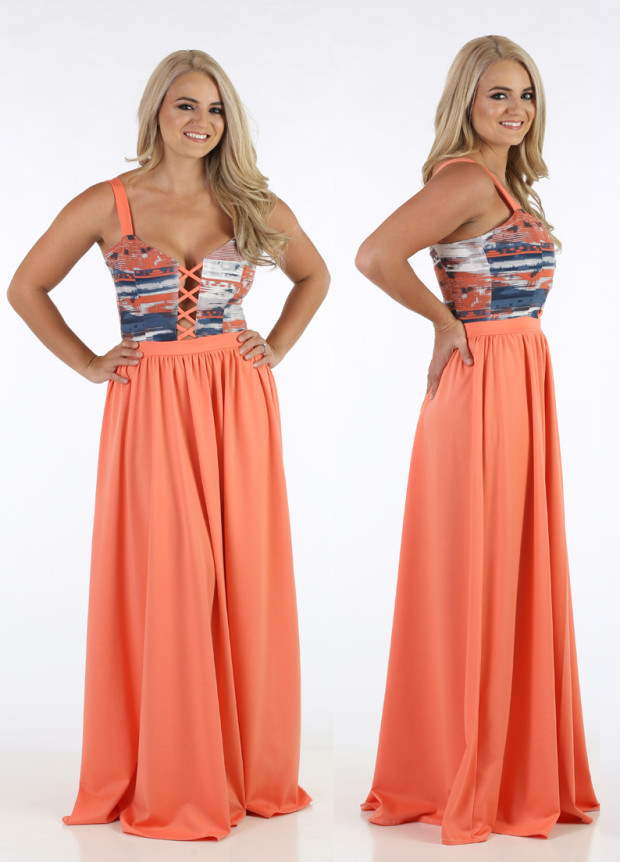 The Emmie Maxi comes with the option of an open bodice or closed bodice (See the Emmie Dress above) as well as varying color combos. Shown: Coral & Print.
The Impact
I decided to launch this campaign for several reasons:
This is a test. Is this something wanted and needed? Will the women who are telling me yes it is, stand up and contribute? Am I crazy? (Don't answer that!) Also, what pieces work and which don't? Which do better?
Wholesale fabric. Since we're just getting started, buying a ton of fabric upfront doesn't make sense. Buying at retail, is simply insane. So if we can get one big order in after this campaign, it will save money and reduce the risk of buying too much or too little of what we need.
Custom clothing is expensive! At the moment, my manufacturing options are pretty pricey. Having the money upfront will allow us to work with our current situation or possibly negotiate with someone new.
Gather our first group of loyal customers. Every woman who gives to the campaign will be a part of our Think Tank. When we move forward and build our site, create new designs and add new pieces for fall, this initial group will be an integral part of that.
I find that many of us in the fitness world get discouraged when shopping and feel uncomfortable in "regular" clothes. I want to change that.
As one of the former owners of a magazine for women, and the current president of multiple FemCity chapters, empowering women and helping them to empower themselves is so important to me. Through this company I plan to continue to do that in as many ways as possible. Including finding ways to give back to causes, foundations, non-profits and charities.
Risks & Challenges
Because these samples were created with retail fabric, the same colors/patterns may not be available when we fulfill orders– but we are going to do the best we can to come close or substitute with something you love just as much.
We expect some user error when our contributors submit their measurements, but plan to provide visual instructions on how to be as accurate as possible.
There really isn't a template for what we're doing so we're sort of navigating the waters with the help and guidance of some really smart and experienced people. One of the biggest challenges will be to keep garment costs affordable for our customers. Finding a manufacturer that's willing to produce 'on demand' garments in varying sizes is sort of like embarking on a quest for a unicorn.
Other Ways You Can Help
Not everyone can contribute (and we get that) so if you can't please support us by SHARING this campaign. SHARE the video. If you know someone who would love what we're doing. If you have a connection with an influencer, a media contact or even an awesome blogger– Please share with them!
Copy and paste the link, use the share tools– help us get this project seen and our goals exceeded.
Thank you ALL for your help and for checking us out!