iCrowdNewswire - Jul 10, 2016
Big Band Revival: Chick Webb Transcription
Transcribing the music of legendary swing-era bandleader Chick Webb to be performed live once again.
Michael Gamble
Asheville, United States
About this project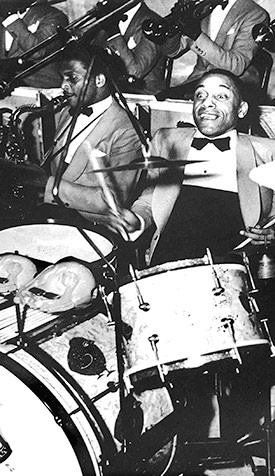 We're trying to bring back the live performance of the musical catalog of legendary Savoy Ballroom bandleader Chick Webb – a repertoire of amazing dance music, some of the greatest ever created, which sadly has seldom been performed seriously since his death in 1939.
To make this happen, we're launching this campaign to fund the transcription of over 30 charts (songs) to make it possible for a working big band to play a full night of Chick Webb's music. The tunes will be performed at this year's Lindy Focus (www.lindyfocus.com) and will also be made available to the public in the near future so that other enthusiasts can keep this music alive!
Many people think of the 30's and 40's as a Golden Age of American popular art forms, but don't think they're in a position to keep any of it alive. Well, WE have assembled the talent and the resources to pull off something audacious, we just need YOU to help find the funds to make it a reality.
How it works
Essentially, professional transcribers listen to the recordings and notate everything on the original record, putting it into sheet music form for other musicians to play. In this case, we not only have some of the best transcribers in the business, but each of them are all master swing musicians, so they understand the style they're working in and are literally the best people on the planet to tackle the historical nature of this project.
Each chart (song) costs between $350-450 to get transcribed from beginning-to-end. As you can see, getting a WHOLE NIGHT of music in this way adds up fast, so making it happen will require a massive community effort. Our goal is 32 tunes to fill three sets of 10 songs each plus the possibility of two encores — that is a LOT of music! But, the good news is, once the charts have been made, they will *exist* and other bandleaders in the future will have a much easier time paying tribute to this incredible band.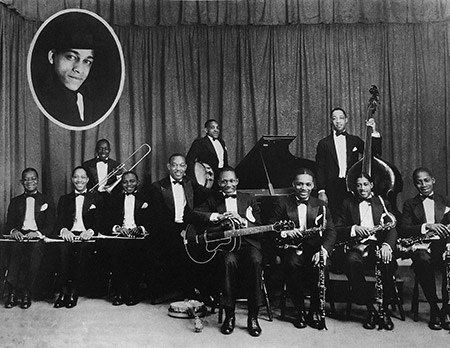 Why Chick Webb?
For this pilot attempt, William Henry "Chick" Webb was really the obvious choice. Webb's band was for dancers. A staple at the Savoy Ballroom, the Webb band favored straight ahead dance music that hit the ballroom like a sledgehammer. Since Chick was a drummer, the flavor of this band really contrasts with other bands in which a horn player was the front man — the Webb band was ALL about the groove! Most swing dancers today will still recognize and strongly react to all of his famous arrangements, even if they don't know the names of the tunes, or even realize what band it is.
Finally, it needed to be Chick Webb's band because he himself had his career cut unjustly short. In 1931 Webb claimed a spot for his band as house band leader at the Savoy, blowing audiences away there for 8 years until his untimely death in 1939, which shocked and saddened the jazz world. A young singer whose career he helped launch, one Ella Fitzgerald, continued to run the band until 1942. (Ella's work with the band before and after Webb's death WILL be strongly represented in this project.) One can only imagine the heights this band could have achieved had Webb's health not been a factor. Nothing we do can turn back time, but by honoring his contributions to the swing world, we work towards elevating his legacy.
Why These Songs?
It's not enough to just choose every favorite Chick Webb song, we also have to make sure there is enough variety to make a nicely flowing evening of music that demonstrates the full range of his band, and gives dancers a bit of ebb and flow among the tempos. Our carefully curated list of songs to tackle includes:
A Tisket, A Tasket
Betcha Nickel
Billy
Blue Lou (FUNDED)
Blue Minor (FUNDED)
Breakin' 'Em Down
By Heck (FUNDED)
Clap Hands Here Comes Charlie
Dipsey Doodle (FUNDED)
Don't Be That Way
Everybody Rock (FUNDED)
Everybody Step (FUNDED)
Go Harlem (FUNDED)
Harlem Congo (FUNDED)
In the Groove at the Grove
Let's Get Together (FUNDED)
Lindyhopper's Delight (FUNDED)
Little White Lies
Rock It for Me
Sing Me a Swing Song (FUNDED)
Sing You Sinners (FUNDED)
Spinnin' the Webb (FUNDED)
Stompin' at the Savoy (FUNDED)
Strictly Jive (FUNDED)
Sugar Blues (FUNDED)
Sugar Foot Stomp (FUNDED)
Tain't What You Do (FUNDED)
Take It From the Top
Undecided (FUNDED)
When I Get Low, I Get High (FUNDED)
Who Ya Hunchin' (FUNDED)
You're Gonna Lose Your Gal
Challenges
Though this is an ambitious and complex undertaking, we feel well prepared to tackle it from beginning-to-end.
To make sure the charts are as good as possible, we have some of the best transcribers in the industry on board to tackle this very particular musical challenge — these guys are not only top level music geeks, but have a deep understanding of the genre, so these charts will be historically accurate to the finest detail and not dumbed-down or anachronistic in any way.
To make sure the music can be performed with all the satisfying virtuosity it deserves, we have a hand-picked swing orchestra consisting of top players from all over the US, each one a standalone monster-player as well as a scholarly expert on the swing-era performance idiom for their instrument.
The final challenge, once the charts are "alive" and have been performed, will be the publishing step wherein the material is made available to the public for future performances. It is important to us that this is done in full accordance with copyright law, and the initial steps to guarantee we have the rights to releasing the charts have been taken. It will take diligence to see this publication through the final steps, but as we are lifelong devotees to large scale, historically-grounded jazz-heritage projects, we think we're the right people for the job, with the skills and attitude to get it done.
Original artwork for perks
Here you will find the special creations that were brought into the world specifically as rewards for this project! (1) "Put a frame on it" Poster, and (2) Garment artwork for the jacket and t-shirts. These were created by swing dancer and artist Aaron Seals, to whom we are very grateful! His work incorporating classic Webb-associated imagery makes this a historically grounded and tasteful way to show your Chick Webb fandom!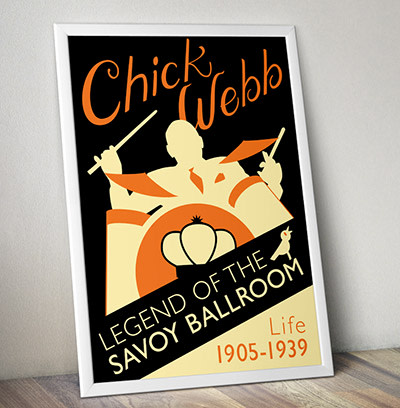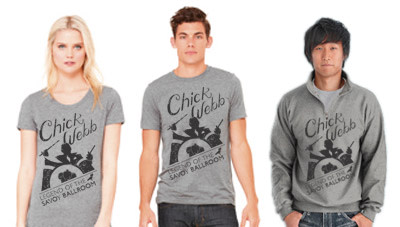 Help spread the word
Other than becoming a financial supporter, the main way you can help us is by spreading the word. With very few exceptions, transcription projects like this almost never happen because of the money required, which means it's in the hands of the truly dedicated to make sure this music has a place in the present, not just as a museum piece in American history. Jazz musicians, jazz lovers, swing dancers, appreciators of pop culture history — everyone can find reasons to get excited about this project, AND future projects that will become possible if this campaign is a success. Imagine what we can do – help us make some noise about this!