iCrowdNewswire - Jul 8, 2016
CMG: New MIDI controller with soft 3D touch pad
CMG "the Cell Music Gear" is a new music tool to find and define your own style of performance.

the Cell Music Gear (CMG) is the new MIDI controller with soft 3D touch pad.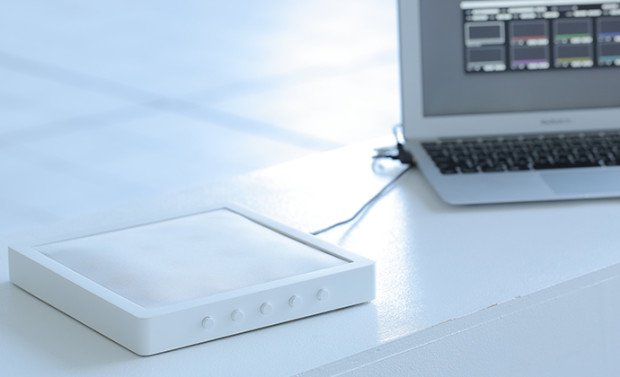 Soft 3D touch pad contains the soft tactile sensors inside which can detect the pressure (hollow on soft pad) by finger tips. You can enjoy the fine control of sound by tracing, pushing, tapping by fingers, pushing by palm, etc. on soft pad surface.
Let's find your new style of performance by CMG!

3D touch pad
Let's experience more than the performance on 2D touch pad!
CMG equips soft tactile sensor "ShokacPot" produced by Touchence at 4 X 4 grid, which realize the 3D touch pad. 3D touch pad can detect pressure information on top of 2D surface touch information.
You can not only express step, volume, harmony, etc. by 3D controlling but also enjoy various style of performance such as guitar, effector of synthesizer, DJ controller, etc..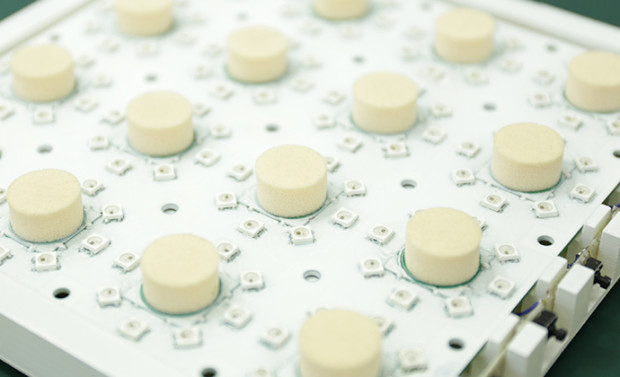 Control sound by tactile
CMG has one more feature in addition to 3D touch pad.
It is "soft" feeling.
You can enjoy the new interface as music tool which return the feeling back to finger tips by softness of pad. Because of the high performance of sensors, you can realize the fine control of sound.
Programming & Hacking
The music you performed now might not exceed the intention of the music tool designer. If you aim for the ultimate originality, you need to define your own style of performance by customizing music tool itself. CMG, which designed under the concept "define your own style", can make your dream come true by opening programs for hacking.
Let's develop your own music tool at CMG platform!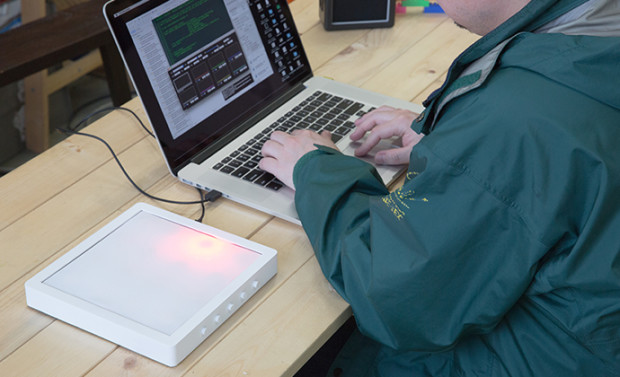 Soft 3D touch pad
CMG equips the 3D touche pad that detects the pressure on pad. Because of the feedback of feeling to finger tips by softness of sensors, it has better usability than the existing music tools with touch panel.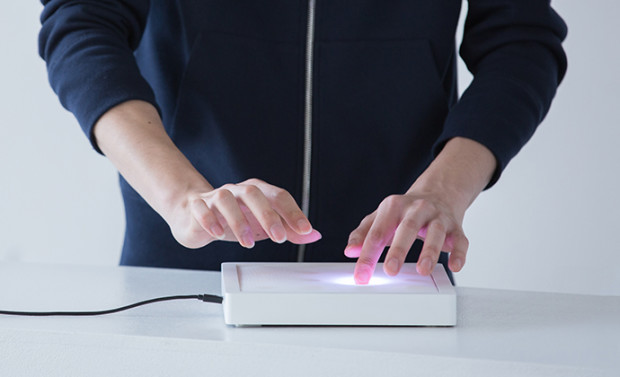 USB-MIDI
CMG can function as MIDI controller because it equips USB-MIDI. CMG can control DAW (Digital Audio Workstation) software such as Ableton Live, GarageBand, logic, etc.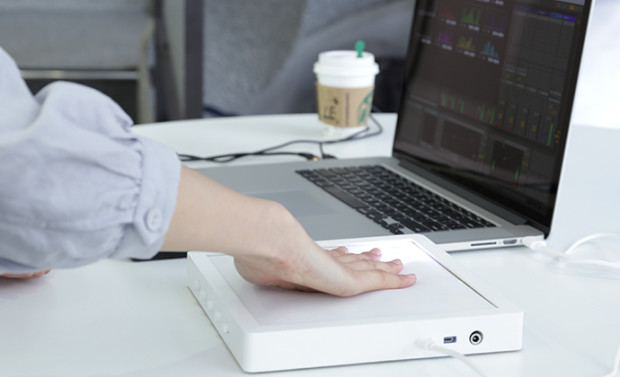 16 steps Sequencer
You can create the phrase intuitively at real timing by 16 steps sequencer. Tone, sequence pattern and scale can be switched by the 5 buttons on the side of CMG.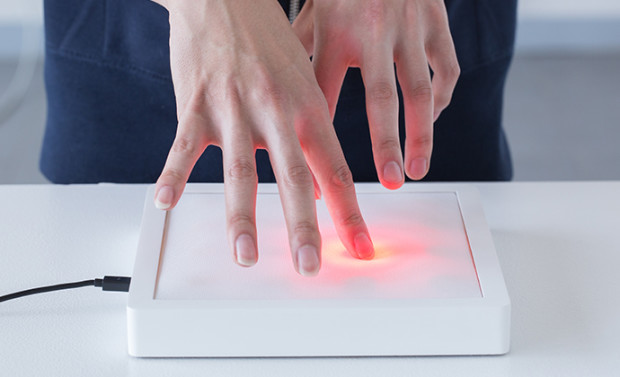 Multi-touch operation for MIDI instrument (drums, keyboards, etc)
You can play it at muiti-touch by assigning the 16 sensors to MIDI instrument in DAW software. CMG pad can detect input information at entire surface even the gap between sensors. You can utilize entire surface of pad for your performance.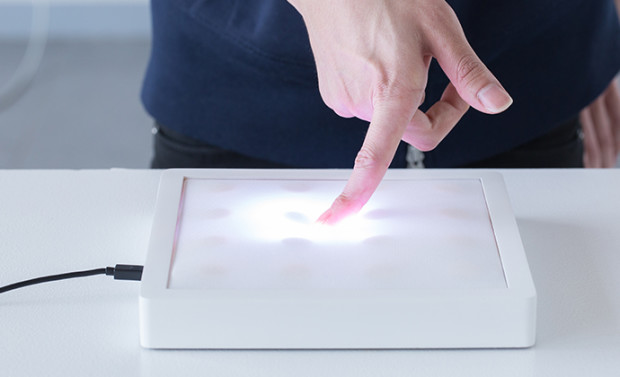 Programming and Hacking
CMG has the USB Port to be recognized as MIDI controller and a Port for serial communication. User can customize not only parameters of each function but also modify firmware to operate CMG. You can actually develop your own music tool on CMG platform by changing the LED pattern and the method to use sensor output.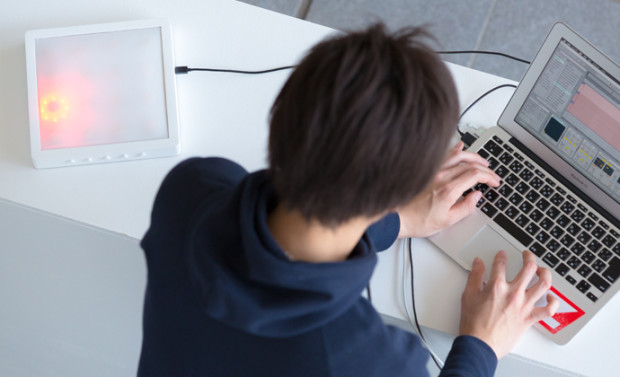 LED illumination
LED are illuminated following the step sequence pattern or touch position/pressure amount on pad. CMG can make your performance look more attractive by the illumination of LED operating together with your play.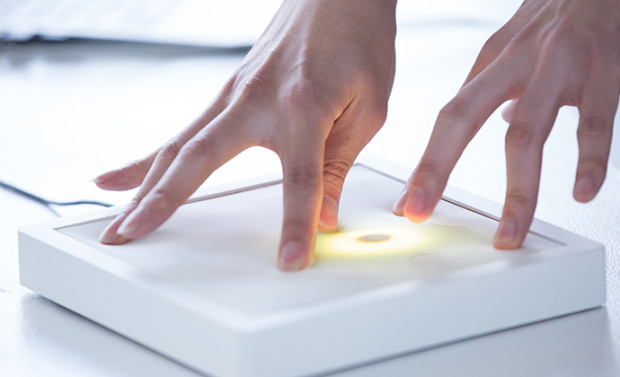 Setup
CMG is the electrical music equipment working with DAW software by connecting to PC. Because CMG is available at USB-MIDI, you can easily operate with software available in market by connecting PC at USB cable.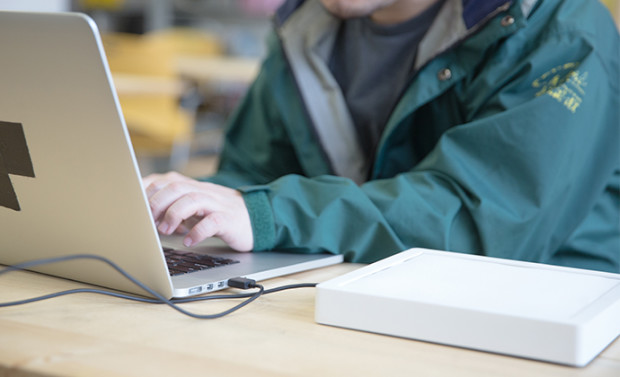 Performance
You can perform music by various actions on pad such as tracing, pushing, tapping by fingers, pushing by palm, etc.. Because there is no dead-zone at entire pad even between sensors, you can perform music at freely on entire pad surface.
CMG equips 4 basic modes to perform.
Sequence mode:
You can record 16 steps of sound by matching on rhythm for auto performance.
Pressure mode:
You can control sound by applying pressure on the pad.
Tap mode:
You can perform it as various percussion instruments by tapping on particular locations.
Multi-touch mode:
You can control sound depending on the location you stroke.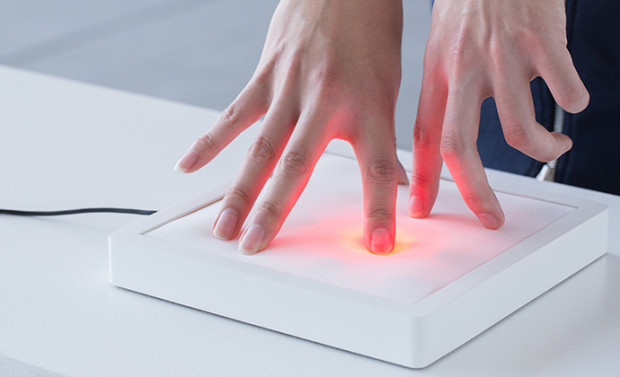 Buttons to switch mode
There are 5 buttons on the side wall of CMG, which can switch the mode by one touch. You can play CMG without watching the screen of PC.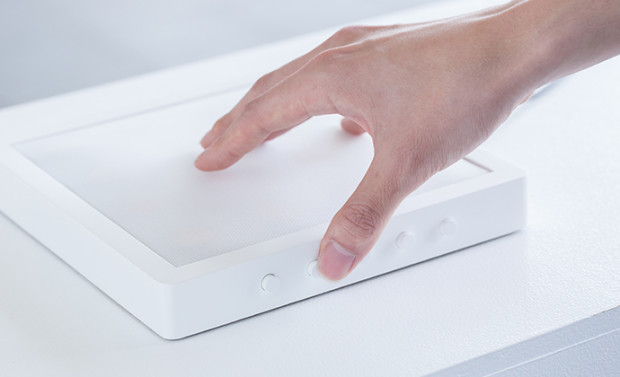 Create Music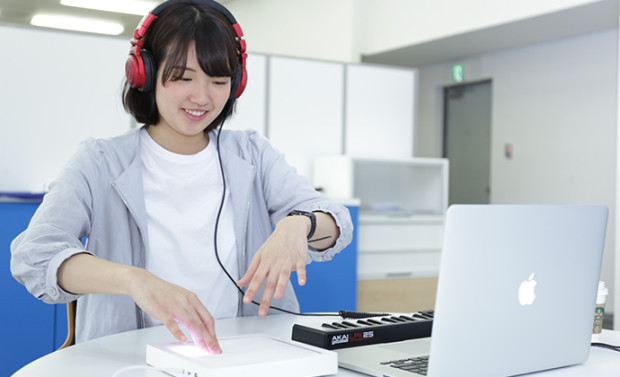 CMG works with DAW software on PC. You can easily save the sound you create by performance on pad, sequence performance on scale, etc., and utilize it to create music. Additionally, new interface soft 3D touch pad makes you find various style of sounds which you can not express with existing music tools.
Concert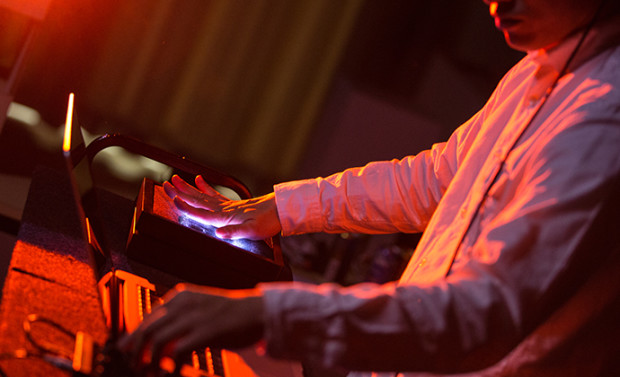 CMG equips following functions which come into its own at concerts.
Visual effect buy full color LED illumination
Scratch control at multi-touch mode for DJ performance
Creating phrases at real timing by 16 step sequencer
Control of effects for guitar and synthesizer at 3D touch pad
Play the clips in DAW software by tapping on pad
Session with friends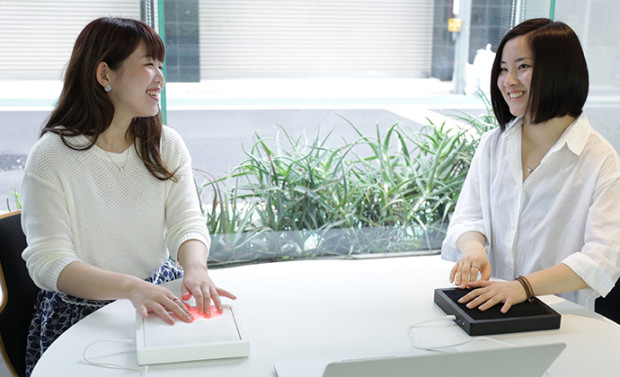 You can enjoy performance on CMG at session with friends. Don't worry even if you are not experienced performer. It is not difficult to play by supporting functions such as sequencer mode, auto scale mapping, etc..
Customize CMG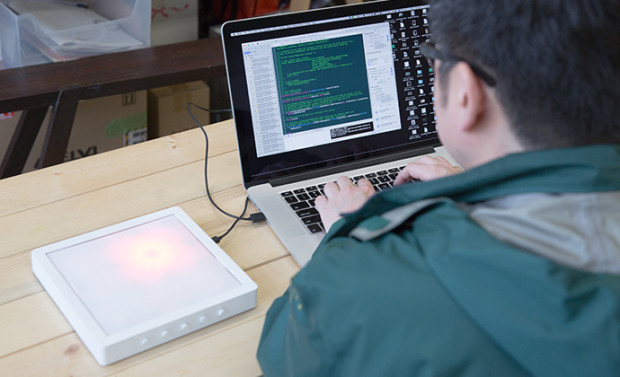 You can customize CMG. Let's develop your own devise!
There are two ways of customization.
One is to use the parameter setting application. You can easily change the setting of parameters by of sensor output, LED illumination style, etc. by programming.
Another is to hack the CMG via serial communication port and change firmware. You can even customize CMG not as music tool. You might be able to make new gaming controller, entertainment devise, etc. on the CMG platform.

Collaboration of instrument designer and sensor development company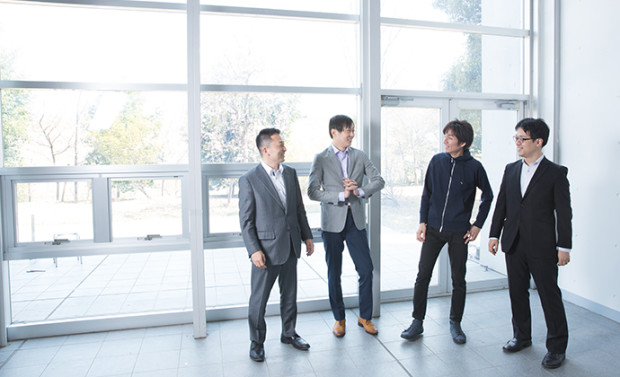 "I want to create the music tools which do not limit the performance style of various people."
Instrument designer Yoshihito Nakanishi had worked under such dream.
"We could develop new unique soft tactile sensor, but where/how to use?" Touchence had worked under such dilemma.
Our activities and expertize are completely different, however, we clicked together by common philosophy to "develop something new", and started up co-development project.
"Define your own style of performance" is our concept to develop CMG. We want musicians, who look for new style of performance, to find their own style of performance at CMG. We named CMG as to touch on the cell in digital world through interface.
We do have a great idea/design of new music tool produced by sound designer Yoshihito Nakanishi, and we also do have the sensor technology from Touchence to realize it.
What we are only missing is the money to bring it to production stage at volume. We really would like to realize the high potential music tool CMG with your support.
Your money will only be used to build your product – all funds will be spent for tooling, manufacturing setup and component costs.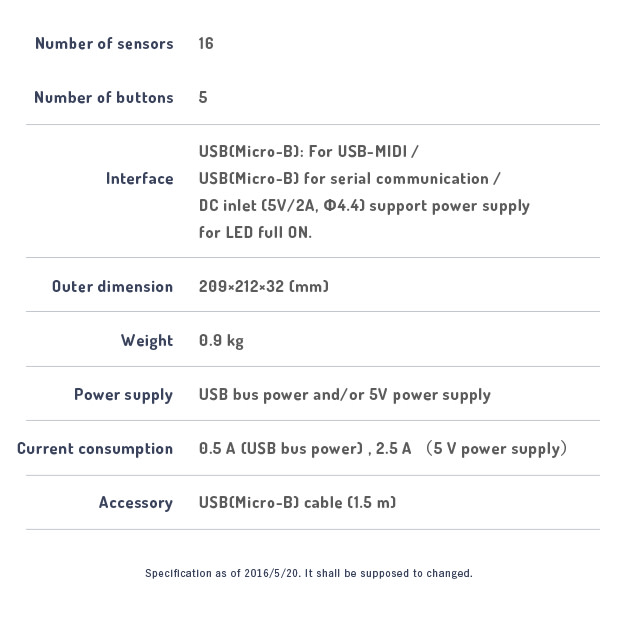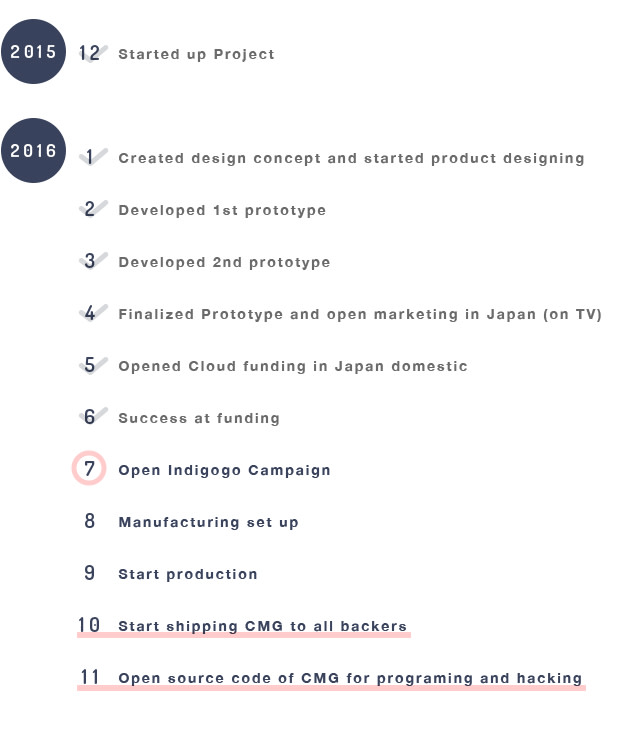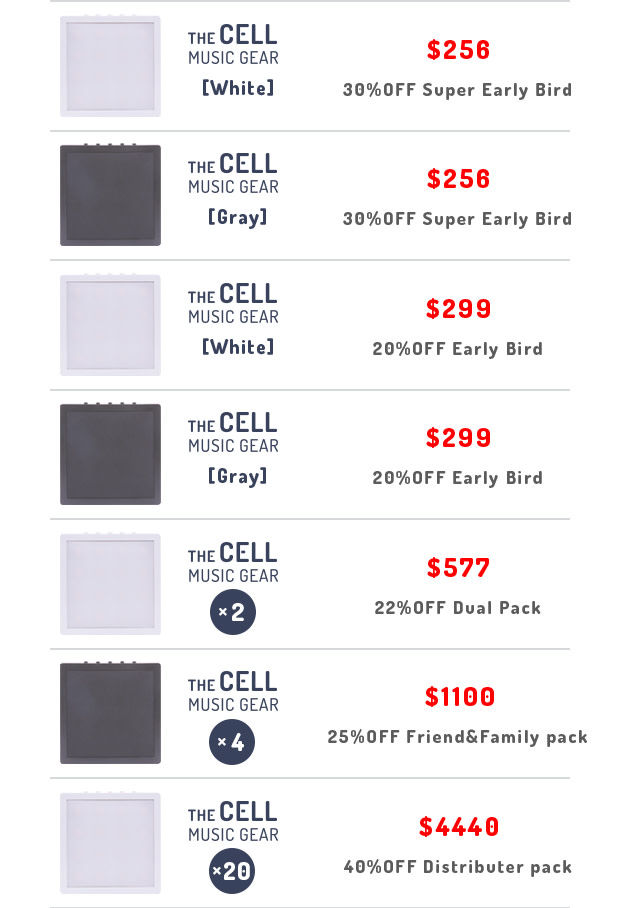 We're currently in prototype stage of CMG. The only one unique component to build CMG is tactile sensors. It is not counted as risk since Touchence is already in mass production stage of those sensors. The only risk we forecast is a possible slight delay in the starting date to ship, since it may take a bit more time than anticipated for the lead time of production tooling and molding at our suppliers.

Sensor Development Company
Touchence Inc.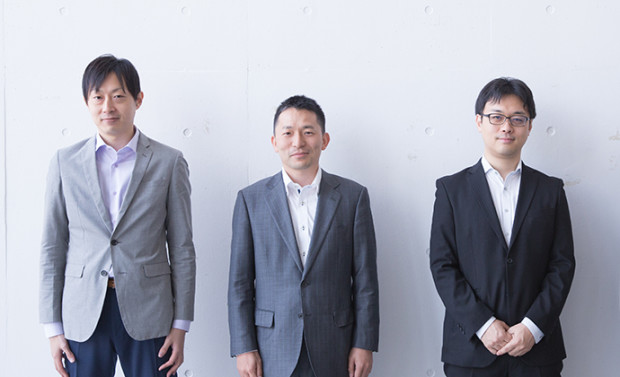 Established in April 2011. Original sensor development utilizing Tokyo University technologies based on the scheme of industrial – university collaboration. Started development of music instrument with original sensors from 2015.
Instrument Designer
Yoshihito Nakanishi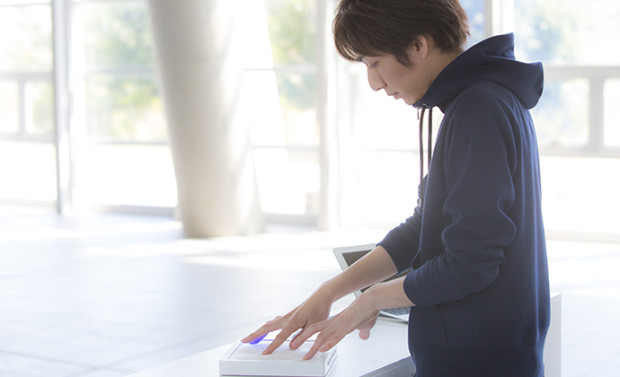 Born in 1987. Instrument designer. Ph.D.
Various activities around sound & music. Performing music tool developed by own at both domestic and international fields, with prizes: Chiyoda Arts Festival 2014 "LIFE LIKE LIVE" Yuichi Kishino Prize, Asia Digital Art Award 2014 Entertainment Awards for excellence etc.
http://yoshihito-nakanishi.com/

Q1: Does CMG itself output sound?
A1: No, it does not. CMG is the MIDI controller which need to be connected to PC with DAW. PC(Windows,Mac,Linux) and DAW software are necessary to perform. DAW is the sound software such as GarageBand, Ableton Live, Logic, Cubase, ProTools, etc..
If you use Mac, GarageBand is the free application to download. With regard to Windows, there are other free software such as Studio One Prime, etc..
Q2: Can CMG be used with iPhone, iPad, or other Android gadgets?
A2: No, it can't at this moment, however, it is under development.
Q3: What is MIDI controller?
A3: MIDI (music instrument digital interface) is the standard to control electric music instrument. MIDI controller is the devise to send and receive the command following MIDI standard.
Q4: Can we start using CMG immediately after running DAW software on PC?
A4: You still need to set it up. The MIDI command from CMG need to be assigned to instruments, steps, or other effect parameters, in DAW software.
Q5: Can we use it without troublesome setting?
A5: Yes, you can. We are going to prepare CMG sample programs for various DAW software on our WEB page that you can download. If you can use it, you can enjoy CMG without detail setting.
Q6: Let us know the detail about hacking.
A6: Because CMG equips serial communication port, you can read and modify the sensor signal or functions of each bottom by the CMG parameter setting software that can be downloaded from our WEB page. CMG has the potential for other applications by your customization. Additionally, we are planning to open all source code of CMG parameter setting software and firmware in CMG that allow all users to develop the CMG functions.
Q7: Can we recover CMG if it would lose functions by our hacking mistakes?
A7: We prepare recovery programs.
Q8: Who owns the license of code modified by hacking?
A8: We plan open source licensing.
Q9: Are there any differences between USB bus power operation and 5V power supply operation?
A9: Yes. CMG reduce the brightness of LED under USB bus power operation. Brightness turns to full power when it connects to 5V power supply.
Q10: Do you have customer service and technical support?
A10: Yes. please visit our WEB page.

Your friend might be a heavy user of music tool? Let him/her know about CMG. Thanks!