iCrowdNewswire - Jul 8, 2016
Machinae Supremacy at PixelCon
SID metal mayhem in the heart of Budapest! PixelCon, 05-11-2016 (DD-MM-YY), Corvin Club.

Insert Coin
Budapest, Hungary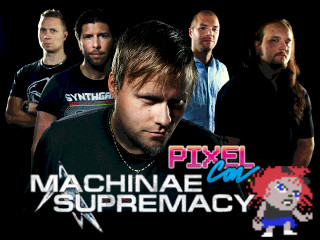 We want to give you the most badass SID metal band in the world: MACHINAE SUPREMACY @ PixelCon, 5th of November 2016. PixelCon is the biggest non commercial gaming cultural event series in Hungary. Organised by Insert Coin Association for Video Game Culture. With these events we would like to provide incredible fun experiences for the local gamer community. Every PixelCon party ends with a mind blowing concert featuring live artists connected to the world of Video Game Music.
THE BAND
MACHINAE SUPREMACY – where machines rule!
In the dawn of online distribution a small Swedish group appeared on the digital horizon and raised an army of retro gamers and metal warriors. Their music combines classic power metal and other nordic influences with the chiptune melody and soundscape of the '80s. Ladies and gentlemen, I present you Machinae Supremacy.
INCEPTION
The year is 20xx when a team in Luleå wants to create something outstanding. This is before the era of YouTube and online music sharing is still in its infancy. It was a bold move to make their first works available for free. And they succeeded! At the time of their first album, produced by a major publisher (Spinefarm) the downloads exceeded millions and their fame skyrocketed in geek circles. Some can't even fathom that all of this happened before the age of online streaming and yet managed to reach a wide audience. Machinae Supremacy is the living proof of the creative community bonding powers of the internet. They are the heralds of amateur content creation gone professional. This, of course, couldn't have happened without the world wide web. The recipe is simple. At the home of "In Flames" every computer network hosts a fair amount of melodic and fierce metal music. The boys cranked this up to 11 by introducing a SIDStation, a synthesiser utilising the sound chip of the legendary C64. Today it is expected to hear serious symphonic interludes and sophisticated chiptune segments alike.
MODERN QUALITY METAL
Following their initial success, they had their fair share of tours. They are recurring guests at Scandinavian demoparties, eSports leagues and the "Play! A Video Game Symphony" concerts. They also had the opportunity to share the stage with the Royal Stockholm Philharmonic Orchestra. In the meantime, they made music for the indie shmup "Jets 'n' Guns", worked on the music for the reimagined Bionic Commando by Capcom, a new "Giana Sisters" title and they celebrated Zelda's 30th birthday with a cover of "Gerudo Valley". A good indication of their outstanding creativity and dedication to quality is the fact that Plogue (the creators of the famed VST synth plugin Chipsounds) is among their prestigious sponsors – such as Jackson Guitars and Asus' Republic of Gamers brand. The Swedish pixel warriors are no strangers to Hungary. If we get the support we need they will grace us with their presence yet again.
MEET THE LEGACY
To this very day, one can download a tremendous amount of material from the band's website, for free of course. Their colourful collection – titled Echoes – absolutely left a mark on the metal-chiptune crossover genre and inspired a great line of artists. If you are looking for an even more substantial experience I recommend following it up with the free album called "Deux Ex Machinae". This being their first quasi-professional album it stands as a homage to such gaming classics as the intro to Final Fantasy VI closed by the track Flagcarrier. If this still wasn't enough head to ITunes, Google Play Music or to your preferred platform and blast the triumvirate of "Redeemer"-"Overworld"-"A view from" all day long!
THE ORGANISER
Improving gaming communities with fun
The main goal of Insert Coin Association for Video Game Culture (founded in 2013) is to improve the local gaming community. http://insert-coin.hu/ (non-profit organisation)
PixelCon is our video game cultural party brand.
PixelCon is not a commercial event selling the latest gamer stuff, nor a gaming history exhibition. PixelCon presents the real values of gaming culture, the fun experience. Not only by showcasing these video games but with fostering any creative manifestation that has roots in it: like video game music.
This is why the live music acts are among the most important parts of PixelCon parties. Loud video game music blows your mind!
The most expensive part
Previously 75% of the PixelCon parties' budget has been used for the concerts.
Some said this is unfair against those who don't want to stay until the concert and don't want to pay the full price PixelCon ticket.
On the other hand, if the budget is bigger the financial risk is higher.
For the next PixelCon we've invited the famous Swedish band MACHINAE SUPREMACY. Following the will of the Insert Coin Association members, we have to handle the financial risks by raising the money for this show via crowdfunding.
If it succeeds, this show will blow your mind. But if it fails, we won't charge the backers and we have to give up on the MaSu concert.
The Concert
Location: In the heart of Budapest, at Blaha Lujza Tér, Corvin Club, https://www.facebook.com/corvinclub
Opening hour for guest with Concert Ticket: 18:00
Opening act: 19:00, SIDrip Alliance (HUN) the best Hungarian SID tribute prog-rock band
Main act: 21:00, MACHINAE SUPREMACY (SWE)
Afterparty in the retro game room of PixelCon
PixelCon event
At the same day at the place
Opening Hour: 10:00 am
You can play with a bunch of retro video games.
There will be:
Public talks by veteran game developers
Cosplay competition
Fun competitions featuring Hungarian gamer celebrities
Indie GRAND PIX award
Local indie game developers
Lowresjam competition (write a game demo in 64×64 pixel)
Local gamer communities
Local artists influenced by video games
Retro gaming room with tons of old computers, consoles, and arcade machines
Retro game fair
Ticket price: 3 EUR
Even if this crowdfunding campaign fails (please don't let it happen!) we won't give up on PixelCon. But that means we cannot afford to invite MaSu.