iCrowdNewswire - Jul 6, 2016
The Prodigal Swan art car fundraiser
The Prodigal Swan is risen from Beezus Christ Supercar's ashes. Help us migrate to Burning Man!
Word to your moms, I came to drop bombs / I got more feathers than the bible's got pslams / And as The Prodigal Swan, I've returned / Anyone stepping to me you'll get burned." – House of Pain – Jump Around… ish
We are delighted to introduce you to our shiny metallic waterfowl, The Prodigal Swan, making its debut at Burning Man 2016. Built on a warehouse cargo mover, wrapped in sheet metal over a steel frame, and shooting fire from a crown on its head, the swan will be a glistening beacon on the playa day and night. Building The Prodigal Swan has been a swan-derful labor of love among good friends, and we are asking for your help to get us across the finish line.

What is the Prodigal Swan?
Risen from the ashes of Beezus Christ Supercar (an adorable bumble bee art car) we have built a beautiful and terrifying metallic swan atop an electric cargo mover that can accommodate 12 dusty degenerates. It will be outfit with sound, nighttime lighting, a flame-throwing crown, water ripple projectors, and a special surprise for burn night in Black Rock Cygnet.

Where is my money going?
Our total budget for the swan this year is $7,000. We have already built the skeleton of the car, and we are nearly done wrapping it in sheet metal. The car is fully operational and is whisper-quiet with its heavy-duty electric engine. As we've been building, however, our spending has taken a swan dive into the red. Now that Burning Man's nighttime driving permits have become even more stringent, we realize we need to make sure you can't miss this thing at night.
Still to be done:
Nighttime lighting system to achieve radical illumination
Fire crown to "blow your mind," literally
Fuel for the poofer system
Transportation expenses to and from the playa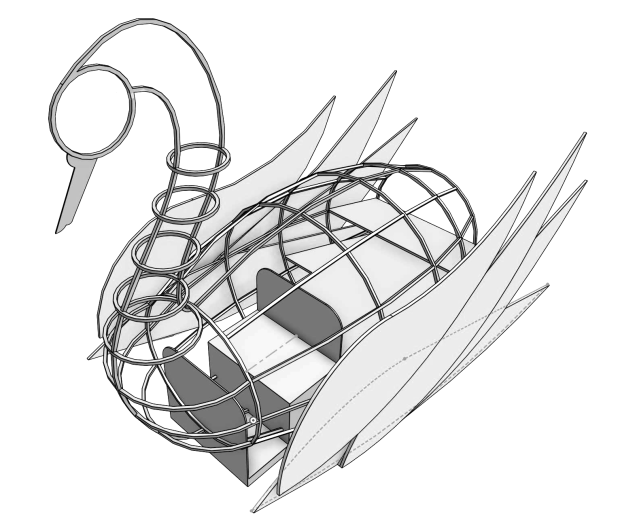 Birds of a Feather (a.k.a. About the Team)
Dustin, fabrication lead: This is Dustin's next project after creating the MultiDeck for Burning Man 2015, a series of nested hexagonal chill pods that were installed at Dustfish Village last year. He has also built intricate hexagonal wood cuttings called Fraxagons, guerrilla public space interventions, lotus-shaped fire poofers and more.
Marie, illustrator and concept artist: Marie Poliak is an artist who enjoys all things soft & shiny. Co-owner of a satirical fashion label, leader to a herd of misfits called Deer Team Six, queen of a sexy devils cult, and all around sweetie pie. Marie enjoys long walks on the moon while casually plotting a path to global domination.
Kevin, "operations": Kevin is basically useless but he's willing to take credit for this.
Ellis, assistant welder: Ellis is the resident cat/mascot, also pretty handy with engines and power tools.
Jamie, creative dilettante: Jamie's infectious energy and spirit has made this whole thing way less soul-crushing.
Justin, resident asshole: Justin and Kevin first foolishly voiced their desire to build an art car at Burning Man 2007, and after 10 years of "next year," next year is now. This idea is significantly better than their first idea, "Assholes With Nailguns Camp" to recreate the Belgian Waffle from 2006.
Emma, superhero: Jill-of-all trades, last-minute savior, affixer of pretty things, spritely delight.
Alex, trickster god archetype: Alex's city-A.D.H.D. is unparalleled and if he could just figure out where the hell he lives, maybe he'd have more time to work on the damn swan.
Denis, video guy: Motorcycle enthusiast, video pro, total badass.
David, brainiac: What's the point of being the smartest person in the group if you intentionally use a clunky flip phone?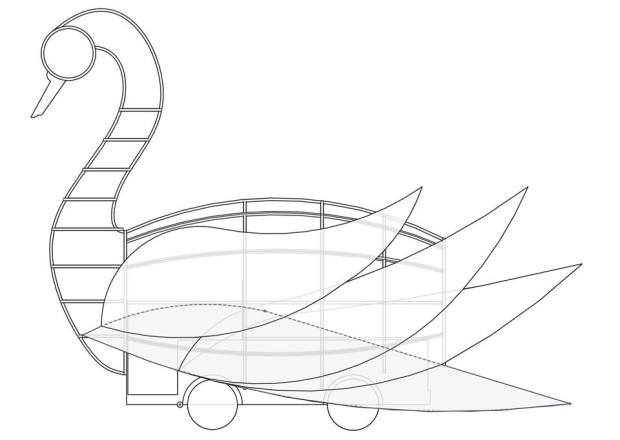 Perks
$10 – A Personal Thank You Letter From The Artists
Our eternal gratitude, expressed with a heartfelt letter from us to you, commemorating your help in getting the swan to the playa this year!
$20 – The Prodigal Swan Sticker
A die-cut, high-quality Prodigal Swan sticker for your car, laptop, mutant vehicle, tiny home, RV, flamethrower, etc.

$60 – The Prodigal Swan Shirt
Printed in the USA on 100% cotton American Apparel tee. Your choice of color, unisex sizes S – XXL.

$100 – Shirt, Sticker and Tutu
For all your Donald Ducking/shirtclamming needs.
$250 – One-of-a-Kind Watercolor by Marie Poliak
Marie will paint you one-of-a-kind 6″ x 8″ watercolor of The Prodigal Swan, one-person portrait, or couple's portrait.

In Canada we spell it "watercolour"

$300 – DJ Set on the swan
Are you ready to drop some sick beaks on the playa? Spin whatever you want on our soundsystem for 2 hours, timeslot TBD.
Risks and Challenges
Possibility of fowl play: If you have ever been to Burning Man, you know that the number of things that could possibly go wrong cannot even be imagined. Things break, the weather can kill you, objects explode unexpectedly, engines seize, the gods get angry and try to smite us.