iCrowdNewswire - Jul 5, 2016
A-STAND: A Transformable Workstation for Devices
With A/STAND's ergonomic, portable, and transformable features you can work comfortably anywhere.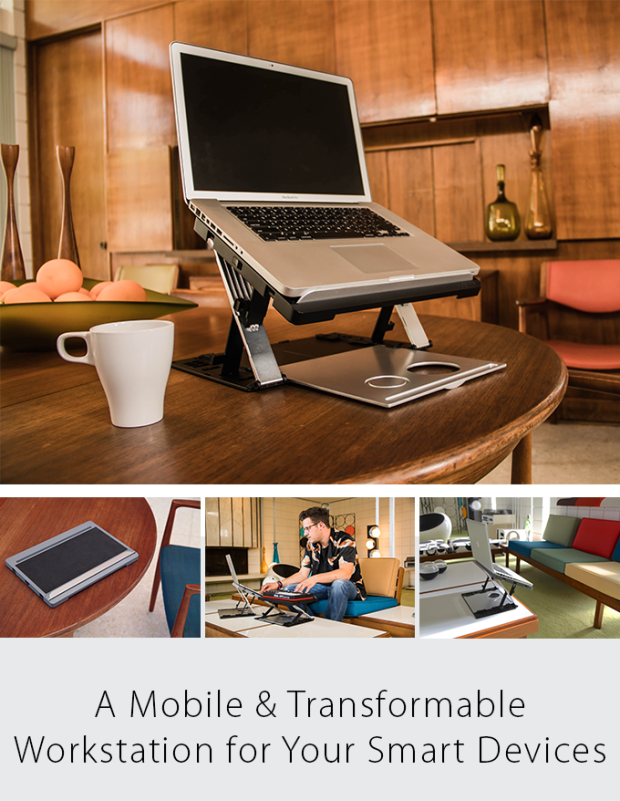 With A/STAND's ergonomic, portable, and transformable features you can work comfortably anywhere.


Where will you work with A/STAND?
We offer 20 different viewing configurations so you can work comfortably anytime, anywhere. A/STAND is specifically designed to create a unique, personalized environment, allowing you to interact with your devices effectively & optimally. It's perfect for working while traveling, commuting, & working remotely.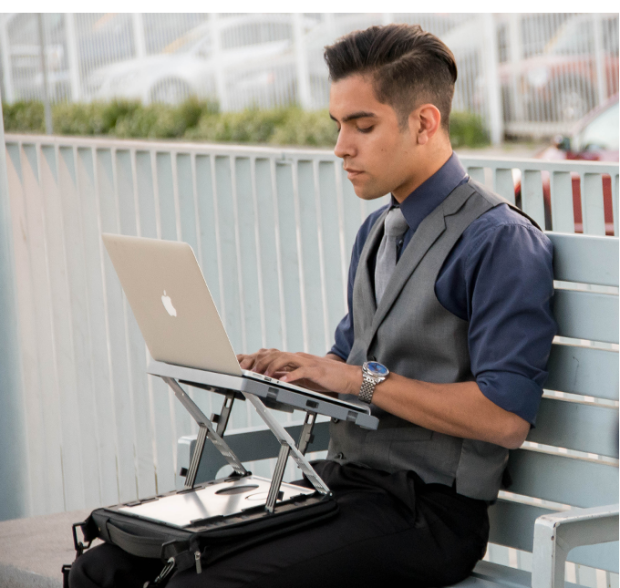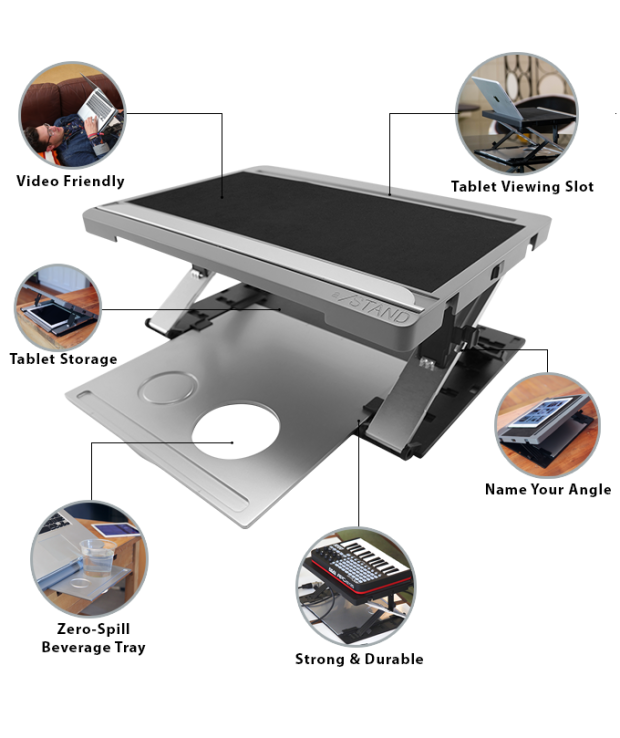 A/STAND makes you the master of your digital domain by ensuring that your viewing your device in the best angle possible. In tablet world land, it also offers the opportunity to go hands free in the most comfortable way possible. For laptop users, A/STAND is designed to dissipate the heat generated by these devices—you'll find it much more comfortable to sit with your laptop for extended periods of times.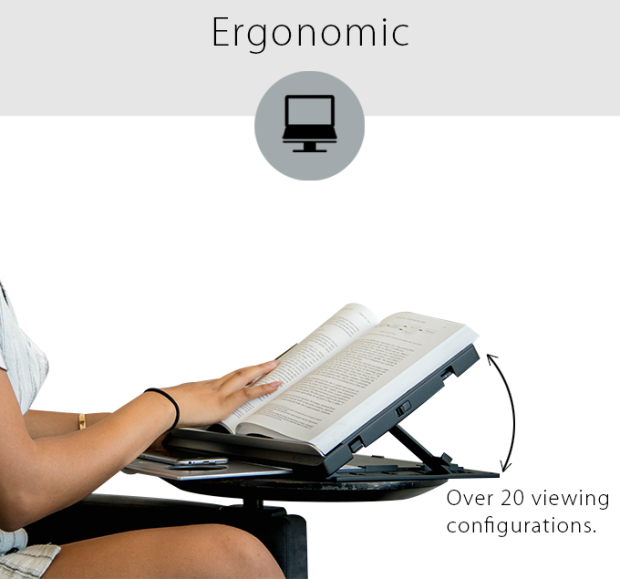 Our product improves the angle in which you interact with your screen by offering over 20 viewing configurations. With A/STAND you have the option to choose what viewing position is most optimal for you, easing stress and omitting neck and back pains.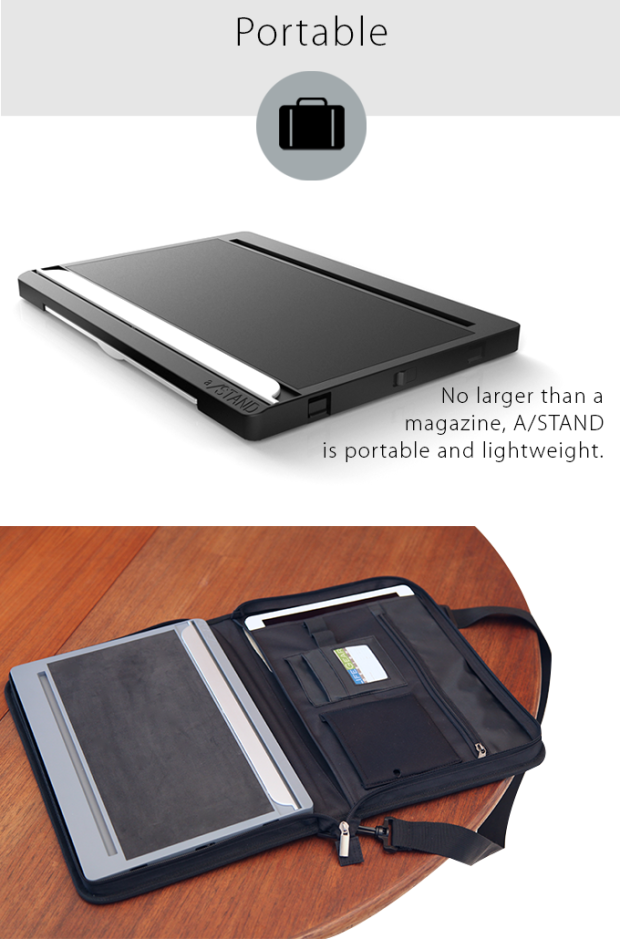 Just under 2 pounds & measuring the dimensions of a magazine, A/STAND is the go-to accessory that's ready to go anywhere. Students can even use A/STAND in libraries & home chefs in their kitchen!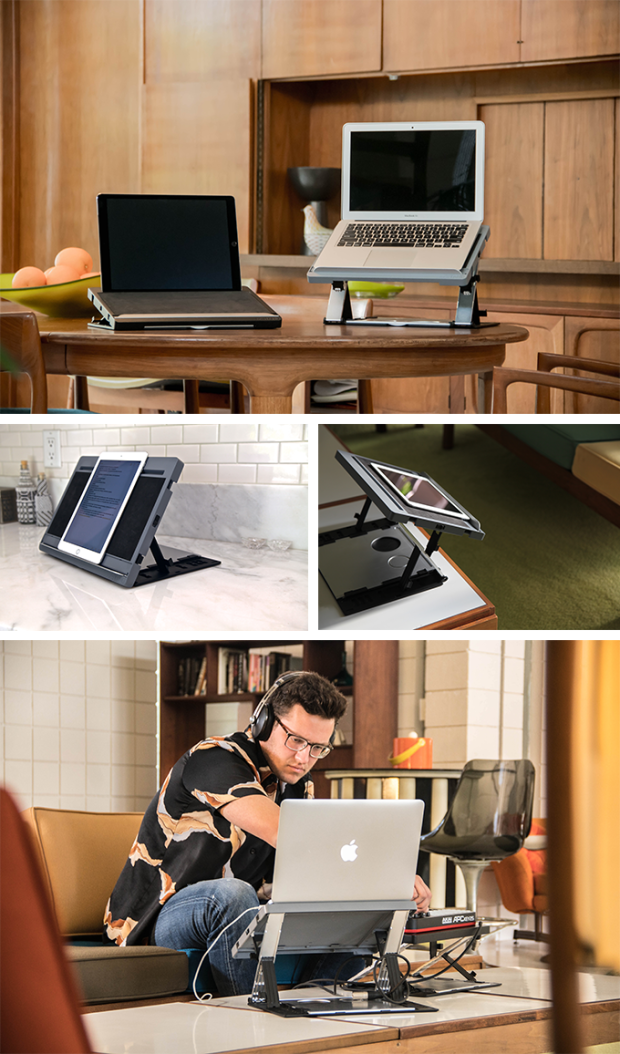 With over 20 different viewing configurations the A/STAND will quickly become your best friend. A/STAND is specifically designed to create a unique, personalized working environment, allowing you to interact with your devices effectively & optimally.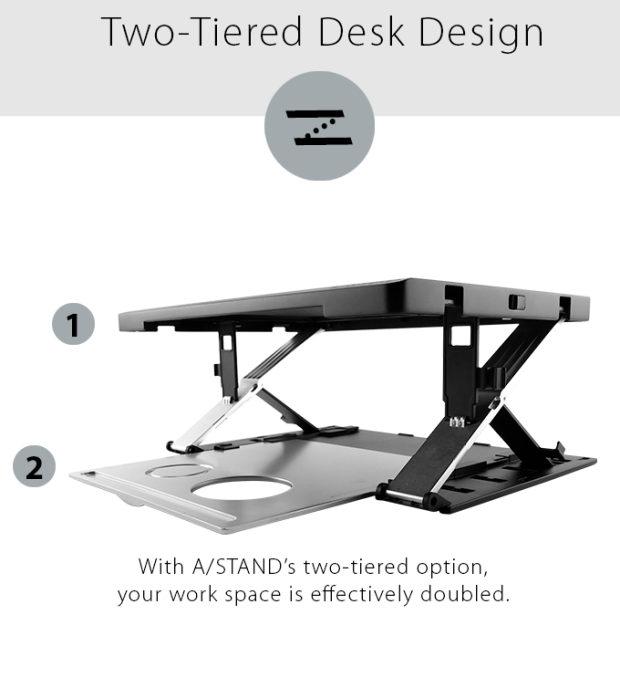 With A/STAND's two-tiered option, your work space is effectively doubled. Our customers use the space below for everything from a meal on a flight to an easy access for papers/files even to have a great space to store another portable power source.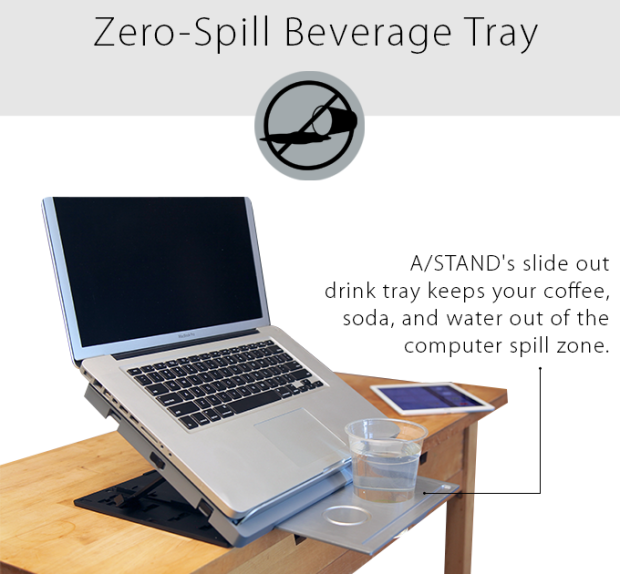 We know your devices are important to you, so we created a beverage tray to keep them safe and you hydrated. The A/STAND's a slide out drink tray keeps your coffee, soda, and water out of the computer spill zone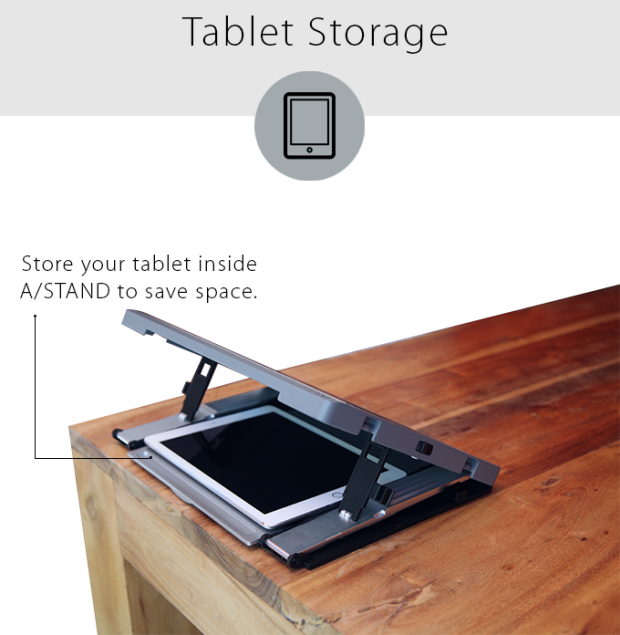 A/STAND makes tablet computing seamless – simply, pull out your device from its storage area + choose your view angle
Even if your device is lying flat, you can still take advantage of the perfect perch for your digital device.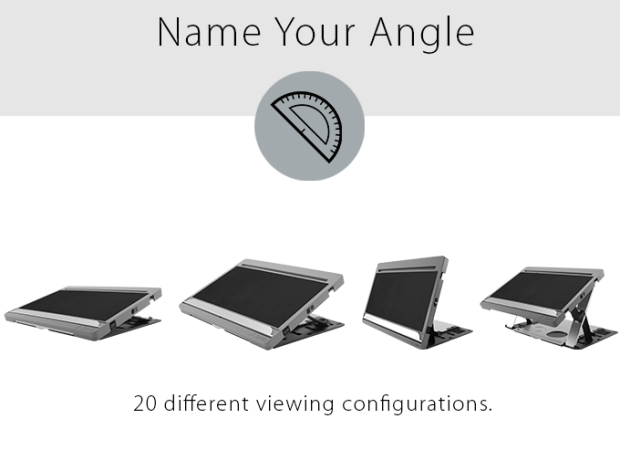 We offer 20 different viewing configurations – including a double tiered desk option. You can even read your favorite book using A/STAND!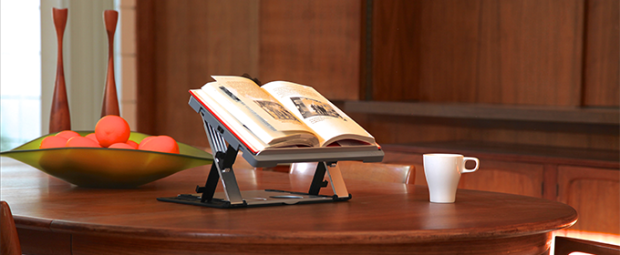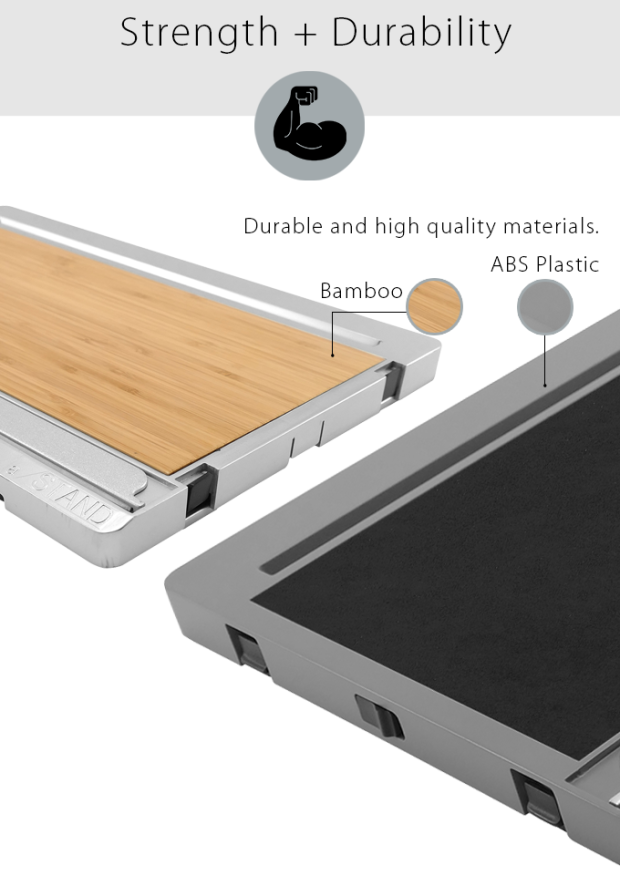 Our strong and compact aluminum cross bars are the virtual spine of the device and the main ingredient of A/STAND's sturdiness. The inherent strength of bamboo and ABS plastic adds an extra element of durability to A/STAND's design.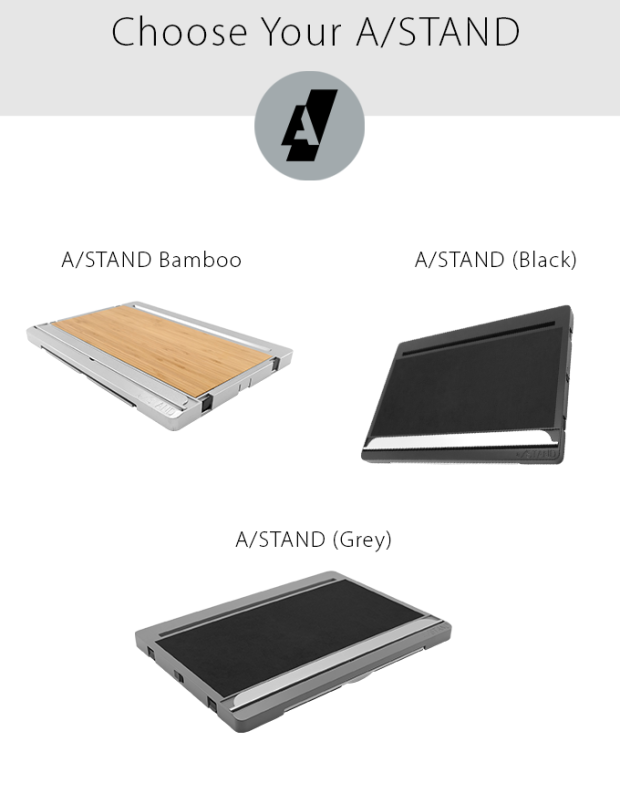 A/STAND comes in a variety of materials and color options to best fit your individual style and preferences. Get A/STAND in grey, black, or bamboo!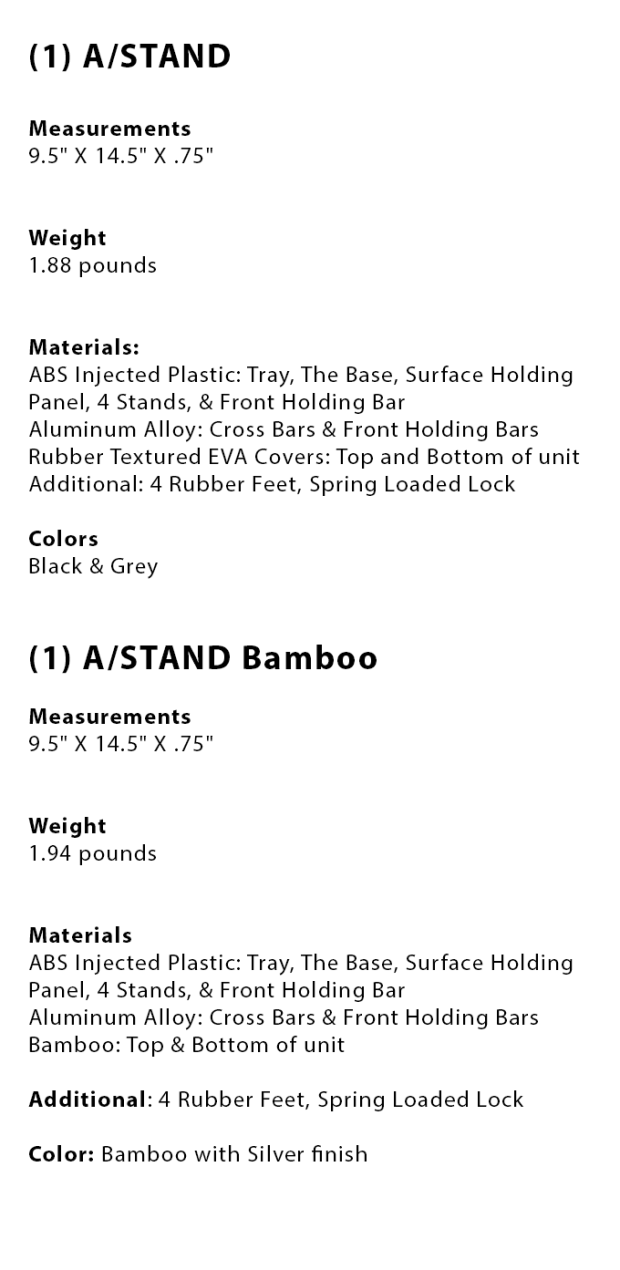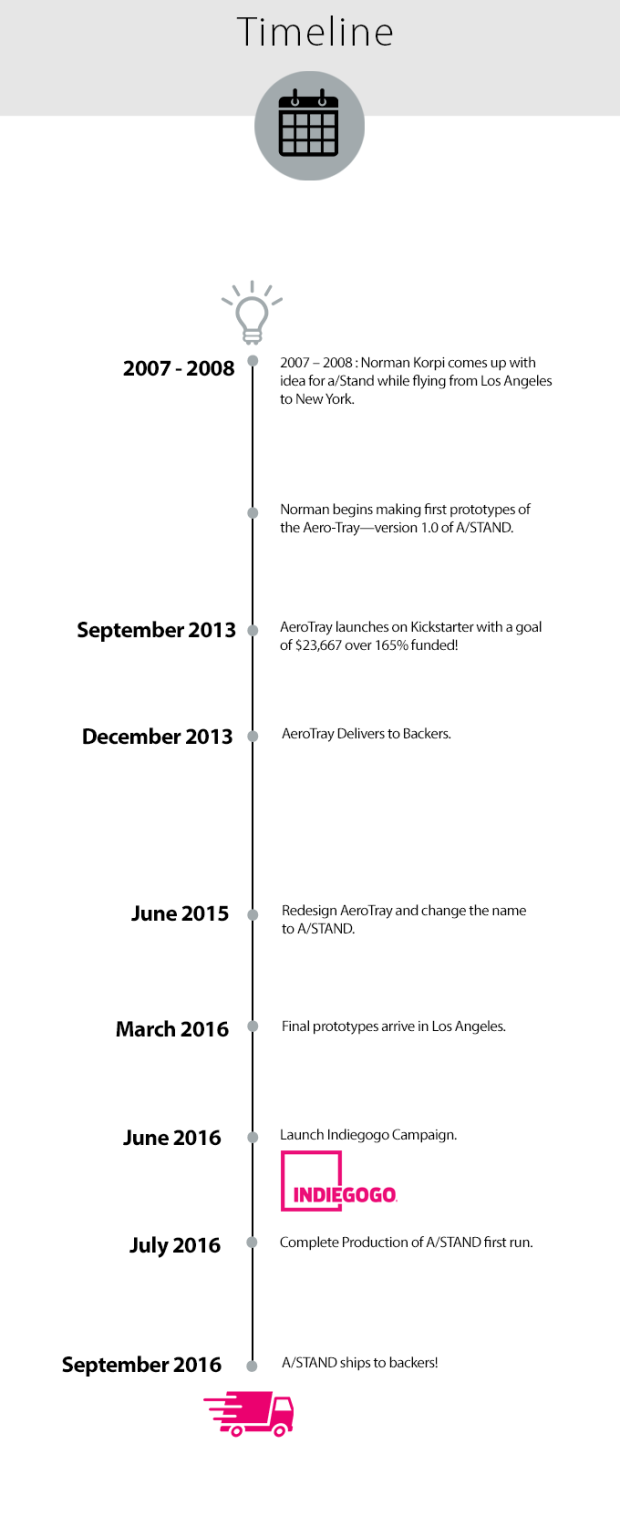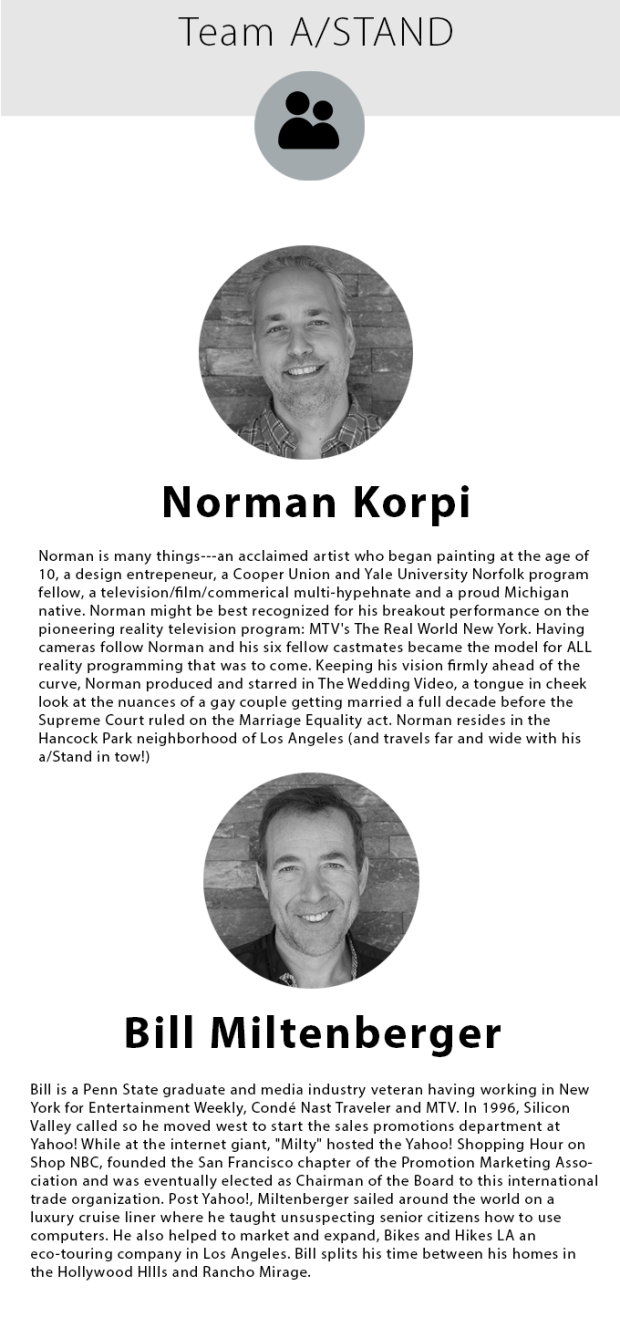 How do I open the A/STAND?
Hold your A/STAND in both hands so that the A/STAND logo is closest to you and the groove at the top is further away. Position your thumb on the sliding latch on the side of a/Stand and your index finger on the top edge above the slot. Squeezing your hands together will release the latch—lift up the rear of a/Stand to open it.
What are the slots on the bottom shelf of A/STAND?
There are two sets of these slots, one on either side. As you lift up the rear of A/STAND, you'll see a set of legs at the top of the device fall down (if they don't do this automatically, just pull down on the little black tabs at the top of A/STAND closest to the tablet display slot). The series of the slots on the bottom plate of A/STAND are arranged to adjust the angle of the main viewing surface. The further you go back, the smaller your angle becomes. Slots closer to the front of the device (where the logo is stamped in the bottom right hand corner) will greatly increase the viewing angle.
How do I make the A/STAND a double decker desk?
This is a fantastic, space saving configuration of A/STAND which is very easy to set up. First, open A/STAND by following the How do I open A/STAND instructions above. Once opened pull both of the rear leg supports down and secure them in the slot on the bottom of the tray that is the third from the rear of the device—this slot will have a boz outlining it. Next, lift up the front of your A/STAND. Place the front legs securely in the slots on the silver crossbar and make sure they are firmly in place. You're done.
Can I use the A/STAND for Hands Free Viewing with my tablet?
In many different ways. If your A/STAND is sitting flat on a surface or if it is in the double-decker desk configuration, take your tablet and insert it into the long horizontal slot that is positioned at the top of A/STAND. Lean it back, or away from you, and make sure that it is securely resting in slot. Let go and you're all set for hand free viewing.
Where do I store my tablet in the A/STAND?
When you open the A/STAND, you will see a storage area positioned between the A/STAND two primary support legs. Most popular tablets will fit into this area. A rounded indentation on the four corners of the beverage stand holder show exactly where to position your tablet. The storage area is designed so that tablets fit in with their longer sides being parallel to the top and bottom edges of A/STAND (those with the logo and the tablet slot at the top).
My tablet has a case or cover—can I still use A/STAND to carry it?
This depends on exactly what kind of cover you have. The storage compartment is currently designed to fit tablet covers which are thin and frequently magnetic that cover the front of a tablet. Thicker more protective covers, especially those embedded with chargers will not fit into A/STAND's tablet storage area.
How does the pull-out beverage tray work?
Centered in the bottom section of A/STAND is a pull-out beverage tray. To access it, center your finger under A/STAND — you'll feel a semi-circular indentation and a small ledge at the front. Pull out the beverage tray and then position your drink in the circular hole. Note: the top of your drink must be wider than this hole.
What is the circular embossed ring on the beverage stand?
This ring fits the exact dimensions of your most popular soda cans.
Does A/STAND have a warranty?
A/STAND has a one (1) year limited warranty.
Domestic Shipping Methods/Rates:
We are happy to announce A/STAND ships domestically and internationally! All a/Stands will be shipped standard ground by a major shipper. Shipping rates for A/STAND are as follows:
*Free shipping to the US
*$10 shipping to Canada, UK, EU
*$15 shipping to Australia & Japan
*$20 Rest of World
Can I get a refund?
During our live campaign on Indiegogo, you can modify, upgrade, or cancel your contribution at any time by going to the "My Contributions" tab of your Indiegogo account. To request a refund, please follow these steps (https://support.indiegogo.com/hc/en-us/articles…). Once the campaign has finished its initial live phase, all requests for modifications, upgrades, or cancellations to your contribution will be considered on a case-by-case basis and can be sent to info@a-stand.com.
If I have other questions, who should I contact?
We are currently receiving a lot of inquiries, but we make sure to try our best to respond to you as fast as possible! Please contact info@a-stand.com with any questions you might have.