iCrowdNewswire - Jul 4, 2016
Acres: Build Your Own Real Estate Empire!
Tired of the city? Get your 40 acres of blue sky and green hills with the Acres app!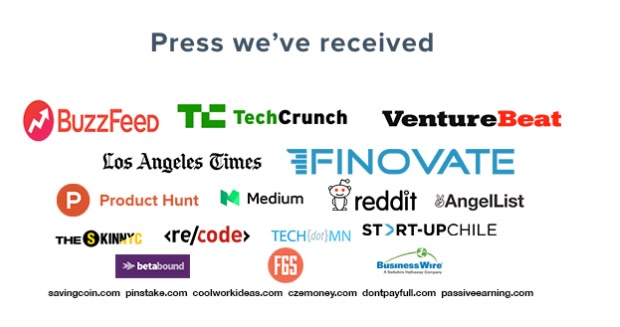 What is Acres?
Acres is the first mobile land bank. Deposit cash into microacres and build your real estate empire every month via automated purchases. Get rewarded every month with more microacres. Then withdraw your microacres as cash or real-life land.
How does Acres work?
Acres makes land banking as easy as clicking a button. Rather than you having to find the best land, negotiate a deal, and monitor your holdings, Acres finds the land, manages it, and then lets you decide when to sell or withdraw a land deed.
It's three simple steps:
You deposit money by purchasing Microacres in the app
You earn more Microacres each month
You withdraw your cash or land deed when you want
Acres makes it possible to earn more than the interest at a bank with less volatility than the stock market. It's a perfect additional tool to your mobile app financial life. It fits in perfectly if you're using Betterment, WiseBanyan, or Acorns already! Forget depositing all your money into a savings account at your bank. Acres makes it possible to do land banking at an affordable level for everyone!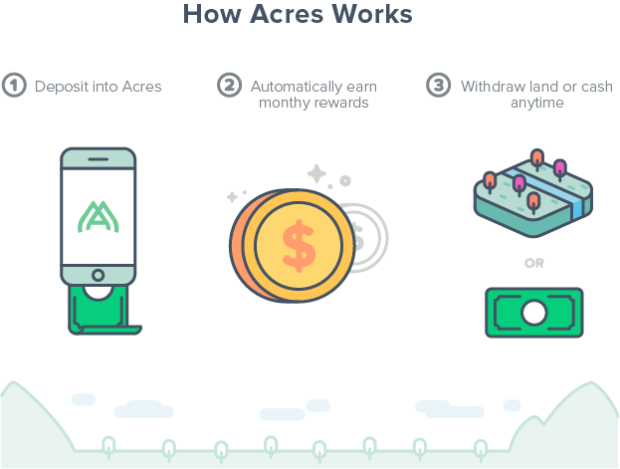 Why you should be land banking?
Rather than putting cash into a savings account (where it will likely never earn more than 1%) or into the stock market (which is increasingly volatile), savvy individuals put their money into land. With land, you can park cash in a tangible, fixed asset that will never be destroyed, broken, or stolen. Compared to being a landlord, land costs you next to nothing to own every year – no broken plumbing, no tenant issues, and no mortgage payments.
Land banking is the safest, most passive way to park cash. Even in 10 years, your land will be the same. Nothing will have changed!
How do I withdraw land? Do I get to choose?
You can withdraw land – instead of money – when you cross certain microacres thresholds. Acres allows users to take the deed to land in 10 acre parcels. If you have enough microacres when you withdraw to be equal to 10 acres, you can withdraw a deed instead of cash. Each 10 acre parcel of land is priced individually in microacres; the threshold varies by location and other features.

Withdrawing a deed comes with "white glove" service. Once you click "Withdraw a Deed" in the app, you are assigned a personal guide from the Acres team. We will help you select the best Acres property in the location of your choosing. Acres will handle the preparation of all legal documents and ensure a smooth transfer of ownership to you personally.
Is land banking with Acres safe?
Land banking, done correctly, is incredibly safe. The value of land only goes up over a period of time, virtually guaranteeing that you'll get a better rate than the 1% a high-yield savings account can offer.
Land banking with Acres is safe and easy. We handle all the hassle of land ownership for you. Acres completes a lengthy due diligence process on every parcel of land, negotiates the best price, and then manages the land on your behalf – all for no cost to you!
Who is behind Acres?
Our team has successfully built and scaled numerous mobile applications before. In addition to being land investors, we are a highly skilled team of mobile application developers.
Supporting Those Who Support Us
Everyone behind the Acres app has done land banking personally and we want to share this with the world. We want to help you achieve your dreams too, which is why we're pledging to help our IndieGoGo backers get started with more microacres.
Each perk on our IndieGoGo campaign comes with a microacres boost of at least 5%. So, for example, if you deposit enough for 100 microacres in the app, you'll get another 5 on us! It's our way of helping early adopters achieve their land banking dreams faster.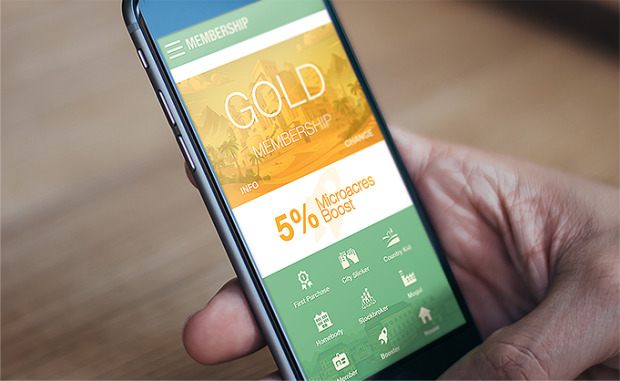 Wear Your Microacres Like a Badge of Honor
Everyone loves to be recognized for their achievements and often, it's the achievements along the way that keep us focused on the end goal. Land banking may be a multi-year process, but it's closer than you think through Acres!
From your very first microacre to the final building block of your empire, we want to recognize your efforts and achievements as an Acres member. To do this, we've designed a wide variety of special badges, attainable by completing different objectives within the Acres app!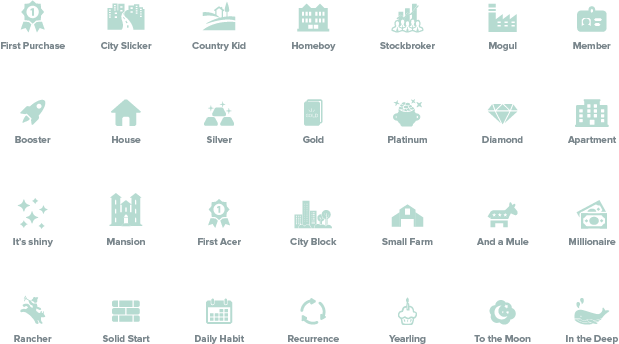 Most badges can be earned automatically as you grow your real estate empire, and each will serve to remind you that you're one step closer to being master of your own domain.
Membership and Reward Tiers
Your maximum monthly microacres reward depends on your commitment level to your land banking goals. The more serious you are about achieving your dreams with land banking, the more Acres wants to reward your dedication. It's a positive reinforcement cycle that keeps you on track, even if life throws you a curve ball.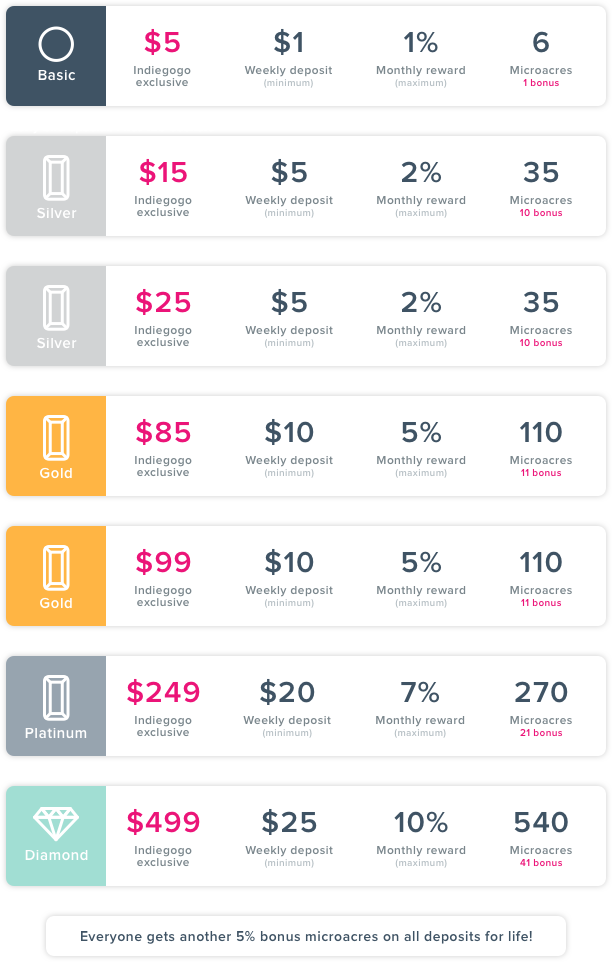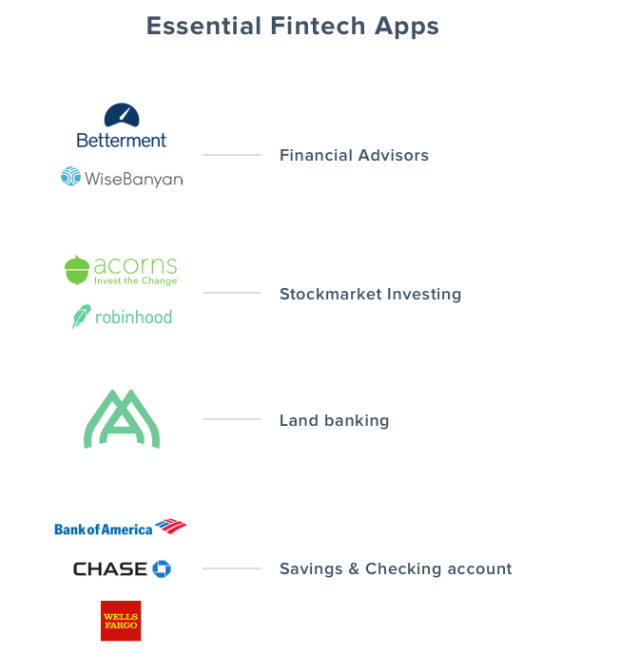 Our Progress on Acres
Acres has been in development for more than a year. Prototype versions of the app have been made; we have a $250,000 real estate portfolio; we've got partnerships lined up. We're ready to become the land banking platform for everyone, but we have a few small tasks left to complete before our vision is realized:
We need to build-out the back-end software.
We'd like to refine the production versions of our app.
We need to beta-test the app at scale.
We need to finalize and solidify a few legal items.
If we can accomplish the final steps above, we'll be ready to launch! With the support of excited backers like you, we predict a successful December 2016 rollout of Acres and from there, the sky's the limit! Help us reach our goal and back us on IndieGoGo today.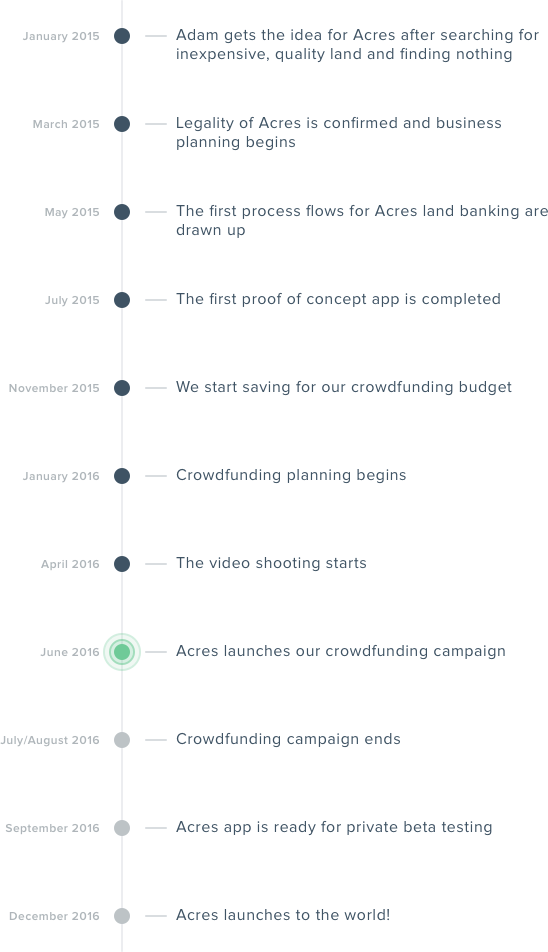 How Will Your Support Help?
100% of the funds received through Indiegogo will be credited into members' accounts. Your credited microacres will immediately begin the land banking process – even before the app is completed! Check out "How does Acres make money" under the FAQ for more information on how we'll use backers' contributions to fund the building of the app and our land portfolio prior to launch.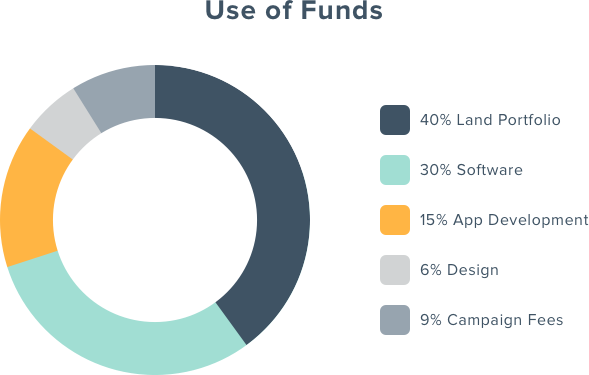 FAQs
What is the conversion between USD and microacres?
$1 USD = 1 microacre. We allow fractional microacres, so even your pennies can count towards your growing real estate empire. By backing us now, you get a substantial discount and additional microacres above the price of your perk.
Can I ever lose money by depositing into microacres with Acres?
No, you cannot lose the money you deposit into microacres with Acres. Unlike a stock account which fluctuates in value, Acres accounts only go up in value, never down. Further, your money is held by a third party, not by Acres.
Is my money safe? Where is my money held?
Completely safe. The moment you deposit money into Acres as microacres, it is immediately held by a third party. Funds are only released to Acres for land-related transactions, including land purchases. Acres cannot use your deposits for operating expenses. Your microacres go 100% into land banking – that's it.
How does Acres make money? What does Acres cost?
Acres makes money by purchasing land for less than market value. We pass along a significant portion of these savings to our members to aid in their land banking. However, we do keep some to cover operations costs.
Acres costs you nothing. We do not have a membership fee. We do not charge an "asset management" fee on your deposits.
Is the Acres land more expensive / worth less?
Compared to buying land yourself, Acres is less expensive. Due to our experience, we are able to get below market rates per acre. As Acres grows, we will be able to purchase in bulk, thus further reducing our cost per acre. All these savings means that the Acres platform is a better way to land bank than just doing it yourself. Once you factor in the time it takes to land bank correctly, Acres is the least expensive solution for most people – including you!
Acres land is never sold for above market price, so your land is not worth less because it comes through the Acres platform.
Is Acres a financial advisor or bank?
No. Acres is not a financial advisor as described by the SEC. Acres is not a bank, depository institution, or credit union. As such, Acres is not FDIC or SPIC insured. Acres is a principal in real estate transactions.
What happens if Acres goes bankrupt or closes?
Your microacres are 100% safe. Because your money is held by a third party, if Acres encounters trouble, your microacres won't be affected. Any microacres currently being used for land will be returned as cash or land deeds. That's contractually guaranteed to our members.
Where does Acres get the land for its portfolio?
Acres has relationships with individuals, companies, trusts, and local governments around the US. This give us special access and pricing to 1,000,000+ acres of prime hunting, camping, recreational, homestead and investment-priced raw land. We only source land that we'd want to own ourselves and that shows the highest potential for value gain from land banking.
Risks and Challenges
Having been a part of numerous projects before (on Kickstarter), the Acres team understands that once the project comes to a close and the funding rolls in, it's all a matter of execution.
Our team is skilled in building and launching mobile apps. We've successfully launched and scaled over 30 apps with more than 10,000,000 total downloads. Compared to more complex apps we developed, we know the Acres app is fairly simple for our team to build.
We know that making good on our promises is a matter of executing our next steps in a timely manner and we're confident that Acres is in a great position to meet our intended launch date.