iCrowdNewswire - Jul 1, 2016
Pillo: Your Personal Home Health Robot
The smartest and friendliest way to manage yours and your family's health!
Pillo empowers people of all ages to better manage their health. He can answer your health and wellness questions, connect you directly with healthcare professionals, and securely manage your vitamins and medication; storing, dispensing, and even ordering refills when you need them. And he's intelligent, so his functionalities will grow as he learns about you and your family.

Whether you're a fitness enthusiast, caregiver, or simply need some help with your wellness regimen, Pillo gives you the tools and information that you need to stay healthy.
Pillo is smart and he's always learning. You can ask him health and wellness questions so that you don't have to go scouring the internet looking for answers. And what's more, Pillo gathers his information only from verified sources, ensuring that you receive the most up-to-date and accurate information available.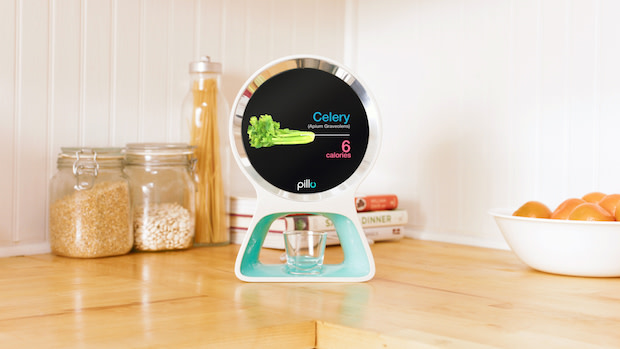 Pillo is a healthcare companion. Using the latest in voice and facial recognition technologies, Pillo can hear, see and understand you. This enables him to adapt his functionalities to serve your specific needs. And to ensure that your supplements, medication, and personal data are all totally secure.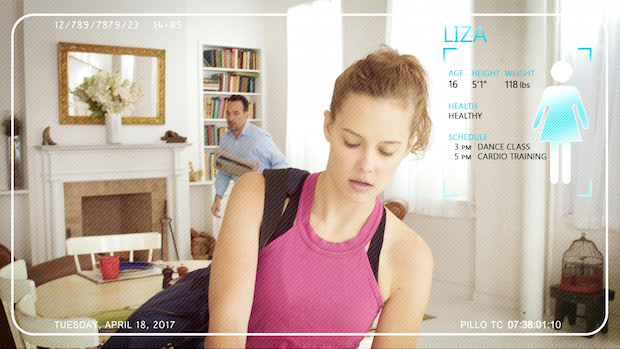 How long did your last visit to the doctor take? Two hours? Three hours? Pillo can connect you with a healthcare professional in minutes, from the comfort of your own home. No more waiting rooms. Get the help you need right when you need it with Pillo.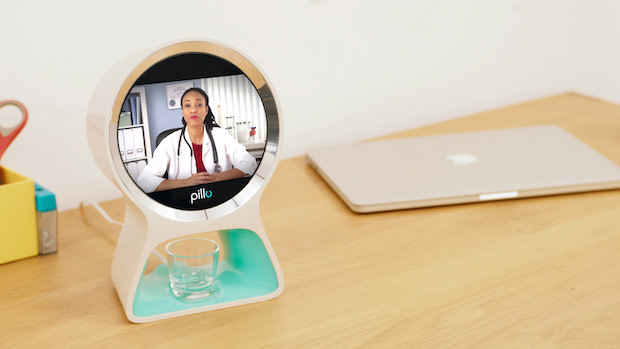 Pillo securely stores up to four week's worth of vitamins and medications in tamper proof containers within the device. And with his sophisticated identity recognition technologies, Pillo makes sure that medications are dispensed for the right user at the right time, every time. He can also send you or your caregivers reminders if you need a little help staying on schedule. Running low? Not to worry. Pillo knows and will automatically re-order your medications from your preferred pharmacy.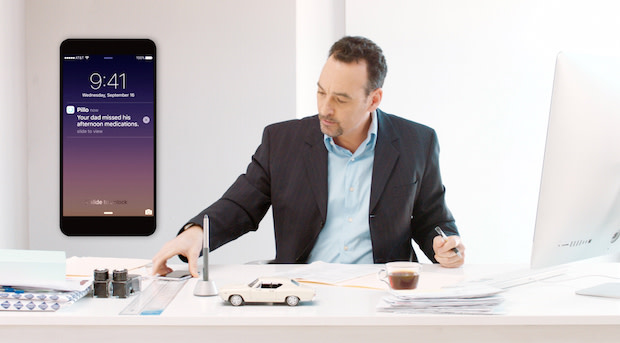 Tracking your physical activity with the latest wearable? Keeping tabs on your weight? Pillo will be able to sync seamlessly with wearable and wireless devices, allowing you to store, manage, and share your integrated health and wellness data from one totally secure location.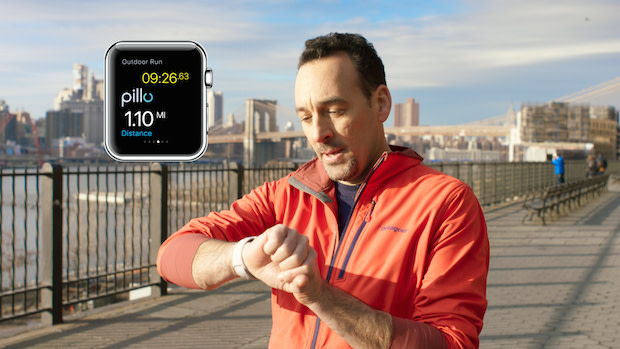 Pillo is platform. That means that his skills and functionalities will grow over time as developers build new and exciting features for him. There's truly no limit to what Pillo can do for you!
With his tamper proof casing and advanced user recognition features, Pillo offers multiple levels of security for you and your family. The user experience is driven by a powerful ARM based processor, seven-inch touchscreen display, HD camera, multiple microphones, speaker, Wi-Fi and Bluetooth capabilities. Pillo is also equipped with an auxiliary lithium-ion battery to ensure that important functionality can remain active in the event of a temporary power outage.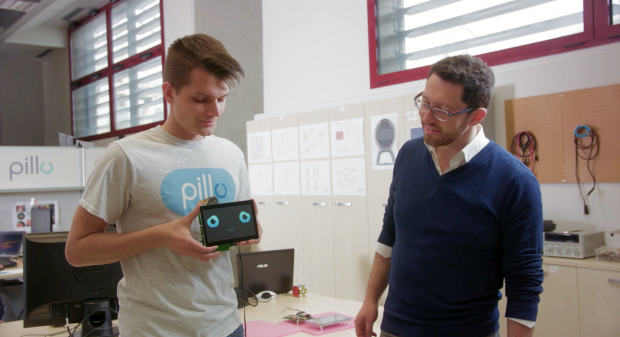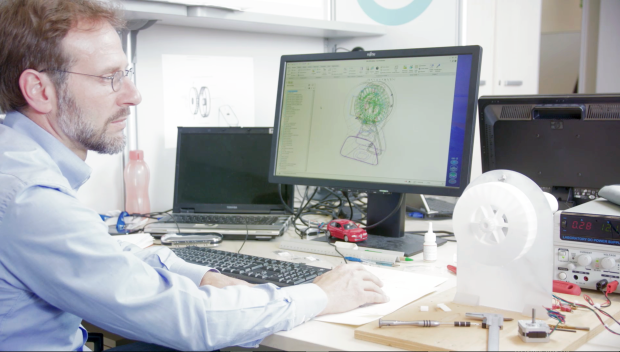 Pillo is a unique device, improving over time as he gets to know you, and gaining new functionalities as his software is remotely updated. Below are some of the exciting additional features that we plan to develop in the near future. Some we will begin building soon after our crowdfunding campaign ends. Others, we will build as soon as we are done shipping the first Pillo devices.
One of Pillo's core strengths is his operating system, which will allow our team, as well as external developers, to integrate existing digital health solutions onto the platform, and to create new and exciting native and mobile applications for Pillo.
Our first mobile application is currently in the final stages of Beta testing. This app manages supplement and medication schedules, sends/receives notifications and reminders, and curates personalized health information for individual users. It can also easily connect you directly to vendors when it's time for a refill. It's the perfect mobile companion for your Pillo.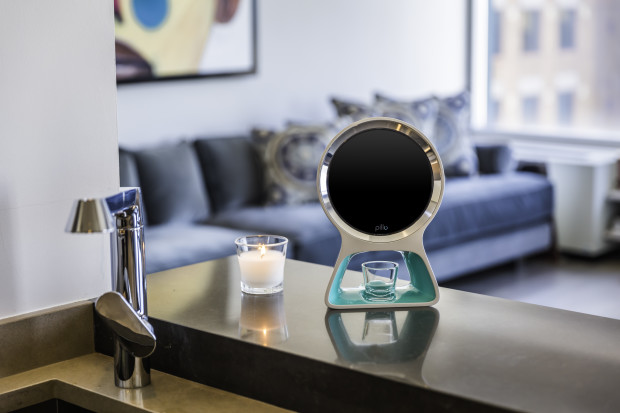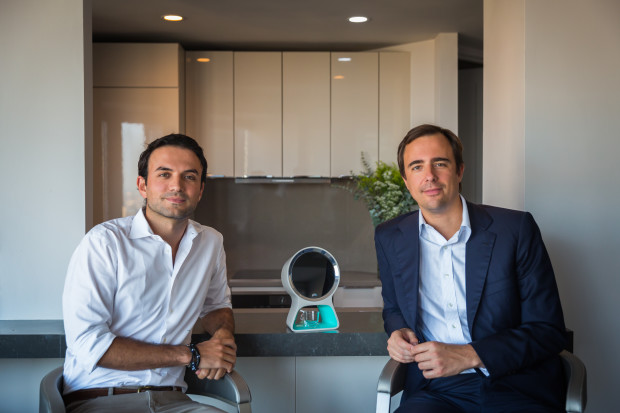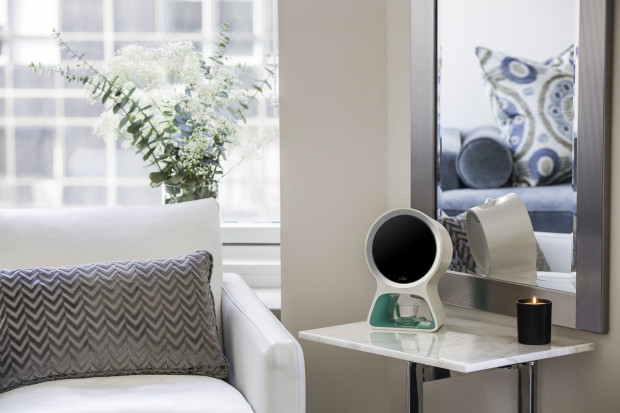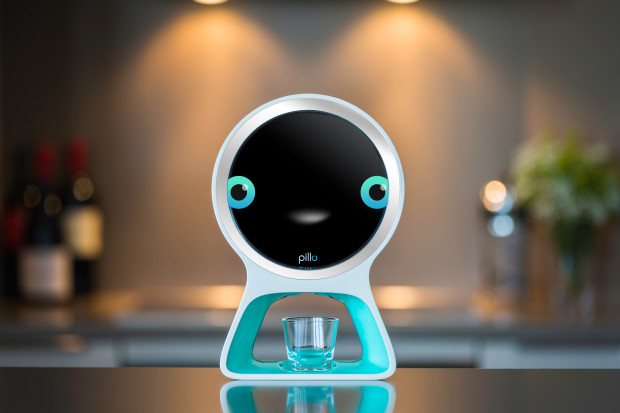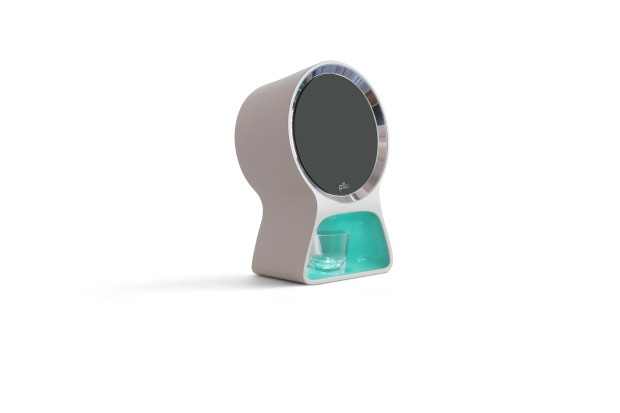 Building our prototype, growing our company, and preparing to launch this crowdfunding campaign has involved a lot of hard work and many late nights. We've enjoyed every minute of it. And we are under no illusions that the real hard work is only just beginning. The most important aspect of this campaign, and our sole focus for the next 12 months, is that we fulfill our promise to you.
We promise to hold ourselves accountable to the utmost standards of quality, integrity, and professionalism. We are fully invested in Pillo, and we are committed to delivering you a state-of-the-art product that you will be proud to have in your home.
We are fully confident that we can successfully take our Pillo prototype from its current form to mass production. We have a core team of experts and advisors that have been developing robotics technologies and complex consumer goods for years, and who are wholly committed to ensuring that Pillo arrives as promised, without delay.
Should there be any unforeseen delays or events that require your attention, we will be sure to communicate those to you and to keep you informed about the progress of our campaign at regular intervals.
Sincerely,
The Pillo Health Team
How do I contact you?
Send us an email at hello@pillohealth.com
Is it easy to set it up?
Yes. We've designed Pillo so that anybody can use it. To the extent that you have any trouble setting up your device you can call our customer support team 24 hours a day, 7 days a week.
How much will Pillo cost in stores?
Pillo will be available in stores towards the end of 2017. He will cost $599 if you do not purchase him as part of our Indiegogo pre-order campaign, which begins on June 28th 2016 and will run for 40 days.
What languages does Pillo speak?
Pillo speaks excellent English. We will build in additional languages in due course.
What if I am soft spoken or have an accent?
Pillo's voice recognition capabilities are excellent. We've tested him across a range of voice tonalities and accents.
Does Pillo require Wi-Fi connection?
Yes, Pillo requires a working Wi-Fi connection.
Does Pillo sync with my phone?
Yes. Pillo can connect to most wearable and wireless devices.
Can I use Pillo with my iOS / Apple device?
Yes. Pillo has a companion app for both Android and Apple devices.
Where can I get the Pillo Mobile App?
We have already built both Android and iOS versions of the app. You will be able to download it from either the Google or Apple app stores.
Will there be additional Pillo Apps?
Yes. We will be building additional applications and exciting new features for Pillo. These can be downloaded onto the Pillo device itself.
Can Pillo really recognize me?
Yes! Our engineers have years of experience building and working with both voice and facial recognition software. Pillo will be able to see you from several feet away. His omnidirectional microphones mean that he'll be able to hear you from anywhere in the room.
What kind of questions can I ask Pillo?
You will be able to ask Pillo all sorts of health and wellness related questions. We are integrating Pillo into several verified and well respected online databases in areas such as medicine, nutrition, diet, and more. That way you can be sure that the information you receive from Pillo is of the highest quality.
Will Pillo remind me to take my pills?
Yes. Pillo will be able to alert and remind you directly from the device itself, or via notifications from our mobile application.
Can Pillo remind me to take other supplements, like powders, or other supplements?
Yes. Pillo only stores pills, but he can still remind you to take other supplements directly from the device itself, or via notifications from our mobile application.
How many different profiles can be set up on Pillo?
Pillo has been designed to be used both by individuals and by families. You can set up as many profiles as you like on the device. However, bear in mind that the more users you add to the device, the fewer pills-per-user Pillo will be able to store.
Will it work if the power cuts?
Yes. To get the most out of Pillo you will need to plug him into a power socket. However, if the power cuts in your home we have an internal battery that will be able to power Pillo for up to 6 hours
How do you store my data? What about my Privacy?
When dealing with your private health information we have to adhere to strict rules set by the U.S government. The data that we collect will be stored and transported according to HIPPA regulations. You can read more about HIPPA compliance here.
How is the developer edition different from standard edition?
The developer edition will give developers early access to our API in order to develop new and exciting applications for Pillo.
When will my Pillo Ship?
We have been working closely with partners such as Dragon Innovation to nail down the delivery timeline. We will deliver your devices to you by July 2017.
Is there a warranty?
Yes. We will offer at least a 1-year warranty. To the extent that countries impose longer warranty periods by law then we will adhere to those regulations.
How do I contact customer support if I need it?
We will have a customer service team on call 24 hours a day, 7 days a week. In the meantime you can email hello@pillohealth.com
PILL DISPENSING
How many pills does Pillo hold?
Pillo can hold approximately 250 medium sized pills.
How many weeks of pills can Pillo hold?
Pillo will be able to store four weeks worth of pills. If you take a particularly large number of pills per day (for example, if you take more than 14 pills per day) or if you have multiple profiles on the device then he will store approximately two weeks worth of pills.
How do I load the pills?
Pillo has a slot on top of the device where you will load your pills. Using the screen or voice interface you will be guided step by step in the loading process. Using proprietary algorithms Pillo will sort the pills into the correct container. However, if you prefer, you can also remove the container and place your Pills directly into Pillo's extractable pillbox tray. We are in discussions with pharmacy partners to pre-load the tray so that in the future you can simply insert a new tray into Pillo every time you need to refill (every 2-4 weeks).
How does Pillo know which pills to dispense at which time?
We have built a mobile application to help with this process. After downloading our app you will be prompted to input the name of your pills, and the times at which those pills should be taken. You can also add features like "to be taken after meals" or "to be taken before bed." You only need to do this once. The information will sync with Pillo and he will know which Pills to dispense at what times. You can also input the information directly into Pillo by using our touch screen or voice interface.
Are my pills secure inside Pillo? How do I prevent unwanted access?
Your Pills are very secure inside Pillo. We have added multiple layers of security across our hardware (casing) and software (biometric identifiers) in order to ensure that your pills are only accessible by you or a designated caretaker. During the set up process you can choose the level of security that suits your specific needs.
Can I take my pills with me on holiday?
Absolutely. You have two options. Either take Pillo with you, or tell Pillo how long you are going away for and he will be able to dispense you your medications in advance. Just be sure to bring along your own portable pillbox to keep the pills safe and dry.
What about Pills that need to be refrigerated?
You will need to store those in the fridge. However, you can still enter the schedule information into the Pillo app so that Pillo can remind you or send you notifications when it's time to fetch your pills from the fridge.