iCrowdNewswire - Jun 30, 2016
ONE-TOUCH DRONE FOR EVERYONE! Meet JETJAT ULTRA
A Powerful Automatic Camera Drone Fits in Your Palm. One-Touch,Live WiFi, Throw-to-Fly, & MORE!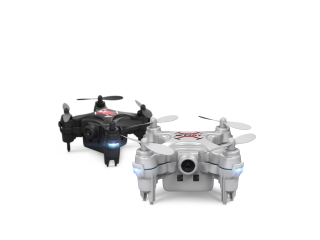 Everyone wants to fly a drone, but they're afraid it's too complicated. We need your help to fix that. We have created a mini drone, perfected. A mini drone with never-before-seen features like Auto-hover, Auto Landing/Take-Off, and Throw to Fly. It's so easy a caveman could fly it. And now we want to show the world, with your help.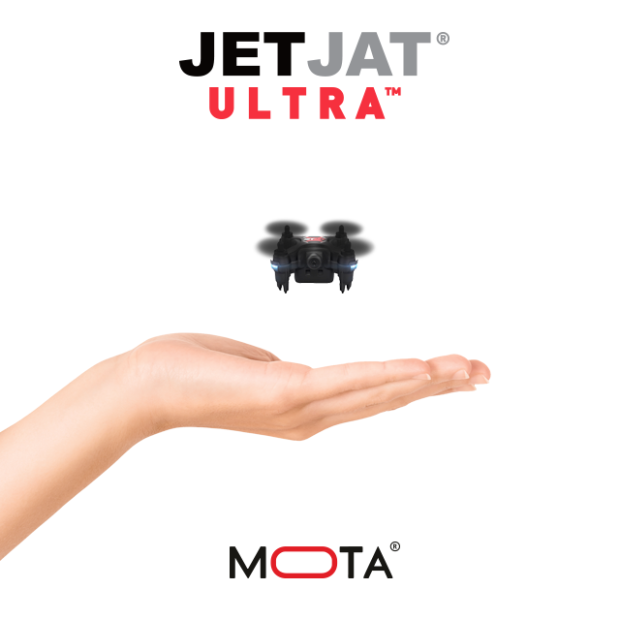 JETJAT embodies our vision of fun flying times with friends and family. We wanted to make it easy for anybody to fly a drone, young or old, big or small. Not everyone needs to know geo-coordinates and complicated GPS signals. They don't need a brick of a battery to sustain enough power to fly their drone across the living room.


That's where JETJAT ULTRA comes in. Imagine a nano drone that is easy in every sense, from being able to store it inside its controller, to complete control at the push of a button. We redesigned the very idea of a nano drone, giving it a special identity that includes massive features only found in top commercial drones. We re-imagined what a drone could be and created a state-of-the-art ULTRA nano drone, in every sense of the word.
This is our love, our passion, and our inspiration. We have done the difficult part – now we need your help to getting the word out that there's a new nano drone in town: The JETJAT ULTRA, a drone SO EASY to fly, nothing will stop you from taking to the skies.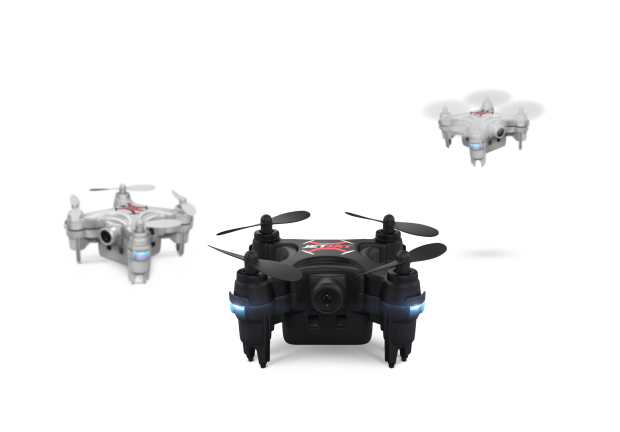 Introducing JETJAT ULTRA –– Experience First Class Flight with Auto Landing, Take-off, and Hover at the push of a button, features never before seen in nano drones.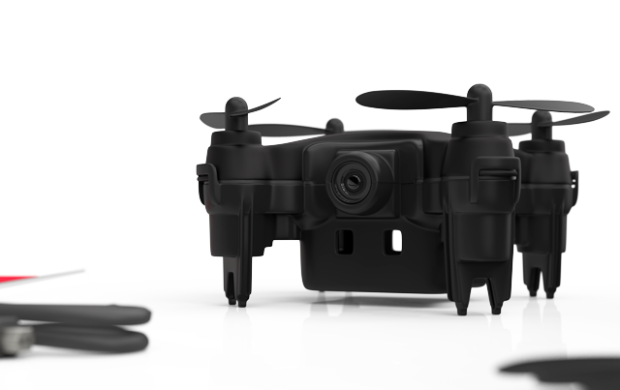 It's hard to find a nano drone of this caliber – until now. We're looking at the ultimate flying toy, with all new special features that make it even easier to fly. We broke the mold so you the pilot can utilize it and do things we could only imagine.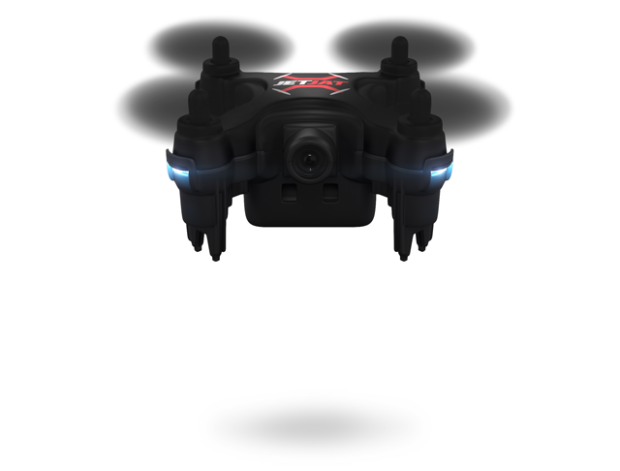 A common myth about drone flight is how difficult it is to maintain a steady throttle speed. Now with auto hover never worry about that ever again. Hit the right bumper up or down to utilize the new special feature of auto take-off and landing.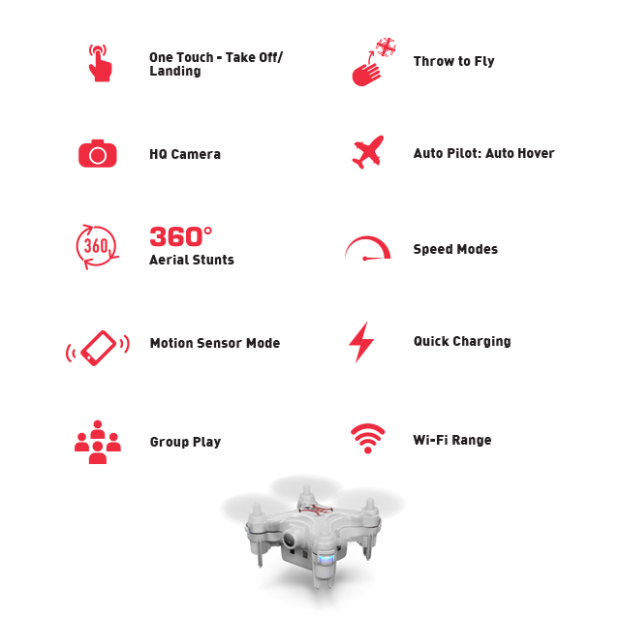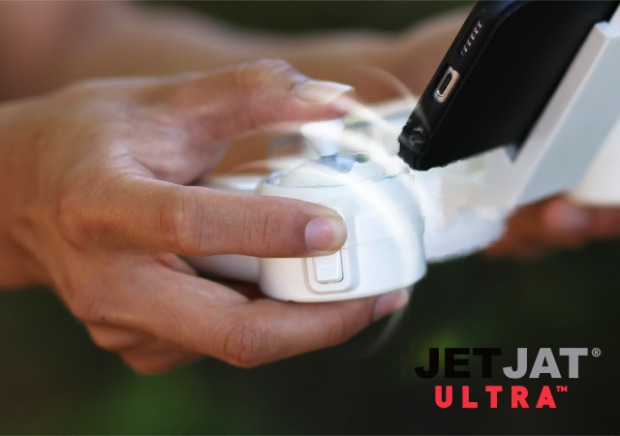 Another common issue was too much throttle on the launch. We took care of that with our new video game style controller – Hold it naturally and you have full 4-channel control of direction and thrust, flips and tricks, and auto take-off and landing with the touch of your right bumper. Reduce all flight risk by 100% just by flying with our JETJAT ULTRA, it's that easy

Charge it, Sync it, Fly it – simply throttle and throw your drone in the air and you're ready to fly in seconds. No hassle, no catch, no problems.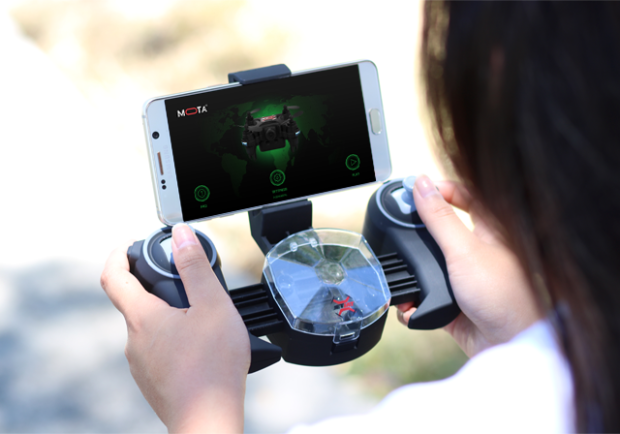 Download the app for free and use your smartphone to make drone flying even easier. Turn controls on your phone off and clamp it to your controller for a trulyimmersive flight experience.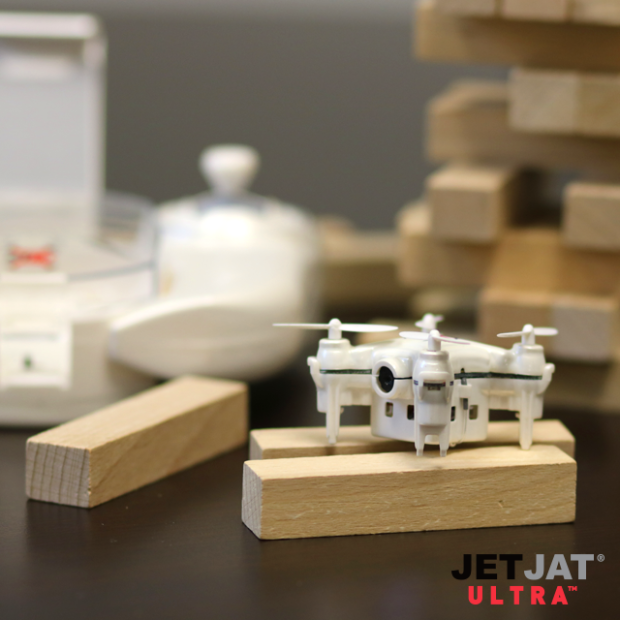 So how small is this drone really? Comparable to a 50 cent coin. If you're unfamiliar with US Currency, it's smaller than a jumbo paper clip. If you're unfamiliar with office supplies, it can sit on your iPhone 6 for take-off easily. It's part of the smallest drone series in the market, and it's the smallest drone that actually exists with all of these features.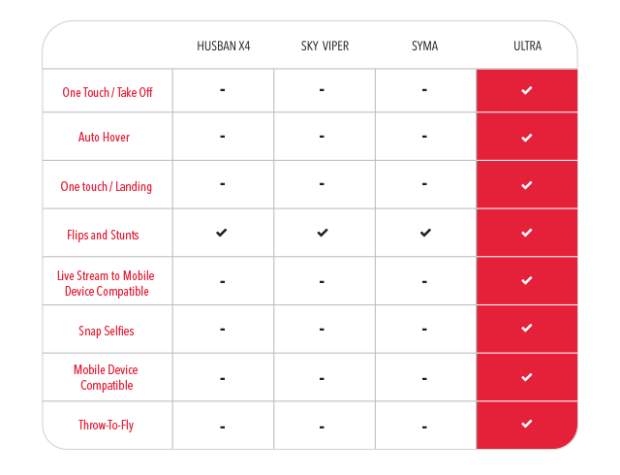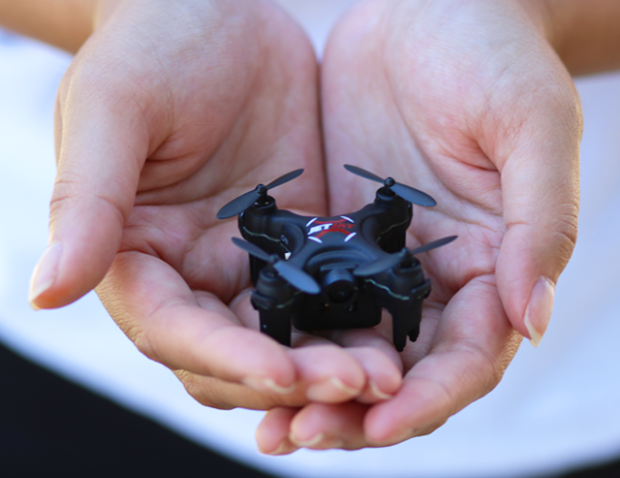 This will be the first time you see specialized functions like auto hover, auto take-off, auto landing in a nano drone. It will truly be amazing when you fly it for yourself and realize how many features it has and how it still manages to fit inside the palm of your hand.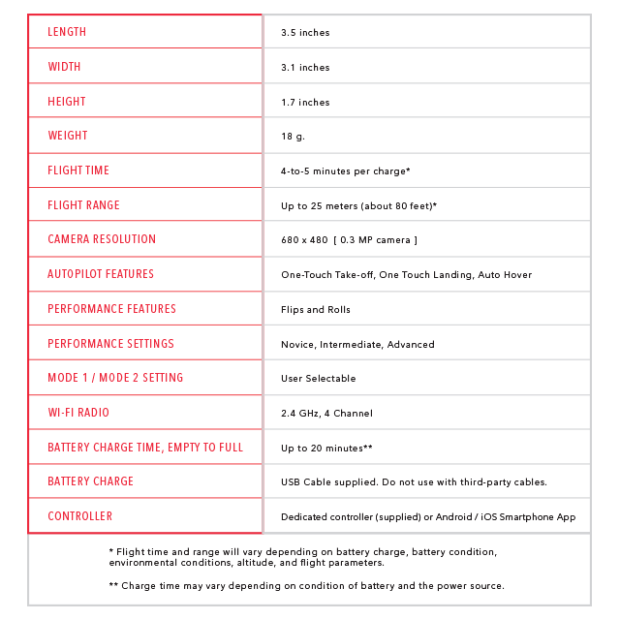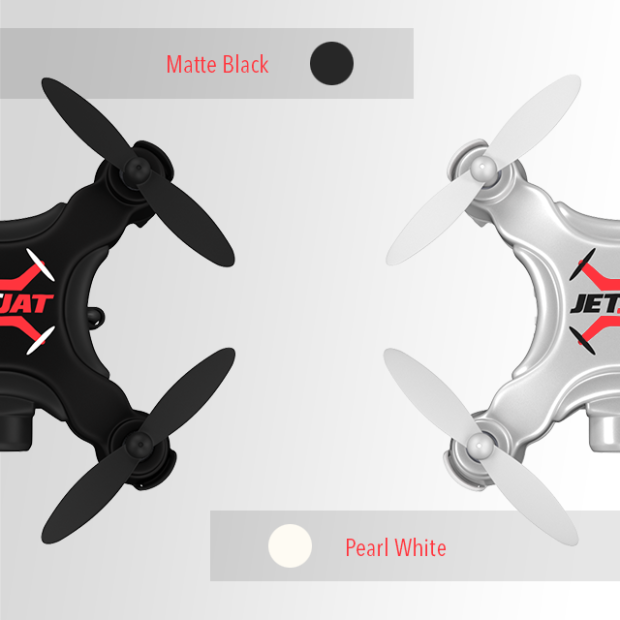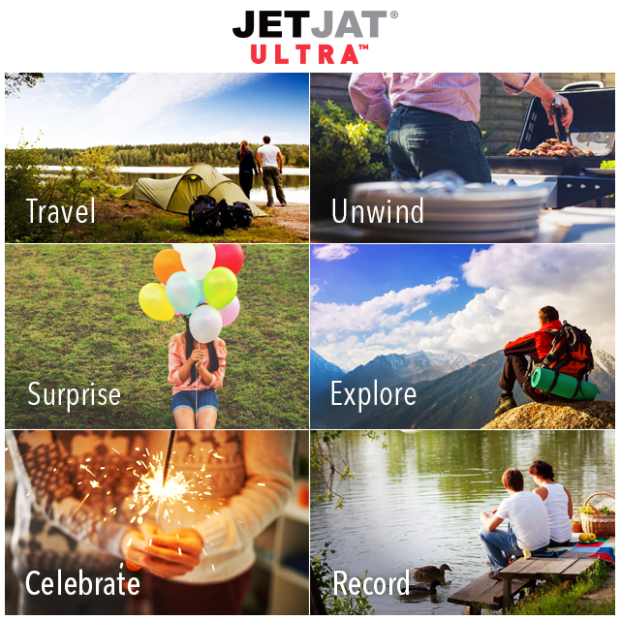 JETJAT ULTRA is adventure redefined. It's powerful enough to fly indoors or out, and flies to impossible boundaries to get the shots everlasting memories are made of. Fly at the beach, in the woods, in the house, around your dog in the backyard. Take pictures of your family barbeque, selfie with your friends, this drone can do it all. Auto hover away and flip through the air with your own eyes using FPV Live streaming straight to your phone. There's nothing this mini drone can't do.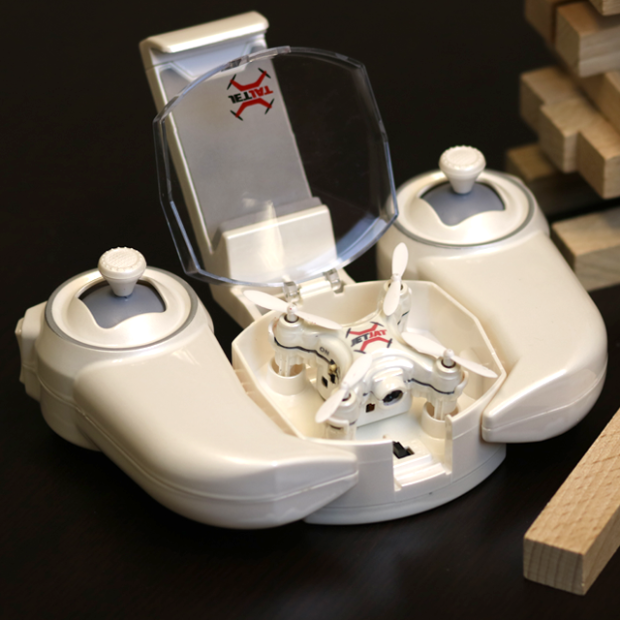 We know you loved the convenience of carrying our JETJAT Nano right inside your controller. No drones were lost in the making of this campaign, because we created a remote controller to fit our JETJAT ULTRA too!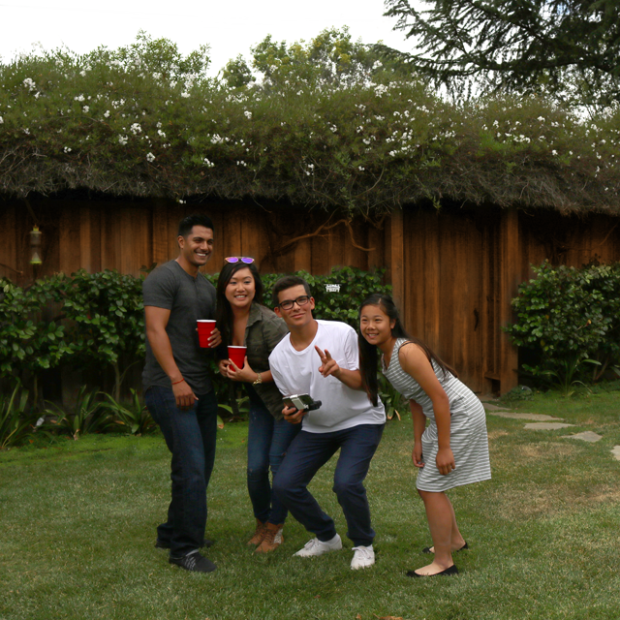 JETJAT ULTRA can take high angle shots and get panoramic views of your friends and family. Use the ULTRA to get great shots at social gatherings like backyard barbeques, beach parties, tailgate events, or even vacation getaways. Life has so much to offer, and our JETJAT ULTRA can store as much as you need to your cloud storage on your phone.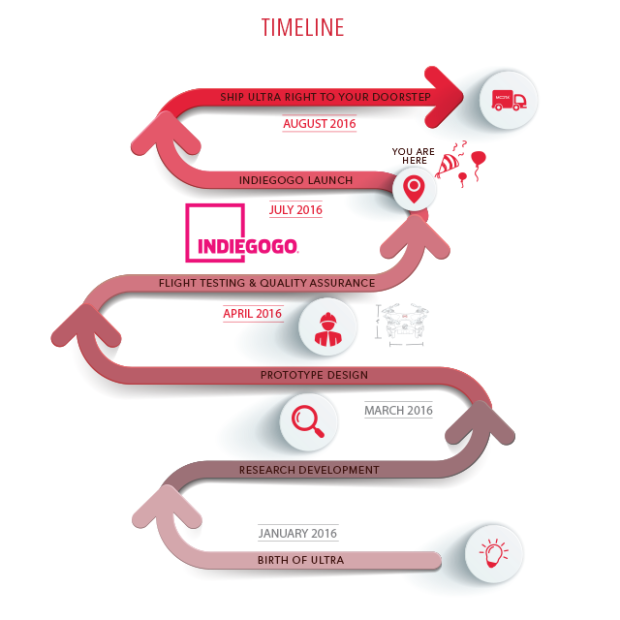 As with any project, large and small, there's always risks challenges involved. We have already completed 90% of the project on our own, from the concept/design to the prototype to the flight tests and quality testing. The only risks and challenges we are facing at this point is production and fulfillment costs. We have already overcome any technical hurdles that come with creating awesome drones.

Q. How does the ULTRA differ from the JETJAT Nano and Nano-C?
A. The Nano has no camera and the Nano-C's camera records to an onboard removable SD card. The ULTRA is the only Nano-class drone with Wi-Fi streaming. It has other cool features too, such as one-touch landing and auto hover.
Plus the one-touch take-off, lets you fly it right out of its controller! And the controller has adjustable ergonomic grips and a universal clamp to fit most smartphones. We could go on and on but you get the idea that is one desirable drone.
Q. Will there be some type of app so you can control it with your phone only?
A. Yes. The apps should be available around the time we ship. Note this could be a bit longer as it depends on approval from the Google's Android Play Store and Apple's App Store
Q. How high can it fly?
A. The ULTRA can fly up to 25 meters (about 80 feet) in any direction before it loses the controller signal. If that happens, it will crash so always keep it in range and in sight.
Q. Does it come with propeller guards?
A. As a matter of fact it does! Inside the box you'll find easy-to-install propeller guards, a quick and easy installation.
Q. How long does it take to charge? And how do you charge it?
A. From 0% to 100%, the estimated charging time is 20 minutes. That will vary over time, as new batteries, even ones with advanced li-ion chemistry like in the ULTRA, charge quicker than older ones.
Q. Why not have a removable battery to keep the fun going?
A. A removable battery would require different internal connectors and a support system that would add weight.
Q. Why are you on Indiegogo?
A. We're a relatively small manufacturer up against some very large competitors. We believe that this is the best and most efficient way for us to get our latest and most advanced fun drone to you and all the other people who will really want it. In return for your support, you'll be among the first anywhere to get an ULTRA, and at a very special price!
Q. Can it be used on iOS and Androids?
A. Yes, both phones compatible. Note: tablets and larger phones like the iPhone 6 Plus and Samsung Galaxy edge S7 may not fit on the controller if the phone is in a case of any kind.
Q. Are you able to ship internationally?
A. Yes! Please note that all international rewards require an additional shipping fee.
Q. There was no SD card in the drone, how do I record or store my videos or photos?
A. The JETJAT Nano ULTRA is smartphone compatible. With the push of a button you will be able to take photos and record videos straight to your phone without any additional products like an SD card.
Q. I'm new at this, how do I fly the drone?
A. Find any information you need to learn how to fly on our website,www.mota.com. There is also an owner's manual in the package contents that give you step by step instructions on how to fly, as well as detailed information about the product itself and its capabilities and functions.
Q. I'd like to provide feedback, where do I go?
A. All MOTA Customers have a direct line to our customer support. You can reach us directly at product-feedback@mota.com, and for any issues regarding the product itself like shipping or usabilitys issues do not hesitate to issue a ticket with our support team on www.mota.com for assistance.