iCrowdNewswire - Jun 30, 2016
Oceans Care Project
A hydro-solar powered water wheel captures trash in international waters, a solution to pollution.
WHAT ARE WE CROWD FUNDING FOR?
FOR OCEANS CARE IN PARTNERSHIP WITH BLUEWATER CRUISES, TO BRING A HYDRO-SOLAR POWERED TRASH WHEEL TO INDONESIA – FOR LOMBOK'S JANGKUK RIVER IN AMPENAN.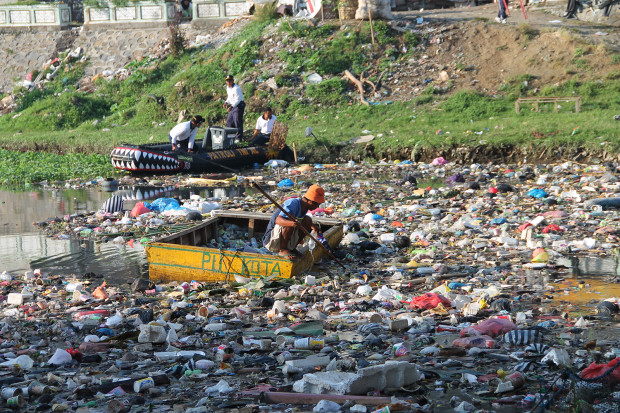 The Jangkuk River in Ampenan, filled with trash. Image courtesy of Zia Helmi.
WHAT IS A TRASH WHEEL?
MEET CLEARWATER MILL'S HYDRO-SOLAR POWERED TRASH WHEEL SITUATED IN JONES FALLS RIVER, LOCATED IN BALTIMORE, MARYLAND.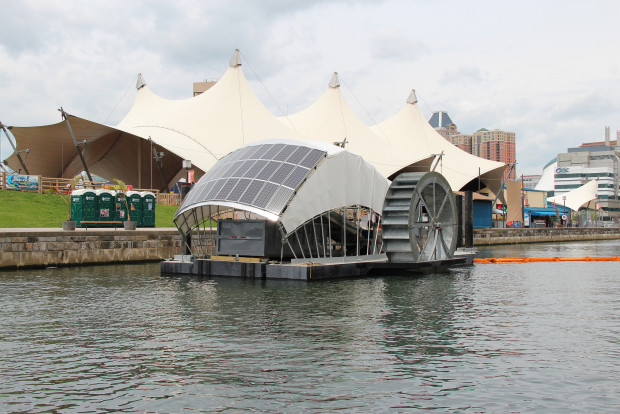 The trash wheel in Baltimore, Maryland. Photo courtesy of Waterfront Partnership of Baltimore.
INSTALLED NEAR THE RIVER'S MOUTH, THE WHEEL HAS INTERCEPTED OVER 345 TONS OF TRASH FROM FLOWING INTO THE ATLANTIC OCEAN- IN OVER A YEAR A HALF.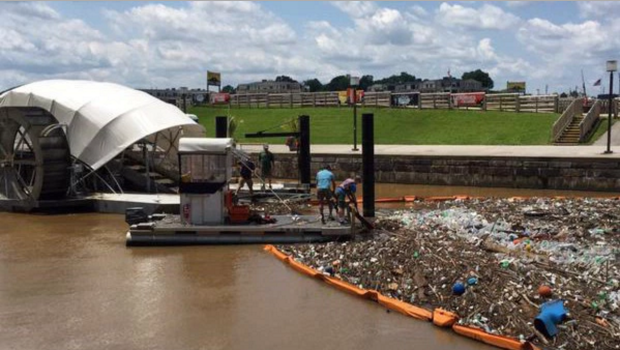 Image of the Trash Wheel intercepting trash from flowing into the Atlantic Ocean. Image courtesy of the Waterfront Partnership of Baltimore.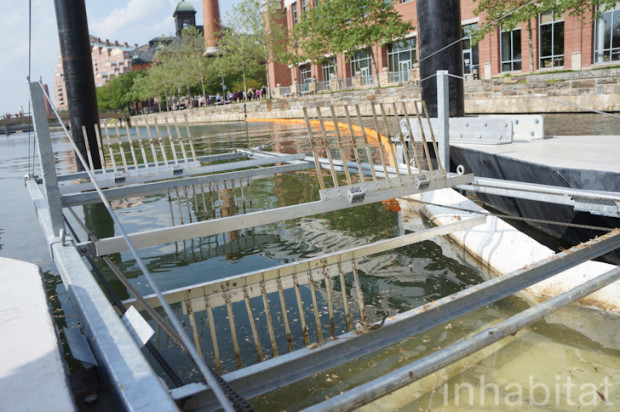 Image of the spokes the gather the trash. Image courtesy of Inhabitat.
A DIAGRAM OF THE WHEEL, COURTESY OF THE WATERFRONT PARTNERSHIP OF BALTIMORE.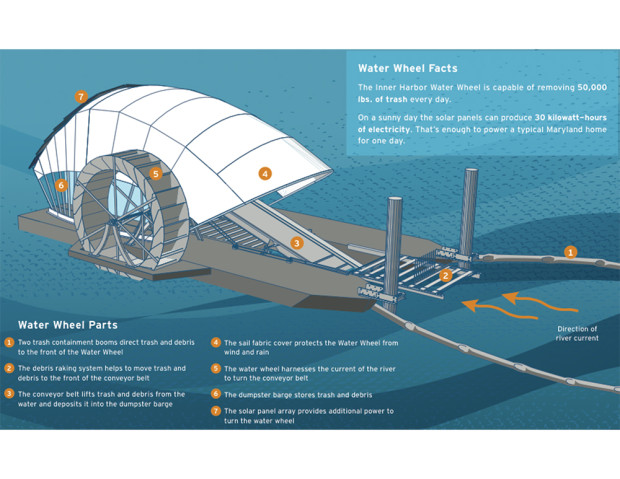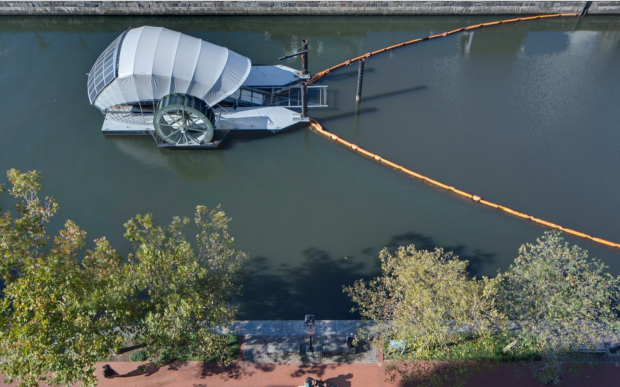 Aerial View of the Trash Wheel Installed in Baltimore's Jones Falls River.
WHY LOMBOK, INDONESIA?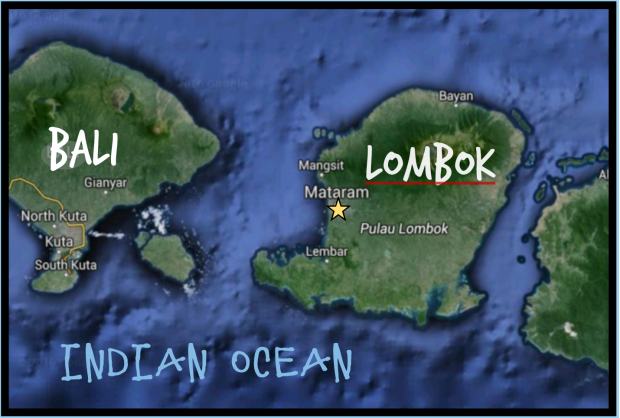 THE JANGKUK RIVER IS THE LARGEST RIVER IN LOMBOK, WHERE UP TO 15 TONS OF TRASH FLOWS PER DAY INTO THE INDIAN OCEAN.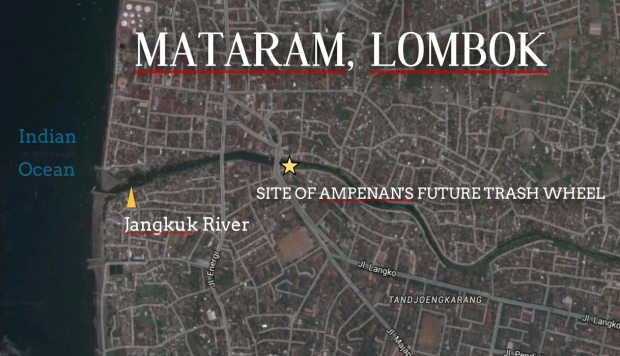 Aerial Google Map of Mataram, where Ampenan River Park is located.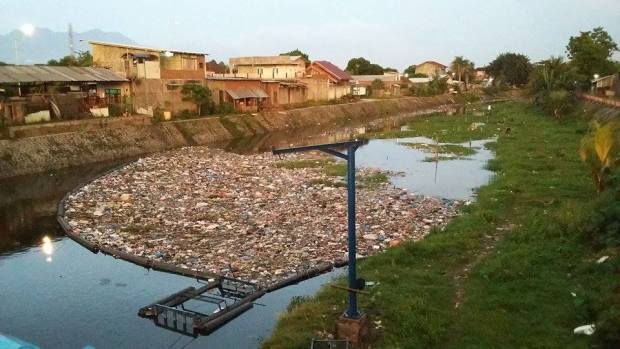 Trash backed up at the existing net in the Jangkuk River – all of this waste was released into the sea after a major rainstorm. Image courtesy of Zia Helmi.
THIS TRASH FLOWS FROM THE RIVER INTO THE OCEAN, LITTERING OTHER ISLANDS AND WATERS. TOGETHER, WE CAN STOP THE ACCUMULATION AND PREVENT FURTHER POLLUTION.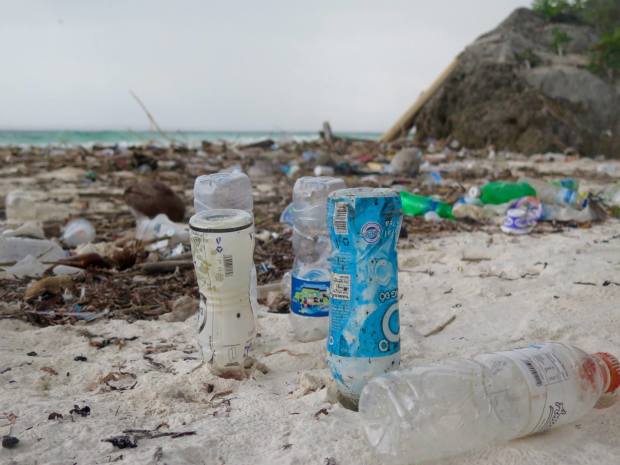 Plastic waste washed up on the beach. Image courtesy of Britta Slippens.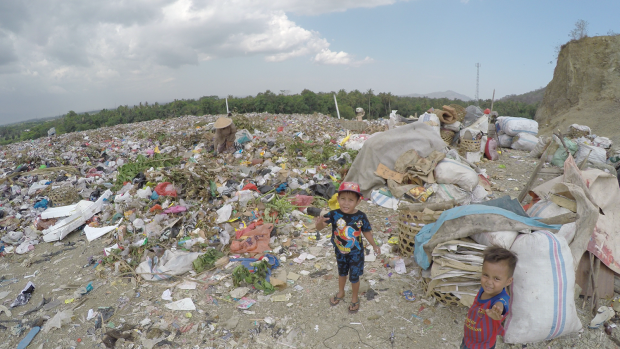 Children in the trash dump in Lombok. Image courtesy of Slam Jam Productions.
AMPENAN'S JANGKUK RIVERBED IS THE PERFECT SPOT FOR A TRASH WHEEL.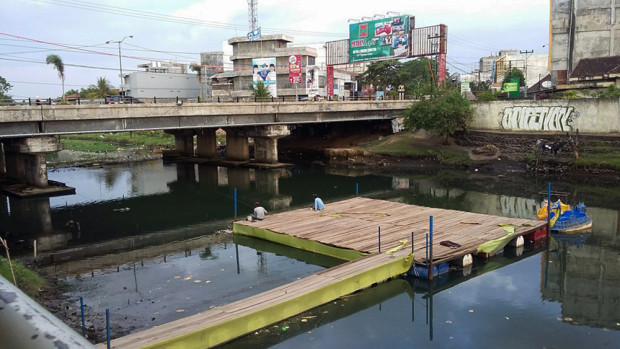 The stage created by SAMPAN & Sound of the River, at the proposed site for installation of the trash wheel. Image courtesy of Zia Helmi.
THE INVENTORS OF THE TRASH WHEEL, CLEARWATER MILLS, CAME TO LOMBOK FOR A SITE VISIT – THEY DEEMED THE LOCATION IDEAL TO INSTALL A HYDRO-SOLAR POWERED TRASH WHEEL.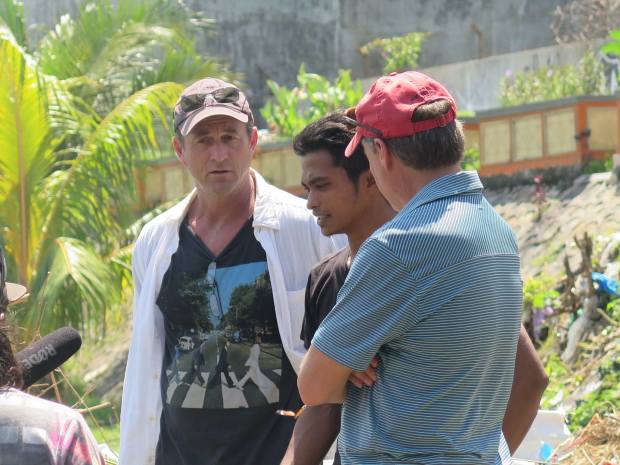 Clearwater Mills performing a site visit in Ampenan at the Jangkuk River, pictured (from left) Daniel Chase, Zia Helmi, and Tyler Gearhart. Image courtesy of Slam Jam Productions.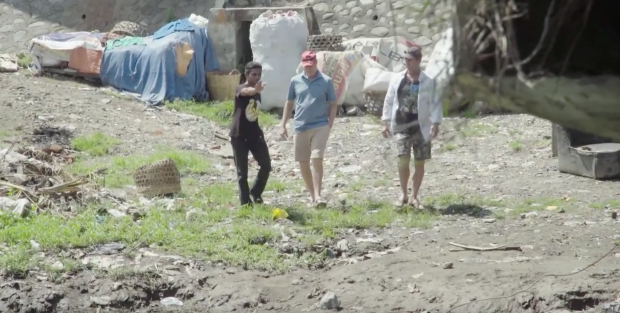 Site visit with Oceans Care Ampenan River Project Manager, Zia Helmi, also leader of the SAMPAN and Sound of the River Activists, and with Daniel Chase and Tyler Gearhart of Baltimore's Clearwater Mills. Private Image.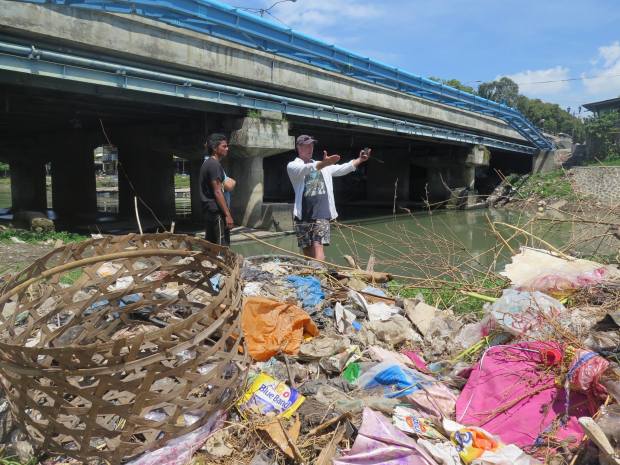 Daniel Chase of Clearwater Mills motioning towards the future placement of the Ampenan's trash wheel for the Jangkuk River. Private Image.
OUR TEAM, OCEANS CARE, IS WORKING WITH THE LOCAL COMMUNITY AND THE LOCAL GOVERNMENT TO CLEAN THE JANGKUK RIVER.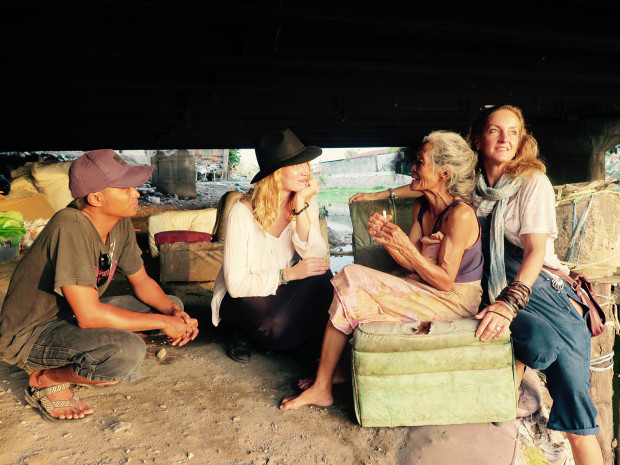 Photograph of the Oceans Care team behind the Ampenan River Project, (from left) Zia Helmi, Aubrey Roemer, Ebu under the bridge, and Britta Slippens – the old woman pictured lives with her family under the bridge. Private Image.
WE MET WITH THE GOVERNMENT TO SECURE PERMITS FOR THE LOCATION.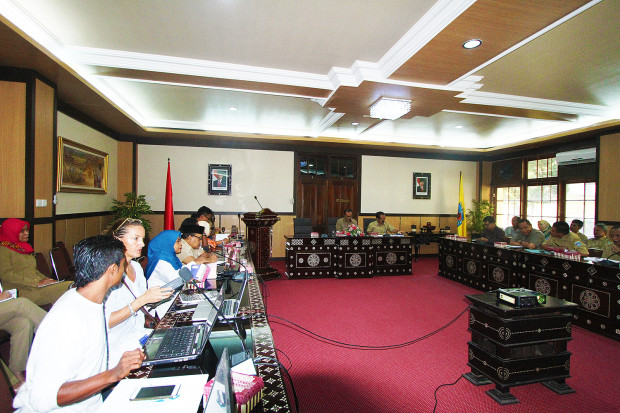 Britta Slippens, CEO of Bluewater Cruises and Director of Oceans Care, with Zia Helmi, meeting with the government in Mataram, Lombok – the regional district of the Ampenan River Park and Trash Wheel. Private Image.
THE LOCAL POLICE ARE PARTICIPATING IN CLEANING UP THE RIVER AND ARE EXCITED TO HAVE A TRASH WHEEL IN THE JANGKUK RIVER.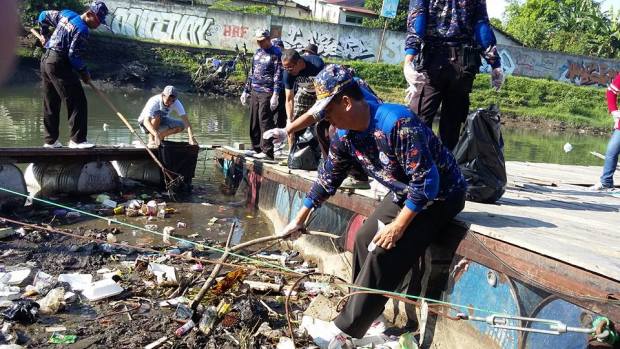 The local police cleaning the river together – getting excited for the trash wheel! Image courtesy of Kick News.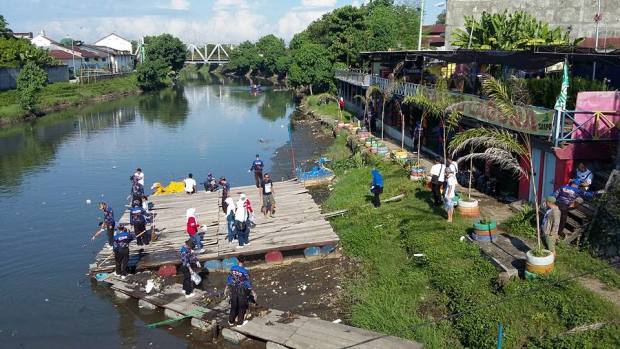 Aerial shot of the police and community cleaning the Ampenan River together. Private Image.
THIS IS NOT JUST ABOUT ONE RIVER – IT'S ABOUT CLEANING AND PROTECTING ALL OF OUR WATERS.
WE ARE STARTING WITH THE JANGKUK RIVER IN INDONESIA, JUST LIKE CLEARWATER MILLS STARTED WITH ONE HYDRO SOLAR POWERED TRASH WHEEL IN BALTIMORE'S JONES FALLS RIVER.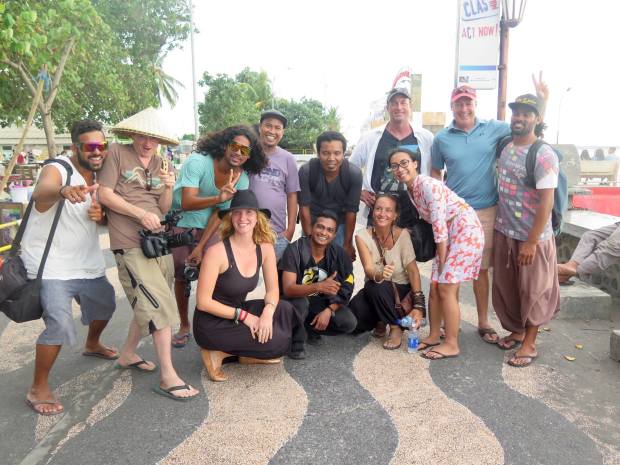 The Oceans Care team in Lombok, pictured in the top row (from the left) Trev Chee-A-Tow, Morgan Harris, Dustin Chee-A-Tow, Zul Hakeem, Daniel Chase, Tyler Gearhart, Kyle Chee-A-Tow, and the bottom row – Aubrey Roemer, Zia Helmi, Britta Slippens, and Lia Zakiyyah.
THIS IS A SOLUTION TO THE POLLUTION RUINING OUR BEAUTIFUL, LIFE-SUSTAINING WATERS.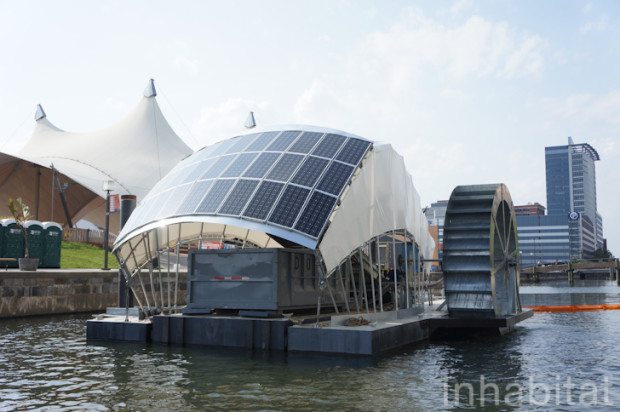 Image of the front view of the trash wheel in Baltimore. Image courtesy of Inhabitat,
PLEASE HELP CONTRIBUTE TO THIS AMAZING PROJECT – LET'S MAKE SURE OUR CHILDREN AND CHILDREN'S CHILDREN HAVE HEALTHY, POLLUTION FREE WATERWAYS TO ENJOY.
PRESS FOR OUR PROJECT!
PRESS FOR THE HYDRO SOLAR POWERED TRASH WHEEL!
HERE'S THE FINE PRINT:
In Indonesia, Oceans Care and Bluewater Cruises are bringing a hydro-solar powered trash wheel to the Jangkuk River in Lombok- the island's largest river located 200 meters from the Indian Ocean. The trash wheel was created by U.S. company Clearwater Mills and has proven to be a resounding success in Baltimore, Maryland – where it has intercepted over 354 tons of trash flowing in Jones Falls River from emptying into the Atlantic Ocean.
Our aim is to revitalize the riverbed in Ampenan, Lombok, into a natural river park – creating a community hub of recreation and business, using the sustainable technology of the waterwheel trash interceptor to clean the river and keep the trash from flowing into the ocean. We are modeling our vision off of the proven success in Baltimore, where their Inner Harbor has been revitalized as a place of community and tourism, while providing education, awareness, and stewardship of their waterways.
In addition to the implementation of a trash wheel, we will also be working to educate the local community in Lombok about the devastation of our oceans and working together to promote a working system of waste management. The wheel will collect the trash, in the most volume during storm surges, emptying it into a large dumpster. There is already a road at the projected site of Jangkuk River's future trash wheel, which will allow for easy access of transporting the trash. Each container will be brought to a dump in Lombok, where it will be sorted and studied, just like in Baltimore.
We hope to take this project one step further by partnering with companies and artisans, who are focused on re-purposing this waste into raw materials for production of goods – fabrics, baskets, bags, lamps, etc. Although this project in based in a solitary river and town on a single island, we believe that this model can inspire the rest of Southeast Asia and the world to incorporate this system of technology and education to begin cleaning our collective waterways – deterring littering and catching the waste before it goes into the ocean.
WHAT'S THE $100,000 FOR EXACTLY?
We are using the money raised on Indiegogo for the developmental costs of the project. These expenses include vehicles for transporting the trash, land for the dump / recycling center, permits, research, web development, copy and design plans for the project, travel, video production, etc.
Although centered on the trash wheel, this is a multi-faceted project with a business infrastructure that includes an online store, boutique advertisement spaces, music and art festivals, and a repurposed plastics center, all supporting the costs of purchasing and maintaining the wheel.
The wheel itself is projected to cost us $750,000 on it's own, we have secured initial investors and continue to field great interest in this endeavor. Up until this point, we have funded all of the work and all of the business overhead for development on our own – we need your help to see this through.
RISKS & CHALLENGES:
The risks we run in this project are minimized, because we are modeling our Ampenan River Project around Baltimore's proven success. The hydro solar powered trash wheel has already proven it's effectiveness in cleaning waterways.
We have already met with the necessary contingents to make sure we can install a trash wheel in the Jangkuk River and cleared it with the government – we are ready to go!
We know that there will be all kinds of challenges to this project, the installation, transport, and creation of our own waterwheel is sure to have a curveball or two, but we are dedicated to seeing this project through.
**If you would like to support us by PayPal you can donate here:
THANK YOU FOR YOUR HELP!
WE CAN'T DO THIS WITHOUT
YOU.
Bahasa Indonesia:
LATAR BELAKANG Kami adalah tim yang terdiri dari : seniman, pembuat film, guru, pengusaha yang menginisiasi sebuah pergerakan untuk mencegah dan berupaya membersihkan samudera kita yang sangat berharga dari polusi plastik. Kami akan menempatkan satu unit alat bertenaga air dan cahaya matahari yang akan menghadang dan mengangkut plastik dan sampah dari salah satu sungai yang paling tercemar di daerah timur NTB – Indonesia. Indonesia, china dan India disebut bertanggung jawab atas 30% dari total produksi keseluruhan sampah secara global. SUPPORTED BY: BALTIMORE HARBOUR INITIATIVE, BLUEWATERCRUISES, GILIECO TRUST, SEABINS PROJECT TAMAN SUNGAI AMPENAN Di Indonesia, sebuah tim yang diketuai warga lokal akan mendatangkan sebuah mesin (trash wheel) bertenaga air dan surya ke sungai terbesar di pulau Lombok bernama sungai Jangkuk, mesin tersebut akan ditempatkan pada 200 meter dari muara sungai yang bersinggungan langsung dengan Samudera Hindia. Mesin trash wheel tersebut diproduksi oleh perusahaan Amerika bernama Clearwater Mills yang telah membuktikan keberhasilannya di Baltimore, Maryland. Dilokasi itu mesin ini telah menghadang dan mengangkut lebih dari 354 ton sampah yang hanyut terbawa oleh aliran sungai Jones Falls dan mencegah sampah tersebut terbuang ke Samudera Atlantik. Tujuan kami adalah merevitalisasi daerah aliran sungai Jangkuk di Ampenan-Lombok, menjadi taman sungai alami, yaitu membuatnya menjadi pusat area rekreasi dan usaha, diantaranya adalah dengan menggunakan teknologi yang bekerja tanpa henti menghalau dan mengangkut sampah bernama waterwheel. Alat inilah yang akan membersihkan sungai dan mencegah sampah mengalir ke samudera. Apa yang akan kami laksanakan ini mengacu pada kesuksesan yang telah terbukti terjadi di Baltimore, dimana sebuah pelabuhan yang ada di lokasi tersebut telah berhasil direvitalisasi menjadi lokasi pusat kegiatan masyarakat dan menjadi destinasi pariwisata, sekaligus memberikan edukasi, menumbuhkan kesadaran, dan menjaga tata kelola aliran air mereka. Sebagai bagian dari program ini, kami juga akan berupaya mengedukasi warga lokal di Pulau Lombok tentang kondisi kerusakan samudera kita saat ini, setelahnya kami akan mengajak untuk bekerjasama mengenalkan pola penanganan sampah yang baik. Mesin tersebut akan mengumpulkan sampah yang jumlahnya akan sangat banyak pada musim penghujan, dan sampah itu akan diangkut ke suatu lokasi pembuangan yang sangat luas. Di area lokasi akan ditempatkannya Waterwhells untuk Sungai Jangkuk ini, telah tersedia ruas jalan yang akan sangat memudahkan akses transportasi untuk pengangkutan sampah tersebut. Setiap kontainer yang telah terisi sampah akan dibawa ke lokasi pembuangan, dimana dilokasi itu sampah akan disortir sembari dilakukan penelitian seperti yang dilaksanakan di Baltimore. Salah satu langkah maju yang telah kami programkan dalam project ini adalah menjalin kerjasama dengan beberapa perusahaan dan para pengrajin yang memang telah fokus pada daur ulang sampah. Mereka mampu merubah sampah menjadi bahan mentah untuk pembuatan barang yang berguna seperti kantong, lampu, keranjang dan sebaginya. Meskipun project ini akan dilaksanakan di sungai dalam Kota di sebuah Pulau tertentu. Kami sangat yakin ini akan bisa menjadi percontohan yang akan menginspirasi seluruh Asia Tanggara bahkan seluruh Dunia, tentang cara menggabungkan edukasi dan sistem teknologi untuk memulai pembersihan saluran air kita secara menyeluruh. Mencegah kebiasaan membuang sampah sembarangan sekaligus menghalau sampah sebelum mengalir sampai ke Samudera.