iCrowdNewswire - Jun 30, 2016
Making Sustainable Luxury Available To All
Les Sublimes: The Parisian clothing brand that's redefining responsible fashion online.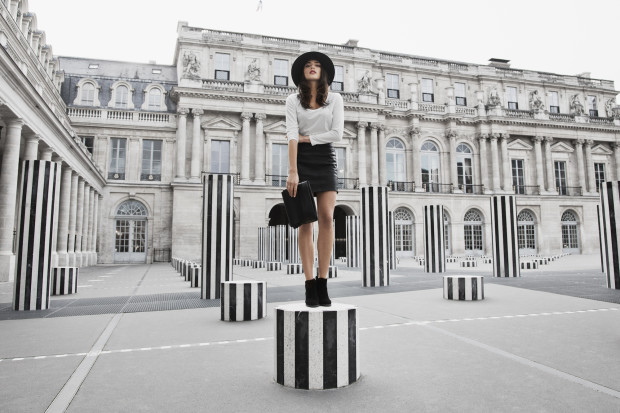 CLIQUEZ ICI POUR TELECHARGER LE PDF EXPLICATIF EN FRANCAIS
BEAUTIFUL WARDROBE ESSENTIALS. WITHOUT THE COMPROMISE.
We offer a curated closet of stylish investment pieces and beautiful wardrobe essentials for today's global citizen. Designed to carry us effortlessly from brunch in Brooklyn to a safari in the Serengeti, these are the stylish yet simple pieces that we wear again and again. Our favorite essentials that we can't live without.

OUR STORY
At Les Sublimes we create clothing that helps you make better quality shopping choices – essentials that embody your convictions, respect your integrity and enhance your style. No compromise necessary.
Proudly from Paris, all of our products are infused with luxury, comfort and effortless beauty. And by choosing to sell them directly to you online, they are still wallet-friendly. Most important of all, our entire collection is produced responsibly. Every Les Sublimes product is manufactured from start to finish with the intention to preserve our planet's delicate ecosystems and improve the lives of the hardworking people who make each piece.
Who says we can't have it all?

WE BELIEVE IN
1. Style
Re-creating your favorite essentials with a fit that is just right, we infuse modern trends with an effortless, female aesthetic.
2. Luxury
We select high quality fabrics that are incredibly comfortable, soft and easy to wear. Then we transform them using superior craftsmanship into thoughtful, long-lasting designs.
3. Accessibility
By being online-only, we are able to make responsibly-made products available to you 24/7, no matter where you you live, and at a much more affordable price – no middlemen or expensive store-fronts needed here!
4. Low Environmental Impact
Being eco-friendly is our priority. Collections are made from organic, sustainably-harvested natural resources, using innovative technology that reduces water consumption, recovers waste & preserves neighboring ecosystems.
5. Living Wages
Our business model supports non-exploitative and gainful employment, providing good jobs in our home country of France and throughout our supply chain abroad.
6. Changing Lives

Every piece we sell directly supports garment workers, artisans, farmers, working mamas and families with a healthy wage and the freedom that comes with it. Good jobs lift families out of the cycle of poverty. Good jobs create permanent solutions.
GIVING BACK
WE BELIEVE THAT YOUNG GIRLS HAVE THE POWER TO END POVERTY AROUND THE WORLD.
WHEN A GIRL IS GIVEN THE CHANCE TO STAY IN SCHOOL…
Gain access to reproductive education,
And delay marriage and pregnancy,
SHE IS MUCH MORE LIKELY TO FIND GAINFUL EMPLOYMENT,
Contribute financially to her household,
And earn the respect of her partner, family and community.
BREAKING THE CYCLE OF POVERTY.
AND IT ALL STARTS WITH
ONE GIRL
Multiply that by the millions of girls living in poverty worldwide.
Imagine what a difference we can make!

Education For Girls
As girl bosses, global citizens and social innovators, we believe that all women have the same rights to freedom and happiness. Females are the single biggest solution to poverty worldwide. When a girl completes high school, she is much more likely to avoid teen pregnancy, find gainful employment, contribute financially to her household and earn the respect of her partner and community. Thus breaking the cycle of poverty.
Our Les Sublimes supporters choose to be part of this long-term solution. Every time you purchase a piece of clothing from Les Sublimes, we pay it forward by supporting 1-month of education for a young girl in need. Because that's what being Sublimes is all about!
ONE PIECE. ONE GIRL. ONE MONTH.
THE
MADE IN FRANCE
COLLECTION
We don't change our styles every season. Instead, we offer a permanent collection of essential items. The everyday pieces that you want to wear all the time. We then build on our existing assortment by adding complimentary styles, seasonal colors and special fabrics.

We are proud to be a French brand. So we've decided to support home first. Introducing the Made in France Collection.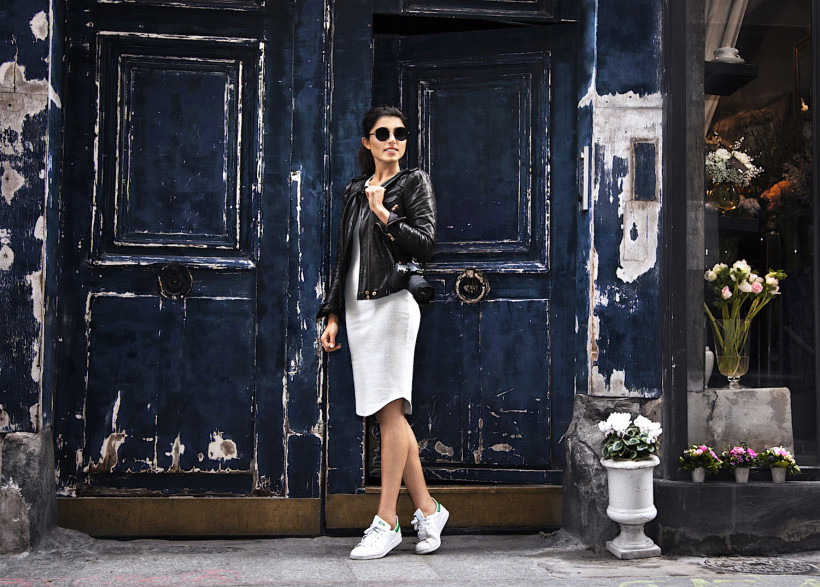 Featuring the London Dress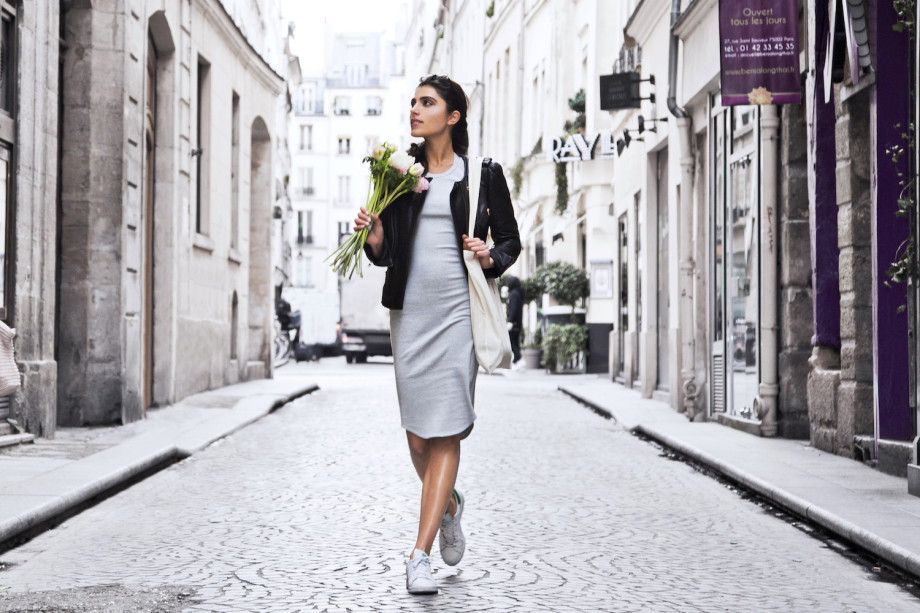 Featuring the London Dress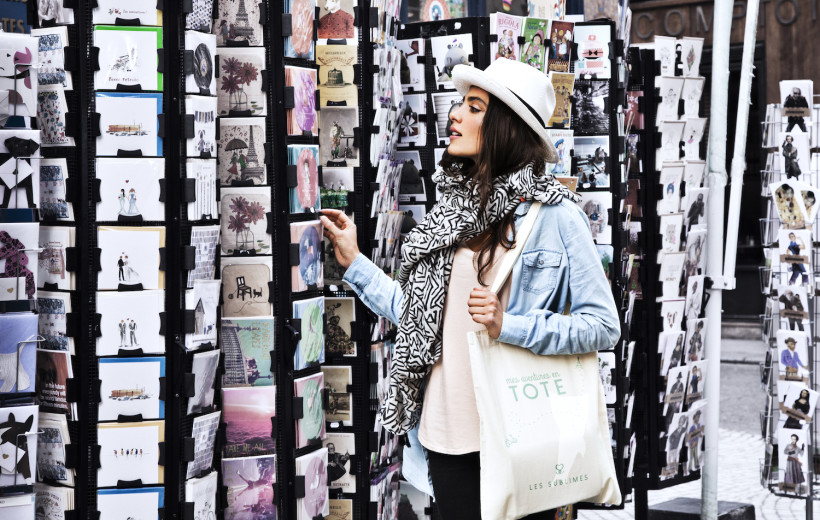 Featuring the Paris Tank + Mes aventures en tote Bag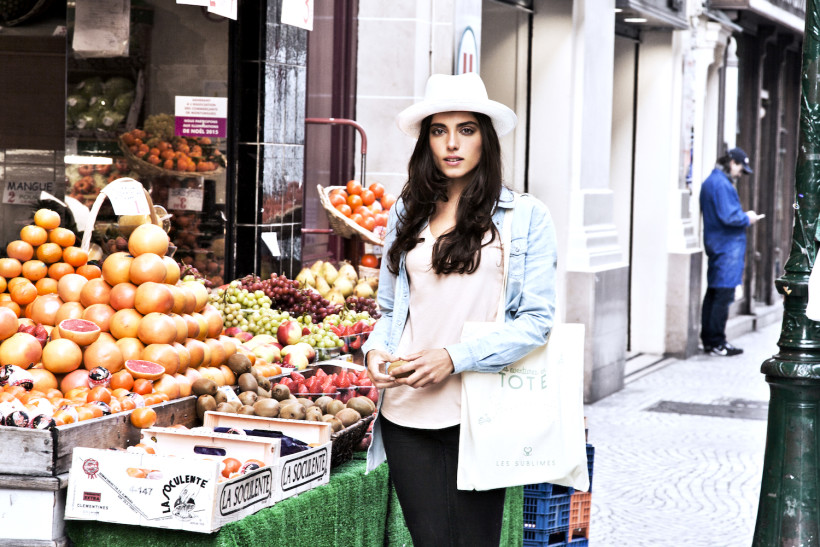 Featuring the Paris Tank + Mes aventures en tote Bag
Featuring the Pokhara Long Sleeve Tee
YOUR REWARDS!
**Payments are made on Indiegogo via PAYPAL, but don't worry, you don't even need to create an account to complete your order. It's QUICK and EASY to checkout using your credit/debit card details, no sign up or password necessary**
CLICK HERE TO DOWNLOAD OUR FIT GUIDE
♥ french sizing
♥ fits true to size -take your normal size
THE PARIS LUXURY TANK
€ 45 Euro
Early Bird Special – €35 (only 50 available at this price)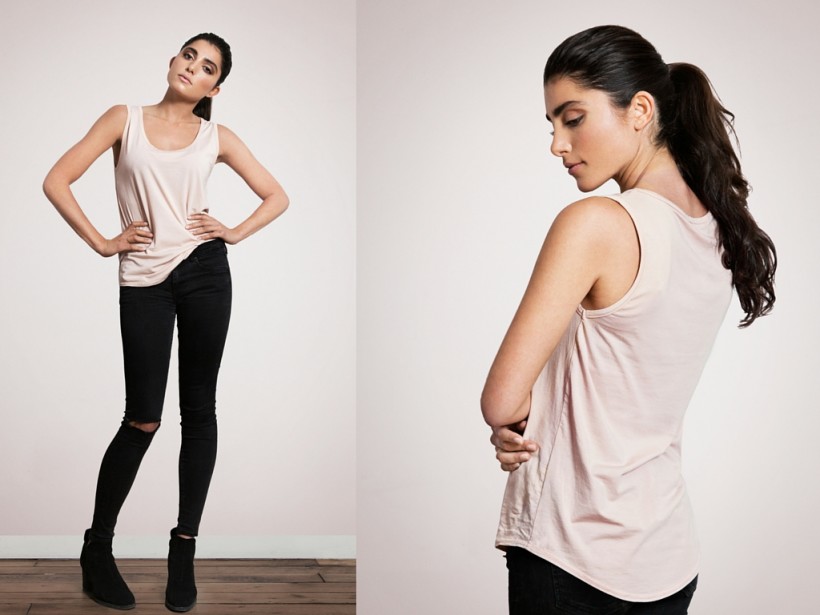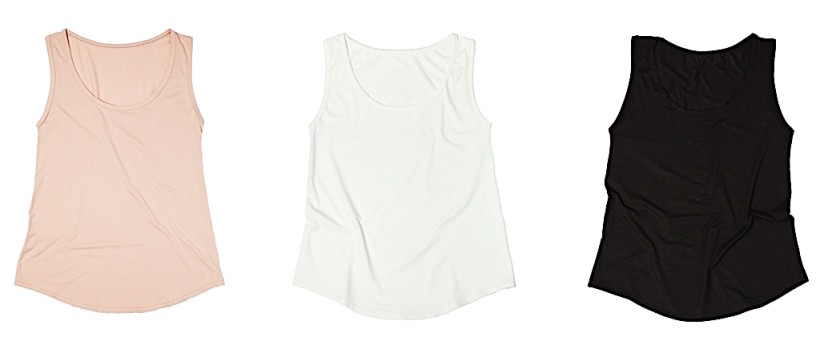 ABOUT PARIS
This Frenchie adaptation of a sleeveless basic leaves you feeling anything but boring. The relaxed fit paired with an elegant neckline keeps you chic and on trend, without sacrificing a moment of comfort – all day long!
FIT

A perfectly cut tank, loose and drapey in ultra soft modal
A feminine scoop neck that playfully reveals your collar bones
The curved hem looks flattering left out and tucks in easily
Bottom side seams hit at the hip
DETAILS
Sizes XS – XL // Available in Rosé, White and Black
94% Lenzing Micro-Modal ©, 6% Spandex // Caring is easy – machine wash cold
THE STOCKHOLM LUXURY TEE
€ 49 Euro
Early Bird Special – €39 (only 50 available at this price)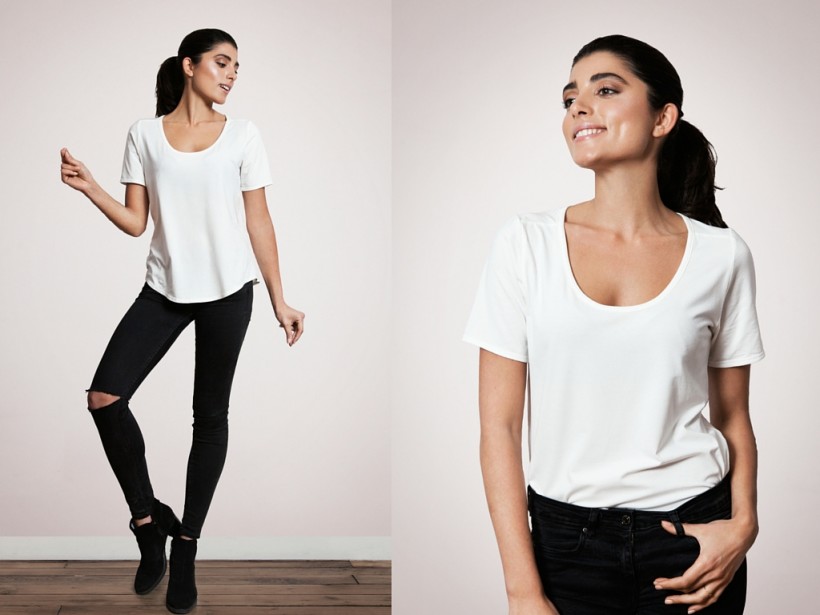 ABOUT STOCKHOLM
A fresh take on a casual classic, our everyday tee will have you ready for work or play in seconds. Dress her up or down depending on the demands of the day, but rest assured that she will never get in your way. They say she's addictive. Wear at your own risk.
FIT

A relaxed-fitting short sleeve tee that's seriously soft
A feminine roundneck to frame your beautiful face
The curved hem looks flattering left out and tucks in easily
Bottom side seams hit at the hip
DETAILS
Sizes XS – XL // Available in Rosé, White and Black
94% Lenzing Micro-Modal ©, 6% Spandex // Caring is easy – machine wash cold
THE POKHARA LUXURY LONG SLEEVE
€ 59 Euro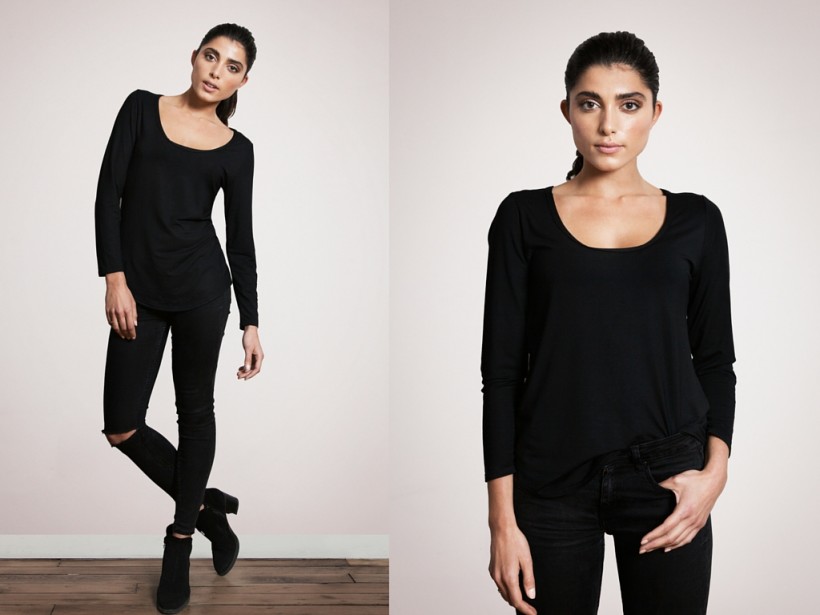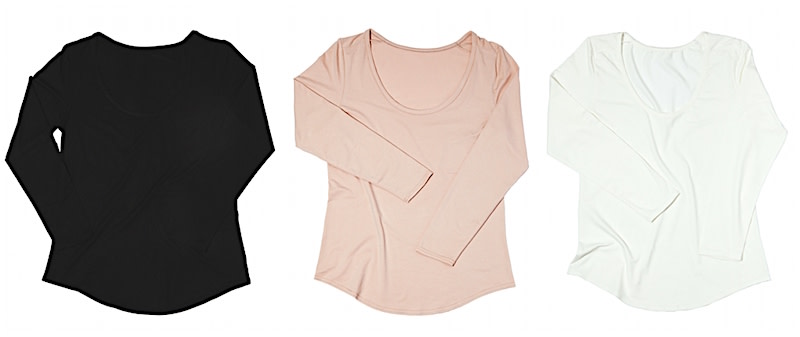 ABOUT POKHARA
A softer-than-soft layering tee that feels barely there. Our luxe long sleeve tee makes the perfect understated companion to casual jeans, a form-fitting skirt or your favorite statement piece.
FIT

A silky smooth long sleeve tee for all seasons
A deep roundneck adds femininity to a relaxed fit
The curved hem looks flattering left out and tucks in easily
Bottom side seams hit at the hip
DETAILS
Sizes XS – XL // Available in Rosé, White and Black
94% Lenzing Micro-Modal ©, 6% Spandex // Caring is easy – machine wash cold
THE TOKYO LUXURY TANK
€ 45 Euro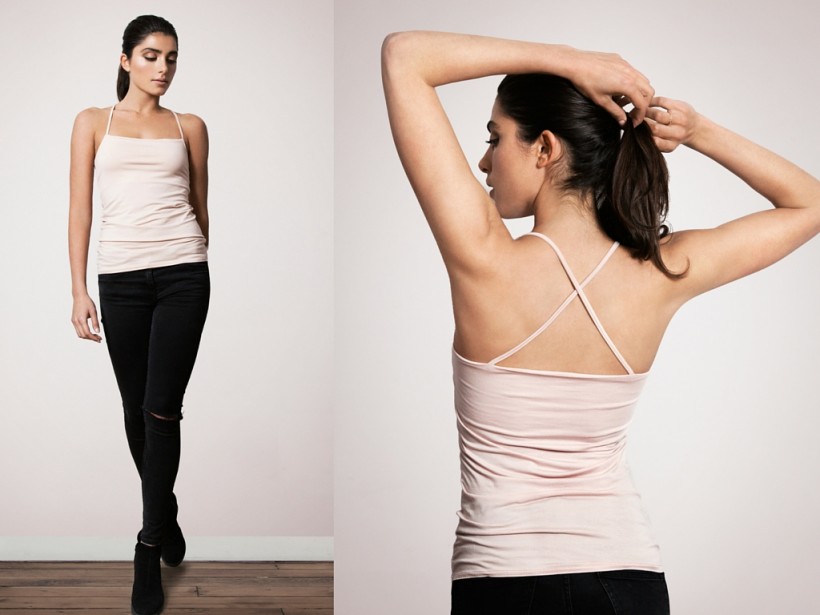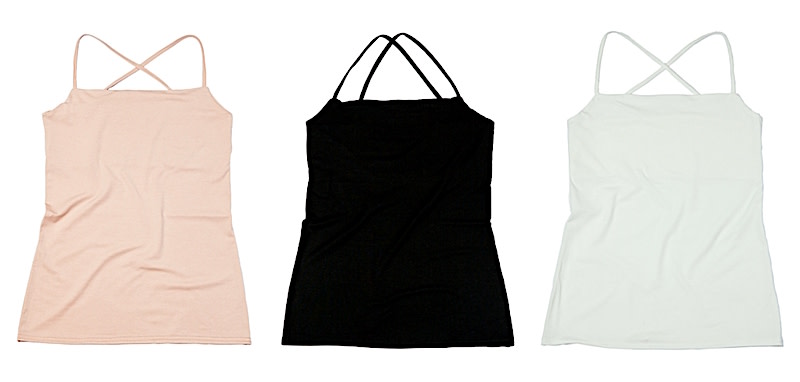 ABOUT TOKYO
The grace of a ballerina meets the modern simplicity of a worldly woman in this sporty and feminine essential. Tokyo offers a little twist on the ordinary layering tank, leaving you feeling beautiful on the inside and out, with the confidence to pursue your biggest dreams.
FIT

An incredibly soft and smooth tank, made bra-friendly with the simple crossing of your bra straps
Includes an extra layer of fabric around the bust for extra coverage
The crossed straps delicately seduce without revealing your secrets
The straight hem means she looks cute worn alone yet doesn't peak out when you layer her underneath
Bottom hem hits at the hip
DETAILS
Sizes XS – L // Available in Rosé, White and Black
94% Lenzing Micro-Modal ©, 6% Spandex // Caring is easy – machine wash cold
THE ALL-DAY-LONG LONDON DRESS
€ 89 Euro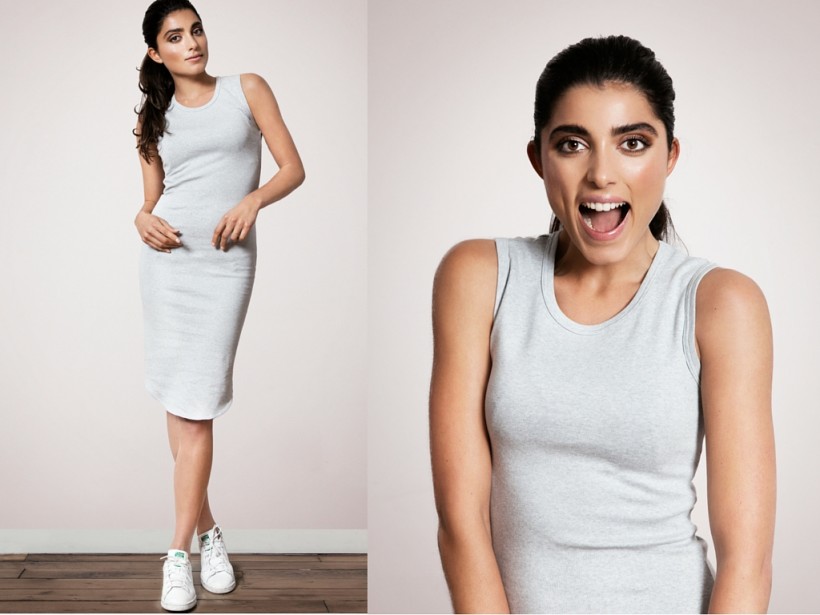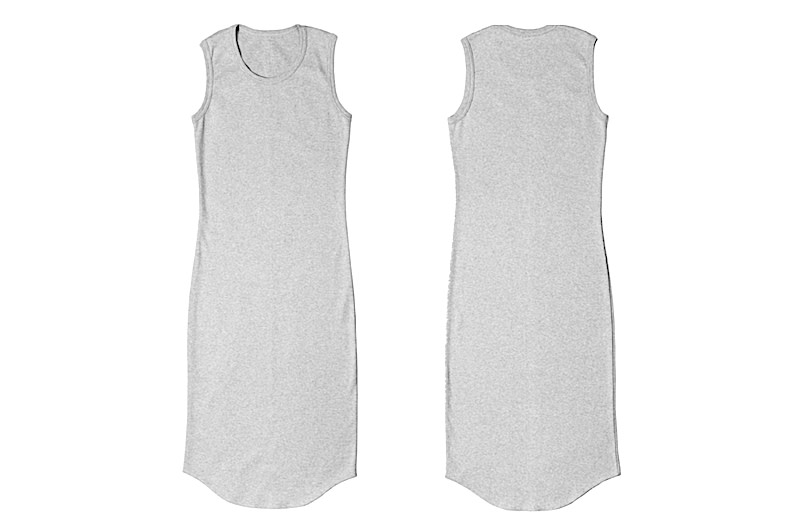 ABOUT LONDON
This crazy comfy dress is made for days when you don't want to have to choose between style, function or comfort. When you need one outfit to take you from brunch to happy hour, London's clean simplicity will carry you effortlessly from day to night. All you need is a lipstick change.
FIT

The soft and stretchy organic cotton knit hugs your figure while allowing for flexibility and movement
Recommendation: Wear with seamless panties to avoid a VPL (Visible Panty Line)
A classic crewneck adds elegance to a sporty silhouette
The curved hem adds style and enhances movement
Bottom hem hits at the knee, keeping the look clean and ladylike
DETAILS
Sizes XS – XL // Available in Grey only
97% Organic Cotton, 3% Spandex // Caring is easy – machine wash cold
THE BUENOS AIRES LITTLE BLACK DRESS
€ 109 Euro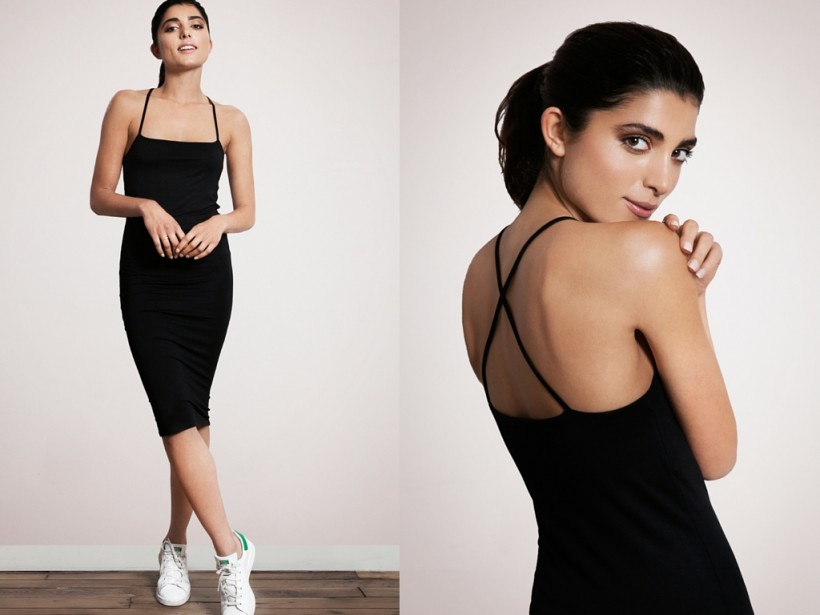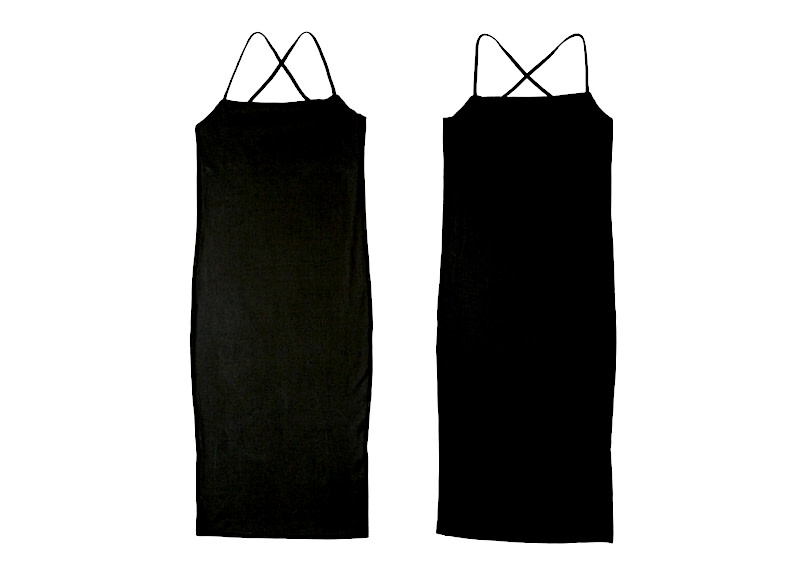 ABOUT BUENOS AIRES
Inspired by long, care-free evenings out on the town, Buenos Aires is the perfect dress to celebrate the night away. Throw her on and you're ready to run out the door. She's classic, modern, sporty and incredibly feminine – all in one. Our favorite evening staple.
FIT

So soft and lightweight you will forget you are wearing anything at all, made bra-friendly with the simple crossing over of your bra straps
Includes an extra layer of fabric around the bust for extra coverage
Recommendation: Wear with your tiniest, barely there underwear to avoid a VPL (Visible Panty Line)
The straight lines front and back give a modern, sporty update to a classic little black dress
The straight bottom hem hits at the knee
DETAILS
Sizes XS – L // Black only
94% Lenzing Micro-Modal ©, 6% Spandex // Caring is easy – machine wash cold
"MES AVENTURES EN TOTE" BAG
€ 10 Euro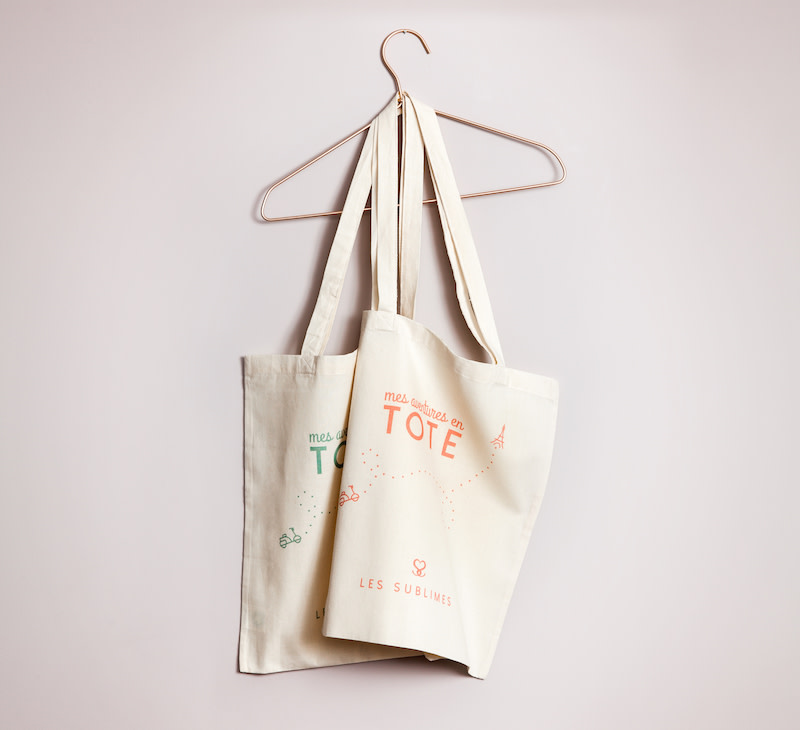 DETAILS
Available in natural / pink
37cm tall x 35cm wide // 100% GOTS certified organic cotton
She's strong, versatile and packs small // Caring is easy – machine wash cold
OUR FABRICS

Lenzing Modal
94% Lenzing Micro-Modal ©, 6% Spandex
OekoTex Standard 100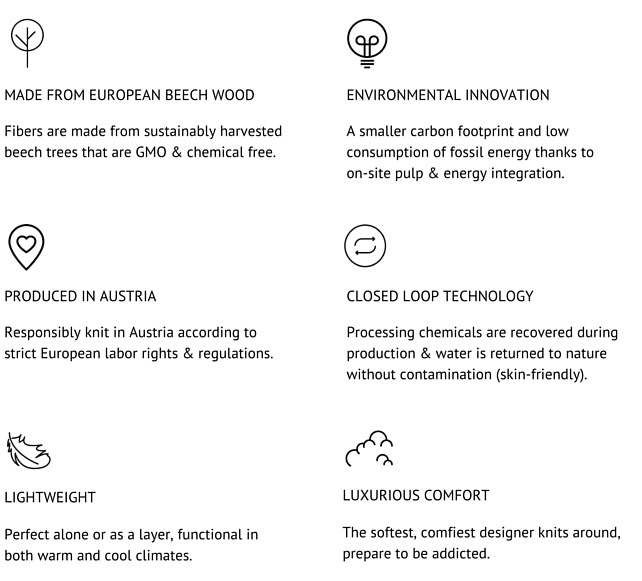 GOTS Organic Cotton
97% Organic Cotton, 3% Spandex
Global Organic Textile Standard ♥ OekoTex Standard 100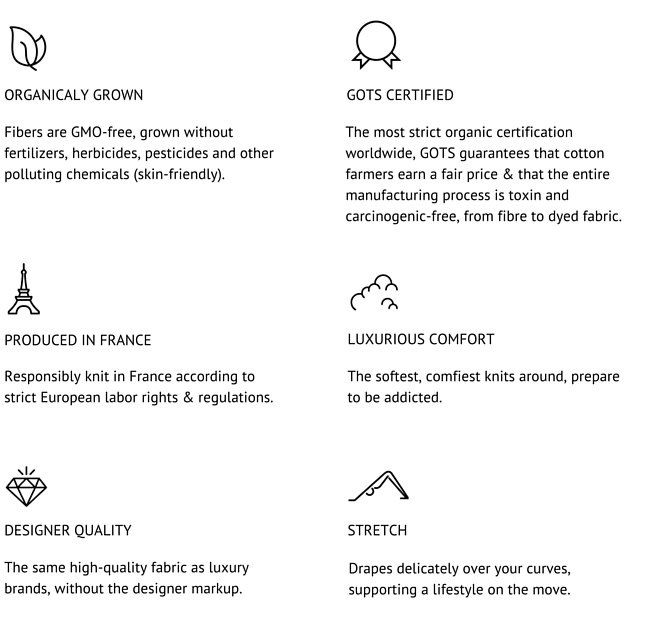 REWARDS TIMELINE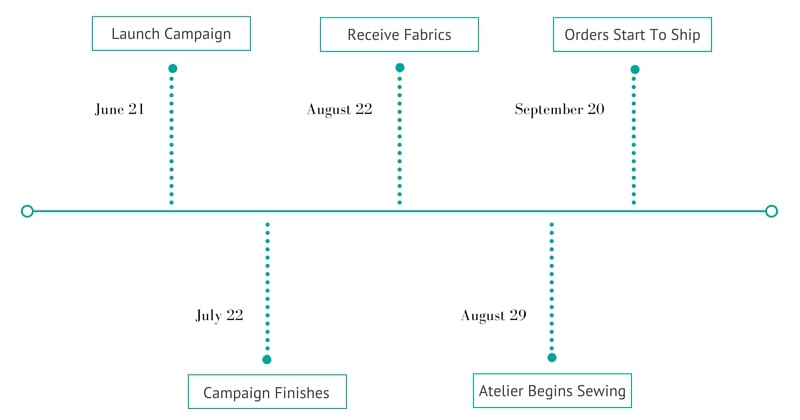 ♥ We will ship your orders by September 30th, 2016 ♥
OUR PURPOSE
"Our purpose at Les Sublimes is to make people happy while respecting mother nature, and to represent a hope for a better future. This is the soul of what we do.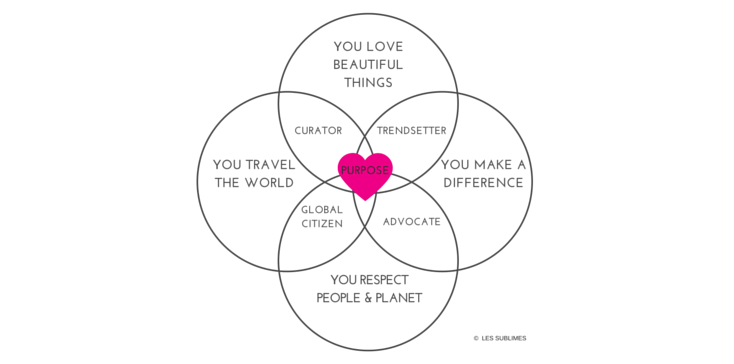 Les Sublimes exists to demonstrate that design, thoughtfulness and sustainability can be married in our consumption choices. We make people proud of the clothes they wear and the choices they make, proud that each decision can make a net-positive contribution to our natural surroundings, and demonstrate a new way of doing business for a collective future.
We know that a for-profit business with purpose can change people's lives. Every time you shop Les Sublimes, you demand to see a new world. A world of beauty, mutual respect and integrity. That is what it means to be Sublimes.
A RESPONSIBLE COMPANY
We believe that integrity is just as important as style, price, quality and convenience. That's why honesty and sustainability are integrated into every aspect of our business – from design and manufacturing, to killer customer service.
Availability & Accessibility
By engaging directly with our proud supporters online and working outside the traditional industry model, we are able to make sustainable products available to so many more people, at a much more affordable price. And that means that the social and environmental benefits of sustainable products can have a larger impact on the world around us. So much better, right?
Transparent Production
We believe that you have a right to know exactly where the products you love come from and how they are produced. As a responsible company, being transparent holds us accountable to everyone connected with our brand. But it also gives you the freedom to select only the best products available.
The Atelier
Confection Pérard in Renaison, France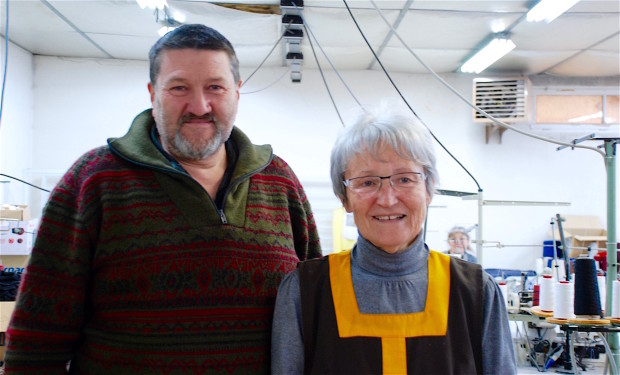 It took us 6 months to find the perfect manufacturing partner to launch our Made in France collection. Confection Pérard is a small town atelier of master craftspeople specialized in making high quality knitwear. A 2nd-generation family business run by Thierry and Madame Pérard (mother + son), the atelier is one of the few surviving garment producers in the region. They credit their survival to their ethical values. Confection Pérard invests in training employees with a wide skill base, offers a flexible work schedule and guarantees high workplace standards. Many of their sewers have been with the company for over 20 years.
About The Founders
KACHEN HONG ♥ Sustainability Guru
Holding a Masters degree from Sciences Po Paris, Kachen has over 7 years of work experience as a sustainability professional in Paris. She started her career as a consultant with BearingPoint, later moving to a boutique consulting firm specialized in sustainability and environment. Her expertise spans sustainable strategy development, green sector market analysis, and environmental policy assessment and advising. Born in Taiwan, Kachen split her youth between Taiwan, Venezuela and France, developing a strong penchant for travel and exotic cuisine.
ALEXIS ASSOIGNON ♥ Fashion Expert

Alexis has over 8 years of experience working in the luxury fashion industry in New York City, London and Paris. A Finance graduate with a specialty in Fashion Marketing from Parsons The New School of Design, her professional expertise includes Wholesale, Merchandising, PR and Consulting. She has worked for notable brands including Michael Kors, Calvin Klein, Christian Louboutin and Dior. Originally from Canada, Alexis currently lives in Paris. She spends her spare time exploring Paris and traveling to far off destinations.
WHAT WE NEED & WHAT YOU GET
We are asking for your support to order our first rolls of sustainable fabric! To make this first order a reality, we are raising € 10,000.
Fabric suppliers typically apply a 50% surcharge to smaller orders, making it impossible for us to maintain our affordable pricing and still earn a profit. By ordering our fabrics in bulk, we are able to get them at a much better price. And by selling our pieces directly to you online, we eliminate rent, middlemen and wholesale markups. Then we pass these savings on to you! That's how we can sell our clothes at between 25%-40% of the price of the luxury brands. Without any compromise.
STRETCH GOALS
Starting small doesn't mean we can't dream big. Here are some of the things we are currently working on:
If we surpass our target of € 10,000, we will re-invest the additional funds into growing Les Sublimes, adding 2 additional colors (grey and navy) and 5 new styles to our Made in France Collection. We have already begun sourcing other luxurious, sustainable fabrics to add to our offering, including French linen, Peruvian organic pima cotton and cruelty-free cashmere from nomad communities in Mongolia.
Staying true to our worldly roots, we are also planning to expand our network of manufacturing partners outside of France so that we can incorporate more of the incredible craftsmanship found all over the world. Our underlying motivation is to share a fair and honest social production model that breaks from traditional textile industry practices.
RISKS & CHALLENGES
We've spent over a year planning our first collection and Indiegogo launch because we want to make sure that we get everything just right!
Production Partner: We've visited our knitwear manufacturer in person to inspect their facility, meet their employees and review every single detail of their manufacturing process. With over 45 years of experience, we have full confidence in our little atelier and can tell you that they are just as excited about our project as we are.
Ship date: We've built in extra time for production and are confident we'll ship by the estimated dates, but there is always a small chance that things will take longer than planned. We'll keep you updated if anything changes :)
Collection Items: We have worked back and forth for 6 months with our sample and pattern makers to get the fit of our styles perfect and to ensure that everything is done to the highest quality and comfort standards.
Our samples are production ready and our factory is simply waiting for us to place our first Les Sublimes order! We don't anticipate any problems, but should any hiccups arise, we'll keep you updated and in the loop on any new timelines.
Learn about trust on Indiegogo
PLEASE NOTE
Duty/VAT charges: If you live outside of the E.U., you will be responsible for any applicable duty/VAT charges that get applied during shipping.
Exchanges: NOT QUITE WHAT YOU EXPECTED? NO WORRIES! We stand behind the products we create. If you need a different size, or if your order has arrived with a defect, please get in touch so that we can make it right. Email us at [email protected] within 14 days of receiving your order to get started. As a young brand, Les Sublimes cannot be responsible for paying any shipping charges for exchanges, except in the case of defective product.
*We plan to also be able to offer returns in the near future when Les Sublimes is a bit bigger :)


Have a question but don't see the answer above, email us anytime at [email protected] and we will get back to you asap!

Thank you for your support!
A special thanks to everyone who made this campaign a reality. We couldn't have done it without you!
All of the amazing people on team Sublimes (Eva Liu, Joanna Fann, Dimitris Alevizos, Emma Moore & Camille Deybach) for working tirelessly these past months to make our launch a success – you guys rock our world!
Louise Kragh from Louise Kragh Photography
Dan Delgado from Makeup by Dan Delgado
Fanny Marty – Campaign Video Filmmaker + Director ([email protected])
Tom Barratt-Larcombe – Campaign Video Film Editing + Post Production
Suada Rrahmani – our photoshoot model
Julia Antunes-Vallerey – our film model
Last but not least, our friends and family for their incredible support throughout the last year as we pursue our dreams