iCrowdNewswire - Jun 29, 2016
New Animal Wellness Product Line
Breakthrough holistic tool to treat your companions stress, fear and loneliness! AnimalRx Essences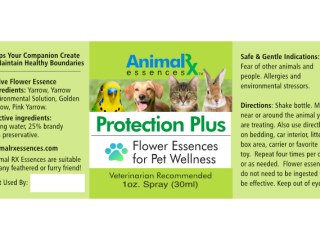 Announcing a NEW BREAKTHROUGH product for animal wellness. AnimalRx Essences are an AMAZING tool to treat your companion animal's challenges. AnimalRx is natural and holistic. These four unique formulas treat common issues in animal care: fear, stress, sadness, change and boundary issues. A safe and gentle approach and veterinarian recommended.
A Breakthrough Tool to Help Animals: AnimalRx Essences
AnimalRx Essences were developed out of my love for animals. I hold a Master of Public Health, I am a Reiki Master and I am trained as a flower essence practitioner with the Alaskan Flower Essence Project and The Flower Essence Society. I have over twenty years experience helping people and animals to flourish and achieve their highest physical, emotional and spiritual potential.

AnimalRx Essences were blended for specific issues that are very common to your companion animals:
stress of any kind
fear of other animals or humans
loneliness when the families are gone for the day
change of environment
sadness of losing a friend
Testimonials from Animal Caregivers
AnimalRx Flower Essences help restore emotional balance to animals who have had trauma or life difficulties.
The kittens I was fostering had a rough start to their lives. They had been thrown out of a moving truck and were traumatized and scared of people, including me. They would cringe and cower away, it was so sad. The first few months I had them they were still so scared. I gave them Crisis Cooler and they bonded with me. Now they are less afraid and more like normal cats. – Monique V.
Drake – a dog long neglected and abused came to me as an emergency foster after eye surgery to correct his blindness. He'd been through so much in the few weeks after his rescue and was feeling anxious and traumatized. I used Crisis Cooler and Happy Heart to help calm him down and relax. It made a huge difference for him (and me) and I'm happy to report he had a successful recovery from the surgery. Thank you Claudia! – Peggy Hilden
AnimalRx is specifically for people who want a safe, gentle and holistic approach to animal care.
Our pit bull mix rescue Scout had ADHD pretty badly and after consulting with her vet, we put her on Prozac. She was doing very well on the drug but we wanted a more holistic approach. After only one bottle of Be Here Now, we saw a major difference in her behavior. We have taken her off the drug and are giving her the AnimalRx Essences. She's doing really well! We will keep you posted. Thanks so much for helping Scout. – Craig Patterson
Kelly is a 14 and ½ year old dog with a tumor that is inoperable and possibly cancerous. She has slowed down quite a bit. But since the vet gave her Happy Heart, she is pretty perked up quite a lot and is prancing around like a puppy. Today at the dog park a woman asked me how old my "puppy" was and I told her she's 14 and ½! I feel very strongly that Happy Heart has made the difference! – Nuala Vignoles
We take in a lot of rescue kittens and Crisis Cooler is our first line of defense. I can't wait for the AnimalRx Essences to be available so we can sell them! – Sandie McCall, Founder Kittens & Kattens and owner Pet Cottage, San Anselmo, CA.
AnimalRx helps animals with emotional imbalances that are unresolved by other healing modalities. AnimalRx addresses specific issues; to help problems as they arise or address long-standing problems that need to be resolved.
I now use Be Here Now with my elderly cat. She was howling at night until I started using a sample of your product that our vet provided. She has been calm ever since and we all can sleep through the night. – Donna Parker
Our pit bull terrier is pretty excitable and change can make her nervous. We were moving from SF to Oakland and we were really concerned that she would not make the transition gracefully. We gave her Crisis Cooler, which really helped her become calmer and accept the transition without her usual anxiety level. On the Fourth of July, we gave her some more because fireworks really upset her and she was fine! We love these essences!!! – Marisha Doan
Georgi is a spaniel rescue and has always been scared around other dogs, especially big dogs. We had a lot of issues walking her because of her fears. After only two days of Protection Plus she stopped being afraid. This problem had severely impacted all of us and we are very grateful. – Stan Goldfarb
What are flower essences?
Flower essences are herbal infusions or decoctions, made from the flowering part of the plant, which uniquely address emotional and mental aspects of wellness. — Flower Essence Society
What We Need & What You Get
AnimalRx Essences are almost ready to go to market. We have the contacts in the pet world to get into pet food stores, veterinary clinics and companion animal daycare facilities starting in the San Francisco Bay Area. What we need is funding to finish our packaging design, for website development and for materials.
Here is a photo of the beta version of the packaging: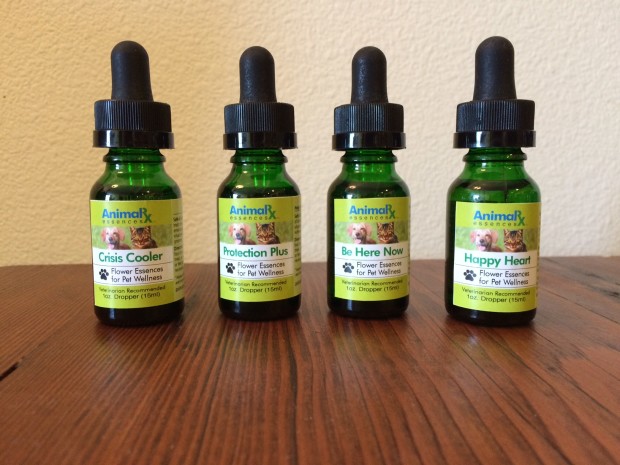 These are the 1/2 bottles. The 1 oz bottles come with a spray top.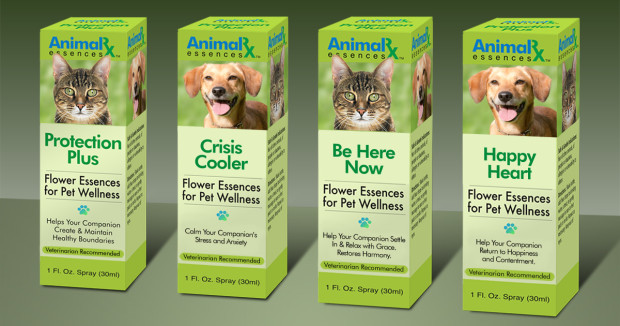 These are the boxes we developed for the product.

When you contribute, you will know that your generosity will help many, many companion animals all over the Bay Area and beyond.
AnimalRx contributes 10% of our profits to fund animal rescue causes.
Your contribution to this campaign will pay for package design, website design and hard costs like bottles, labels and boxes.
Our perks are exciting!
You will have the opportunity to try the AnimalRx product! Every perk provides at least one bottle of essences. You get the choice of one or two bottles to try with your companion animals or to give to friends.
The Impact of AnimalRx Essences
These innovative products address the emotional lives of animals. Your support will help animals receive the emotional care they need to live happy healthy lives! We will also be helping rescue animals in need!
Other Ways You Can Help
You can get involved by supporting this campaign.
Tell your veterinarian about the products.
Inform your pet food supplier about AnimalRx.
Please share this campaign with your friends.
Also, share this campaign on your social networks with the Indiegogo campaign tools.
Come back often for updates!