iCrowdNewswire - Jun 27, 2016
FLM: The Ultimate Travel Tripod
Ultra-compact and ultra-stable. Made for everyone. Order now and get up to 30% off retail price.

Who We Are
My name is Ari, I'm the US/Canada distributor for FLM, and I've been a photographer for almost 25 years. I bought my first FLM ball head in 2012, and was so impressed with it, I happily became their distributor. I wanted to let everyone know the thought, attention to detail, and superb quality FLM puts into every component of their ball heads and tripods.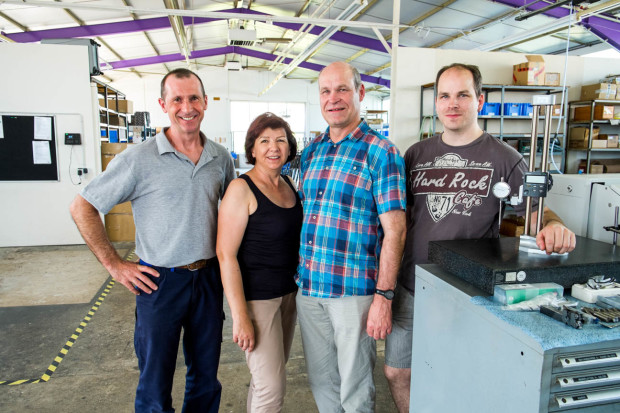 L-R: Claude, Anneliese, Werner, and Markus at the FLM factory
FLM is a world leader in the design and manufacturing of ball heads and carbon fibre tripods. We are located in south-western Germany, in the small town of Emmendingen. The company is owned and run by the Bürklin family. Our goal has always been to innovate and produce photo gear at the highest possible level for the most demanding photographers.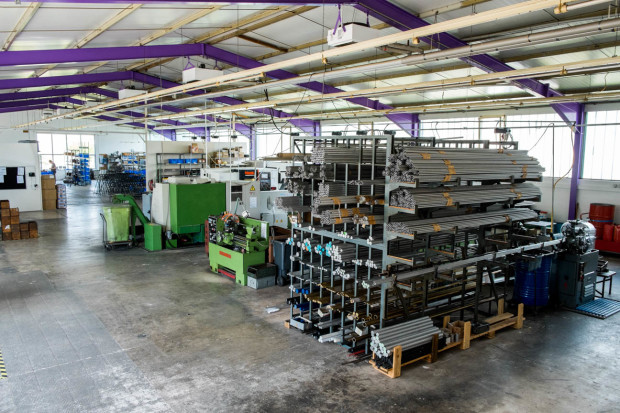 The factory floor
FLM is always growing and changing, never happy to sit still, and to that end, we've designed what we think is the ultimate travel tripod. We wanted to make one tripod that can go anywhere, do anything, and be a great all-rounder for everyone. Of course, no one piece of gear is ever perfect, but we think we've designed an excellent, versatile tripod that will thrill a lot of photographers and help people understand that using a tripod can be a pleasure, not a burden.
You can help get the CP-Travel made sooner by pre-ordering your own tripod here, before it reaches stores.
Briefly, some of the features of the CP-Travel:
10x Carbon Fibre tubes
lightweight, but able to support the heaviest cameras and lenses
compact, folds down to 39cm (15.3″)
rubber/spiked feet with new secure quick-change system
aluminum/rubber leg locks for extra protection from the elements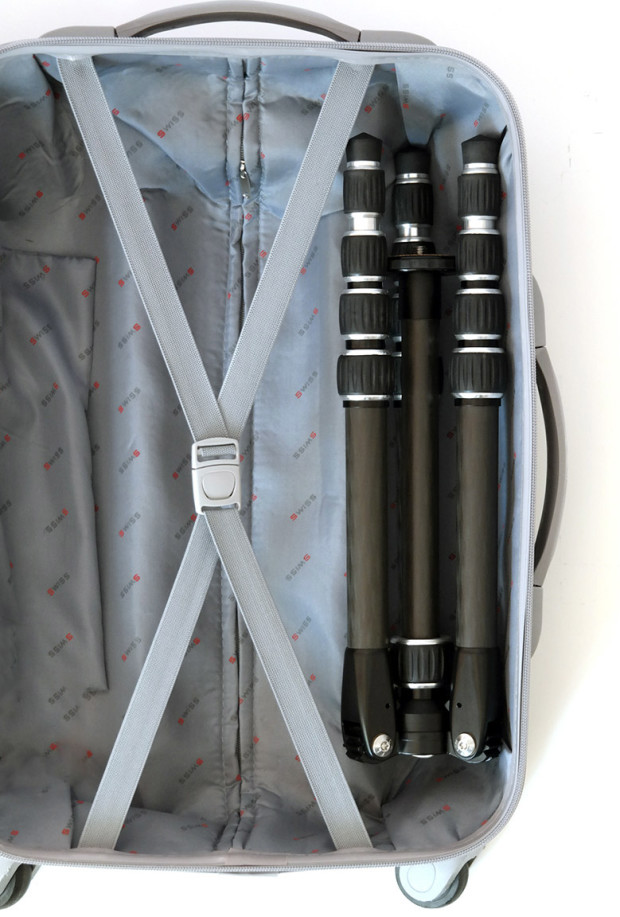 CP-Travel prototype shown in regulation-size carry-on suitcase
What We Need & What You Get
Our goal of $18,000.00 is to pay for the cost of the moulds used in the production of the CP-Travel tripod. Once our goal is reached, we can make the moulds and start producing the tripods; and as our way of saying "Thank You", we'll keep offering the CP-Travel at a special low price until the first 100 units are sold.
Moulds are expensive to make, but they are a crucial part of the manufacturing process; if they're not set up perfectly, the tripod won't work. FLM has designed three new moulds to produce the CF tubes, aluminum apex and leg locks specifically for the CP-Travel, and we need your support to turn the design into finished moulds so we can start production of the tripod. Most of the other parts of the tripod (there are over 60 parts in every tripod) will come from our existing stock at the factory (screws, sheaths, spikes, rubber, etc.) and from our supply partners.
You will get a lightweight and compact tripod, made from 10 layers of interwoven carbon fibre for maximum strength and stability. Your tripod carries a 10-year manufacturer's warranty, so you can rest easy knowing that you won't have to buy another tripod for a very long time.
And you'll have the chance to buy your new CP-Travel tripod for much less than what it will cost at a retail store. We estimate the MSRP for the CP-Travel will be $635.00 USD when it hits the stores. The CP-Travel is offered here for an amazing price of $490.00; less, if you are an early supporter.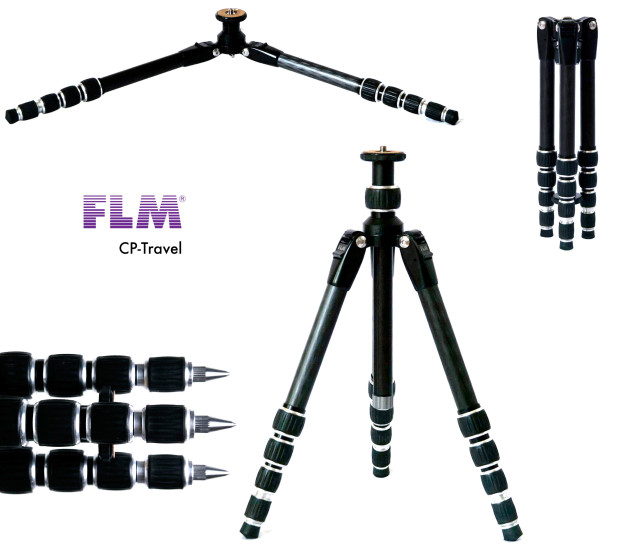 CP-Travel prototype shown
Every person will get the tripod they paid for, and at the price paid. If only one is bought, then we'll make that one tripod and ship it (albeit later than the promised date). But if we reach our goal, that would be even better: everyone gets a tripod, on time, as promised. We will have our moulds and can then continue making the tripod for years to come. Should we meet and surpass our goal, we will still make and ship a tripod for each person that supports us. We just want to get this tripod into as many hands as possible.
The Impact
When designing and making a tripod, there are two things on which FLM will never compromise: stability and build quality. We don't offer flashy or gimmicky features; they often look fun, but they usually affect stability and performance negatively. What's the point of having a tripod if it introduces shaking and vibration? You need to be able to count on your tripod, day in and day out.
We build solid, reliable tripods that are meant to last a long time and stand up to all kinds of hard use. Yes, they do cost a little more than other brands, but we use only high-quality materials, expert assembly, and precision is one of our guiding principles. With FLM, you buy well, and buy once.
We're serious about our tripods, just as you're serious about photography. All of our products carry a 10-year manufacturer's warranty, the best in the business.
Of all the ball heads and tripods we sell, less than 1 in 1,000 come back to us. We've had a proven track record for over 23 years, and our quality control is world-class.
We hope you'll love the new CP-Travel tripod, and we want you to use it everywhere, in all kinds of situations and conditions. We think you'll agree that it's the best tripod you'll ever own, and possibly the last, as well.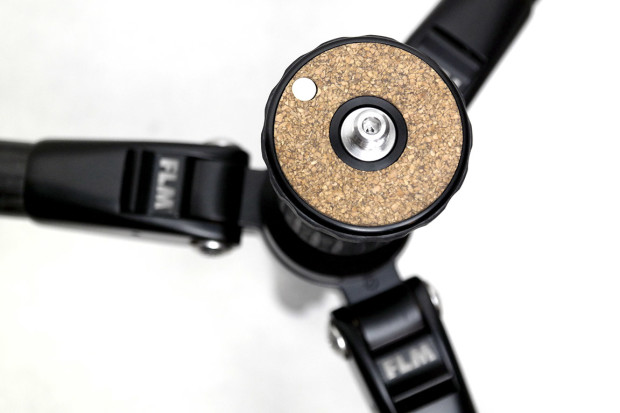 Here are the technical specs, based on our prototype tripod:
Name: CP-Travel
Materials: interwoven 10X carbon fiber, aluminum apex
Leg Sections: 5
Leg section diameter: 26mm, 22mm, 19mm, 16mm, 12mm
Weight: 1,28 kg (2.83 lbs)
Load capacity: 10kg (22 lbs.)
Max height: w/center post: 142cm (55.9″), w/o centre post: 122cm (48.1″)
Max height w/center post & CB-38FTR/QRP-50 ball head: 152,7 cm (60.1″)
Min. Height: 11,5 cm (4.5″)
Folded length: 39cm (15.3″)
Folded diameter (at widest point): 9,8cm (3.8″)
Head platform diameter: 5,2 cm (2.04″)
Feet: rubber safety feet w/steel spikes (interchangeable)
Leg locks: safety-stop rubber and aluminum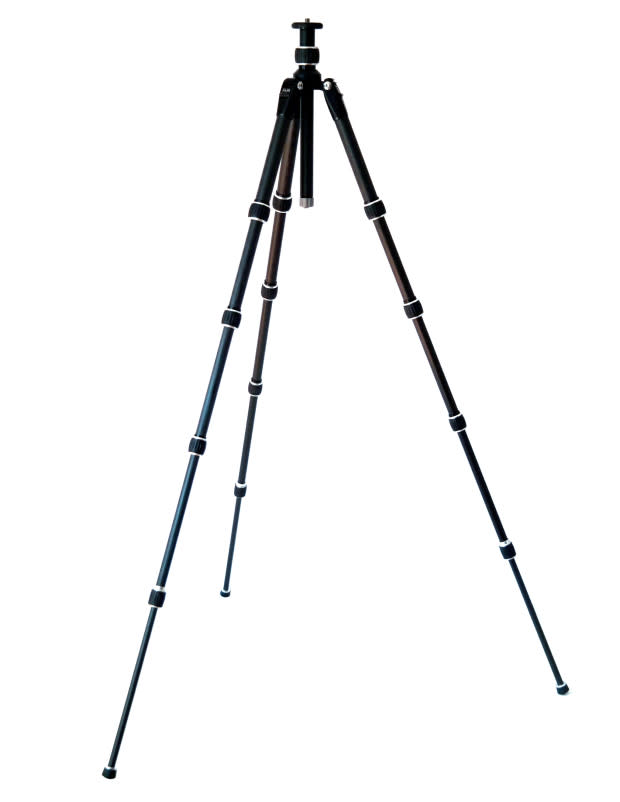 What Will the Final Version Look Like?
We've built a prototype of the CP-Travel, but some minor details aren't finalized. Below is a photo of the prototype; the red lines indicate which parts of the tripod will be modified.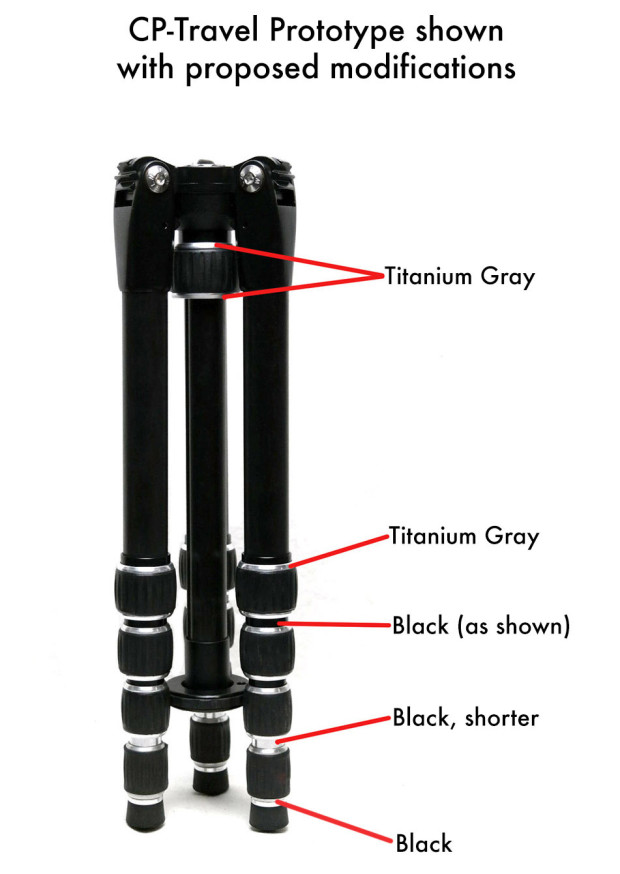 The Perks: What's Included?
When you buy a CP-Travel tripod, you'll also get the FLM CP-Strap, for the ultimate in portability. Featuring a zippered pocket for tripod tools, tripod spikes or accessories, the strap has padding for added comfort and leather trim for durability and aesthetic appeal. The strap is adjustable in length from 49.2″ to 66.9″, and detachable ends allow you to quickly attach and detach the strap from the tripod.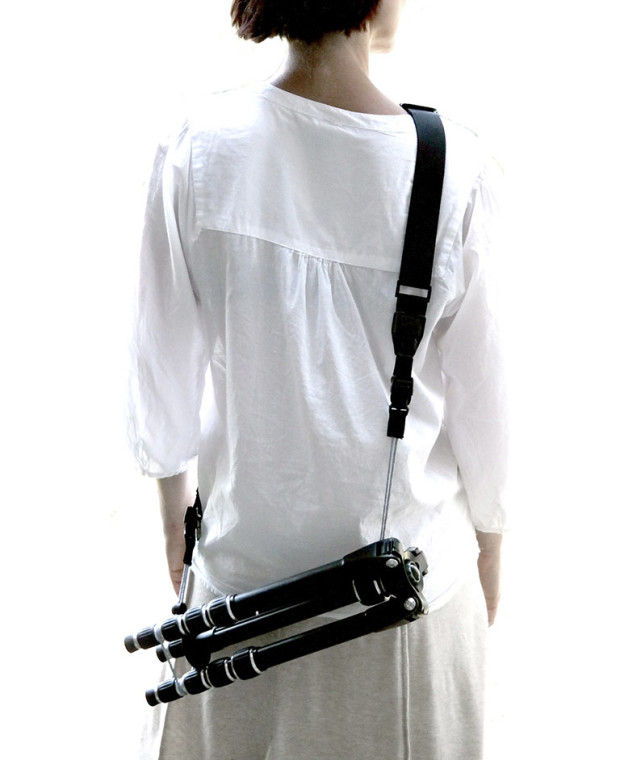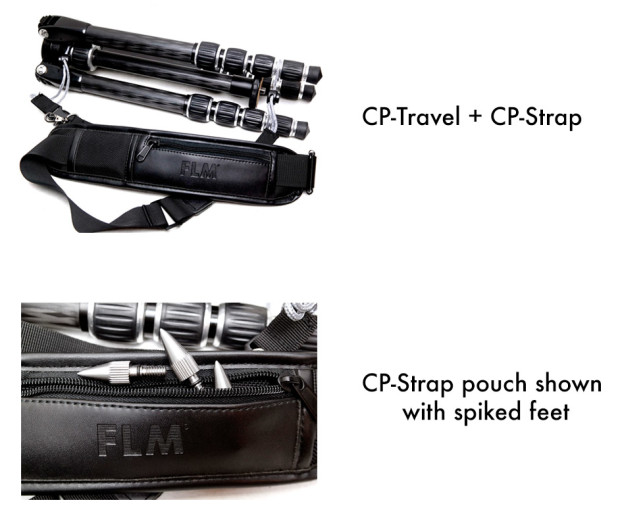 The CP-Strap is included with the first 100 tripods sold; after that, tripod and strap will be sold separately.
Risks & Challenges
FLM's factory in Emmendingen is small but fully-equipped. We have two CNC machines operating full-time, and a skilled, capable staff of six who take care of assembling, finishing and packaging all of our products.
We have the experience, know-how and parts to make this tripod quickly and successfully once the moulds are ready, and we don't anticipate too many obstacles once moulds are completed.
The only hurdle we can possibly foresee is not raising enough funds to make the moulds, but this would only prevent us from meeting our delivery date of October 2016. The sooner we reach our goal, the sooner we can start manufacturing.
From mould-making to finished product takes 8 weeks; each tripod is hand-assembled, and each goes through rigorous testing and quality control checks before it can leave the factory.
Not reaching our goal would mean a few months' delay in producing and introducing the tripod (say, by February 2017). And when it does come out in retail stores, it will be priced higher than it is here.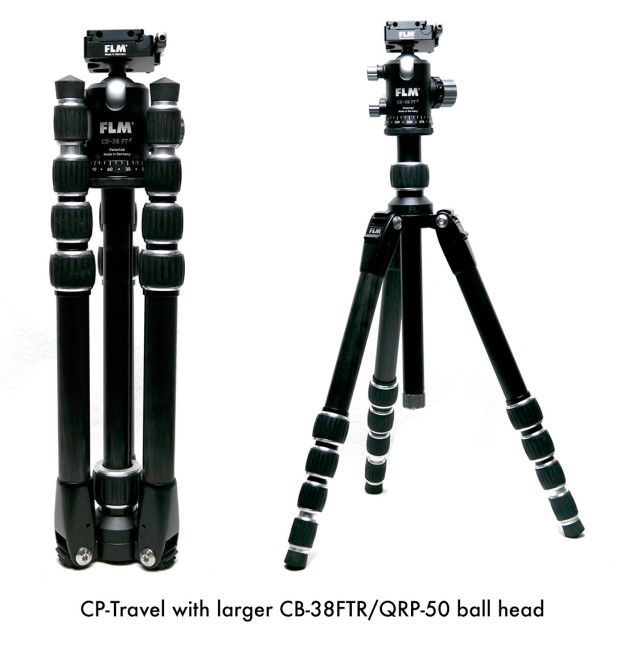 Excerpts from customer comments and reviews (thanks to all for allowing us to reprint them here):
-Ari, I am back from Namibia. An absolutely spectacular trip – flawless in every way including the FLM tripod and ballhead. I want to thank you, yet again, for recommending it and assisting in its purchase.
The sands dunes in Namibia are epic in size and texture and form. The tripod and ballhead performed exactly as I would have hoped in all conditions. Having quick release plates on both my cameras and on all my telephoto tripod collars made moving from one body to another or one telephoto lens to another really easy and convenient. FLM makes outstanding products.
Please feel free to share my enthusiasm for the FLM line and know that I am a devoted fan. –Jeff, USA
-Besides the high quality of the products, I consider also the great support from FLM as a very strong plus! –Herbert, Mexico
-It is a great piece of kit, all the parts are made very well; it feels professional, comfortable to work with, and there are things that I wish my tripod could do. –Hamish, RSA
–Right from the word go, you start to smile. The FLM Centerball 48FT has to be one of the most exquisite pieces of precision engineering I have ever tested, a build quality on par with Really Right Stuff. The materials and finish almost convinces you to reach for your wallet there and then. –David, UK
FAQ
Q: Will this tripod fit in a carry-on suitcase?
A: Yes, at 15 inches long and 4 inches in diameter, you could stuff a few of these tripods into your carry-on bag.
Q: What kind of cameras will this tripod support?
A: The CP-Travel is rated to 10kg (22 lbs) of load, and it has been tested both in the factory and in the field. Point & shoot, Micro 4/3, full-frame DSLR, MFDB systems and 4×5 field cameras will all be happy sitting atop the CP-Travel.
Q: Who can I contact in case something is not right with my tripod?
A: Contact us at the factory in Germany through the FLM GmbH website, or through the FLM Canada website. We'll make sure any problem parts are fixed or replaced quickly.
Q: Will service and repair be offered on this tripod for the duration of the 10-year warranty?
A: Yes, as it is for all of our products. Our customers are loyal both because of the high quality of our products, and because of our customer service.
Q: Which ball head do you recommend using with this tripod?
A: We recommend a ball head of moderate size, between 30mm and 40mm in diameter, such as FLM's CB-32F or CB-38FTR. Our CB-43FTR will fit nicely with minimal disruption to the folded diameter. Heads larger than the CB-43FTR can be used, though they may not permit the tripod to fold as intended. A smaller head will also work, provided it supports your camera adequately.
Q: Does this tripod use cork or rubber on the platform?
A: FLM uses a unique cork-rubber blend on all tripods and ball heads. Using only a rubber surface will increase the vibration characteristics. Using only a cork surface will make it highly sensitive to weather conditions.
The cork-rubber blend combines the benefits of both materials: the cork serves as vibration dampening – like cork used in floors – while the rubber provides weather resistance and adhesion, to ensure good support for your camera.
Q: Why are your products so expensive?
A: Ahem, yes, well…
While it's true that our products are more expensive than your average tripod or ball head, FLM products are competitively-priced when compared to other high-quality manufacturers (Gitzo, RRS, etc.), and in many cases, we are priced below those manufacturers, while offering more features.
We use only the highest-quality materials, such as spun interwoven carbon fibre and aircraft-grade aluminum.
FLM tripods normally use 8x layers of carbon fibre woven in eight directions for maximum strength. Other manufacturers use only 6x layers and weave the CF in only 2 or 3 directions.
Our equipment is also made for various scientific applications, giving our manufacturing a necessarily very high degree of precision and stability.
All of our parts are made in Germany (except the CF) using state-of-the-art CNC-machining
Every tripod, ball head and QR clamp is hand-assembled.
We get less than 1 in 1,000 returns due to faulty production.
We have so much confidence in our products that we give a 10-year manufacturer's warranty, and we stand behind it.
Our products are built to take heavy loads along with the daily abuse of field photography, and they're made to last.
While there will always be less expensive and cheaper-made options, you won't find better quality and precision.
Other Ways You can Help
Please help us spread the word if you can't contribute, we appreciate the little things as much as the big things, and we are well aware that we cannot do this without all of you helping in one way or another.
So share this page any way you can: tell a friend, send an email, post on FB or other page, use the share tools on this page. Let us know what you think about our new tripod, or if you have any questions.
Thank you very much!