iCrowdNewswire - Jun 26, 2016
2917: Back to the top Documentary
A mixed media documentary about a punk rock paraplegic guy who will climb to the top of Mt Olympus.
Ioanna Petinaraki
Thessaloniki, Greece
ΓΙΑ ΝΑ ΔΙΑΒΑΣΕΤΕ ΤΟ ΚΕΙΜΕΝΟ ΣΤΑ ΕΛΛΗΝΙΚΑ, ΔΕΙΤΕ ΠΑΡΑΚΑΤΩ.
THE FILM
It all started back in April 2014 when Ioanna Petinaraki, the producer of the film, decided to help Leonidas, a 32 years old punk rock paraplegic guy make his dream come true; to  climb Mitikas (2917m), the highest peak of Mount Olympus in Greece. The film, a feature-length mixed-media documentary directed by Stratis Chatzielenoudas, will combine traditional verite narration and animation. Humorous and surreal animation clips will be created by the well-known American animator Patrick Smith. Through the animation we will see Leonidas' inner thoughts, fears and desires.
We have already completed some shootings in Athens, Olympus and Thessaloniki and we are now preparing for the 'big step' reaching the top.
"2917" is a Greek-Croatian co-production by Real Eyes Productions and Aning Film.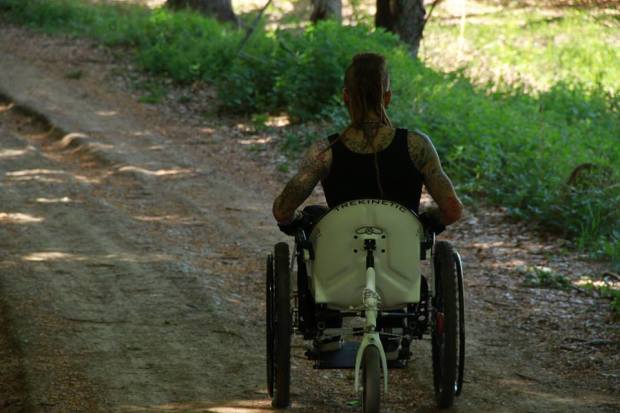 THE STORY
Leonidas plans to return to Olympus this year.  He will not be alone! With a group of close friends from Athens and Thessaloniki  he plans to climb to the summit of Mount Olympus. We will be filming the whole venture. Leonidas will break the record of ascending Olympus in a wheelchair and we will help him (even though we have no climbing skills!)
The preparation took several months to organize. We will be accompanied by George, a mountaineer & rescuer and a group of experienced climbers during the most crucial part of the route.
By filming Leonidas' adventure on Olympus we want to encourage other people to follow their own dreams.
The original music for the film is written by "Vodka Juniors", a Greek punk band.
                             HOW WE FUND THIS DOCUMENTARY
Well, making film requires a budget. Filming on location always increases production costs and sometimes there are unforeseen expenses. In our case, the budget will cover mostly Leonidas' and our team's equipment.
We source things as cheaply as possible if we can't get those from donations. The main production department members have funded our work so far.
We are running this crowdfunding campaign to fund the climbing and secure the equipment for a safe trip.  We choose Indiegogo to reach out to our community and involve people in the creative process of making a documentary film.
Despite the great  amount of support we have  from our sponsors, friends and colleagues we still need to pay for:
a. Climbing equipment (ropes, bodrier, helmets etc.) in order to be safe up there both Leonidas and the crew.
b. Buying a new wheelchair for Leonidas, suitable for the mountain (suitable for the morphology of the mount Olympus and the ascent conditions)
c. Catering and Transportation
2917 has some great sponsors on board:
Media Sponsor: Punk Rock Holiday Festival
Our budget plan is as follow:

                                   PROGRESS AFTER  COMPLETION 
The aim of 2917 is to reach as many viewers as possible.
In that way, we have created a list of documentary festivals around the world that we intend to send the film after its completion.  Our first goal for a premier will be IDFA in Amsterdam, as the biggest documentary festival- market and following we are looking at a festival career that would include: Thessaloniki Documentary Festival, CPH:DOX, Leipsig, Sheffield Doc/Fest, Tribeca, Hot Docs, Vision Du Reel among others.
But we will not stop there! We are already in contact with channels for TV distribution of 2917 both in Greece and abroad.
The next stop will be the DVD distribution and VOD.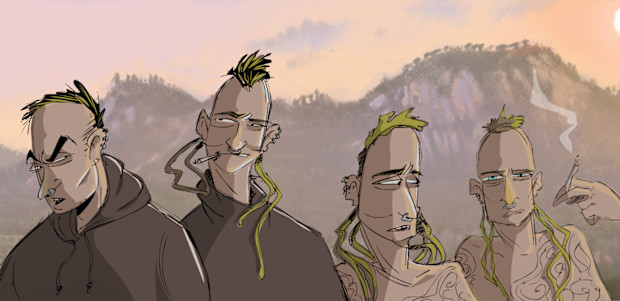 Concept art for "2917" created by Patrick Smith
                                     OTHER WAYS YOU CAN HELP
Don't have funds, but down to contribute? The one thing people can do more than anything beyond contributing is help us spread the word about this campaign. So if you can't afford to make a financial contribution, here's how you can help build awareness about 2917:
a) send this Indiegogo link to your friends and colleagues
b) join our Facebook page
c) follow us on Twitter & Instagram— retweet, repost and share, share, share!
d) talk about the project to everyone you know!
e) write an article about the film!
Through this special film, we're excited about changing hearts and minds. We hope you'll join us as we move forward towards the finishing line. We still have a way to go, but with your support the end is in clear view. Together we will make a difference!!
Thank you from the bottom of our hearts,
2917 Team