iCrowdNewswire - Jun 25, 2016
Mixu's Cat Cafe
Senzillament servirem un bon cafè en companyia d'uns quants mixets.
Sumari
Ens apassionen tots els animals però sentim una debilitat pels gats, que tants moments de felicitat ens aporten. Ens agradaria poder-ne ajudar uns quants creant un espai perquè tothom que ho desitgi, pugui gaudir de la seva companyia.
Hem pensat en crear aquest Cat Cafe per una familia de deu gats amb leucèmia que actualment són a la Protectora de Granollers. Una part de la cafeteria serà casa seva i podreu entrar a prendre un cafè amb els mixets.
Tenim uns quants possibles locals a Barcelona (a Vila Olímpica i a Poblenou) on podríem obrir el Cat Cafe, però necessitem la vostra ajuda per finançar el projecte.
Què necessitem
El nostre objectiu de finançament es basa en una combinació entre un estudi de costos de Barcelona, i Cat Cafes existents de l'estranger. Hem calculat que amb 85.000€ podrem cobrir els costos de partida com ara:
Una ubicació increïble amb terrassa i sol.
Una remodelació del local per adaptar-lo amb diferents zones per complir totes les normatives de sanitat, nucli zoològic, etc.
Una adaptació i decoració molt natural perquè sigui un paradís per a la nostra familia i còmode per a vosaltres.
L'assistència dels veterinaris i les millors cures que puguem trobar.
El millor menjar per als petits golafres.
Si no aconseguim l'objectiu, totes les aportacions que hàgiu fet se us retornaran i nosaltres, ho tornarem a intentar d'alguna altra manera.
Què us oferim
Hem creat unes recompenses úniques perquè la vostra aportació té un gran valor. Des d'un cafè amb pastes amb l'entrada a la zona de gats, fins a un vídeo amb efectes visuals del vostre gat parlant amb la vostra veu (com hem fet al nostre vídeo de la campanya).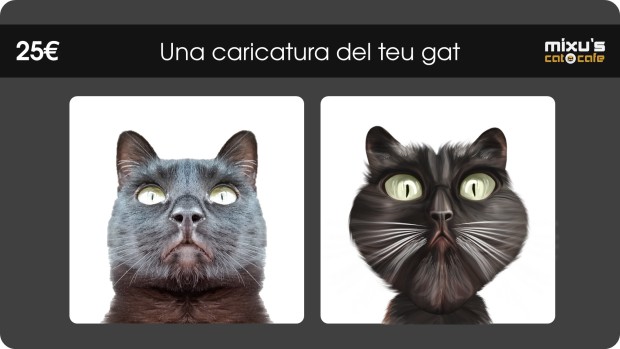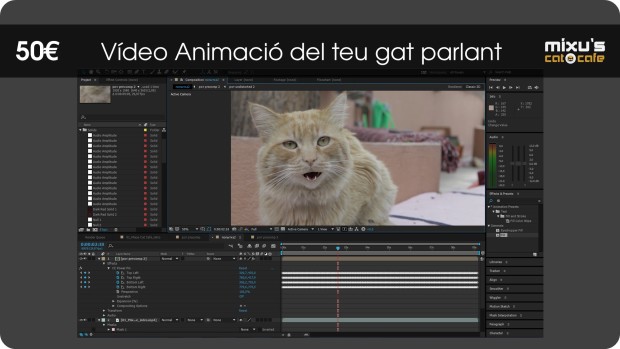 L'impacte
Tot el que fem és per millorar la qualitat de vida d'aquesta família de gats amb leucèmia. Canviem la seva vida acollint-los en una cafeteria dissenyada per a gats i persones. Senzillament servirem un bon cafè en companyia d'uns quants mixets.
A més de salvar uns quants mixets, aquesta iniciativa aportarà moments de felicitat a les persones ja que el contacte amb gats redueix l'estrès i millora el benestar.
Som una parella d'emprenedors, una australiana i un català, amb experiència internacional en gestió de projectes amb grans empreses, i també en hostaleria. Ens encanta resoldre problemes, som ordenats i disciplinats per fer realitat aquest somni.
Riscos i Reptes
Tot i que els cafès de gats s'han estès per tot el món des que el primer va obrir el 1998 a Taiwan, al nostre país són pràcticament inexistents i tindrem molts obstacles. A nivell d'higiene tenim molt clara la normativa que cal complir, sobretot per separar la manipulació d'aliments de la zona de gats. Amb el nostre background d'enginyeria i l'habilitat per resoldre problemes ens espavilarem com sempre per superar tots els obstacles.
Altres maneres d'ajudar
Comprenem que no tothom es pot permetre fer una aportació, però això no vol dir que no pugueu ajudar aquesta familia de deu gats a escapar-se de la protectora amb estil:
Parleu d'aquest projecte amb amants dels gats com vosaltres i compratiu els nostres continguts a les xarxes socials.
Recordeu que Indiegogo posa a disposició aquestes eines per compartir-ho a les xarxes socials.
Sumario
Nos apasionan todos los animales pero sentimos una debilidad por los gatos, que tantos momentos de felicidad nos aportan. Nos gustaría poder ayudar a unos cuantos creando un espacio para que todo aquel que lo desee, pueda disfrutar de su compañía.
Hemos pensado en crear este Cat Cafe para una familia de diez gatos con leucemia que actualmente están en la Protectora de Granollers. Una parte de la cafetería será su casa y usted podrá acceder a tomar un café con los mininos.
Tenemos unos cuantos posibles locales en Barcelona (en Vila Olímpica y en Poblenou) donde podríamos abrir el Cat Cafe, pero necesitamos vuestra ayuda para financiar el proyecto.
Qué necesitamos
Nuestro objetivo de financiación se basa en una combinación entre un estudio de costes de Barcelona, y Cat Cafes existentes del extranjero. Hemos calculado que con 85.000 € podremos cubrir los costes de partida tales como:
Una ubicación increíble con terraza y sol.
Una remodelación del local para adaptarlo con diferentes zonas para cumplir todas las normativas de sanidad, núcleo zoológico, etc.
Una adaptación y decoración muy natural para que sea un paraíso para nuestra familia y cómodo para vosotros.
La asistencia de los veterinarios y los mejores cuidados que podamos encontrar.
La mejor comida para los pequeños glotones.
Si no conseguimos el objetivo, todas las aportaciones que hayáis realizado se os devolverán y nosotros, lo volveremos a intentar de alguna otra forma.
Qué os ofrecemos
Hemos creado unas recompensas únicas para que su aportación tiene un gran valor. Desde un café con pastas con la entrada en la zona de gatos, hasta un vídeo con efectos visuales de su gato hablando con su voz (como hemos hecho en nuestro vídeo de la campaña).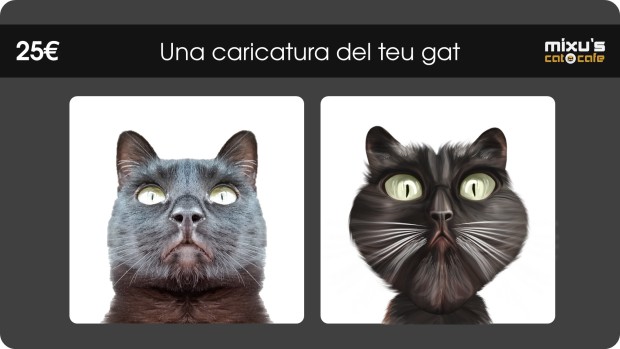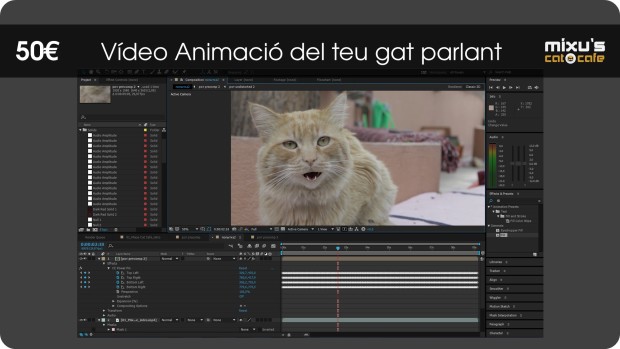 El impacto
Todo lo que hacemos es para mejorar la calidad de vida de esta familia de gatos con leucemia. Cambiamos su vida acogiendo en una cafetería diseñada para gatos y personas. Sencillamente serviremos un buen café en compañía de varios mininos.
Además de salvar varios mininos, esta iniciativa aportará momentos de felicidad a las personas ya que el contacto con gatos reduce el estrés y mejora el bienestar.
Somos una pareja de emprendedores, una australiana y un catalán, con experiencia internacional en gestión de proyectos con grandes empresas, y también en hostelería. Nos encanta resolver problemas, somos ordenados y disciplinados para hacer realidad este sueño.
Riesgos y Retos
Aunque los cafés de gatos se han extendido por todo el mundo desde que el primero abrió en 1998 en Taiwán, en nuestro país son prácticamente inexistentes y tendremos muchos obstáculos. A nivel de higiene tenemos muy clara la normativa que hay que cumplir, sobre todo para separar la manipulación de alimentos de la zona de gatos. Con nuestro background de ingeniería y la habilidad para resolver problemas nos espabilaremos como siempre para superar todos los obstáculos.
Otras formas de ayudar
Comprendemos que no todo el mundo puede permitirse hacer una aportación, pero eso no quiere decir que no pueda ayudar esta familia de diez gatos a escaparse de la protectora con estilo:
Habla de este proyecto con amantes de los gatos como vosotros y comprados nuestros contenidos en las redes sociales.
Recuerde que IndieGoGo pone a disposición estas herramientas para compartirlo en las redes sociales.
Summary
We are passionate about all animals but we have a soft spot for cats. They bring us so much joy and happiness. We would like to help a few cats by creating a space for them so that anyone who wishes to can come to visit and enjoy their company.
We have thought about creating this Cat Cafe for a family of ten cats with leukemia who are currently at Granollers Animal Shelter. A portion of the cafeteria will be your home and you can enter with a coffee and spend some time with the kitties.
We have a few possible locations in Barcelona (in Vila Olimpica and Poble Nou) where we could open the Cat Cafe, but we need your help to finance the project.
What We Need to Make it Happen
Our funding target is based on a mix between Barcelona costs, and existing Cat Cafes abroad. We estimate that € 85,000 will cover starting costs including things like:
An amazing location with a terrace and sunshine.
An adaptation of the venue in order to comply with all rules and regulations such as hygiene etc.
A refurbishment of the venue to make it a paradise for our little family and a comfortable place for you.
The assistance of veterinarians and the best care we can find.
The best food for the cats.
If we do not achieve the goal, all the contributions that you have made will be returned to you and we will try again.
What You Get
We have created some unique rewards for you. One example is, an animated video of your cat talking but with your voice (as you will see in our campaign video).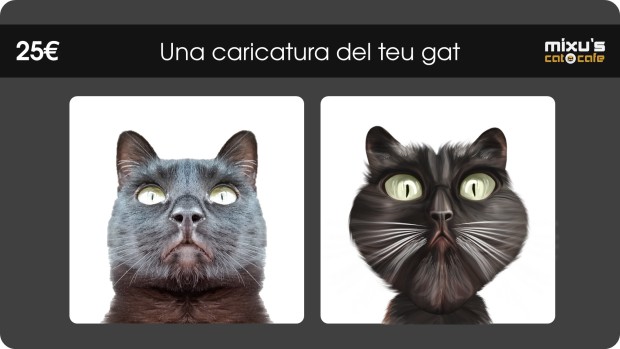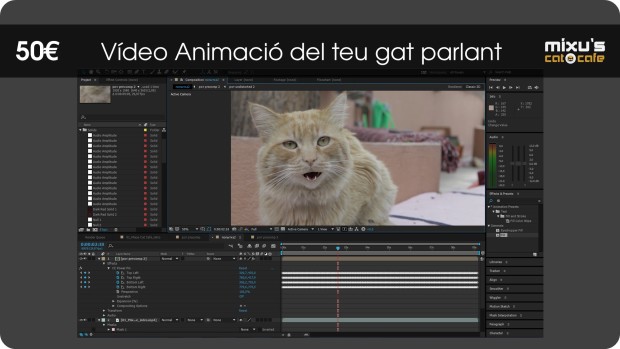 The Impact
Everything we do, we believe in improving the lives of homeless cats with leukemia. The way we change their lives is by fostering them in a cafe designed for cats and people. We will just happen to serve great coffee in the company of cats.
In addition to saving several cats, this initiative will provide moments of happiness for people, as contact with cats reduces stress and improves well-being.
We are a couple of entrepreneurs, an Australian and a Catalan, with international experience in project management with large companies, and in hospitality. We love solving problems, we are organized and disciplined to action this dream.
Risks and Challenges
Since the first Cat Cafe opened in Taiwan (1998), there have been many more opening worldwide but in our country they are virtually nonexistent and we will have many obstacles. We understand the importance of maintaining a very high level of hygiene and the rules that must be followed, especially to separate food handling area from the cats. With our engineering background and ability to solve problems we have the ability to overcome all obstacles.
Other ways to help
We understand that not everyone can afford to make a contribution, but there are other avenues to help.
Continue talking about this project to other cat lovers like you and share our content on social networks.
Please remember that IndieGoGo also provides these tools to share on social networks.