iCrowdNewswire - Jun 24, 2016
Voice Messages Documentary
A film that speaks out about the wonder and beauty of our most powerful instrument: the human voice

Martin Zied
Philadelphia, United States

What if I told you that you have in your possession one of humanity's most powerful communication tools? It's one where emotion and meaning can be deduced in seconds. A piece of equipment so sophisticated it needs no charger, and always offers free roaming. I'm talking, of course, about the human voice.

I'm Martin Zied, the director of Voice Messages. Like many of you, I caught the "voice" bug when I was a child. I heard a voice when I was eight years old and it brought me to tears. Not an angry parent or teacher–a fellow student, as he sang "Without a Song."
Since that moment, I've been acutely aware of and fascinated by our voices. I've come to see (and hear) that many of us are unaware of how important our voices can be in our personal relationships and professional lives. How does voice play a role in whom we choose as a mate? Will your vocal qualities help or hurt you in your next job interview? How do we form opinions of others based on the sound of their voices? Do we sound like our parents? And how many different voices/tones do we possess? Performance artist Laurie Anderson claims that we can have as many as 50 different shades of voice! Think about how we sound when we're mad, sad, glad… when we're trying to sound loving, professional, convincing, seductive, persuasive, or authoritarian.
As an adult, my love for the human voice has taken many forms–I've been a public speaker, I've coached performers, I've performed with an acapella gospel quartet, and I even recently sang "You're the Dream of a Lifetime"(The Flamingos) acapella at my daughter's wedding. My two best friends joined me!
In my years of television production, I've gotten the chance to help tell a wide variety of stories. I'm so grateful for the chance to tell one so near and dear to me: the story of the unsung power and beauty of the human voice.

When we make our initial goal of $45K, we'll be able to complete production on the film, including hiring talented professional camera operators and equally as important, top notch audio recordists. A film about the voice needs to sound good as well as look good!
We'll be able to pay our crew a living wage, and cover travel costs to get us to the variety of locations necessary for the remaining shoots.
Making our $45k goal also allows us to license archival footage and vet personal footage. Funds that we collect over and above our goal will help us to get even farther along in the production process, and even strengthen our efforts in getting the film in the hands of a worthy distributor, so we can get it on a big or small screen near you!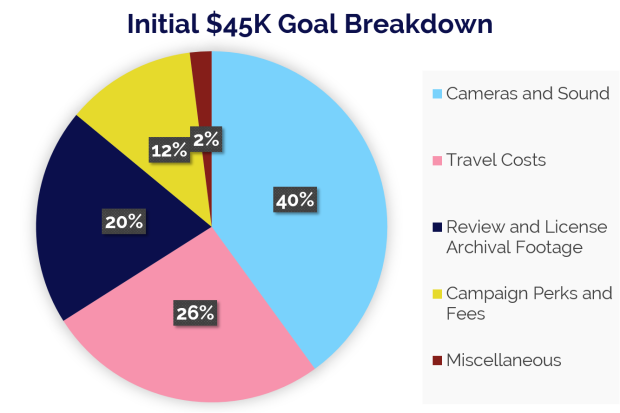 With your help, we estimate finishing the film by spring 2017.

We've interviewed Grammy-winning recording artists, voiceover icons, authors, and academics. And there are so many more interviews to come!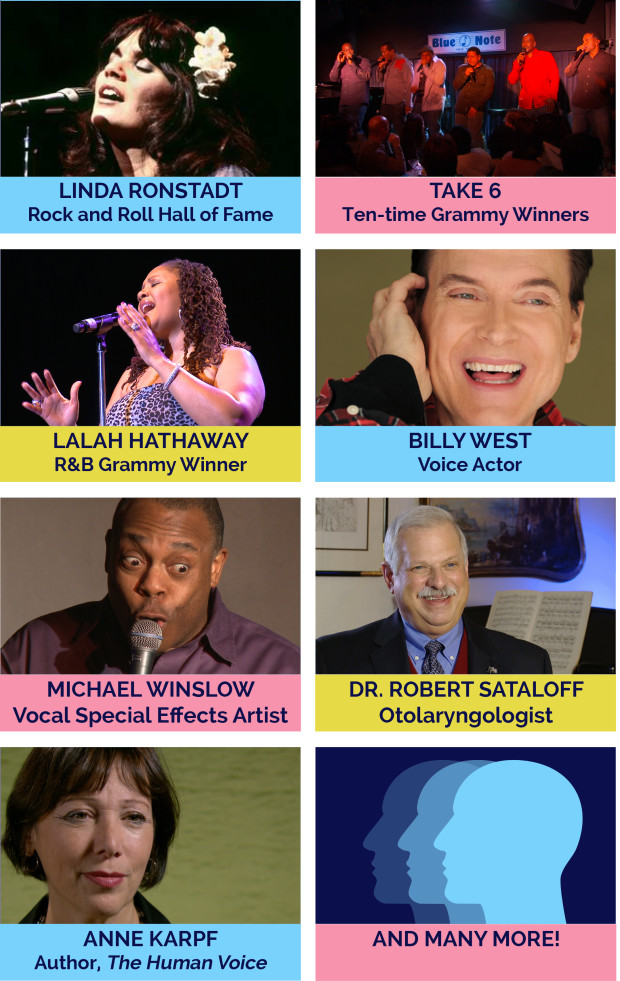 Voice Messages is directed, written and produced by Martin Zied.
He is a six-time Emmy™ Award winner with extensive television and film experience. He has written and produced episodes and segments for TV shows including 20/20(ABC) and 48 Hours Mystery (CBS). His 20/20 segment on "the history of terrorism," featured an interview with Osama Bin Laden and never before seen footage of the first World Trade Center terror attack in 1993.
Martin is also a teacher at Drexel University's Paul F. Harron Studios in Philadelphia. He is a singer, a sought after public speaker and aficionado of vocal harmony, including singing performances with glee clubs, choirs, barbershop quartets, street corner doo-woppers and, most recently, an acapella gospel quartet.

We have a lot of footage left to capture, from stories that explore the innovative research on how the voice is being applied in totally unexpected arenas to creative endeavors that have sprung from how well our voices help us connect to other people in an increasingly digital world.
We also hope to explore how many talented researchers and doctors are using cutting-edge technology to strengthen or amplify the voices of people without one.
Once we're done, we'll be submitting the documentary to film festivals far and wide with the goal of landing a distributor and getting it out there in the world in a big way.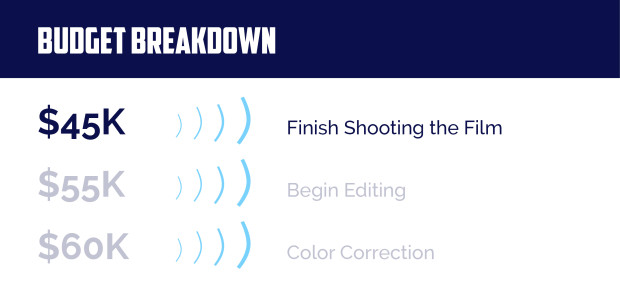 You might wonder what happens if we do not meet our goal or if we don't reach the budgeted amounts above. Don't worry, the film will get made through any and all means necessary! We'll call in favors and leverage sweat equity to continue this important passion project, no matter what. But we believe in making the best possible film we can — the subject deserves it! So, we're hoping with your help, we can hire and fairly pay top talent and tell the story the right way.

We've put together a slate of perks that should work with any budget. Here are a few things to keep in mind:
All backers will receive a social media shout-out, exclusive backer updates and acknowledgement on a list of official backers on our website.

Every perk above $15 includes a voucher to access the Vocal Process webinar of your choice. This is a $40 value!
Vocal Process is run by Dr. Gillyanne Kayes and Jeremy Fisher, who are multidisciplinary, multimedia voice educators. They work regularly with singers, actors, teachers, clinicians, and voice therapists to clarify techniques and concepts about the voice–spoken, sung, and health-related. Their new book, This is a Voice: 99 Exercises to Train, Project and Harness the Power of Your Voice, was commissioned by the Wellcome Trust to complement the Trust's art exhibition in London (2016) and Sydney (2017).
Contribute $55 or more and your video can be included in our special YouTube playlist for backers! Simply contribute then email us ([email protected]) a link to your video. It could be your reel, a performance, or anything. If you don't have a video, you can send over a link to your website and we'll tweet about you.
Contribute $110 or more and you will get thanked in the credits of our film andget personalized video shout-out on social media from director Martin Zied himself!

We're so excited about our limited-edition poster! It's really special, so we wanted to tell you more about it, and its creator. Alice Thompson is a Philadelphia-based artist who specializes in printmaking. To create the one-of-a-kind, limited-run posters for our crowdfunding campaign, she created original sketches celebrating the voice, hand-drew them on clear acetate, transferred them to screens, and screen printed them in four layers of color. Each poster is signed, numbered, and hand-printed at Second State Press in Philadelphia. A beautiful way to celebrate your love of the voice, these 14″ x 11″ prints are included in the Art of the Voice, Kitchen Sink, Inner Circle and Rolls Voice perks.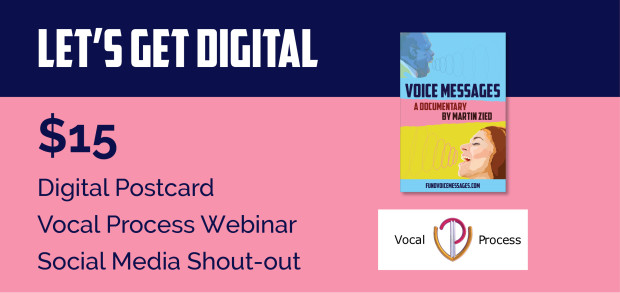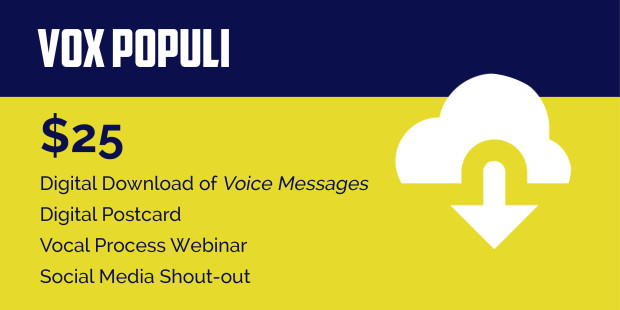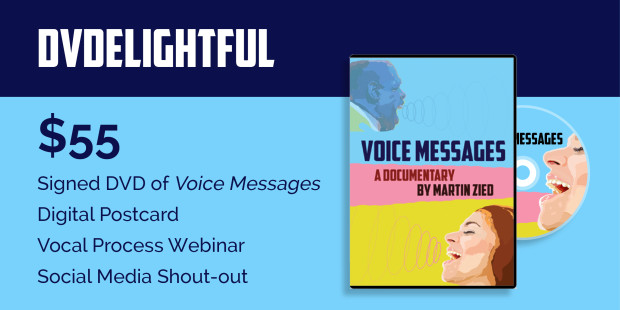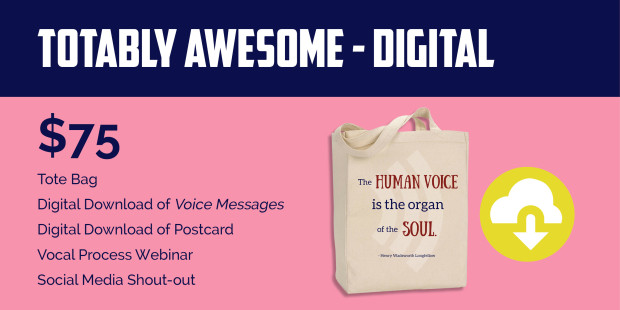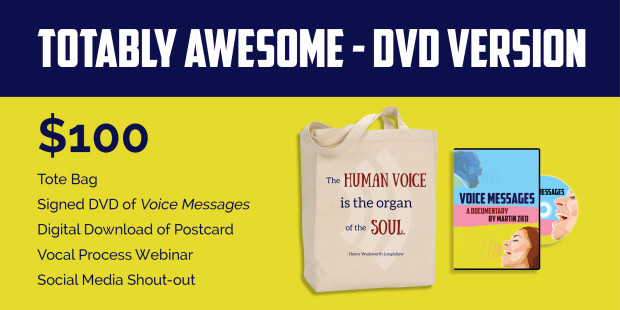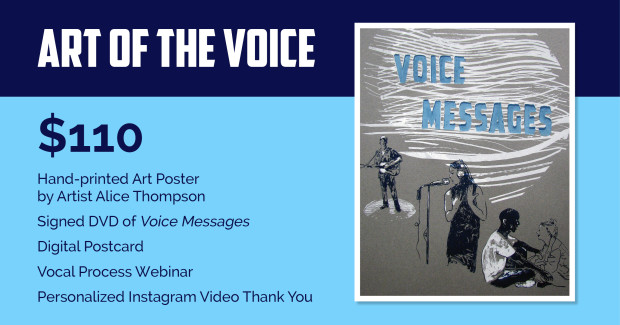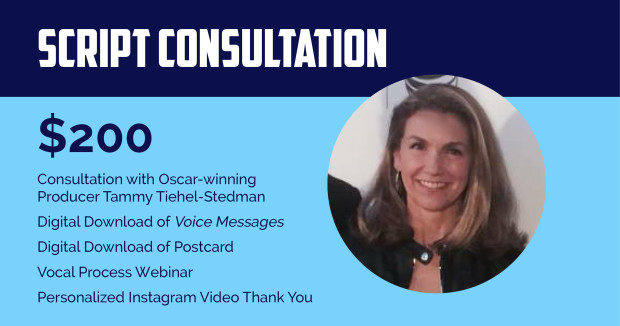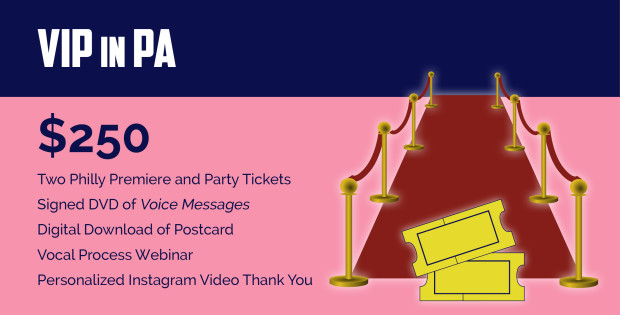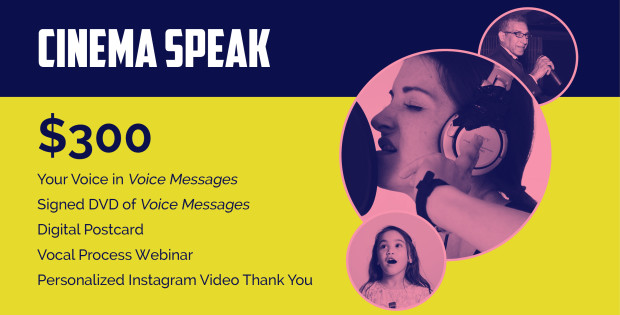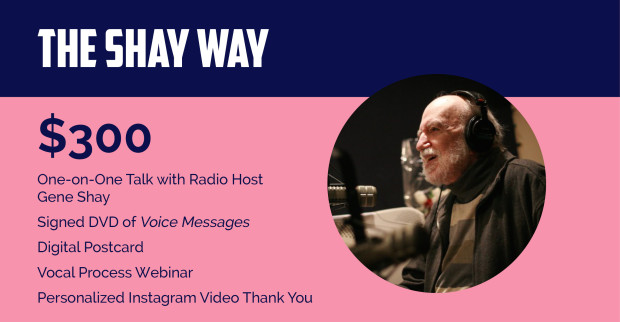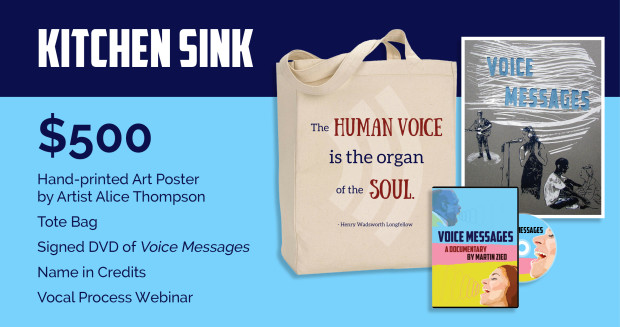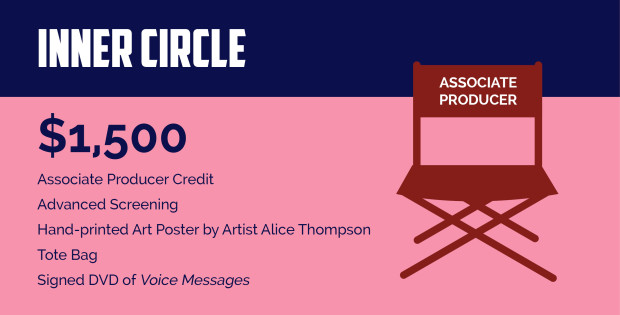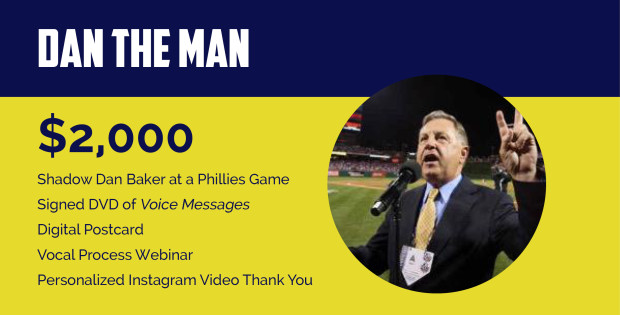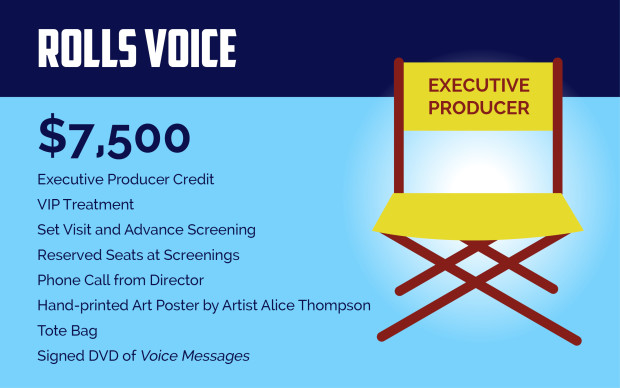 Voice Messages is an independent film without the marketing budget that a lot of studio films have to get their message out there. But we know that we're making a film about a topic that is near and dear to the hearts of many. So we are hoping that all of our collective voices will add up to a lot of (beautiful) noise about the project.