iCrowdNewswire - Jun 21, 2016
Tracks: Sound Blockbuster App for running!
No more boring running! Run in battlefield with stories and missions optimized for running.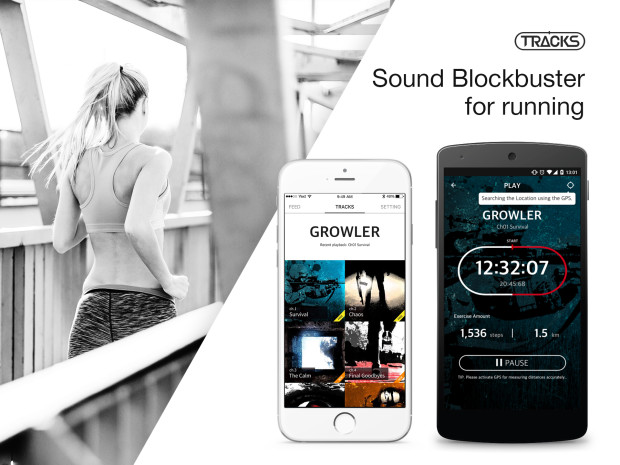 No more boring running.
Sound blockbuster for running, TRACKS!
Same music, same roads…
And that's how you've stopped running.
Introducing a new way of running with TRACKS app
where stories lead how you run.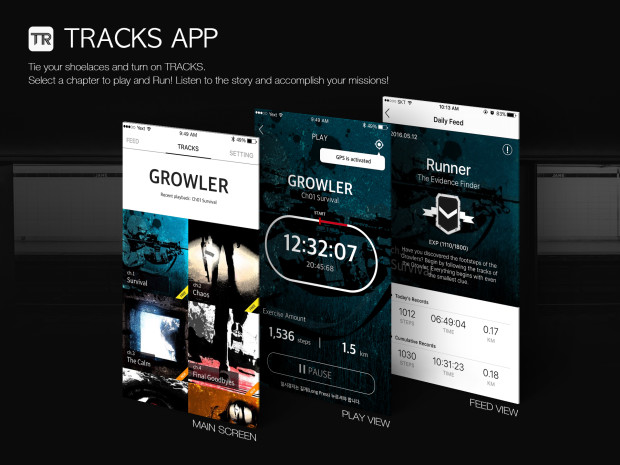 Ready to run?
Lace up your runner and open up TRACKS.
The platoon and growlers are waiting for you.
Step 1. Plug in your earbuds.
Step 2. Select an episode.
Step 3. Run and complete all missions.
Step 4. Check out your run results and ranking.

INTRO
Growler…
Although they take the shape of humans,
the Growlers are over 2 meters tall, wrapped in bandages, and black. They react to sound and heat, as well as hunt humans.
The Growlers are chasing, the buildings are collapsing.
Avoid all shells falling from the skies.
The road you run becomes an action film scene with total 15 episodes of Growler series. The episodes present a variety of missions featuring sessions of sprints, shocking, intervals, and more of the most efficient 10 types of running.
SOUND EQUAL TO A BLOCKBUSTER FILM
Our focus was on creating the most realistic in-app sounds to make sure you run.

POINT 1. Same sound production process as foley

Realism is the foundation of TRACKS.
TRACKS's main focus is to make scenes come true in runners' minds without the visuals. To achieve this, we used the same workflow as the film makers, foley. TRACKS is an experience beyond audiobooks.
Imagination was evident in our sound design stages in order to make all scenes as realistic as possible. Each scene and movement in our visualizations were recreated with sound that we believe would happen.
Imagine a scene where growlers invade an army base from the ceiling. As the glass and the lights come crashing down, all background noise except the cracking sounds are eliminated. We then play the collapsing sound in reverse to create higher tension followed by a soundless void that gets you to stop and listen.
When the growlers enter the scene, they come in with the whoosh sound in the background. Detailed sounds from their entrance like the falling debris and the cracking of the stone floor are layered to showcase the growlers' landing movements.
Find the final product of all combined sounds we've mentioned above here.
Test out our sound and jump into the scene itself.
As if you are watching a film,
feel the surround sound from the growlers chasing,
feel the gunshot whizzing by your ears,
but you only need your earphones.
TRACKS, your sound blockbuster.
POINT 2. Run, as if you are watching a film.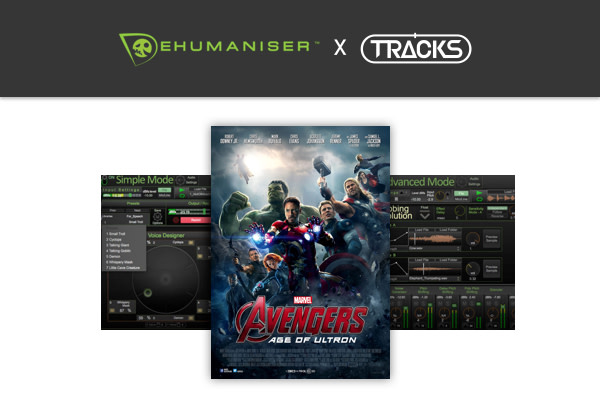 Growlers' sounds are all created with "Dehumanizer Pro" for its high quality. Dehumanizer is used to create sounds for Marvel's "Avengers: AGE OF ULTRON" and the upcoming Disney film, "THE JUNGLE BOOK".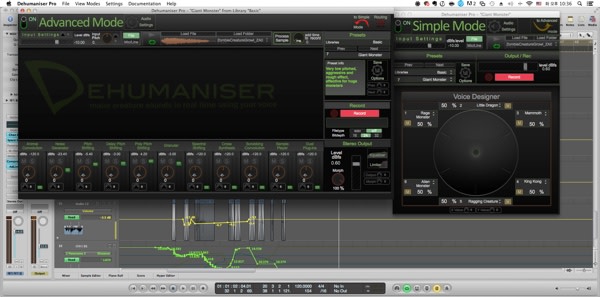 < Dehumaniser >
Dehumaniser is a vocal processing software that can create realistic monster sounds in real time. It does not utilize samples and therefore designs a situation-specific sound.
POINT 3. TRY TRACKS NOW!
We recommend you to open up our first episode, "GROWLER" in the early evening when the sun sets and the dark night begins.
Let your body listen, feel, and react to the growlers chasing after you.
RUN! GET THE MOST HONORABLE RANK.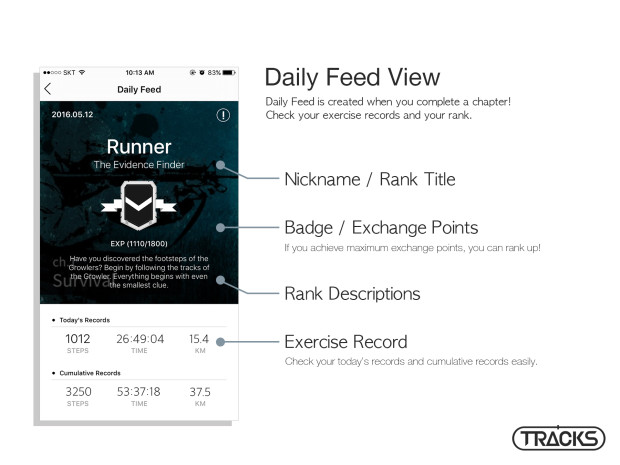 After you accomplished each chapter, your personal running data and rank will be recorded on a Daily Feed. You can easily access not only your today's data but the amount of yours.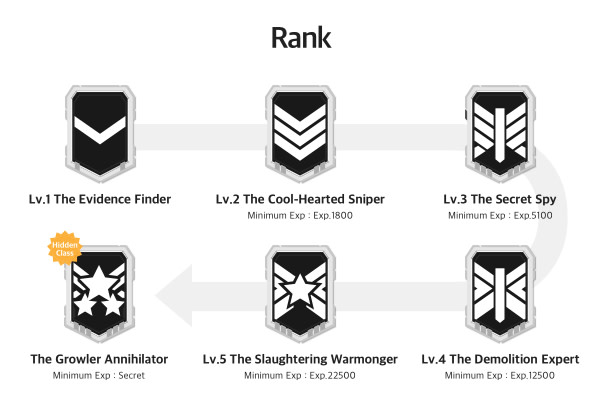 Our rank system is divided as six levels including hidden class. You will get a rank called The Evidence Finder as a beginner.
As you accomplish your chapters and gain more points, you can get a higher rank like The Secret Spy, The Demolition Expert, etc. Also there is a hidden class you can't get if you're challenge your limits and get a most honorable rank, The Growler Annihilator.
Rank up and be one of the leading lights in the defense force.

Those who want to beat running boredom.

Those who love jogging or running.

Those who are training for marathon more fun.

Those who want to run efficiently.

A Voice actor or voiceover artist. Or who want to be!

Even those who want to enjoy a sound from your speakers. lol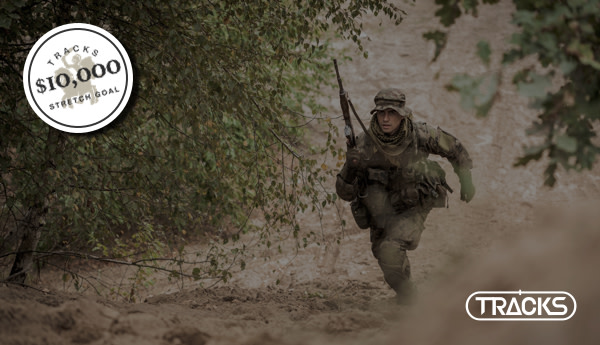 $10,000 USD Achieved.
If we reach $10,000 there will be one extra Basic Membership Coupon for every single Backers who got more than $5 perk.
Fight against the Growlers with your friends!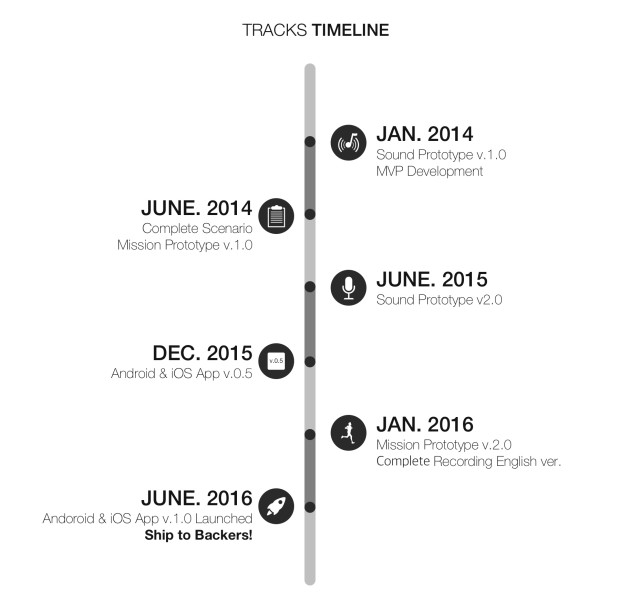 KEEP FOLLOWING OUR STORY
Don't miss out! Get updated with TRACKS.
THANK YOU! We cannot wait for making sure you run.
Check out our limited perk and be the first one who meet GROWLER!
Are you interested in a sound advertisement or B2B Plan?
Don't hesitate to
contact us
with unsolicited services or offers!
FAQ
FAQ is updated during crowdfunding period. If you have any questions, don't hesitate!
1. When TRACKS App is available?
Tracks App is almost developed and It will be available in end of JUNE 2016!
It will be available at Appstore and GooglePlayMarket.
Thank you for your interest and please wait a little time!
2. When the beta testing program start?
Tracks' beta testing program starts in this weekend.
We'll send all contributors an invitation mail, please wait a little more!