iCrowdNewswire - Jun 20, 2016
Multi-Card Coverage: Pro Tour
Create compelling live multi-card coverage and bring the best disc golf broadcast to your interweb.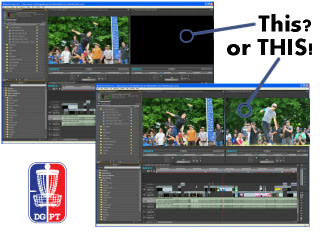 We want to make live disc golf broadcasts better. Multi-card coverage is one important step and you can help us get there. All of the money raised will go to making live multi-card coverage a reality. Are you tired of watching the jiggly walking camera follow McBeth walking down the fairway? We will show you the action happening on the second card and get rid of jiggly walking camera forever. In addition to the multiple commentators and integrated stats, multi-card coverage is the final step.
If you care, share!
If you care, please share via the buttons above the Perks, or copy/paste the URL, write it on a postcard, and mail it to a friend!
Short Summary
I'm Steve Dodge. I started playing in '87 and ran my first tournament in '89. Since then, I've dreamed of bringing the best players in the world to the mainstream. On June 23rd, we will start our journey. On that day, with your help, we would like to take a huge step forward with Live Multi-Card Coverage.
Building great DG events (MSDGC, Vibram Open) since 2004.
This dream, which I hope you share, is close to fruition.
If successful, we will help usher in the Modern Age of Disc Golf.
2016 can be game chaging, the year our sport turned the corner and became legitimate to the media, spectators and sponsors.
What We Need & What You Get
We need equipment, bandwidth and people. Two card coverage will cost just south of $10,000. Three card coverage, $20,000.
Bandwidth – $2,500: $500 per event X 5 events
Teradeck – $5,000 for Beam Transmitter via six channel cell signals
Cameraperson – $2,000 for 20 days of coverage (yes, way underpaid, but we are running thin and looking to the future)
The Impact
Your donation will improve live coverage for everyone and bring our sport to the mainstream faster.
Witness the death knell of jiggly walking camera.
Watch the player on the second card that is making a run.
Knowing the story, creating compelling coverage, pushing the envelope.
Risks & Challenges
In disc golf, this has never been done. We have an amazing team in place that, with the correct resources, will be able to make this work. The team at Smashboxx TV have over a decade of experience in covering live disc golf. Additionally, with Joe Hite and Jamie Thomas, we have put together a great editing team and amazing talent.
We are ready and capable to make this happen.
Your help will give us the opportunity.
Other Ways You Can Help
Some people just can't contribute, but that doesn't mean they can't help:
Please share our campaign with your friends.
You can even use the IndieGogo tools to share across multiple platforms.