iCrowdNewswire - Jun 20, 2016
BabyBit: The Baby Monitor That Keeps You Connected
Stay connected, even when you can't be there.
We've reinvented the baby monitor with working parents in mind. BabyBit is a small wearable sensor you snap onto your baby's clothing. It connects through your caregiver's smartphone and sends you updates and notifications throughout the day about the things you want to know.
BabyBit was designed with one goal…to give new parents the information they need throughout the day when they can't be with their baby.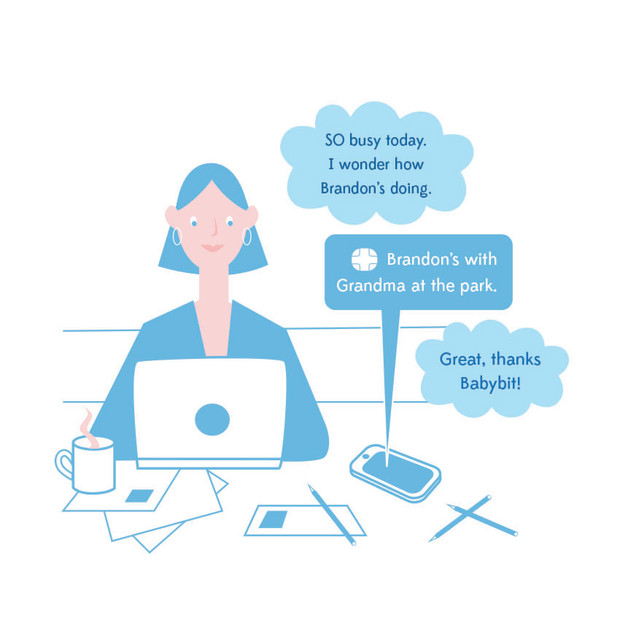 We use notifications to let parents know when something they care about is happening. For example, when grandma picks up the baby from daycare mom gets a notification. We felt that telling mom every time the baby cries undercuts the caregiver and creates tension. Instead, mom sets the amount of time she wants to give the caregiver to attend to the baby and BabyBit only notifies her when that time is exceeded and she would want to get involved.
We set up a series of these configurable notifications so parents can choose what is important and what should cut through the noise of the day. The BabyBit app gives you additional detail when you want it.

"It's Tuesday at 2 PM, where's my baby? With BabyBit I know…" Katie G.
"I run a daycare from my home. I come highly recommended in my area. It's not always an option for family and friends to watch your children…first time moms (I work for three of them) are nervous and I understand them wanting to take every precaution. This product is a good idea." Emily B.
"It's a pretty simple mechanism, but it's one no other device has done. And if it works, it could be an important addition to the current market. "


"Using the sensor and app, parents can monitor their child even when the child is in someone else's care."

"Using this sensor, we would know the temperature of the infant in the car seat, and we could adjust the climate zone…"

"…Keeps parents appraised a child's location, body position, temperature and also the caregiver's status."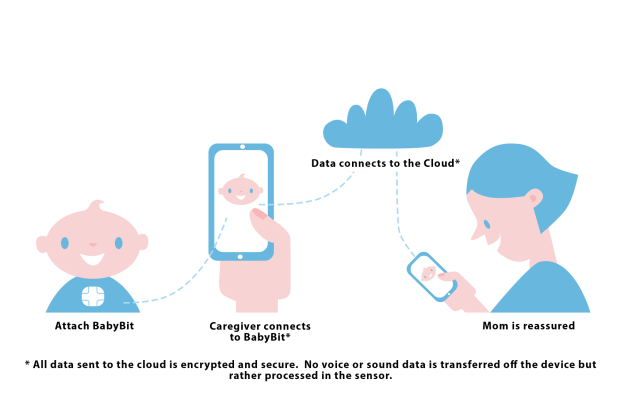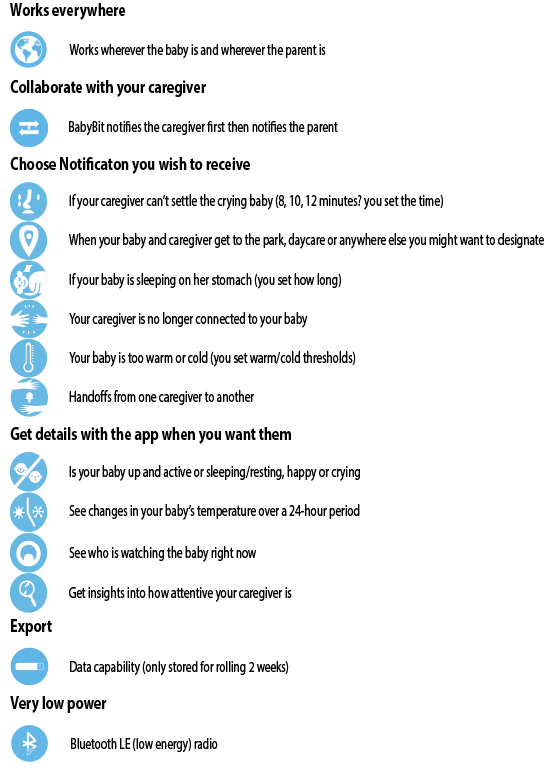 Our Story
Every parent has a story of a time they wish they knew what was happening with their baby. Our personal experiences were part of what led us to develop BabyBit. Founder Brian recalls a time when a babysitter planted his children in front of the TV and spent the next four hours asleep in their guest bedroom. Co-founder Jonathan's wife once came home to find a strange baby in their home. It turned out that her nanny had been leaving their infant unattended for 30 minutes each day so she could pick-up another baby and care for them both in Jonathan's home. In both of these cases, a technology like BabyBit would have notified the parent if the baby was crying for a long period of time, and that the caregiver was not in proximity.
Every year one million moms return to work within two weeks of giving birth… With 9 children between us, the idea for BabyBit emerged when we started to think about the stress new parents face, especially new mothers, when they return to work – often much earlier than they would like. We asked ourselves, if we can't wave a wand and create more family friendly work practices, what kind of technology could help create peace of mind for parents who have to be away from their babies?
BabyBit is neither a higher tech baby monitor nor a medical device. It's a tool that provides insightful, actionable information, to both parent and caregiver so they can work together to keep baby safe and happy. The app has additional in-depth information a parent may want.
Specifications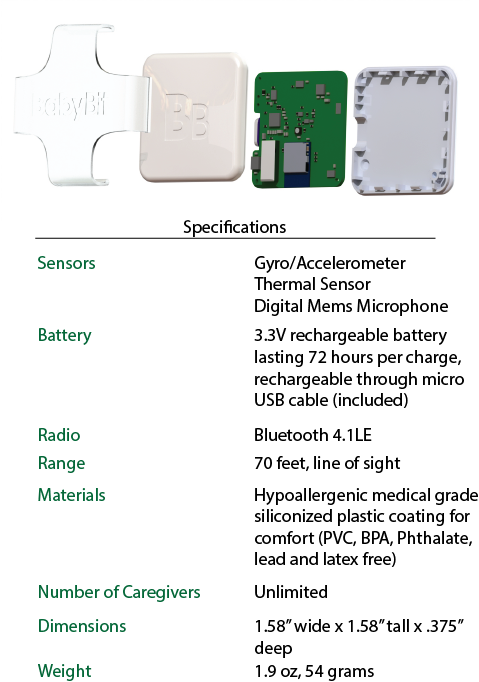 Timeline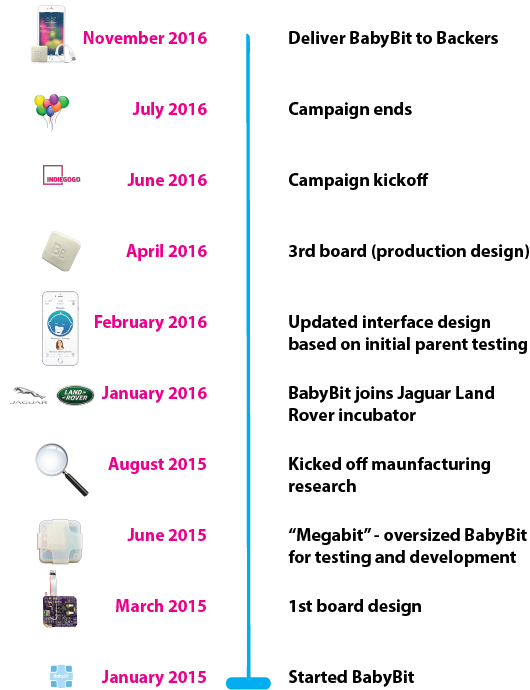 Choose Your Perks
WHY ARE WE CROWDFUNDING?
We know that there are millions of families out there that can benefit from BabyBit but we need your help to get it into the hands of the public. By taking part in this campaign, you will help us fund tooling and our first production run and you'll be the first to receive BabyBit. We can't wait to bring this product to market and we thank you in advance for your support!
How We Will Use The Funds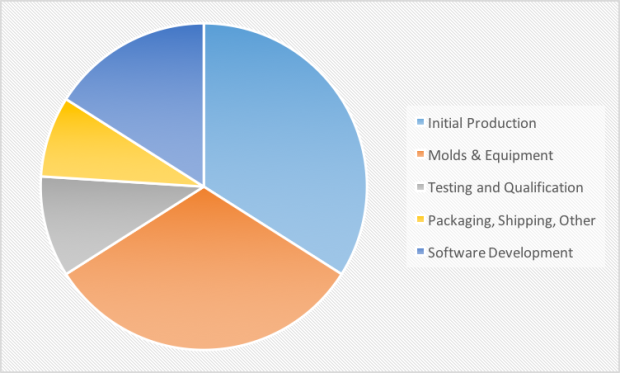 The Team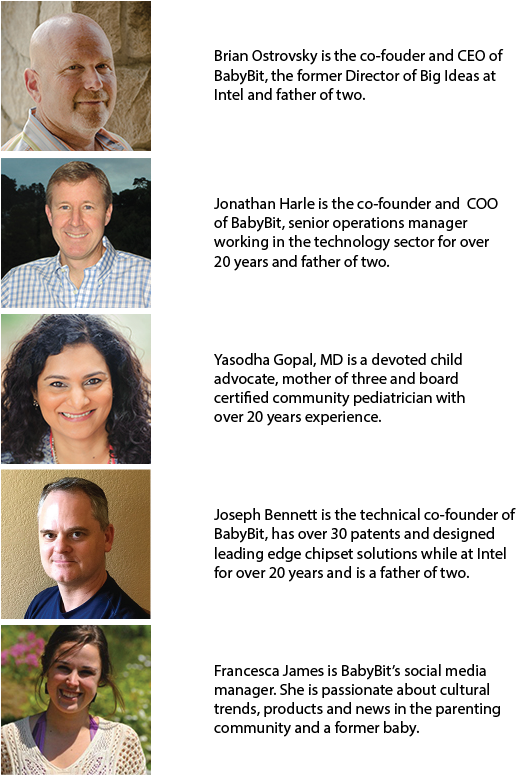 Even for long-time technologists, moving a product from concept to full production will have its challenges. BabyBit is no exception, as we've already navigated some unexpected hurdles and successfully handled a few surprises along the way. Our team has planned for multiple scenarios and chosen some of the most experienced partners out there to minimize potential risks. Other unanticipated issues may arise, but we intend to provide frequent, timely updates for our supporters and do everything to ensure that BabyBit is delivered on time.
We have identified two risks we want to call out:
Manufacturing
We need to ensure we can produce BabyBit at scale and deliver it on time to our customers. To this end, we have developed relationships with several manufacturers and logistics providers, both national and international, to allow us flexibility in choosing where and when to manufacture and how to ship to best meet customer demand. The final direction will be chosen based on the success of this campaign.
Range
BlueTooth LE has a range of over 70m (line of sight). As with any wearable technology, buildings with thick walls or wire mesh in the walls can create problems with reception.
FAQs
1. How does BabyBit work?
BabyBit is a wearable sensor that connects to the cloud and provides updates to your smartphone via our BabyBit app. You can be up and running in four easy steps:
Step 1: Parents and caregivers download the BabyBit app and configure notifications for events they would like to track (such as when a new caregiver takes over or the baby is sleeping on her stomach).
Step 2: Caregivers request permission from the parent (via the app) to connect to the baby's sensor.
Step 3: Clip the BabyBit sensor onto baby's clothing and ensure it connects to parents' and/or caregivers' phones.
Step 4: That's it. BabyBit will now continually monitor baby's environment and send notifications as needed. To get detailed, up to the minute information, parents can launch the app.
2. Will the app allow you to monitor more than one baby at a time?
Of course! You can track more than one baby at a time (each would require her own BabyBit), as a parent or caregiver. Furthermore, we're planning to build a daycare-focused solution for a future release.
3. When and where can I get one?
Currently, BabyBit is available only to our Indiegogo supporters. We plan to ship BabyBit to our supporters in November.
4. How much does it cost?
BabyBit will sell for $159 in retail. There is no additional expense for the first 2 years of usage. After that, if you would like to continue using the notification service, there will be a $15 per year charge. BabyBit will continue to work locally without the cloud service at no additional charge.
5. Can you tell if someone removes it from the baby?
Yes, BabyBit uses temperature and movement data to determine whether the sensor is attached to baby's clothing. Both the caregiver and the parent will be notified if the sensor is removed.
6. Does BabyBit give you the baby's exact location?
BabyBit is not a tracking device. Because the sensor is connected to the caregiver's phone, we can use the location of the phone to know where the baby is. We provide a map with the location of the caregiver (only the parent phone can see this and only when a caregiver is connected to the baby) as well as the ability to setup notifications when the baby is at places you might want to be notified of such as the park, daycare or home.
7. Should I be concerned about putting BabyBit on my baby?
BabyBit uses an extremely low power networking technology (Bluetooth LE) that has been FDA-approved for medical devices, making it the lowest power, safest networking technology available for wearables and only a tiny fraction of the energy emitted by a cell phone or WiFi.
8. Can it be hacked to listen in or get a video feed?
No device is completely safe from hackers. However, we have designed BabyBit to ensure the privacy of users to the greatest extent possible. Data is analyzed locally and the sensor does not transfer audio or video, so nobody can get a feed or spy on your baby. All data is encrypted and only registered parents have access to the cloud data.
9. Has BabyBit been tested on real babies?
BabyBit has been worn by real babies and is continually being tested and improved. We are currently on our third board design and have high confidence this version will be our production design. This BabyBit is being tested as we speak.
10. Why has Jaguar Land Rover invested in BabyBit?
We are thrilled to be part of the inaugural class of the Jaguar Land Rover (JLR) incubator. The partnership is moving BabyBit forward, particularly for capabilities related to car connectivity.
We, along with the JLR engineers have developed a prototype application that allows the vehicle to recognize when a baby has been left in the vehicle with no caregiver. The vehicle then turns on the HVAC system to keep the baby safe and comfortable and alerts the parent with location and temperature information. If no one returns to the vehicle in a reasonable time or the vehicle gets too hot or cold, the vehicle can alert the authorities with the location of the baby.
11. How does BabyBit attach to the baby's clothing? Can it work with any outfit?
BabyBit clips to any onesie or shirt with material thickness of 1/32″ (a typical cotton onesie) up to 3/32″ (a thicker flannel material) and will not damage the baby's clothing.
12. How long will the battery last?
BabyBit should last 3 days on a single charge. It will send a notification to the caregiver and parent when it requires recharging (at about 25% charge remaining).
13. What happens if my baby puts BabyBit in her mouth?
As parents we know this is a "when" not an "if." We have designed BabyBit to be baby safe. The materials are PVC, BPA, phthalate, lead and latex free, durable and FDA approved for skin contact. It has also been tested to ensure it is not a choking hazard and it's dimensions exceed 1.25″ on a side ensuring it will not pass through a choke tube.