iCrowdNewswire - Jun 18, 2016
BelovedIvan the Gorilla Statue
Learning from his legacy to protect gorillas worldwide
BelovedIvan: The Legacy Statue
Ivan the Gorilla® was a Northwest icon whose memorial installation will inform visitors about gorillas and inspire their preservation.
My name is Douglas Granum, a Northwest artist. Working with not-for-profit Friends of BelovedIvan, I am creating the sculpture of the famous "Shopping Mall Gorilla" to honor Ivan's life and legacy, and to inspire future generations to participate in the preservation of gorillas in their natural habitats. Ivan represents the true nature of gorillas — intelligent, patient, herbivorous, endangered, and in great need of our conservation efforts.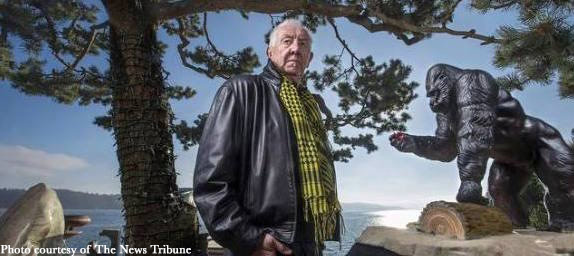 You Can Be Part of Ivan's Legacy
We invite you to help us raise $20,000 to complete Ivan's statue. The full-size bronze sculpture costs $250,000, most of which has been given by foundations. We think it is important for the community to share ownership in this groundbreaking project, so we invite you to be part of it! The sculpture is based on a photograph taken of Ivan examining a flower during his first day in an outdoor home. The sculpture is created by cutting-edge 3D printing technology, and each bronze piece will contain Ivan's ashes.
The Impact of the BelovedIvan Statue
When Ivan was in Tacoma and Atlanta, he was adored by many visitors who were influenced by him. Most people now don't have the opportunity to see a gorilla in real life. Ivan's story, told with his statue, illustrates the compassion between humans and gorillas. This permanent installation will allow generations of children to interact with Ivan's statue and learn from his legacy.
BelovedIvan will be a safe way for children to learn about gorillas. The 6.5-foot-tall tribute to this Western Lowland Silverback will be placed at the entrance to the Point Defiance Zoo and Aquarium where over 600,000 annual zoo visitors will interact with it, having the opportunity to experience the majesty of a Silverback Gorilla in bronze. We want him to be touched, photographed, and appreciated.
All gorillas are endangered. Ivan's unique existence taught us profound lessons about the true nature of gorillas and the need for their conservation.
Ivan's human family asked me to create this sculpture because my artwork allows future generations of visitors to become familiar with the rich lessons of the past.
The Process is Unique in Using the Newest Technology for Fine Art
See the bronze pour in this different video below:
We Need Your Help!
Backers may select from exclusive BelovedIvan memorabilia and event attendance leading up to the installation in fall of 2016.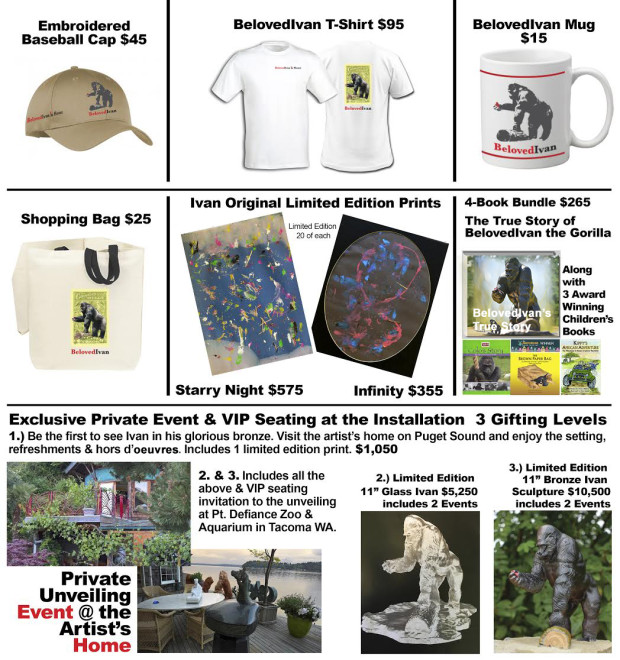 Overall Fundraising
Funding prior to Indiegogo has reached $175,000 — given primarily by foundations. These funds from individual donors will be used to pay for the completion of Ivan's casting in bronze. The preparation of the installation site is still being assessed by the zoo and may exceed the original budget. Any surplus funds fund-raising overall, however, will be donated to Pt. Defiance Zoo and Aquarium, Ivan's new home. A percentage of crowdfunding will benefit the Cincinnati gorilla: "Honoring Harambe" Mbeli Bai Study of WCS Congo for wild gorilla conservation.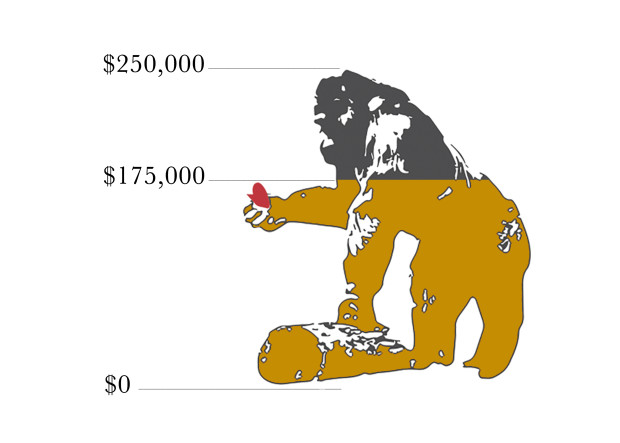 BelovedIvan's Community Partners Include:
Metro Parks Tacoma
Greater Tacoma Community Foundation
"The News Tribune"
Point Defiance Zoo and Aquarium
Gary E. Milgard Foundation
Bamford Foundation
Dimmer Family Foundation
Ben B. Cheney Foundation
Two Ravens Studio & Art Foundry
Form 3D Foundry
Irwin and Johnston Families
Zoo Atlanta
"Gig Harbor Living Local"
"South Sound Magazine"
"Tacoma Weekly"
"The Seattle Times"
"The Miami Herald"
Ms. Copeland's 3rd Grade Class, North Carolina
Other Ways You Can Help
Learn more and share your Ivan Story at BelovedIvan. Join us on Facebook and Twitter – share the news of your donation using #FundBelovedIvan!

"No one who looks into a gorilla's eyes — intelligent, gentle, vulnerable — can remain unchanged, for the gap between ape and human vanishes." – George Schaller