iCrowdNewswire - Jun 17, 2016
Runcible
The Circular, Extensible, Anti-Smartphone.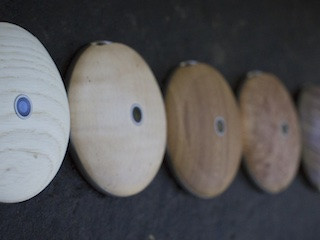 This version of Runcible features a Snapdragon 410 Quad-core processor, WiFi, Bluetooth, GPS, 1GB RAM, 8GB eMMC 5.0 Flash storage, Rear-facing Camera, BuniOS (based on the Android 5.1), and exposed GPIO and USB Host for further expansion and innovation by us but also by YOU. Note that LTE/4g connectivity is a goal but not a certainty for this version (see "challenges" below). If LTE doesn't make it into this initial version, it will be a simple upgrade shortly afterwards, not a replacement!
The Mission
We have spent the last year designing, re-designing, and sourcing components for this initial Runcible release. While this device isn't yet the polished, "available at best buy" kind of consumer electronic we know it will one day be, it is useful, playful, powerful and truly something new.
Funds from this campaign will go to further polish and hone the process of creating Runcible as scale in a sustainable, responsible way. We are keeping it local. The wood backs come from sustainably harvested trees in Mendocino County, California. The device will be made right here in the Bay Area by people who live and work here.
Every dollar this initial release generates will go toward making Runcible cooler, better, and more available.
Why are we funding this way?
The design and engineering needed for Runcible have been complex and often very expensive to do. We have a terrific design for mass production today, but there is a chicken and egg problem: we want to get a solid platform into your hands as quickly as possible, but we don't want to be tied financially to people who didn't necessarily share our values and vision for Runcible's future. We have concluded that appealing to you, the audience, directly was the best approach, though the mixed results so often associated with crowd funded hardware are all too clear to us.
Risks & Challenges
One of the biggest challenges we face with putting Runcible into production is with wireless connectivity and wireless Operators. Depending on how much you know about this industry, you might have noticed that Runcible doesn't come pre-associated with a wireless carrier. It's critical to us that we are not locked into one region or another. This goes against the normal model in the wireless industry and we expect this to continue to be an uphill battle. We feel that Runcible has to be about choice though, first and foremost. We'll be honest because there is no reason not to be: for this release of Runcible, LTE data connectivity will be a bit of an adventure. We will make some options available though, especially if you are willing to work with us in different regions of the world to test and pilot connectivity options.
Other Ways You Can Help
If you like the concept of Runcible, turn that into action. Even if you aren't able to get a device right now, you can download the developer tools and play around. Join the community, file bugs, tell a friend, come have fun with us and let's change the mobile world together!
Runcible Specs
Some aspects of the Runcible hardware stack are still works in progress and subject to small amounts of change, but the vast majority is locked down today:
Processor: Snapdragon 410 quad core, ARM® Cortex® A53 (64bit, 1.2GHz) Qualcomm® Adreno™ 306 GPU with OpenGL ES 3, Qualcomm® Hexagon™ v5 DSP
Memory / Storage: 1GB LPDDR3 RAM (533MHz ) / 8GB eMMC 5.0 Flash
Wireless: Wi-Fi 802.11b/g/n 2.4 GHz single band, Bluetooth 4.1, 4G/LTE Data (hopefully)
Display: 2.5 inch, 640×640 fully round screen at ~256dpi
Camera: Rear-facing, 7MP camera (support for up to 13MP for hackers)
Audio: 1x Analog In / Out (other audio I/O options available on the main board)
Other Interfaces: 1x USB 2.0 (client or host), 2x BLSP 4-pin port configurable as I2C, SPI, UART or GPIO
Location: Qualcomm® IZat™ Gen 8C GPS, GLONASS
OS Support: BuniOS (based on Android 5.1), Linux
RoHS compliant
Runcible is sustainably made in California