iCrowdNewswire - Jun 15, 2016
ROXs – real life gaming console
ROXs gets kids away from screens and makes them move. Picture playing Super Mario in the backyard.
Finally a way to get kids away from screens: real life gaming.
ROXs gets kids away from screens and makes them run and play around in real life again.
"..it's like playing Super Mario in the backyard.."

The facts are clear: Kids these days don't move enough. They spend way too many hours in front of screens and too little time running, moving and playing around in real life.
Everybody is aware of this problem, but so far there are no convincing product solutions that successfully engage millions of U.S. kids in more physical activity.
That's where A-Champs comes into play. The idea is to give kids products that entertain them in the same way video games do – but offline, away from screens.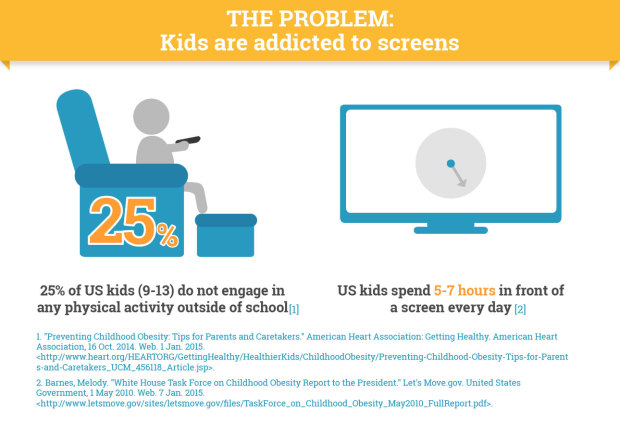 ROXs uses technology and digital gaming concepts – the two elements that make kids stick in front of screens – to get them to run, move and jump. Unplugged.
Competing products that claim to achieve the same effect – like kids' activity trackers – use rewards in form of unlocking online games and activities to stimulate movement. With ROXs the activity itself stimulates kids to get active. This is calledintrinsic motivation: kids run, jump and move around because the game is just so much fun. Plus they can use their imagination to set up their own game scenarios. And this is exactly the secret to engaging kids.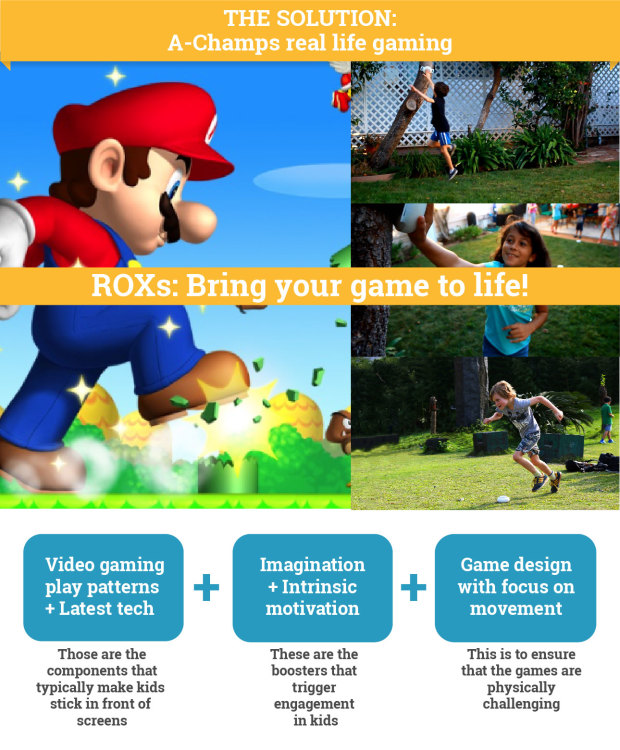 Check out high praise for ROXs:
TechCrunch: One of the top 5 kids tech finds from CES, ROXs "gets kids physically active in a challenging and fun way."
Mashable: One of the "…coolest gadgets for Generation Z from CES 2016."
Kidoz: A top 5 kids' gadget from CES: "gets kids moving and playing off-screen."
Popzara: The "sensors are exceptionally durable and withstand being hit, thrown, stepped on and more."
Teachers with Apps: "It is play based technology at its best.. The possibilities for facilitating visual motor skills are endless, and included is a strap that kids can place the ROXs inside to attach them to a tree, shelf, or themselves. This is one tool designed for moving families and therapy clinics everywhere."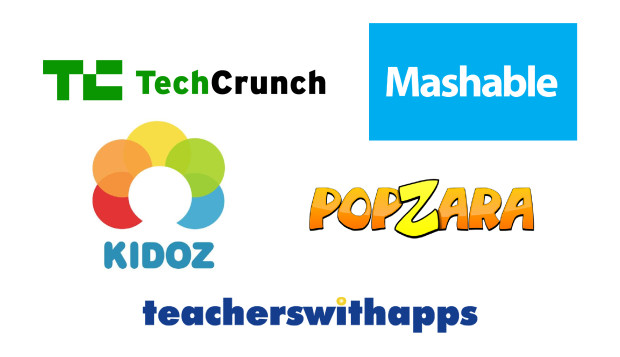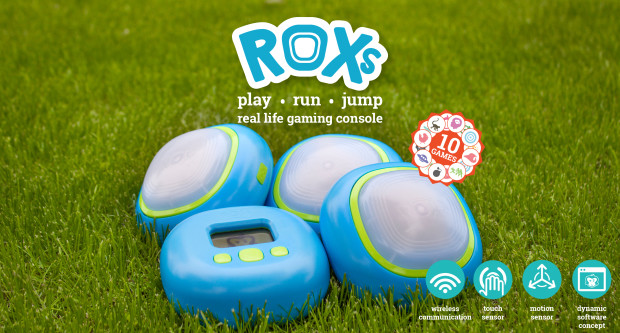 So what is ROXs?
ROXs is the world's first real life gaming console. It consists of wirelessly connected, super durable high-tech pods. Each ROXs has several smart sensors inside and comes with different sound and light effects.
The basic set comes with 3 ROXs, a controller with a bunch of pre-programmed games on it and 3 holsters and straps to fix ROXs to any kind of object or person.

How to play?
To start to play with ROXs, select a game and one of the 50 player profiles.
Then, put ROXs on the floor or use the straps to fix them to any object you can think of.
On go one of the ROXs will start to flash and to make a sound. For example like a Chicken in our Crazy Chicken game. You then have to run to the chicken and tap it. Once you did, another one will start.
Here is how to catch the Crazy Chicken:
So you are basically running like crazy between those ROXs, trying to catch as many chicken as you can, as fast as you can.
The controller counts your time and score so you can try to beat your friends or your own high score. Just like in a video game.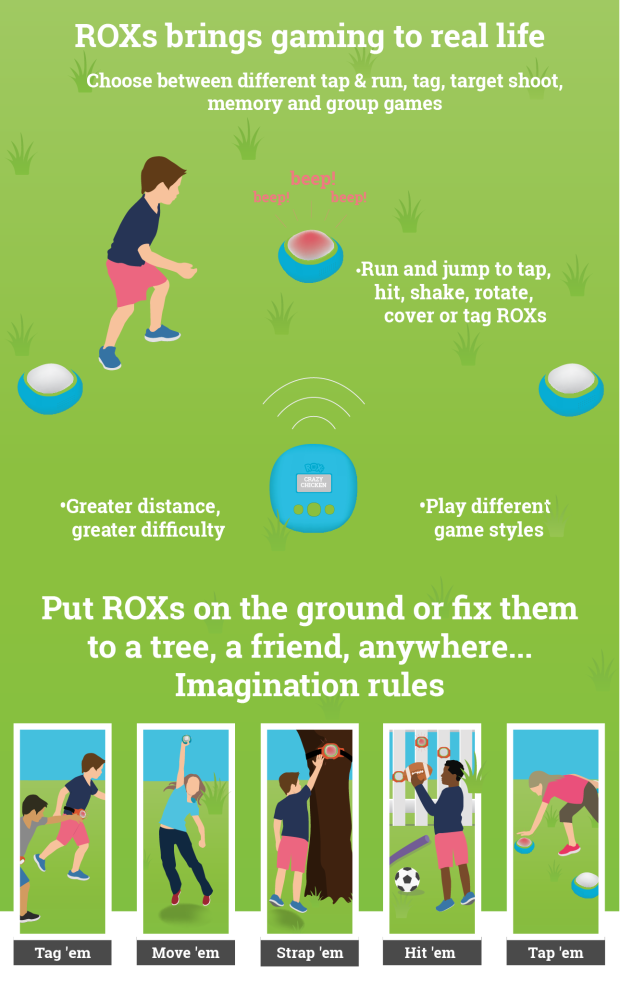 The beauty of ROXs is that it is very versatile. There are different game categories:
In the initial ROXs configuration there are 10 pre-programmed games. The dynamic software inside ROXs makes it possible to download new games lateron.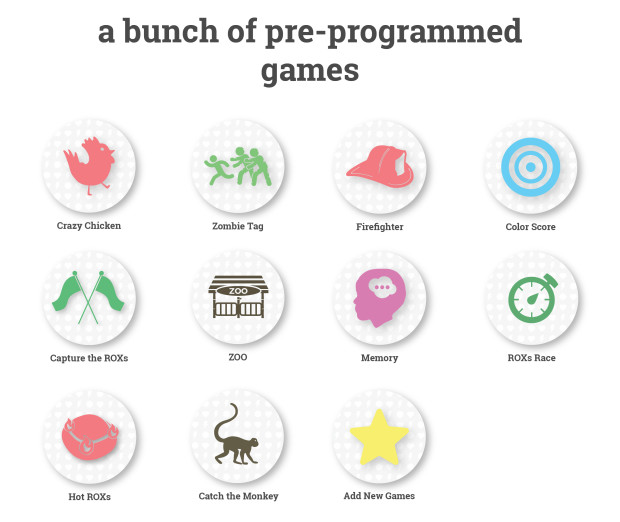 Simple game concepts: easy to learn – hard to master.
All ROXs games are deliberately designed to be simple and meant to stimulateinformal, active play.
They do not require a lot of instructions and are in line with the simple game concepts that kids know from their beloved digital games.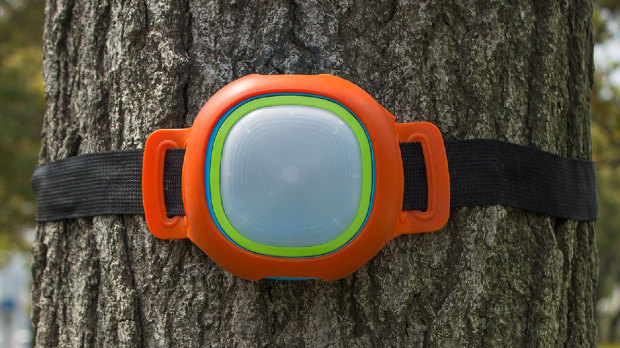 Imagination rules.
The cool thing about ROXs is that kids can use their imagination to set up their own rules. One kid might just want to play ROXs on the floor, another one might want to strap a ROXs to a tree so that there is a jumping movement. Or kids come up with their own rules, for example that you have to jump like a kangaroo.
This is one of the main take-aways that we have from our testings that we conducted with more than 250 kids: What they really love about ROXs is that no game has to be the same.
Pure Action for young and old, coach potatoes and even athletes.
Even though ROXs is originally made for kids 6-10 it is in fact a game that can be played by the complete family. ROXs can be played alone, against each other or in group settings. We played it as warm up in CrossFit sessions and saw it being used in athlete's training. PE teachers love ROXs because they can use it to spice up their classes. Remember Capture the Flag? In 2016 it is Capture ROXs.
Kids love the product because it's pure fun and action. And it's a toy that both sporty and tech-savvy parents will feel good about giving to their kids. It's a great gift for girls, boys and families.

And here is what experts say about ROXs:
"The things I like the most about ROXs are that it can be played in all types of environments, it encourages healthy competition and creativity, and it's a digital game that is not a screen."
Ben Regan, Physical Education Specialist, Brent International School Manila
"What I find compelling about A-Champs is that while there's a growing market for digital toys, there does not appear to be any or much real competition for a line of toys that gets kids really moving, playing, sweating, laughing, etc.."
Stephen Gass, Play expert, President the GASS company
"It's really fun and exhausting. I beat my brother who is 2 years older. "
Ciara S., age 8
"Finally something that makes them go out and play like we used to when we were kids!"
Angela S., age 38
"Awesome product! Technology and action. I want to have a set for Christmas."
Chris H., age 42


ROXs Features.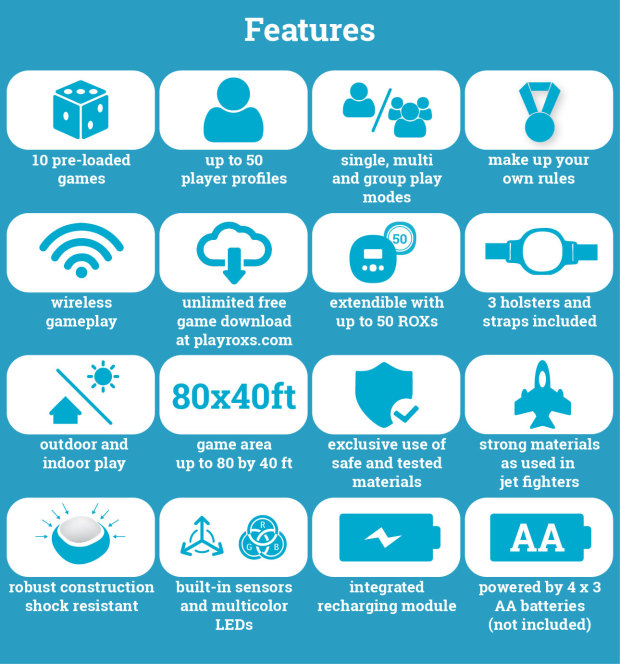 Technical Components & Material Concept:
ROXs is powered by latest technology to comply to the tech-saviness of the i-generation. Components are tested against strict chemical requirements, passed aging tests and are specially coated to ensure a superior long term performance.
Soft- and firmware are developed to be dynamic so that the ROXs system is upgradable and future proof.
Tech specs:
RF technology for wireless communication
Dynamic software concept that allows users to upload new games to the console
3D sensors
Touch sensors
Multi color RGB LED lights
6W speakers
LCD display for the controller
Recharging mode integrated
Tough & safe.
The material concept supports the high quality approach of ROXs and is based on our yearlong experience in building quality sports, toy and general consumer products. The focus is on safe components and maximum stability. The exclusive use of virgin materials ensures compliance to the most vigorous chemical requirements.
the top of ROXs is made of ultra strong PC, the same materials as used in jet fighters canopies;
the body of ROXs is made of a robust construction and is shock resistant;
the holsters are made of flexible and comfortable to wear silicone material;
exclusive use of safe and tested material components.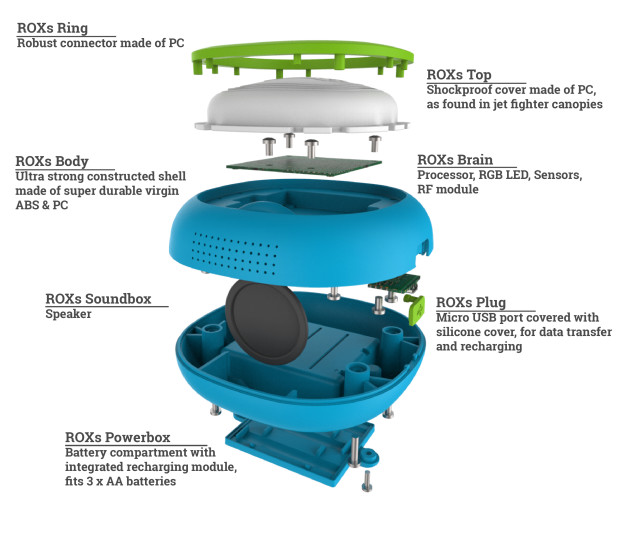 The Story behind ROXs.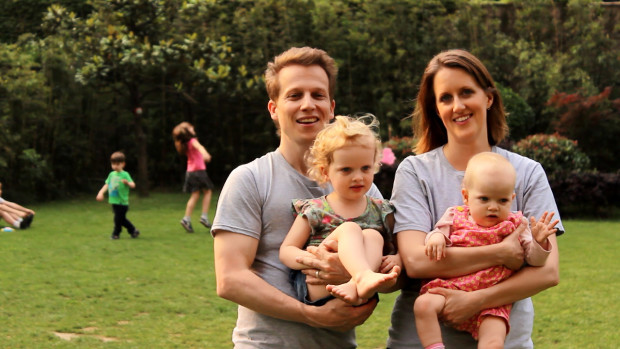 In 2008 Kilian and his wife Anika (both German) moved to China to start up a manufacturing and product development company. While the business quickly picked up Anika fell ill with breast cancer in 2008.
After a year of hardship and turmoil, the cancer fortunately went into remission. Sadly, according to doctor's evaluation, the couple's three planned children,"Rocco", "Fritz" & "Bo" won't be possible due to Anika's heavy exposure to chemotherapy treatment.
The positive thing of the story is a newly heightened awareness about the need to live a healthy lifestyle.
Around the same time Kilian received a customer inquiry for a foam dumbbell set for kids, to emphasize the importance of working out at a young age. "What a terrible idea" he thought to himself, but his interest was sparked.
What other kinds of "kids fitness" products exist on the market? He searched, but he was unable to find any viable solutions that really engages children into being active. His excitement rose as he dived deeper into the topic to find that there was an opportunity to combine his existing business with his concern for a healthy lifestyle.
Pretty soon the vision was clear: to finally bring to the market a solution to get kids moving. The idea for A-Champs – a global brand that helps kids to set the foundations for an active and thus healthy lifestyle – was born.
A crucial element of the A-Champs vision is to integrate a social component to the company by supporting a relevant non-profit organization. By doing so Kilian wants to thank the world for the most blessed gift it could have given him: his lovely, healthy wife gave birth to two beautiful baby girls named Polly & Pippa.
Not your average crowdfunding campaign.
Developing a tech toy like ROXs is hard. It takes a lot of time, skills, experience, resources, the right suppliers and lots of patience. Good that we know what we are doing.
Developing and manufacturing products that can be found on the shelves of the biggest global retailers is our daily job since more than 8 years.
Our vision to bring something to the market that helps to fight the kids inactivity epidemic exists already since quite a few years. But it took until 2014 to finally put together the team, resources, energy and focus to kick off the project.
Since then we have an international team of 6 people working fulltime on bringing ROXs to life. What makes our team great is that we have complementary skills in Industrial Design, Mechanical- and Electro-Engineering, Software Development, Production Management and International Marketing.
But at the end it is not so much about having a smart and great team on paper: it's about being experienced in how to design, develop and test a product that actuallycan be mass-produced. For a reasonable price. And then it is about being able to coordinate and manage a mass-production and to deliver a product that fulfills all market requirements and customer expectations. And this is our core competency.
The lack of this comprehensive knowledge is the reason why a lot of other hardware start-ups struggle. And it is also the reason why you – our backers – can rest assured that we are capable of delivering ROXs to you.
Check out the following two companies:
http://www.design2gather.com
http://www.sky-worldwide.com
A-Champs – the brand behind ROXs – is a spin-off of both of those organizations.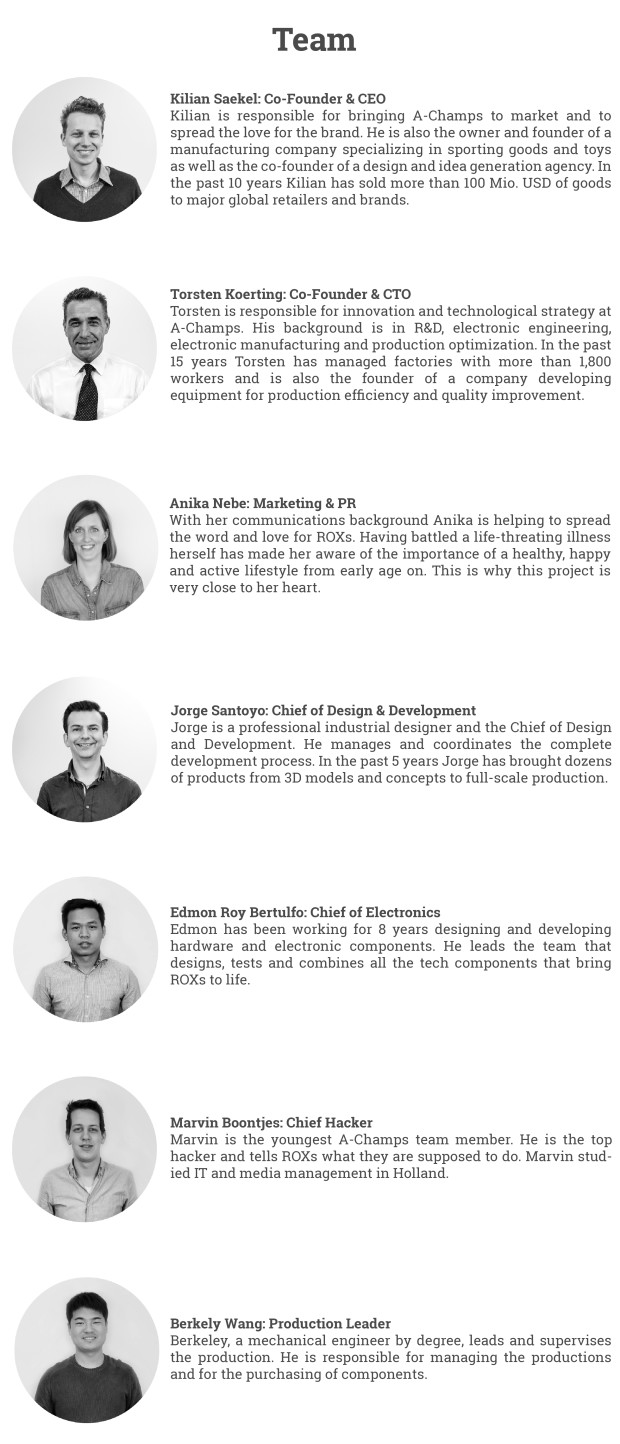 Development status.

Based on our production background we have integrated the manufacturing perspective right from the very beginning of the development process.
Whatever we came up with during our concept phase was firstly validated for producibility and for compliance to safety, stability, testing, cost and usability requirements.
This process is painful and takes time, but it eliminates the risk of developing something that finally can't be brought to market.
We spent the last 2 years plus all our savings to bring ROXs to life. Now, thedevelopment is finished, molds, hard- and software are ready and the manufacturer – with whom we already work since many years – is only waiting to get the go-ahead to start producing.
The Development from a wired, Arduino based plastic box to the world's first real life gaming console:

The molds are finished: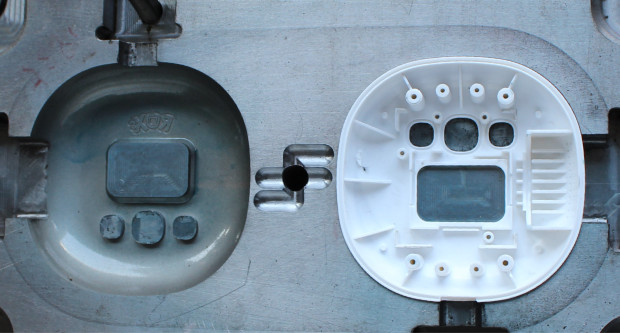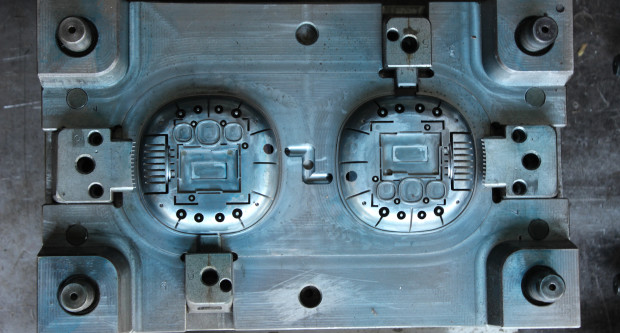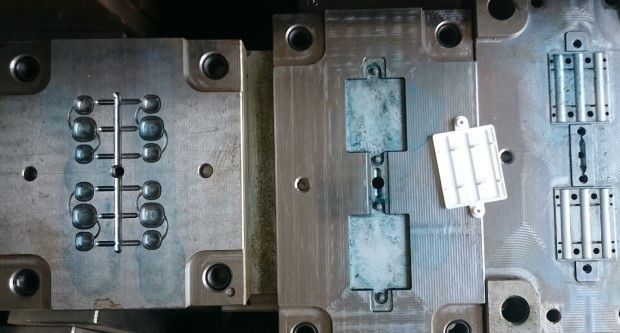 The factory is only waiting to get the go to start the production: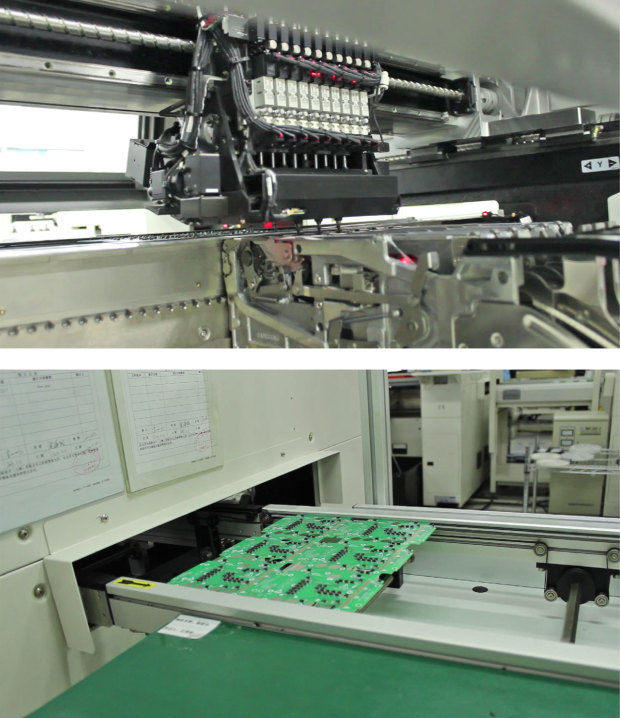 Fulfillment schedule.
We are ready to start production. Back us today and in October you will have your ROXs.

Use of funds.
The only thing we still need is your help to get the production started. Your funding will be used only on production and fulfillment related costs. No more development dollars are needed.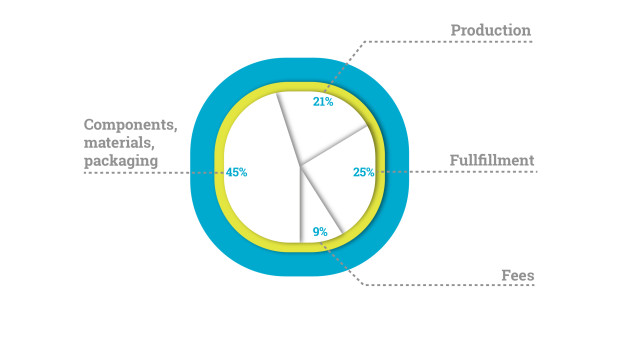 Bang for the buck: our perks.
Our mission is to #GetKidsMoving and by doing so helping them to set the foundation for an active and healthy lifestyle.
Based on the feedback that we received so far from kids, parents, teachers and industry professionals we are positive that ROXs will be a great success. So right from the beginning of this venture we want to share part of our success with kids in need. For every 30 ROXs BOXes ordered we will donate 1 set of ROXs to a charitable institution. We are currently still looking for cooperation partners, if you know a non-profit organization that cares about kids in need please contact us.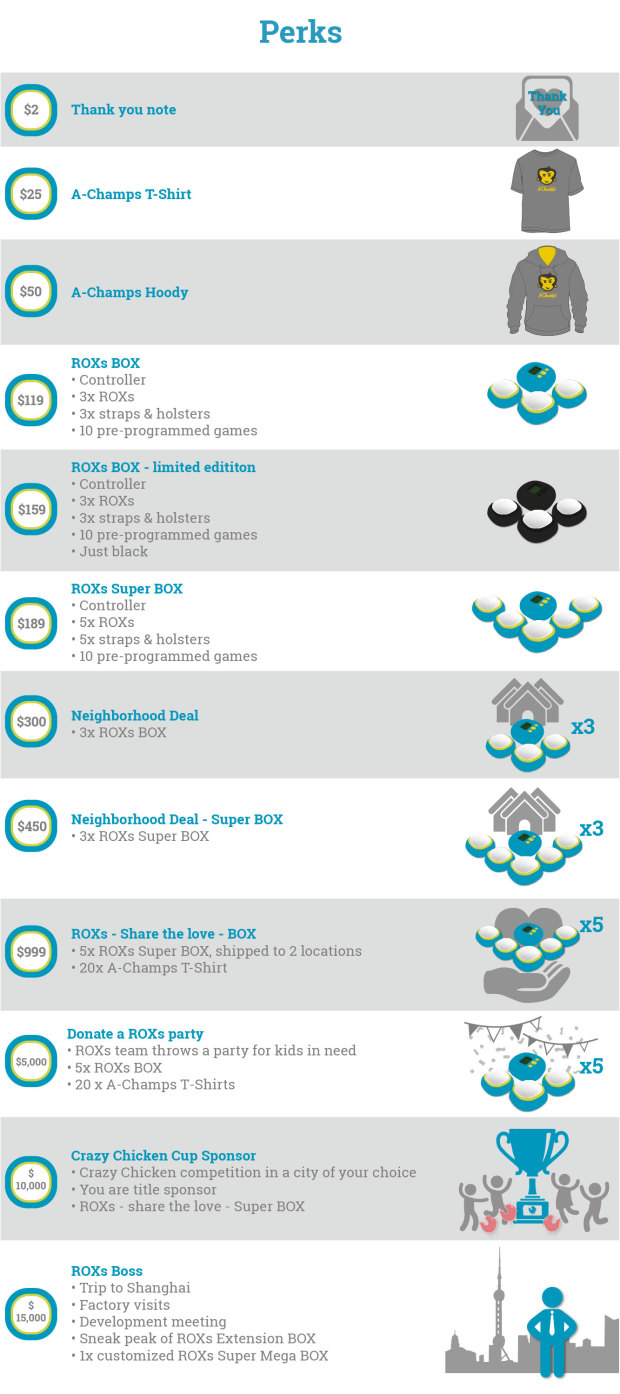 Please support us and help to make the world a fitter place.
If you want to support us but do not like to RUN, JUMP & PLAY with ROXs and also do not know anybody who would love to do so, get a shirt or a hoody. Or just make a little 2US$ contribution. Anything helps to get the momentum going and is appreciated. Even if it is only a post on social media or letting your neighbor know about ROXs while grocery shopping. Your voice counts and will help us to on our mission to #GetKidsMoving. Thank you very much.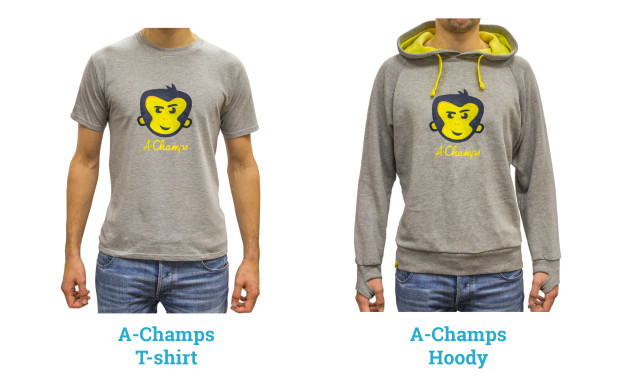 FAQ.
When / where can I buy ROXs?
ROXs is available for purchase via our Indiegogo crowdfunding campaign starting June 13th, 2016. Click here to view the campaign details and how to order.
Is ROXs only for kids? And how many players can play?
ROXs was created for kids ages six and up. But we found that it is a game for the complete family. Kids of all ages as well as grown-ups like the run, jump and play action. ROXs can support up to 50 individual players. You can either play by yourself, 1:1 against your friends or in a group. We have group play classics like Capture the ROXs and Zombie tag. And even the tap & go games can be played in a group. There are no limits, your imagination rules.
Can ROXs be customized?
One of the cool things about ROXs is that you can customize the game-play according to your rules. For example by increasing the distance between ROXs 2 players with different fitness levels can compete against each other. In this way both players can go to their maximum. There is no need for running half-throttle. ROXs can be placed anywhere within a 3,000sqft area and with the straps and holsters that come with ROXs they can be fixed to almost anything. Up to 50 ROXs can be added to the main game console for endless options.
Where can ROXs be played?
ROXs can be play indoors and outdoors, day and night, all year round. Any time, any place.
What are ROXs made of?
ROXs are made of ultra strong, safe materials. The ROXs top is made of the same material as jet fighter canopies (PC), the body is made of an ultra-strong plastic (ABS mixed with PC). The holsters are made out of silicone. All materials are virgin (=not recycled), which means they are safe and comply with strictest chemical standards.
How strong are ROXs?
ROXs are made to last. We know that kids will play rough with ROXs, so we made them extra strong. When constructing the shape, stability considerations were key. Kids can step on ROXs and ROXs can be hit with different kinds of balls. The material selection supports our stability and quality focus. Only super strong (and safe) materials are used.
Can more ROXs be added to a controller?
Sure. Up to 30 ROXs can be added to one control unit.
Are ROXs waterproof?
No, they are not waterproof. The construction is designed to protect the interior from rain and dirt. The electronics inside are especially coated to be corrosion and water repellent. So if you leave them out for a night – ROXs will be fine. But do not throw them into the swimming pool.
What is the play range?
For most of the games you can place ROXs up to 40 feet apart from the controller. That means if you are playing with the ROXs BOX set (3ROXs) you can have a game area of around 3,000sqft (40ft x 80ft if you place them in a triangle shape with the master between 2 ROXs). For some games like Zombie tag and other tag games there are no range limitations. You can play from Alaska to Key West (better bring some healthy snacks).
How do I turn on ROXs?
Turn on the controller by pressing the middle button and wait until all ROXs blink in blue color. Then tap those ROXs that you want to use for the game. After you tapped them, they will turn green, indicating that the controller "registered" them. If a ROXs does not turn green when tapping it means that this ROXs is out of reach of the controller. You then have to place this ROXs closer to the controller.
Can there be more games?
Yes, the software that powers ROXs is dynamic, so it can be upgrade at any time. This also refers to games, new games can be downloaded via www.playroxs.comonce the website platform is completed.
Can I adjust the volume?
Of course. There are 15 different sound volumes available.
Can I adjust the lights?
No, the light configuration is currently fixed to the relevant games.
How do they communicate?
ROXs communicate via RF (Radio Frequency).
What can they detect?
There are different smart sensors inside ROXs. They can detect motion, vibration, rotation and tapping.
What languages?
Currently the language on ROXs is English, but we are already working on 6 other languages.
Do ROXs work with an App?
No, ROXs is designed to work without the help of any smartphones, tablets or other screens. We want kids to get away from screens for some time.
How are ROXs powered? Do they run on batteries?
Yes. Each ROXs as well as the master controller run on 3 x AA batteries. The batteries are not included in the initial set.
Can I use rechargeable batteries?
Of course. We even integrated a recharging module in ROXs, so if you use rechargeable batteries you do not need to take the batteries out when they need to be charged. Just use an USB cable to connect to a power source and the charging can happen.
How long do the batteries last?
You can play around 12 hours with one set of batteries.
Do I need more ROXs if we are more players?
No. Most of the games can be played perfectly with the initial amount of 3 ROXs (or 5 ROXs for the ROXs Super BOX). For the tag games you can add more ROXs if you want to play with more than 3 players (5 for the ROXs Super BOX). In total you can add up to 30 ROXs to a controller.
How many colors are available?
Currently ROXs come in 1 color. The selection of the color is based on the feedback of more than 300 children, boys as well as girls. During our Indiegogo crowdfunding campaign we will also offer a limited edition in pure black. Depending on the demand we will be able to offer additional colors soon.
What's up with the chicken?
The chicken is not your average chicken. It is the crazy chicken, the main character of our signature game "Crazy Chicken". It used to work in an office but got bored staring at a screen all day long. Now it is with us and makes kids RUN, JUMP and PLAY like crazy.
If I have 2 sets, can I combine all the ROXs?
Yes, you can combine all the ROXs from up to 10 ROXs BOXes and integrate them into one big set. 1 controller will then control them. It is not possible (and not useful) to combine different controllers.
What if both of my kids have a set of ROXs and they want to play simultaneously? Will the sets interfere with each other?
No problem. When setting up a set of ROXs you "register" which ROXs should play with which controller. Once this is done the controller will know which ROXs should join the game and which ones should not.
Risks & Challenges.
Development & Manufacturing: Developing and manufacturing products is our daily business since 8 years. Our development team is located in Shanghai, China, in the heart of the world's factory.
Our team is producing for the biggest global retailers since years and is able to perform according to strict quality, delivery time and social compliance requirements. The development of ROXs is done hand in hand with the manufacturer. Surprises relating to a gap between development expectations and producability realities – one of the major reasons why other hardware projects fail – can be eliminated.
Reliability issues and challenges due to "cultural differences" between Western and Chinese ways of doing business can be avoided due to the fact that we already work with our manufacturing partners for several years. Plus we've all had our fair share of learning experiences (grey hair included) in the earlier years of our ventures manufacturing in China.
Shipment and Fullfillment: Here we are working together with well established international freight forwarders as well as local order fullfillment houses that understand to "drop ship" product directly to the end consumer. We leave this part to the logistics pros.
Marketing: This is our week point. So far we have been focusing on the development of the product rather than talking about it. And that's exactly why we are here: Please help us to reach out to as as many people as possible and let them know about ROXs and our mission to #GetKidsMoving.
About Customs, Duties & Taxes.
USA:
We take care of all import taxes, customs duties and taxes for you.
EU / China / Australia:
We take care of all import taxes and customs duties for you. You only have to pay your local VAT rate (Mehrwertsteuer) on top of the costs of your perks.
Other countries:
When ordering your ROXs, you're responsible for assuring the product can be lawfully imported to the destination country.
You are the importer of record and must comply with all laws and regulations of the destination country. Orders shipped internationally may be subject to import taxes, customs duties and fees levied by the destination country.
You may be subject to such import taxes, customs duties and fees, which are levied once a shipment reaches your country.
Additional charges for customs clearance must be fulfilled by you.
Customs policies vary widely from country to country; you should contact your local customs office for more information. When customs clearance procedures are required, it can cause delays beyond our original delivery estimates.
Customs offices in some countries require the importer of record to provide a particular form of identification before releasing a shipment. You may be required to provide an identification number such as a Unique Identification Number, CPF, or Tax ID.
Countries that require an identification number include: Brazil, Chile, Ecuador, India, Israel, Peru, Qatar, South Africa, South Korea, Taiwan, and Turkey.
Please let us know your ID if you think it should be included in the shipping info.