iCrowdNewswire - Jun 15, 2016
Olfactive Studio Fragrances New Bottle Design
Participate to the creation of a glass mold for the Olfactive Studio Fragrances new exclusive bottle
Olfactive Studio is a Unisex, high-end, premium quality collection of 9 (10 soon) fragrances inspired by photography.
Since 2011, Olfactive Studio enjoys great success in over 30 countries worldwide, but it remains an artistic and confidential brand. It's sold exclusively at Barney's department stores in the U.S., at the Jovoy perfume embassy in Paris, at the Kadewe department store in Berlin, at the Corso Como concept store in Milano, and at trendy Cosmotheca stores in Moscow…
Céline Verleure is French, living in Paris, and the Founder and Creative Director of Olfactive Studio fragrances. She started making perfumes 25 years ago (Kenzo Jungle, l'Eau by Kenzo, etc…)
We need your help to create and cover the cost of a new and unique bottle for the entire Olfactive Studio collection. The bottle we are currently using is very beautiful but it's made with a standard mold that many brands use, so it's not distinctive or recognizable and it can't be protected against copying. A Glass making mold costs 25,000 dollars.
To thank you for your contribution to this beautiful design project, we will send you complimentary fragrances. You can choose the 7-sample discovery box, one or several fragrances from our current collection, the entire collection of 9 fragrances, or the new fragrance #10 (named "Close Up") on preview. In the coming weeks, we will post some very personal tips to help you choose one of the perfumes in our collection according to your taste.
Without your help, it will be hard for our young company to be ready for Christmas without taking considerable financial risks or we would have to postpose the launch.
Thank you in advance for your generosity!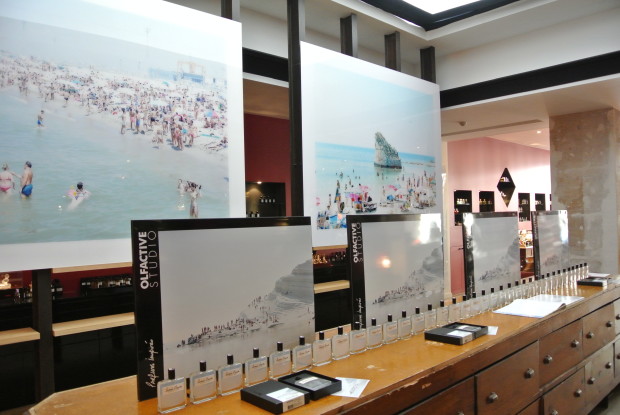 Olfactive Studio est une collection de 9 Eaux de Parfum mixtes (bientôt 10), originales et de grande qualité, inspirées de photographies artistiques.
Depuis 2011, Olfactive Studio rencontre un grand succès dans plus de 30 pays dans le monde tout en restant une marque artistique et confidentielle. Olfactive Studio est en exclusivité pour les grands magasins chez Barneys aux USA, à l'ambassade des parfums rares Jovoy à Paris, au grand magasin Kadewe à Berlin, au concept store Corso Como à Milan et chez Cosmotheca à Moscou…
Céline Verleure, française et parisienne de longue date, est la fondatrice et directrice artistique des parfums Olfactive Studio. Elle a commencé à créer des parfums il y a 25 ans (Kenzo Jungle, l'Eau by Kenzo, etc…)
Nous avons besoin de vous aujourd'hui pour créer et financer un nouveau flacon exclusif pour l'ensemble de la gamme Olfactive Studio. Le flacon actuel est plutôt réussi mais c'est un moule de verre standard, utilisé aujourd'hui par de nombreuses marques et donc peu identifiable, ni reconnaissable et qui ne peut être protégé en cas de copie.
Un moule de fabrication de verre en France coûte 22.000€ / US$25,000
En contrepartie de votre participation à ce beau projet de design, vous pourrez choisir un ou plusieurs parfums de notre gamme actuelle en commençant par nos kits découverte de 7 parfums jusqu'à la collection complète de l'ensemble de nos parfums actuels. Au fil des semaines, nous vous guiderons sur le choix d'un des parfums de notre gamme selon vos goûts.
Votre participation est précieuse pour nous permettre de lancer ces nouveaux flacons à temps pour Noël 2016, c'est à dire que les flacons soient fabriqués en juillet et remplis en septembre prochain. Sans vous il sera difficile d'être prêt pour Noël sans prendre de gros risques financiers pour notre jeune société ou en lançant avec retard.
Un grand merci d'avance pour votre générosité !