iCrowdNewswire - Jun 15, 2016
Gifts of Mobility
In many areas of the world, there is no assistance for people with disabilities, and women and children in particular. In Uganda, people with disabilities are estimated to be between 5 to 6 million of which 2.5 million are children, and 2 out of 3 do not receive any form of support. For those who live in rural areas, like Kasese District, the nearest school may be too far to travel to. As they grow up they are unable to find any employment and they become a burden to their families; often exposed to violence and are unable to participate within their community. Women with disabilities are just as vulnerable to these issues as they struggle to provide and care for their families. We need your help to continue to change the lives of these individuals and give them the gift of mobility and independence.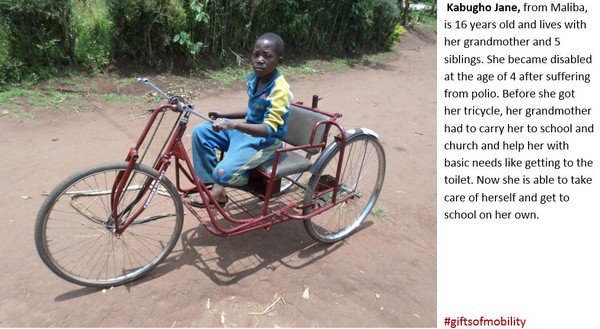 Your donation will help us provide 50 women and children with hand-pedaled tricycles, helping them to move around the rough local terrain. These tricycles allow them to attend school, go to church, trade outside of their villages, gain employment, and actively be a part of their communities. All the tricycles are manufactured in Kasese District, Uganda, in order to support local businesses and economic development. Since its founding in 2010, CanUgan has provided assistive devices, such as these hand-pedaled tricycles, to more than 680 people. With CanUgan's help, people living with disabilities in the rural areas of Western Uganda have regained mobility as well as their independence. With these locally-made, innovative devices, these individuals have gained more than just mobility; they have gained access to a better life. Each tricycle costs $160 CAD (411,230 Ugandan Shillings), and CanUgan needs support to continue providing these devices and making a difference.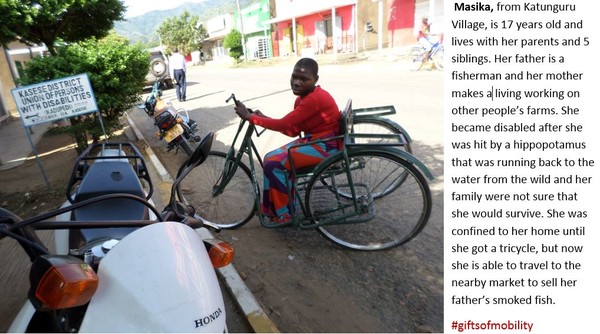 CanUgan Disability Support, a registered Canadian charity, is based in Ottawa, Ontario. It was founded in early 2010 by Navin Parekh during his placement with the Kasese District Union of Persons with Disabilities (KADUPEDI) in Uganda as a volunteer with CUSO International. While there, he witnessed the cycle of extreme poverty Ugandan's living with disabilities were subject to and wanted to make a lasting difference in the region. Since gaining independence from Britain in 1962, Uganda has experienced numerous internal conflicts and uprisings. Hundreds of people have been rendered homeless during these struggles and multitudes of children have been orphaned. Hidden land mines and thousands of child abductions significantly increased the prevalence of disability in Uganda. Along with these violent incidences there has been a lack of adequate immunization programs resulting in large numbers of congenital impairments. With a population of over 702, 000 (2014), Kasese is one of the poorest districts in Uganda. Located in the Western Region on the border of the Democratic Republic of Congo (DRC), Kasese was a focal point of insurgencies and conflicts. Its precarious geographical location, difficult to navigate terrain, and rampant poverty make the district particularly vulnerable.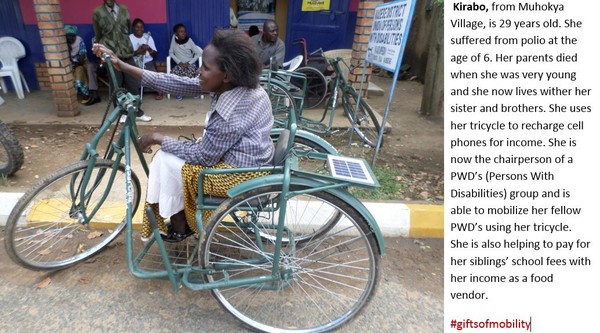 CanUgan is a completely volunteer run organization, in both Canada and Uganda. Therefore all of the funds raised in this campaign will be going directly towards the production and distribution of hand-pedaled tricycles in Kasese. Every dollar contributed changes a life for the better. We need you to help and get involved by donating and spreading our story.
Give the gift of mobility. Give the gift of independence.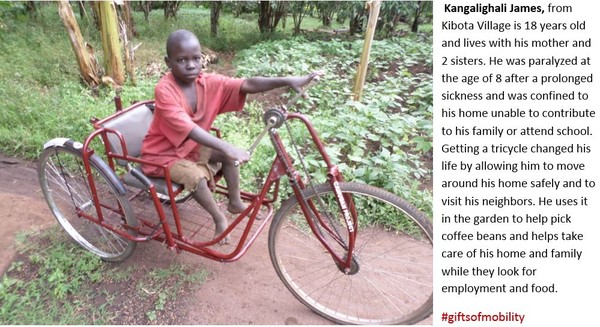 canugan.org/