iCrowdNewswire - Jun 10, 2016
LIVEBLOX – DEVELOP TECHNOLOGY WITHOUT THE CODING
LiveBlox- Build powerful apps without coding
How do you learn to code? Plain and simple, they said. But as an old proverb said, "The plain and simple things are rarely plain and never simple".
Many of us have given up on the idea for many different reasons – some because it's just too time-consuming to learn it, while others think it adds no value. Why? Because for many of us, we know that there is usually someone nearby who we can pay… although often a lot of money… to come to our rescue.
What if there was an easier way to cut out the middleman and do it yourself?
Apulus introduces LiveBlox, a software platform that unleashes the technical creativity you never knew you had!
One application we built with LiveBlox was the smile detection app. In this video Rob and Nik walk you through building it. (audio recommended)
Our team designed this product because few of us have been able to invest the huge amount of time required to become computer wizards; many of us have very limited computer skills, and could not develop a software or an app, even if our life depended on it.
But now you can!
Try it yourself in the LiveBlox demo.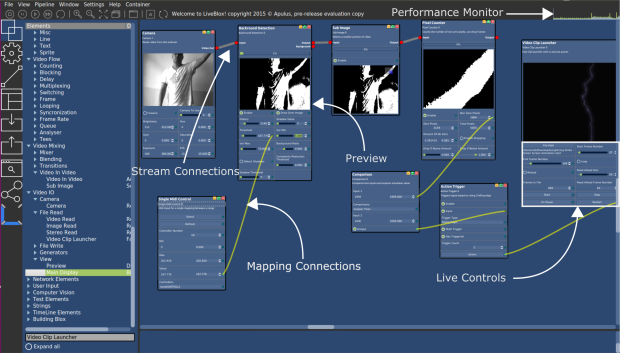 With LiveBlox you can
Through LiveBlox's simple drag and drop interface, you can choose from a list of Blox (elements) and connect them together to build the functionality.
The LiveBlox platform revolutionizes the way software and apps are developed, by eliminating the hundreds of man hours associated with software development, and making the process accessible to for non-technical people.
But that's not all! We have built in features that will enable you to do some incredible stuff.
Computer Vision : LiveBlox was spawned to make computer vision easy. It contains hundreds of blocks that make this accessible. Such as detecting movement, faces or other objects.
Interactivity: Build interactive components in the software, such as virtual buttons or gesture control.
Video Composition: A new twist on video composition and live video. Use blocks to build the video editing environment you want rather than being restricted by the layout of the software.
Audio: A high-quality audio engine allows real-time audio processing and synthesis.
MIDI: Use either a midi keyboard or controller as inputs into LiveBlox.
Visual Dj-ing: If you like to throw some insane parties at home or you run a club / festival LiveBlox is your tool to create some really cool effects.
LiveBlox
is so flexible; by connecting the 'Blox' what you can build is only limited by your imagination.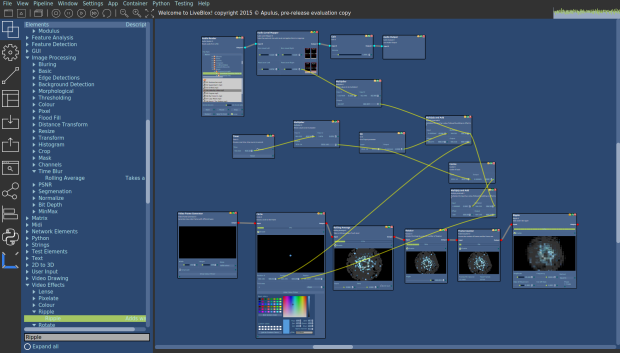 How it Works
It has never been so easy to develop software applications.
The functionality of your software will come from the "Blox". They can each handle a single task. By adding and connecting them together, you can make the application you want.
The "Blox" come in all shapes and sizes. Some are inputs, such as webcam, video file, audio input. Others can act as a filter such as changing colors on a video stream or equalizing audio. LiveBlox contains elements for computer vision, which gives you the power to detect objects, faces, people, movement and colors and act on that input.
LiveBlox makes it simple to build your own software applications, by following a simple 4 step approach:
Drop the Blox you want into the editor
Connect them together
Build your own Graphic User Interface (GUI)
Export and run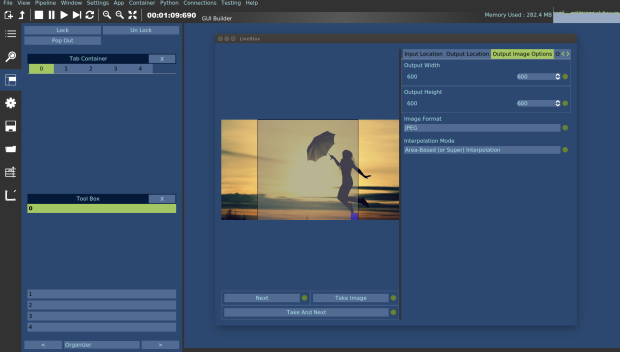 Exported application
An Example Application – Air Drum Kit
We built an air drum kit using Liveblox. In this video you can see one of our Cambodian friends trying it out:
This works by detecting movement in sections of the video and triggering drum sounds.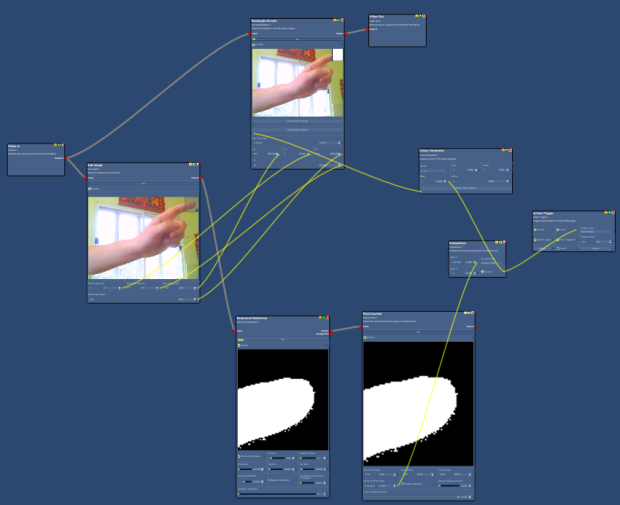 Inside the video button, the finger is detected as movement in a small area of the video. It can trigger actions such as playing a sound.
Technical Details
Key Points:
LiveBlox is a software platform for building complicated and high performance applications.
It provides a visual interface that allows the user to really understand the data-flow through the software.
It has a drag and drop interface allowing "Blox" to be added and connected in order to build a pipeline.
It has hundreds of elements for computer vision, image processing, audio processing, video, 3D, midi control, networking and many more.
It allows custom applications to be exported with their own GUI.
Core Features:
Element controls can be changed at runtime.
Stream based node connection system, allowing data transfers between blocks.
Pipelines can be exported and run as standalone applications.
CUDA support allows algorithms to run on GPU.
Mapping connections, allowing parameters to be locked together.
LiveBlox utilizes many functions from OpenCV.
LiveBlox supports standard software interfaces (platform dependent) such as Syphon, allowing for the transferring of video data between other applications.
The GUI builder allows for creation of custom user interfaces, using a selection of the controls already available on the blocks.
LiveBlox will contain a number of blocks for inputs and outputs, including plug-ins to support manufacturer-specific hardware such as SDI / DVI interfaces, audio interfaces and perhaps even lighting controllers and other I/O devices.
For power users, Python support allows scripting at run time.
LiveBlox In Amsterdam
In Amsterdam, we used LiveBlox to thrill and enthrall, generating and projecting complex, real time visuals from a moving platform to support a marketing campaign for a global brand.
What We Need & What You Get
We, at Apulus, have funded the design and development of LiveBlox ourselves, in between all our other projects. But this is only the start. We believe that the best way to get our product out there is by giving prospective users a first-hand experience of using LiveBlox, so we now need additional funding to bring this to the market (participating in trade shows and exhibitions across Europe and Asia is important but comes at a cost), and to further develop our brilliant product.
At the moment, we are a small operation and now need to dedicate effort to LiveBlox, especially to help prospective customers fine-tune it to their own requirements. The funds we aim to raise through this campaign will help us beef up our staff so that we can do this and purchase additional equipment. It will also help us devote more time and effort to the testing stages of our software before we can make it commercially available.
Visionaries like you can contribute to the development of LiveBlox in many ways. We have prepared an exciting rewards program that truly values your contribution.
The Impact
Our business is located in one of Southeast Asia's booming metropolises, with a pool of fresh and dynamic talent. Cambodia has treated us well , so we want to give something back to this country by providing jobs for the local talent. So, by funding our campaign, you don't just help Apulus build its software, but you also enable us to support our community here in Siem Reap by generating much needed jobs. We need a team of dynamic software engineers, and sourcing talent locally, providing them with first class training, and the experience to pursue a career as software engineers is part of our strategy as a socially responsible business.
Risks & Challenges
Our group is comprised of amazingly talented individuals with experience in management and software development, yet, like any startup, we are faced with the challenge of financing the continuing development of its products. We aim to use IndieGoGo as a tool to help us to address this challenge. We know that good people like to support the 'little man'; we may be small, but only for now! Your contribution will help us develop into a company that offers innovative superior products, generates jobs for our communities, and continues to be responsive to the ever changing demands of our customers.
Other Ways You Can Help
Your financial contributions are important, you can help us generate awareness about our Indiegogo campaign by doing the following:
Share, Repost, Retweet – Help us gain more followers on our social media accounts on Facebook, Twitter, and Instagram. Help us get the word out.
Organize a LiveBlox Demo and Fundraiser Barbecue – while our team cannot be personally with you, we can send you tools and resources to introduce LiveBlox to your friends, and help us raise funds. We can give your group a perk if you raise at least US$ 100.00 for our campaign! Don't forget to get a Groupfie and post in on social media with the hashtag #LiveBloxonindiegogo.
In the neighborhood? – If you are in the area, why not swing by our office and help us to refine our product by providing your insights and feedback. If it is after office hours, lets have a beer!
Rob, Myself (Nik) and Steve wish to thank all of you for your contribution to this campaign!