iCrowdNewswire - Jun 10, 2016
Cameroon Stories
Eleven authors, one book – retelling stories and giving them back to the people who need them!
We are eleven authors, an artist and a publisher who have come together to create a rather special book, inspired by traditional animal stories from Cameroon.
The stories are fun, and they are beautiful. They are full of tricky tortoises, cunning monkeys, flies stronger than elephants, blue bottomed drills, despicable crocodiles, and animals gathering for meetings up in the sky.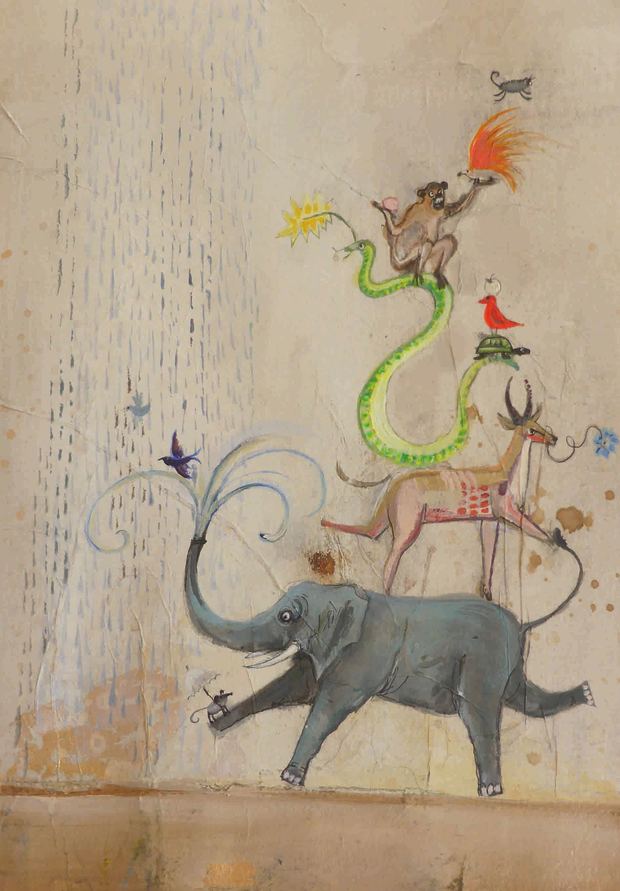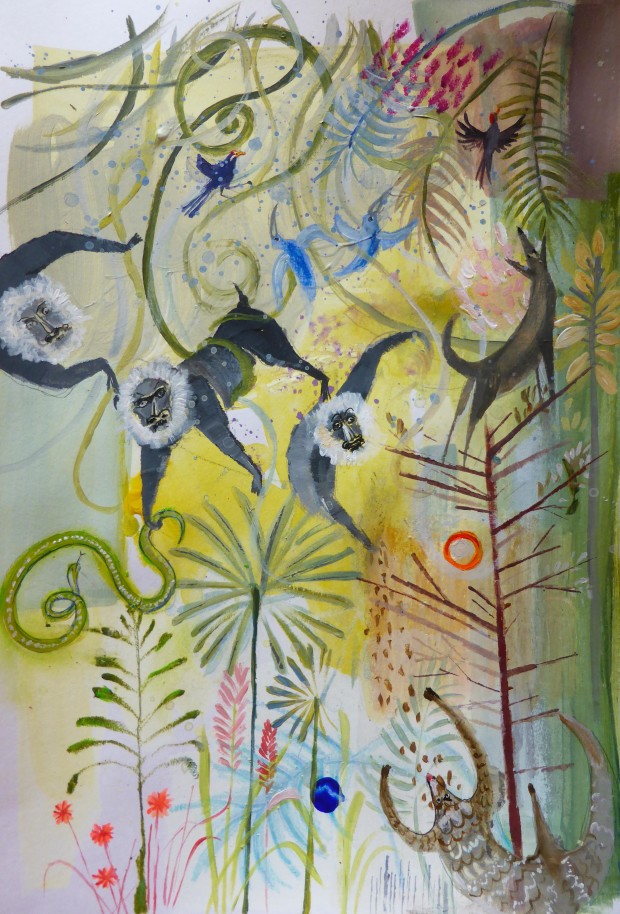 These tales are being retold by some of the best children's authors around. They are illustrated by an amazing artist, and published by an award winning publisher.
And we really want you to have them, in our book. Take a copy through our perks (there, on the right!), and these stories will do some very good things.
What's the plan?
If you take our book, it helps us in our goal to give free copies to at least 2,000 children in Cameroon who otherwise would have no books. (And we mean no books.None at all. Not one.)
And these aren't just any stories or any children. The stories we're retelling belong to the children of the Korup Forest in Cameroon – these children who otherwise won't ever read them.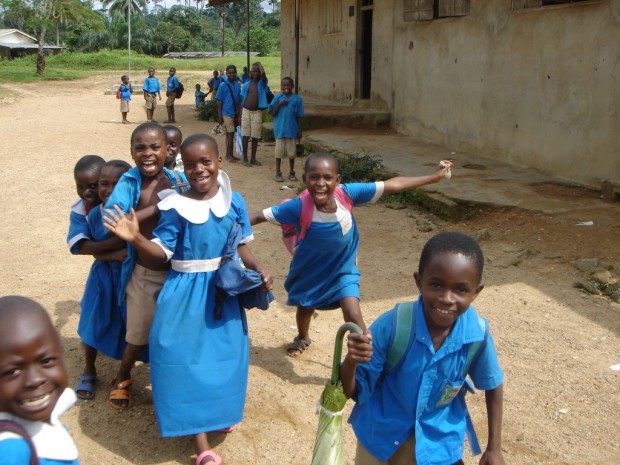 The stories are being lost and the children's education suffering. We want to put that right.
So we need money to print and distribute the book in Cameroon. These are our only costs – we all gave our time for free!
How does it work?
Here's the idea:
We print a UK version for our book, which YOU can take through our perks. (Look to the right – there! There it is!)
The UK copy pays for its own printing and for multiple copies to be printed in Cameroon.
We distribute at least 2,000 copies to children in the Korup.
You receive a unique, beautiful book of stories, written by some of the best children's authors and available nowhere else.
You read the book, give it as a present or simply marvel at its beauty on your shelf – knowing that you've done something lovely for someone who needed it.
So who's involved?
Glad you asked!
The storytellers are Abi Elphinstone, Adele Geras, Beverley Naidoo, Elizabeth Laird,Geraldine McCaughrean, Gill Lewis, Ifeoma Onyefulu, Lucy Christopher, Piers Torday, Sarah Lean and Tom Moorhouse.
(Fun game: spot the award-winners and best-sellers. Hint: there are lots!)
The illustrator is Emmie van Biervliet. (And just look at the art she creates!)
The publisher is Lantana Publishing. (Winners of Best Book at the Children's Africana Book Awards, 2016.)
And helping out, providing vital logistical support, is the conservation research charity WildCRU, part of Oxford University's Zoology Department.
What will the book be like?
We're aiming for beautiful and hoping for spectacular. We've been working hard on the diverse stories, Lantana have a reputation for extremely lovely books and Emmie is terrific. The book will be hardback, approximately 160 pages with 33 colour illustrations. It should be lovely.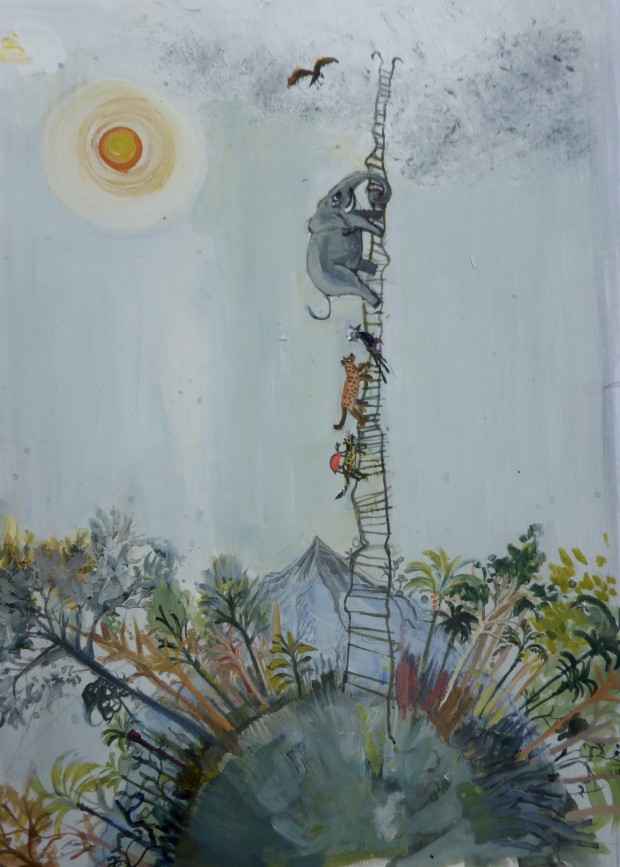 Why the Korup?
Good question, and a slightly long story (bear with us):
As well as being an author, Tom Moorhouse works as an ecologist at WildCRU. One of his colleagues, Christos (that's him in the middle), runs a conservation project in Korup, working with local collaborators to study and safeguard the region's precious, ancient forests and the wildlife therein.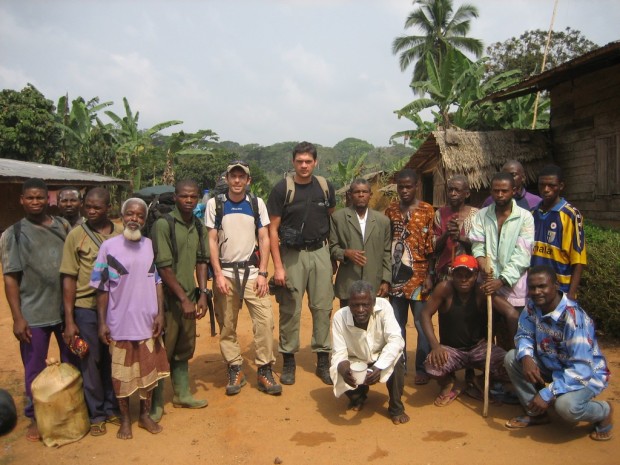 Christos and his team (Malenoh, Orume and the other amazing folks), knowing that the traditional folk stories were being lost, collected tales from all the region's elders and chiefs. Christos asked Tom to write the stories up, so they could be photocopied and handed out to the local children.
Rather than just doing that, Tom called up some amazingly talented and incredibly generous people who all said "yes" to writing a story, illustrating the stories or editing and publishing the book – and so the project began.
Do these kids really have no books?
Really. You can read more here on Lantana's website (click the "Learn More" link the bottom of their page), but just imagine homes where the only things to read are some tattered medicine instructions or a rotten old poster. They look a bit like this: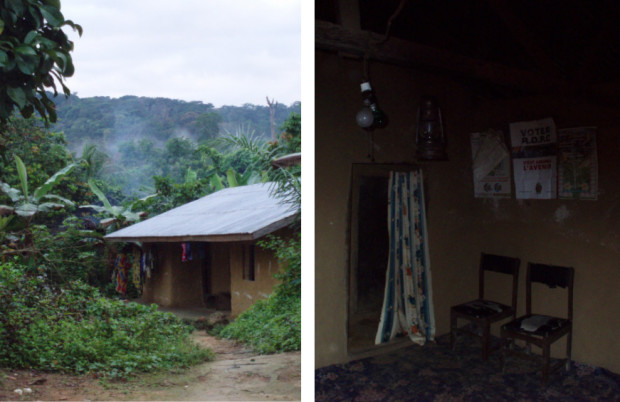 Imagine a school where there is one textbook. The teacher copies it onto the board and the children write it down and study it.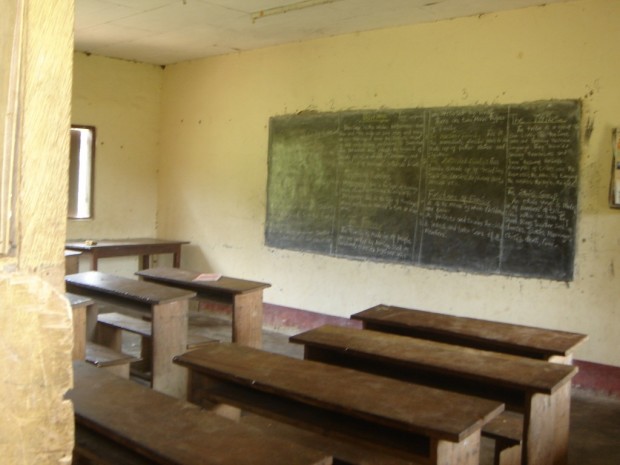 Imagine kids leaving school after only primary education.
Now imagine what a difference a free book of the region's stories could make.
Are there any other benefits?
Yes. Like many places with a wealth of natural resources, but a relatively poor population, the Korup's forest is under threat. The main threats are rampant hunting of animals for bushmeat and massive conversions to oilpalm plantations.
Our book is full of tales of the forest and the animals that live there – and while they may just be stories, they are a connection to the forest, educating children about animals and habitats, and inspiring literacy.
Of course one book can't solve all the problems facing the Korup's forests, but it can help: education is vital to empower people to protect their resources and way of life.
What happened to the Korup's stories?
Here's how it used to be: every month the whole of each village would gather and tell their stories – part of an oral tradition. But life has changed and these gatherings no longer happen. The oral tradition is being lost, but there are no written stories to replace it.
Can you really do it?
Yes, absolutely – with your support. Christos' project has been established for a long time and works closely with the people in the Korup. We are perfectly placed to get these books quickly printed and delivered to the children who need them.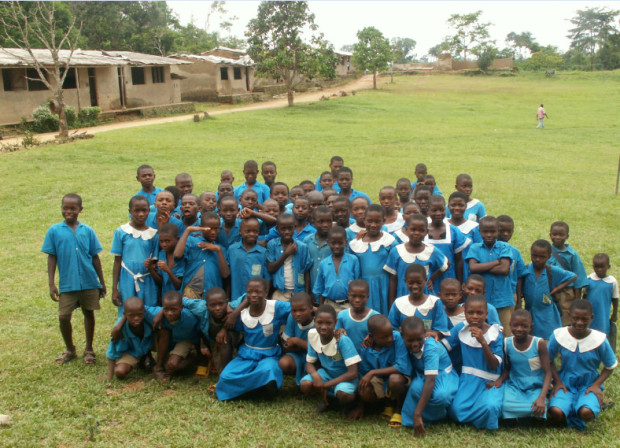 Why the fundraising goal?
Printing books gets less expensive (per book) the larger the batch you print. We need enough to cover the Cameroon printing and distribution costs for 2,000 copies – thus supporting local Cameroonian businesses – as well as the costs for printing and distributing a large enough batch of UK copies, on the right paper, with colour illustrations, in a beautiful gift format, to send to all you lovely people – remembering that your books will fund the Cameroon printing.
If you beat your funding target, what happens?
There's more to do. Our book is written in English, which is one of the main languages the three ethnic groups living in the Korup use to communicate. The other main language is French – with further funding we can translate the book into French, and distribute many more copies.
How do I learn more?
There are lots and lots more details available here. We've made it a tiny challenge:click on the link and go to the bottom of the page to where it says "Learn more" (near the elephant's posterior). It will open a magic portal (pop up window) of information.
How else can I help?
Not everyone who comes here will be able to buy a book or make a donation – we definitely understand. But you can still help us by spreading the word.
Whenever and wherever you can, try to get the word out and make some noise about our campaign #CameroonStories.
Don't forget to use the Indiegogo social media sharing tools!
THANK YOU – you are wonderful.
Oh, and one more thing: you might be wondering where we could possibly have found the heroic megastars who created our fantastic campaign video. The answer is that Daniel Nils Roberts and Adam Hale went so far beyond being merely "incredible" that we are all still awestruck.