iCrowdNewswire - Jun 10, 2016
Building a Church for Oaxaca, Mexico
We are building a church in the city of Oaxaca, Mexico as a memorial for Joel B. Grayson II.
Our Story & Cause
Thank you for visiting our fundraising site for the Joel B. Grayson II memorial church "Templo En-Hacore" in Oaxaca, Mexico. We are excited to tell you our story about what we are doing with a wonderful community of believers in Oaxaca, Oaxaca, Mexico.
To everything there is a season, a time to every purpose under the heaven: a time to be born, a time to die, a time to plant, and a time to pluck up that which is planted; A time to kill, and a time to heal, a time to break down, and a time to build up; A time to weep, and a time to laugh, a time to mourn and a time to dance. – Ecclesiastes 3:1-4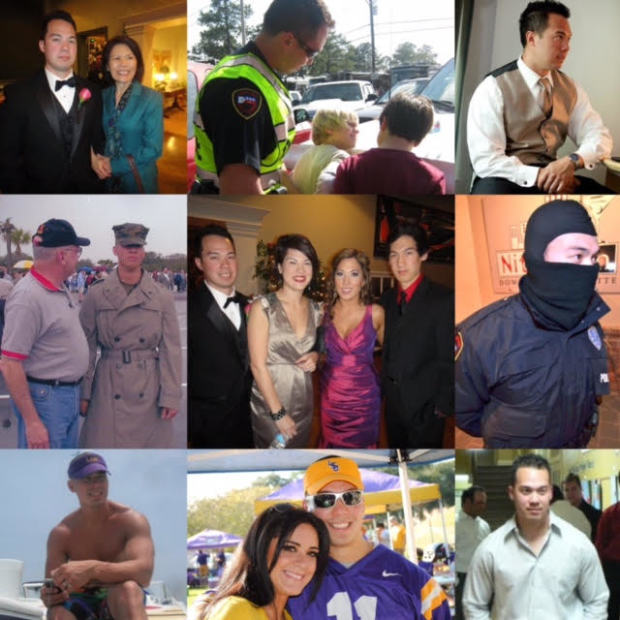 (Photo- Joel B. Grayson II- September 5, 1983- June 23, 2012)
Joel B. Grayson II was tragically taken from us on June 23 2012, in a boating accident at just 28 years of age. Many who knew Joel knew him as "man's son" as described by his grandfather and namesake. He was a friend to everyone, a fearless risk-taker, fun-loving, a workout enthusiast, a Marine infantryman, uniformed police officer and competitive SWAT officer for the Lafayette Police Department, an LSU tiger fan, and, most importantly, grounded in his faith and love for the Lord. While we, the Grayson family, were terribly impacted by the loss of our first born son, brother, husband, and friend, our faith carried us through Joel's loss. As a family we cannot thank the community of Lafayette, the Lafayette Police Department, Our Savior's Church, as well as all of our friends & family who covered us in prayers and encouragement, during our time of loss. While our hearts will always have a piece missing without Joel with us, we know he is in a better place and we will see him again one day. And what a day that will be!
Those who plant in tears will harvest with shouts of joy. -Psalm 126:5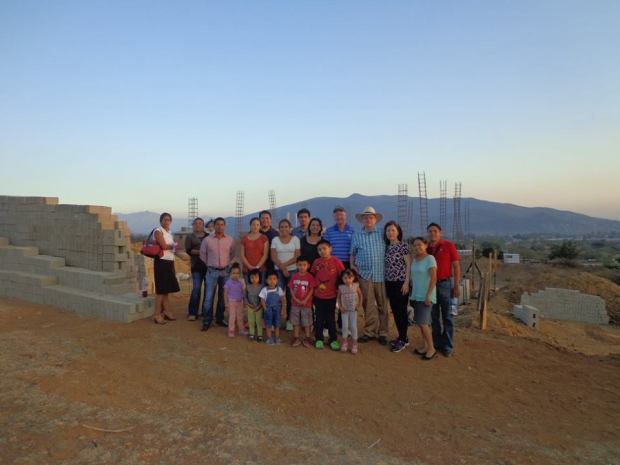 (Photo- The Graysons, Russell Linscombe of Mexico Outreach, and Pastor Jorge Amador Que along with church members)
We have partnered with, Russell & Charlotte Linscombe, who run the nonprofit Mexico Outreach ministry, to build a church in the City of Oaxaca, Mexico. "Templo En-Hacore" is the name of the memorial church. Mexico Outreach has been instrumental in the building of churches, training pastors & church leaders, ministering to orphans & widows, & bringing medical mission teams to the State of Chiapas, which is immediately south of the State of Oaxaca. "Templo En-Hacore" will be the first church constructed in the State of Oaxaca by Mexico Outreach. There are no evangelical protestant churches in the community near the construction site and the members expect the church to DOUBLE in members shortly after it is opened. Some missionaries are considering raising funds and building dormitories near the new church to create a base for American construction and medical teams to fly into Oaxaca to help build churches and treat the sick in the rural areas of the interior.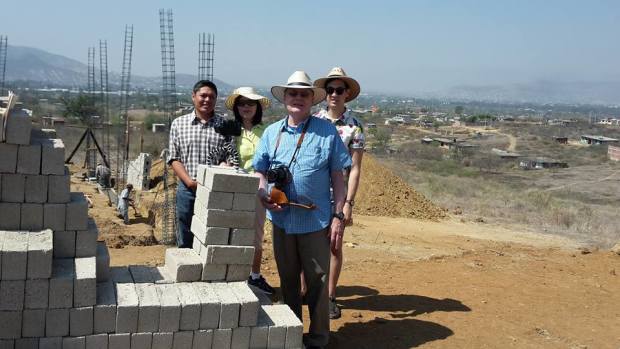 (Photo- Brett, Sonhui, & Judah Grayson with Pastor Jorge Amador Que at the church construction site April 2016)
In April of 2016, Brett, Sonhui, & Judah Grayson went to Oaxaca to see the construction progression. At the time, we believed that we had raised enough funds for the land and first floor construction. Unfortunately, we were thrown a curve- ball when we visited the construction site in April. The cost of land as well as the construction costs for the first and second floors of the church are much higher than originally estimated, premised upon the experience in rural areas of Chiapas. Some of the increased cost is attributable to the church being built on the outskirts of a large municipality. Part added expense is need for strong foundations due to frequent earth tremors in the City of Oaxaca area.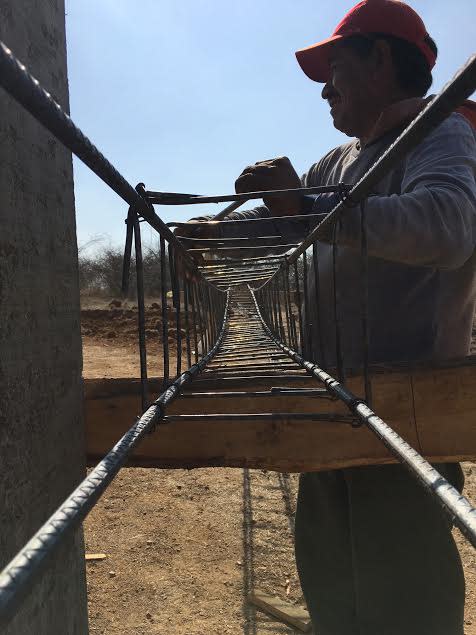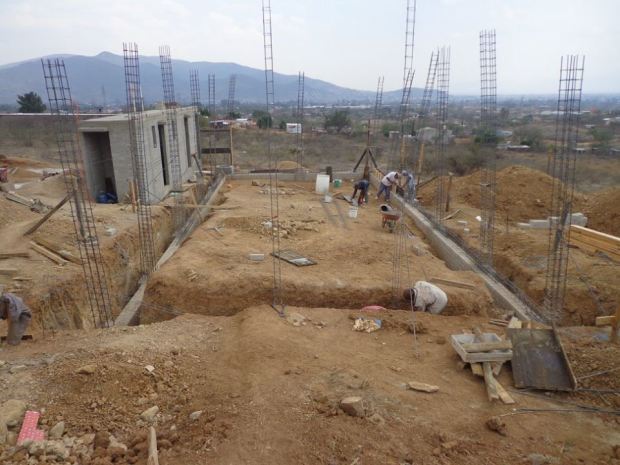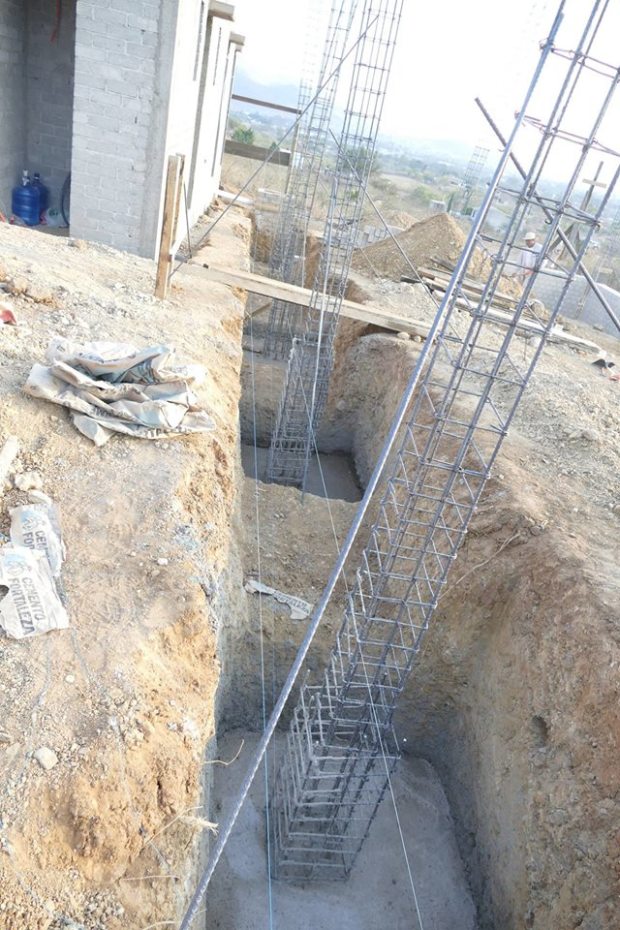 (Photo- April 2016 Construction progress- you can see how deep the foundation is.)
What We Need & What You Get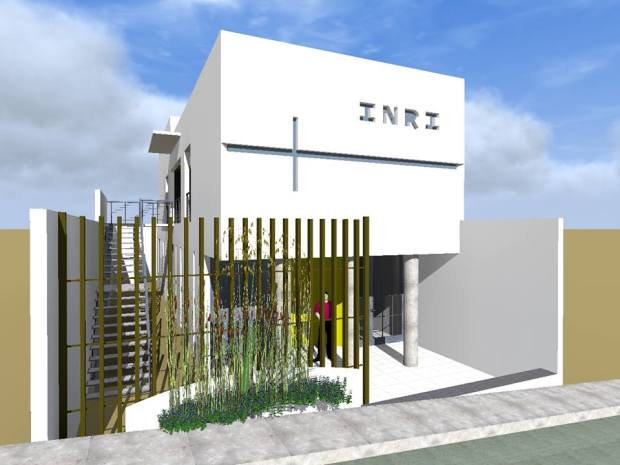 (Photo- church front with 2nd floor completed design)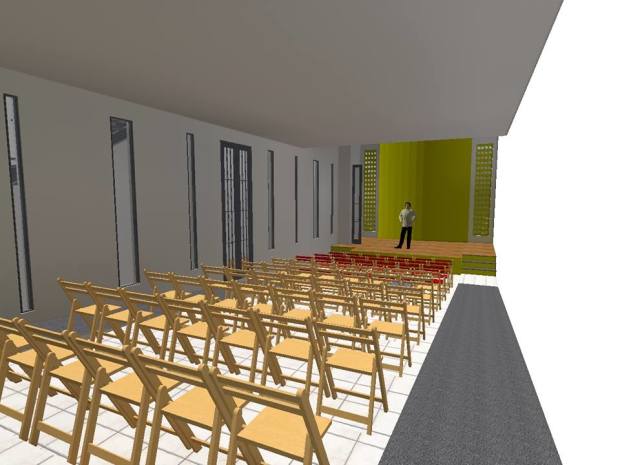 (Photo- church sanctuary design)
We have raised $27,000 and the architect within the congregation has estimated that the project will need an additional $28,000 to finish the first floor, install a metal roof, a sound system, seating for 120 people, and a concealed baptismal in the floor of the raised platform. The second floor, with classrooms and a pastoral office, will be constructed later when additional funds are raised. Our goal now is to complete the first floor and a metal roof and have the church dedication in September 2016. Hence, to achieve this goal it is imperative that we raise $28,000 in the next few months.
Joel had an amazing turn out for his funeral in Lafayette- we were blown away, to be honest, at how many people honored his life. Just think….if every one of the 3,000 people at his memorial service gave $100, we would easily have the funds to finish the church construction. Every dollar helps. No matter what you can give, every dollar will change lives and sow in the kingdom of God.
We will be including perks for our donors which include newsletters on the church progress and photos from Oaxaca. We would also love to have friends & family come with us to the church dedication in September 2016.
(Contributions are tax deductible.)
The Impact
This church in the City of Oaxaca will have a great impact on the kingdom of God. Many lives will have the opportunity to be saved, ministered to and changed in this church. This will also be a future location for medical missions to come into the area. You have the opportunity to be a part of building the kingdom of God.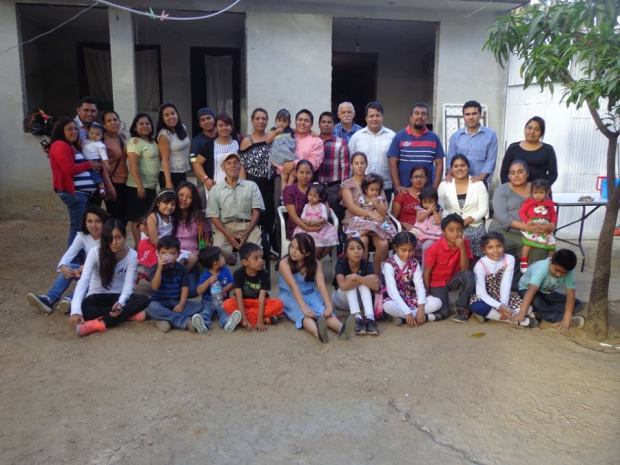 (Photo- Current church members meet in the pastor's Aunts home)
Risks & Challenges
We will not be able to finish the church if we are unable to raise the additional funds. This would be heartbreaking for the Oaxaca church and the pastor. The church currently meets in the residence of Pastor Que's aunt.
Other Ways You Can Help
For those who can't contribute, we would ask that you pray continually for this project, and the effectiveness of Pastor Que and the local congregation to save the lost in their community. Also, take the time to share our campaign with your friends and family. Forward the campaign via email to those who may be able to help. Share on your social media- Facebook, twitter, instagram. Talk to your friends.
May God bless and keep each of you!
The Joel B. Grayson II Family