iCrowdNewswire - Jun 9, 2016
AntiSocial Season One
Be a part of our web series' first season!
Our pilot episode:
What's it all about?
The key to an effective online presence is a team of savvy, hardworking, and diverse individuals that understand today's social media landscape. This is not that team.
AntiSocial is an ensemble comedy web series about a group of misfits working in social media at a massive, faceless corporation. Over-educated and under-stimulated, the department spends most of their time focusing on their diverse side interests and collectively hating their can-do supervisor. But when an optimistic lifestyle blogger joins the team, the social media department faces their biggest challenge yet – breaking her spirit.
Directed by Aaron Hall and written by a team of new comedy writers (lead by showrunner Mika Rekai) AntiSocial explores that strange place where the business world meets the wild west of the internet – corporate social media. A place where companies like Fleshlight salute the victims of September 11 and DiGiornio Pizza hijacks a conversation about domestic violence. This is the place where more and more Gen Y-ers work- a job that's neither completely business nor art. Your bosses don't really understand, but for some reason there's money in it.
Our social media team peddles breakfast cereal, capitalizes on tragedies, and does the absolute bare minimum to keep their jobs. 140 characters at a time.
The Characters
Gemma – Played by Nicole Stawikowski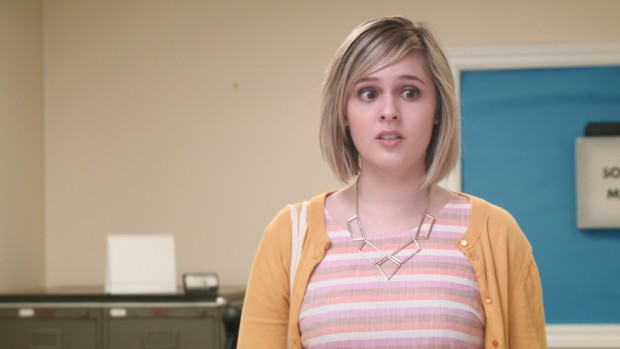 Fresh out of university, Gemma thinks that working in social media is an important step to a great future – and boy, will she ever be disappointed. Naive, ambitious and a tiny bit self-involved, Gemma's dream is to turn her cooking and crafts blog – a Dash of Vanilla – into a legitimate lifestyle brand. Over the first season, however, she learns that there is nothing cute, or tasteful, about becoming a success on the internet.
Claire – Played by Melanie Leon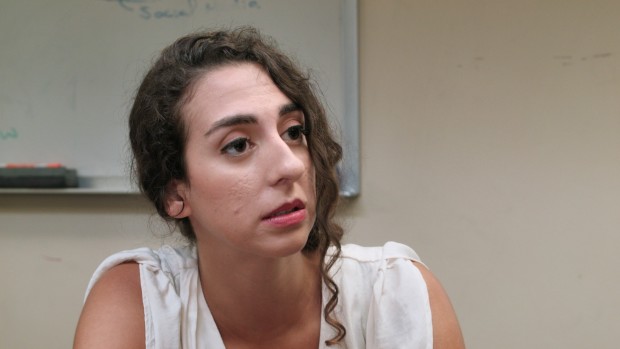 Claire had a serious job in journalism once – now she works here. Smart, pretentious and darkly cynical, Claire used to dream of holding governments and corporations to account with the power of her words. Now her words promote integrative telecom service fees, microwave pizza and basically anything else her corporate overlords ask of her. She's not wearing the disappointment well.
Reece – Played by Jason Tushinski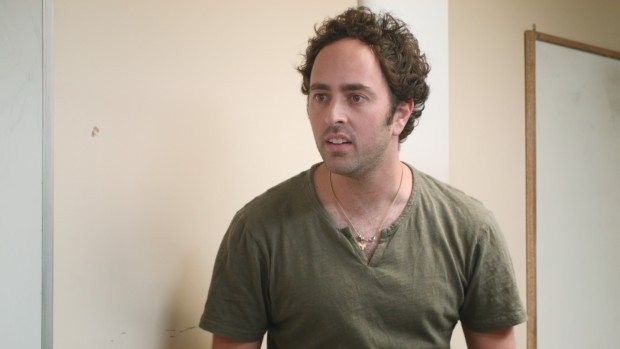 A hippy with a heart of gold, no one is entirely sure why Reece works in social media – least of all him. He has no idea what social media is, but he's pretty sure it will change the world. An endless optimist, Reece is the loveable goof who keeps everyone from killing each other. And at 31, he's basically like all these kids' Mom anyway.
Esther – Played By Mish Tam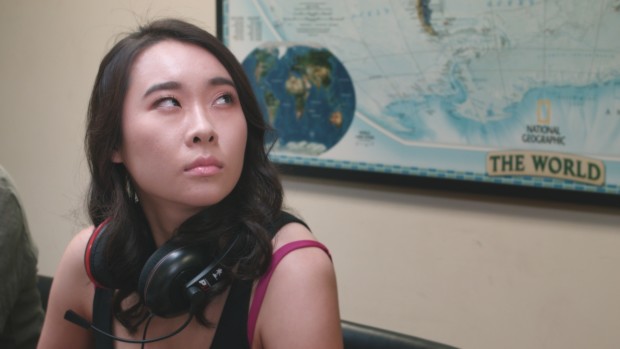 A hacker with no desire to impress anyone, Esther is constantly surprised and distressed to be out during daylight. No one is entirely sure what she does on her computer all day, but one thing is certain – she's not wasting her time on her job.
Cody – Played by Alex Karakatsanis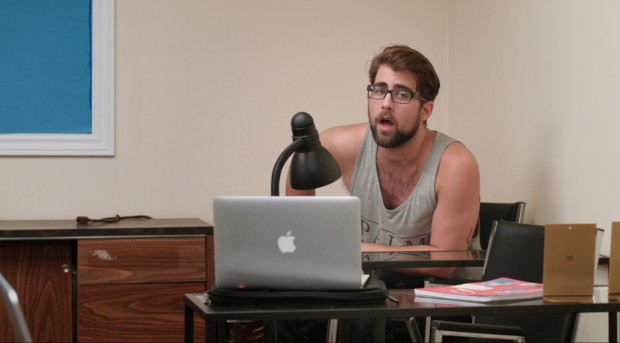 Always either half-or-fully asleep, Cody's contribution to the social media department is showing up every day at the crack of noon, telling everyone else their ideas are dumb while contributing nothing of his own, and beating the hell out of Candy Crush. What would Cody accomplish if he actually tried? At Tricycolocorp, we may never know.
Andrew – Played by Andrew Frost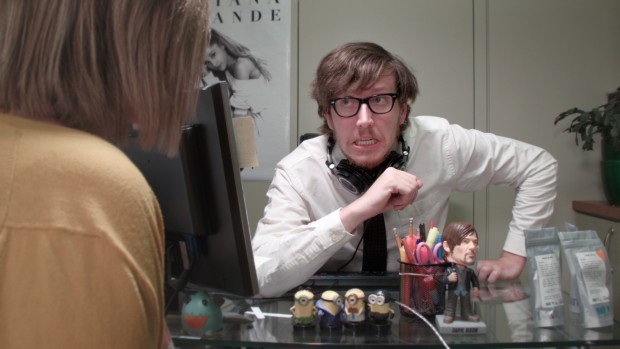 The team's perky supervisor, Andrew believes in the company – and more importantly he believes the company believes in him, even though he's pretty terrible at his job. With no skills beyond blind loyalty and enthusiasm, Andrew always agrees to things that he shouldn't and the team more often then not has to find a way around his mistakes.
What We Need & What You Get
Simply put, we're looking for you to be a part of this with us. We need $15000 to create 7 more fantastic episodes of AntiSocial to round out our first season. The pilot is already out (funded out of pocket), the rest of the season is already written, and now we're looking for your contribution to film what we have and deliver a full season. Here's what you can get:
For all levels of contribution, you get exclusive first access to each episode.
For $10, you can get a personalized shout out from Tricyclocorp
$25 gets you a sweet t-shirt!

$50 gets you a video straight from Andrew's desk, shot in the same high-production style of our show. Tell us something about you, and Andrew will let you know if you're upper management material. If you're quick, this perk also includes a t-shirt and emoji stickers, and some of Andrew's personal knick-knacks!
$100 earns you an old-fashioned snail mail package, filled with goodies including a hard copy of the series, a t-shirt, stickers, and an emoji pillow! We'll try to accommodate requests. Also, a handwritten postcard from the crew and a limited number of signed shooting scripts.


$250 means you'll have a guest spot on our series! We have a few juicy roles to fill, including security guards that beat up Reece, foreign investors in Tricyclocorp, or someone to fill out an ugly sweater at the company Christmas party! Of course, you'll also receive an invite to our eventual wrap party.
$450 gets you a portrait session, shot by Aaron. Check out some of his work here- https://goo.gl/kzNQIz and let him know what kind of style you'd like. We'll make it happen (but in the fall, after we shoot our season…) Also, you can have yourself a walk-on role too!
$1000 means you'll be an official Associate Producer. This is an equity investment, so you will have a real stake in the future of our series. Get in on the ground floor! Contact us for terms.
$2500 is the big kahuna, the Executive Producer. Again, this is for real equity in our project. Contact us to discuss terms. If we make it big, you do too.
If you're in Toronto, let us know if you want us to ship the perk to you or if you want to meet us in person. Cuz we'd love to see you anyway.
What makes us different
We know that that content made for the web is not going to take off in a meaningful way unless it offers something that traditional television doesn't. This is a challenge we embrace, and we're ready to push boundaries in the interest of saying what we want to say about our world, in a way that is brash, bold and consistently funny. Because we are young and relatively new to the Canadian media scene, we offer a different perspective and we're not afraid to take intelligent risks to tell new stories with a fresh voice.
Our Team
Mika Rekai: Creator/Writer/Producer
A recent graduate of the Toronto Film School's Writing for Television and Film program, Mika Rekai is an award winning writer and story editor. A former journalist, her work has appeared in various Canadian publications including Maclean's magazine, the Hill Times and Post City. Like her AntiSocial avatar Claire, she is a cynical and hilarious bitch.
Aaron Hall: Director/Producer
A graduate of Ryerson University, Aaron Hall has directed and produced various short films and music videos. Though he has been in the industry for several years, he never saw himself working in comedy… but a decade of working freelance will warp your mind in ways you could never imagine.
Want to know more about the rest of our team? Just ask!
Risks & Challenges
To be blunt, the biggest challenges come down to money. The writing is solid, the performances are solid, and the crew is made up of working professionals that know how to make it all happen the way it should. That said, money really does make the world go around. We're all working around the clock and getting it done as efficiently as we can, but with a little more cash we can make this project a priority for the guys working in post-production (editing & sound is a huge time commitment). And once we're done, we'll need to stand out in a sea of other online content, which means marketing, buying ads, and entering festivals. But that's all going to be just a little bit easier when we can keep up the quality of the show. That's how we know we'll come out on top.
So where's all this money going?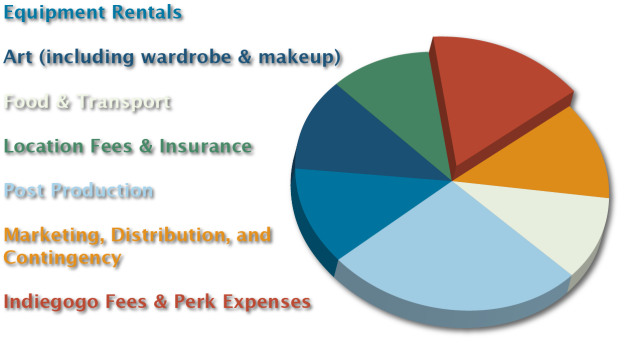 Here's a breakdown of our first season's budget-
Locations & Insurance – $1600
We've kept them to a minimum, but they still cost a little cash to take over for a few days at a time.
Art & Production Design – $1200
We want our full season to look even better than our pilot episode. We'll be dressing our set, building some props and decking out our actors in the finest linens (or whatever's on sale)
Wardrobe & Makeup – $600
Make em look even better!
Camera & Sound – $1200
We already own some of the gear, but a few lenses and lavalier mics could really help us polish off the show properly.
Lighting & Grip – $600
We're getting some good deals thru rental houses and cashing in some favours, but we still need a little more to get our hands on some proper film lights to make it all look good.
Food & Transport – $1600
Holy heck, feeding about 14 people a day for 12 days really adds up. Trust us, a well fed crew is a happy crew.
Contingency – $1000
Anyone that's ever been on set knows that things can and will go wrong. A little extra padding can turn disasters into speed bumps.
Editorial & Hard Drives – $1800
We need these episodes put together properly once they're all shot. It's a long dirty job that locks you up alone in a dark room for a long time. Also, we'll need hard drives to put the footage on. Big video files add up fast.
Sound Editing & Mixing – $1200
Sound editing and mixing isn't glamorous, but boy is it necessary. Just as with picture editing, it takes a lot of tedious hours.
Composing – $1000
Original music goes such a long way. We've gotten some worked out for our pilot, but new episodes mean new music, created to order all from scratch.
Marketing & Distribution – $800
Yeah, we'll need folks to see it once it's done right? Online ads, a wrap party, maybe a little push from a PR firm…
That brings us to-
$12 600
A lot of money for sure, but for a whole season of a TV show? A steal!
Indiegogo fees & perk expenses will come out to about $2400, which brings us toour crowdfunding goal of $15 000.
Even if we don't quite reach our goal, we can still make something great. We may have to strike off an episode, or push back our release schedule, but we are all in no matter what!
Other Ways You Can Help
If you don't have the cash to be a part of AntiSocial right now, you can still help us out:
Share the page! Tell your family/friends/enemies/pets about us!
Have something else to offer? We'll need things like snacks for cast & crew, a venue for a wrap party, and a whole list of props to dress our set. Any other ideas? Let us know!
Let's make it happen.