iCrowdNewswire - Jun 8, 2016
STRONGER MOVIE: Music & Soundtrack Funding
A movie about one man's battle with PTSD. Help us bring this story to life!

STRONGER
is a faith-based movie exploring a veteran's battle with PTSD. As he struggles to recover from his injuries, reclaim his marriage, and fit back into the civilian world, our vet learns he can't do it by himself.
Reflective Life Ministries has come together with The Mighty Oaks Foundation and many others to produce STRONGER. Our goal is to raise awareness of PTSD and to show the hope found only in Jesus. The following video explains the full purpose behind the film STRONGER:

Target Release Date – February 2017
www.strongermovie.com

Even though we are about 60% done with filming, we still have a long way to go in order to release STRONGER in February of 2017. The background music in any film helps set the mood of an individual scene, and we all know the importance of a title song. Would you like to help bring the STRONGER soundtrack and STRONGER song to life?
STRONGER Theme Song: RLM is privileged to work, once again, with singer/songwriter, John Sherrill, who wrote an incredible theme song for our last movie project, FIRST LOVE. He, along with co-writer Jamey Bryant, are crafting and recording a song in the spirit and theme of STRONGER. To fully capture the essence of STRONGER, a professional composer will score the entire film. All money received from this fundraiser goes toward their creative work, recording time in the studio, and for the work of our production team in weaving the music into our scenes. Together, we can bring this story to life through powerful music!
Listen to John's music here:https://itunes.apple.com/us/album/declaration/id500488447

The STRONGER team is offering some unique products and perks for helping us finance the musical part of our movie. They include STRONGER merchandise items, participation at a STRONGER Premiere Event, an opportunity to meet and have dinner with some of the cast and crew, and even the opportunity to be an extra in the STRONGER movie. Check them out in the sidebar to the right.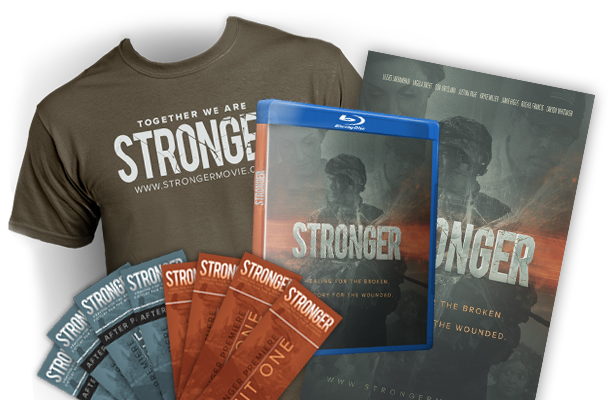 Together We Are STRONGER.
Millions of our US military veterans, police officers, firefighters, and everyday citizens struggle with PTSD. Many feel isolated and don't know where to turn for help. No one should struggle with PTSD alone. Together, we can make a difference. Our prayer is for STRONGER to not only shed light on the issues surrounding PTSD but also show the need for community. Please help us spread the word to others about the STRONGER project and this fundraising campaign. For more check out our website: www.strongermovie.com
"God heals the brokenhearted and binds up their wounds." – Psalm 147:3

STRONGER is the third film project our Reflective Media Production team has produced, and we would all agree that it's our best one yet! The STRONGER script is woven with personal and empowering stories, the actors have put their all into the characters, and the RMP Creative Team stretched their talents to new levels. We started with an idea and are overwhelmed with how far the Lord has taken this movie.
Hans Christian Andersen said, "Where words fail, music speaks." We fully believe the background music for STRONGER is
a key element to projecting this movie's heart and soul. That means the challenge of funding an excellent backdrop of music throughout the film. Our team of gifted and talented musicians is in the process of writing the song and composing the soundtrack that enriches STRONGER's purpose. So, please help us bring the STRONGER music to life by purchasing one or more of the STRONGER perk packages.

Can't contribute financially? We still need your help!
Pray. Lift up not only the project and people involved, but awareness & understanding of PTSD, our ministry partners and the work they are doing, and those affected by PTSD.

Spread the word. Interact with us on social media and share this fundraising campaign. Tell others about what you are learning through our Facebook, Instagram, and Twitter.


#Strongermovie

Check out our ministry partners. They are on the front lines with people who are working through trauma & PTSD. You can learn more about the groups and their needs here: http://www.strongermovie.com/partner-organizations/